What are Collapsible Cups?
A collapsible cup is a type of reusable travel cup used to carry any beverage, and that can fold down into a smaller size. It can be used and reused, thus replacing single-use disposable cups, which means less litter, lesser waste and a cleaner planet.  With a lightweight and convenient size, once folded, collapsible cups enhance portability- they are more comfortable and convenient to carry around. The food-grade silicone allows for collapsibility while remaining sturdy. One such example is Stojo. A significant advantage of Stojo collapsible cup is that it is microwave safe. Similarly, cleaning this collapsible cup becomes a painless task since this cup is also dishwasher safe. 
The hazards disposables and plastics pose are numerous. Plastic disposable cups build up in landfills and can take up to a thousand years to decompose into smaller pieces. Dangerous and unhygienic to not only the aquatic beings, but they are also extremely harmful to the environment. With the plastics finding their way into the city drainage system and causing a blockage, this unsanitary environment results in health hazards and the spread of various water-borne diseases.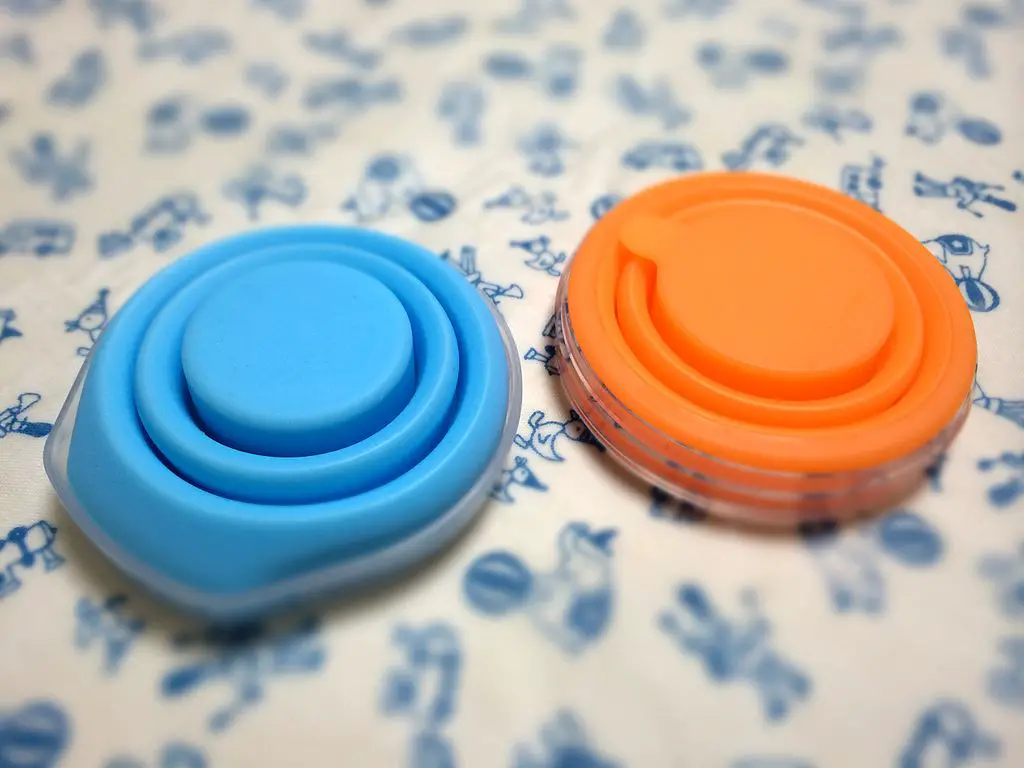 How travel & outdoor-friendly are Collapsible Cups?
Collapsible cups can be a fundamental part of any travel or an outdoor trip. Not only do they need minimal space, but these silicon cups can also be folded and tucked into any corner in the luggage. You can fold the cup into a thin and flat round shape, they hardly consume any space in the bag. User-friendly, hassle-free, travel-friendly, and entirely safe for use, these cups are a must-have for every outdoor trip. They are extremely durable and long-lasting. If you take a lot of outdoor excursions, these economical, reusable and recyclable cups are the best portable friends for you to carry on your trips. The cups have a broad base, which gives them extra support and makes them stable on any kind of floor surface. These FDA approved cups are BPA free, implying that they are completely toxin-free and reliable to use. You can now enjoy both hot and cold drinks on-the-go without worrying about the safety of the materials used in the cups. 
What is Stojo?
Stojo, based out of Brooklyn, New York, believes in cutting down on waste produced by using plastics and disposables by introducing the reusable, convenient- collapsible cup. The Stojo to-go cups fold down into small disks that can fit anywhere for easy travel and then can easily pop right back up, ready to hold hot as well as cold beverages. These are made from food-grade silicone that is LFGB Certified and FDA grade polypropylene, which is a European safety standard. These BPA free cups are also free of any adhesives, BPSs, phthalates, or lead material. This means you can safely use Stojo to enjoy all your favorite foods and beverages, regardless of temperature. Whether it is your daily morning tea or a cooling drink on a hiking trip, the Stojo collapsible cup meets all your needs. 
Some of the key features include a removable straw that makes it more convenient and hassle-free. These cups are available in multiple sizes, can fold into a puck-sized package, and can be easily tucked in any travel bag. Every Stojo cup is constituted by a silicone cup and tab, and a polypropylene sleeve, lid, and collar. Once your Stojo is thoroughly dried after a good cleaning and washing, and the lid and mouth tab properly closed, it is ideally leak-proof. These sustainable cups are designed for daily use over an extensive period. However, make sure you take proper care by cleaning it thoroughly after every use.
According to the source (https://stojo.co/pages/containers-with-a-conscience), every year, 1 Stojo saves 23 pounds of greenhouse gas emissions, 281 gallons of water and 16 pounds of solid waste.
Whether you're filling it up with your morning protein shake or fueling up with a hot coffee, it's lightweight, easy-to-store, and ready to keep you company wherever your day takes you. The premium quality food-grade silicone is heat-resistant and has a straw that can be detached and plugged with other Stojo cups too for splash-proof sipping. It is available in sizes 8 ounces, 12 ounces, 16 ounces, and 24 ounces and different assortment of colors such as coral, carnation, Ink, and more. The Stojo bottle comes in a 20 ounces size and a multitude of colors. 
How do you use Stojo?
To open and use your Stojo, remove the heat sleeve, pull the bottom of the cup to expand, place the heat sleeve over the cup, fill it up with the drink, put back the lid, and enjoy. To collapse your Stojo, you need to empty its contents, open the tab, remove the heat sleeve, push the cup down to a collapse, tuck in the heat sleeve, close your tab, and stow your cup in your bag. 
However, in recent times, investing in a collapsible cup has become very murky with a lot of malicious products and fake replica sold in the market. So, if you need an authentic product to ensure that your purchase is reliable and safe, look at the bottom of the cup. All legit Stojos have the Stojo logo on the bottom, along with the patent number.
Are Stojo cups microwave safe?
The silicone cup is microwave safe. However, don't forget to remove all its plastic elements such as the lid, collar, and heat sleeve before microwaving. If you need to reheat your coffee, just put the cup in the microwave to enjoy its freshness.
Where are Stojo cups made?
All Stojo cups are manufactured responsibly in factories in China that meet the BSCI Code of Conduct. They meet all acceptable standards for quality, safety, labor rights, ethical business practices, and environmental regulations. Stojo also holds strong relationships with our partners, which have passed strict quality assurance standards upheld by Starbucks. Stojo's manufacturing and sourcing partners maintain certifications for Quality Management System (ISO 9001) and Environmental Management System (ISO 14001) standards.
What kind of materials are used in Stojo?
Stojo products have FDA approval and are super safe to use. Stojo cups are made of polypropylene and silicone components that are FDA and LFGB Platinum Certified and are devoid of BPA, BPS, lead, cadmium, mercury, and all toxic California Prop 65 harmful substances. 
Are Stojo cups dishwasher safe?
Stojo cups are dishwasher safe. They can come apart for easy cleaning. Although, make sure you place it on the top rack of your dishwasher. You can let the dishwasher clean the cup while you sit back and rest.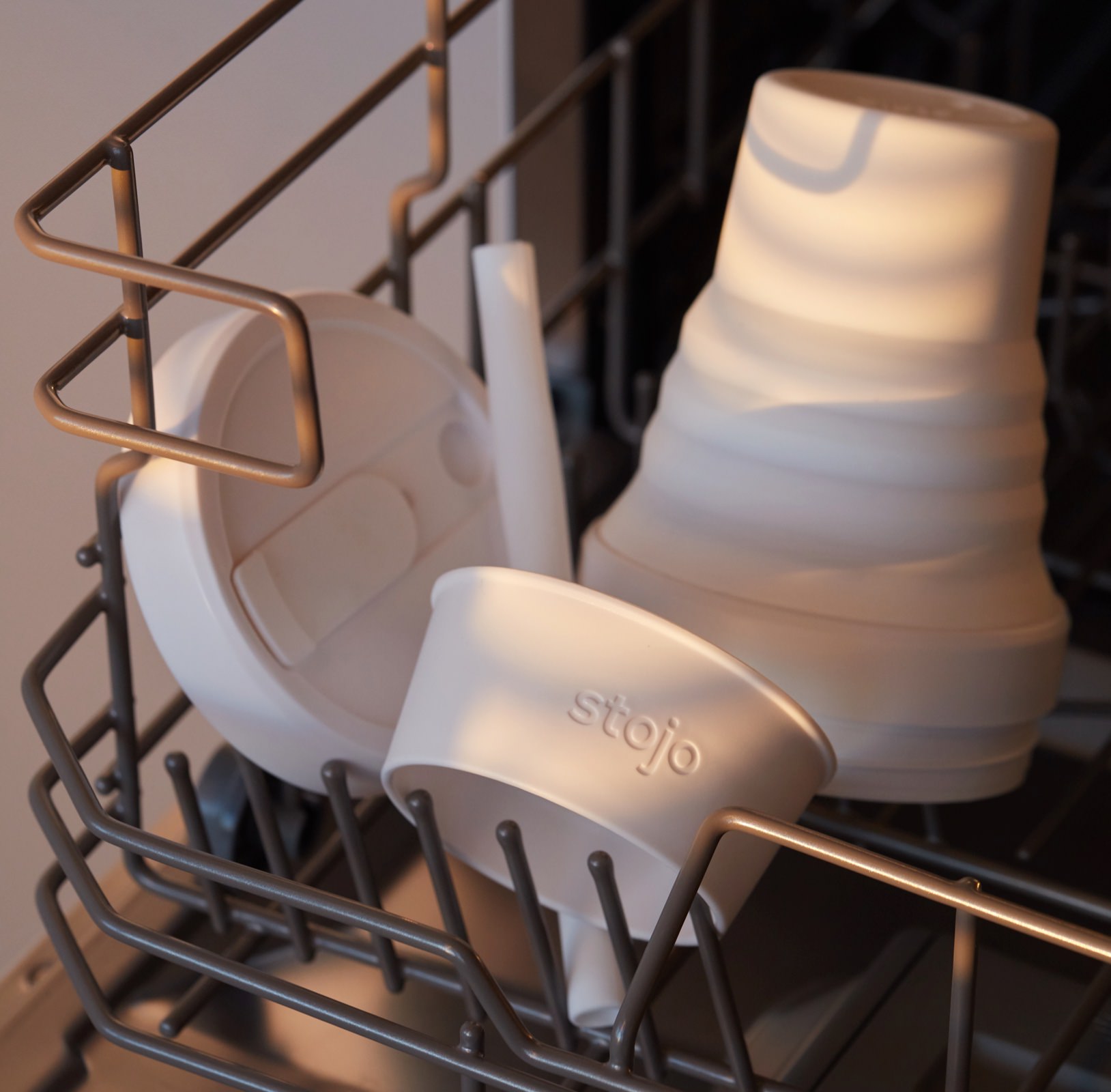 How do I clean my Stojo Cup?
To keep Stojo in perfect condition, always rinse before the first use and wash regularly to remove stains due to the beverages. Cleaning the Stojo cup is very simple. To clean, first, remove the heat sleeve, expand the cup, and then unscrew the lid. You can either choose to wash your Stojo cup by hand with warm water and mild soap or use a dishwasher. With use over some time, some drinks, especially coffee, leaves a stain on the food-grade silicone. But fret not. To remove the discoloration, soak the Stojo cup in a mix of water and 3% hydrogen peroxide and let it sit for 24-48 hours. If you want to do a deep cleaning of the area between the cup and collar, separate the silicon cup from the collar by squeezing the silicone cup into a "C" shape.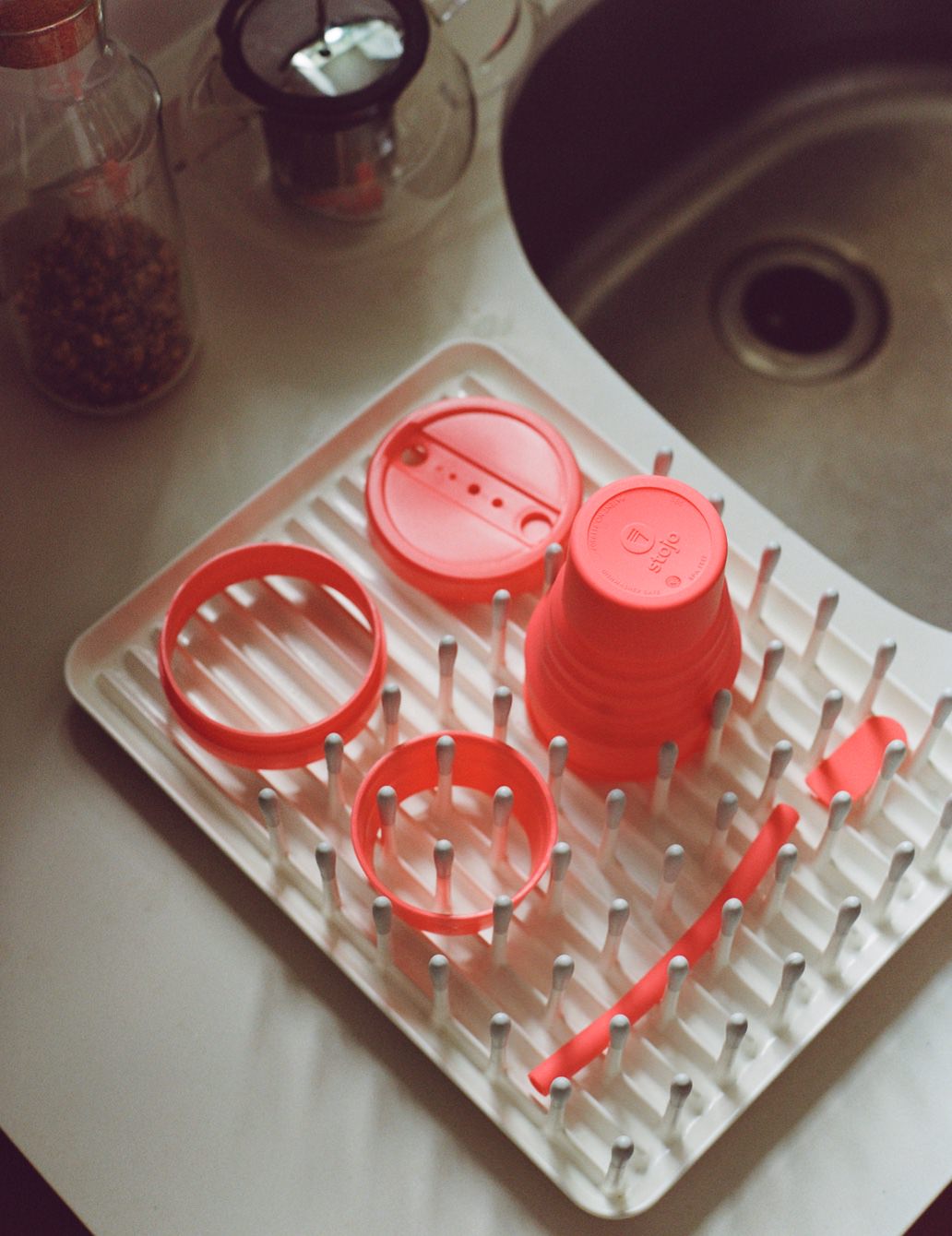 If you are a conservationist and want to go green, don't worry, this is just the right product for you. Not only will this collapsible cup help you in reducing the use of thousands of tons of plastic used cups, they will also be of enormous convenience and ease. These cups help in protecting the ecosystem from the danger that disposable plastic cups offer. So, take your pick from Stojo's variety of products and make your trips easy and stress-free.
Next time you are on a trip before you go any further, take an inventory of the reusable Stojo cups you already own. Say no to disposable cups and stop leaving behind a wake of debris and trash. Instead, leave a cleaner and sustainable environment, free of single-use plastic cups, bottles, and straws.