Brazil (South America), with its unique culture and personality, boasts of an epic and scrumptious food culture that will grip you in a paroxysm of delight. A sweet lover's heaven, you will enjoy the flavors of the variety of traditional and authentic Brazilian food. With a diverse population curtailing from Portuguese colonization and immigrants from Europe and Asia, Brazil has an interesting convergence of food heritages. If you love to indulge and experiment with different cuisines from around the world, you must try the hearty and flavorsome Brazilian food. 
Are you planning a trip to Brazil this year? Here is a list of Brazilian food that you cannot afford to miss on your visit to this exotic country in South America.
Coxinhas
Coxinhas is a hearty deep-fried snack, known for its crispy texture and soft stuffing of shredded chicken, catupiry or cream cheese, and mashed potato. The dough of the wheat flour takes the shape of a chicken drumstick, hence the name. Brazil's favorite snack, Coxinhas will entice you with its exceptional taste of the fine blend of ingredients.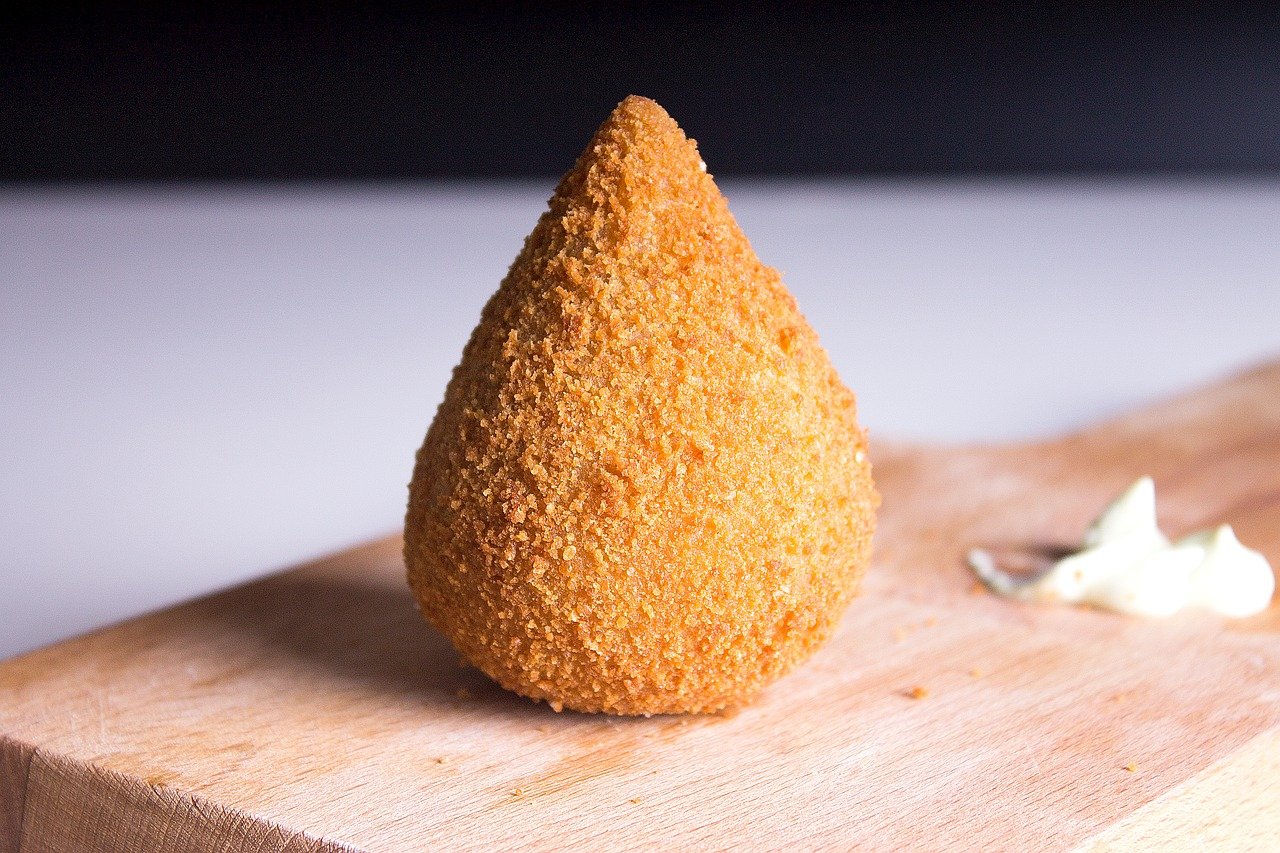 Brigadeiro
Satiate your sweet tooth with Brazil's chocolate truffle or Brigadeiro. Made from condensed milk, cocoa powder, and covered in chocolate sprinkles, they are going to lift your mood. They got their name from Brigadier Eduardo Gomes, a political leader in the 1940s, and have been famous since World War II.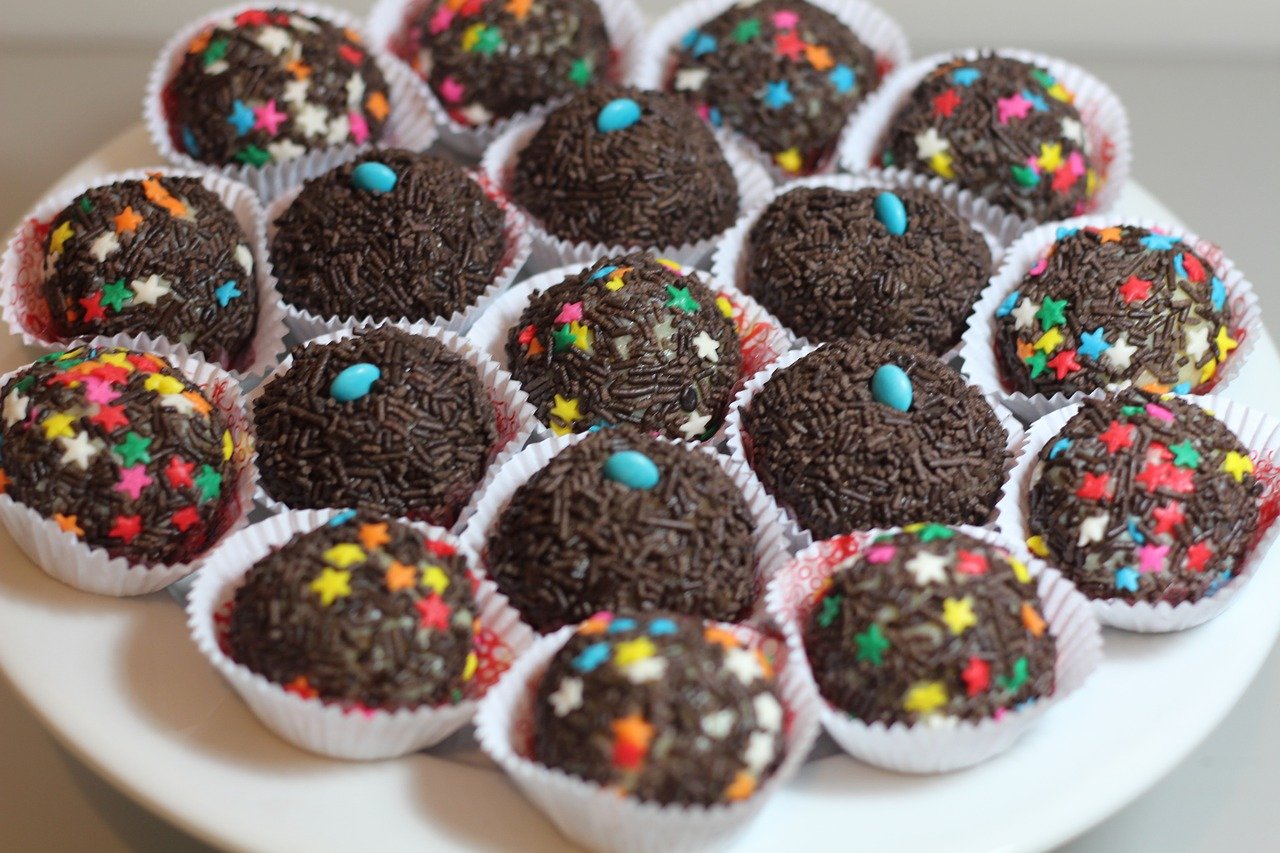 Pão de Queijo or Brazilian Cheese bread
If you are a cheese lover, you must try these gluten-free Brazilian cheese breads. These crispy little puff rolls made with cassava flour and filled with mushy cheese are surely going to melt in your mouth.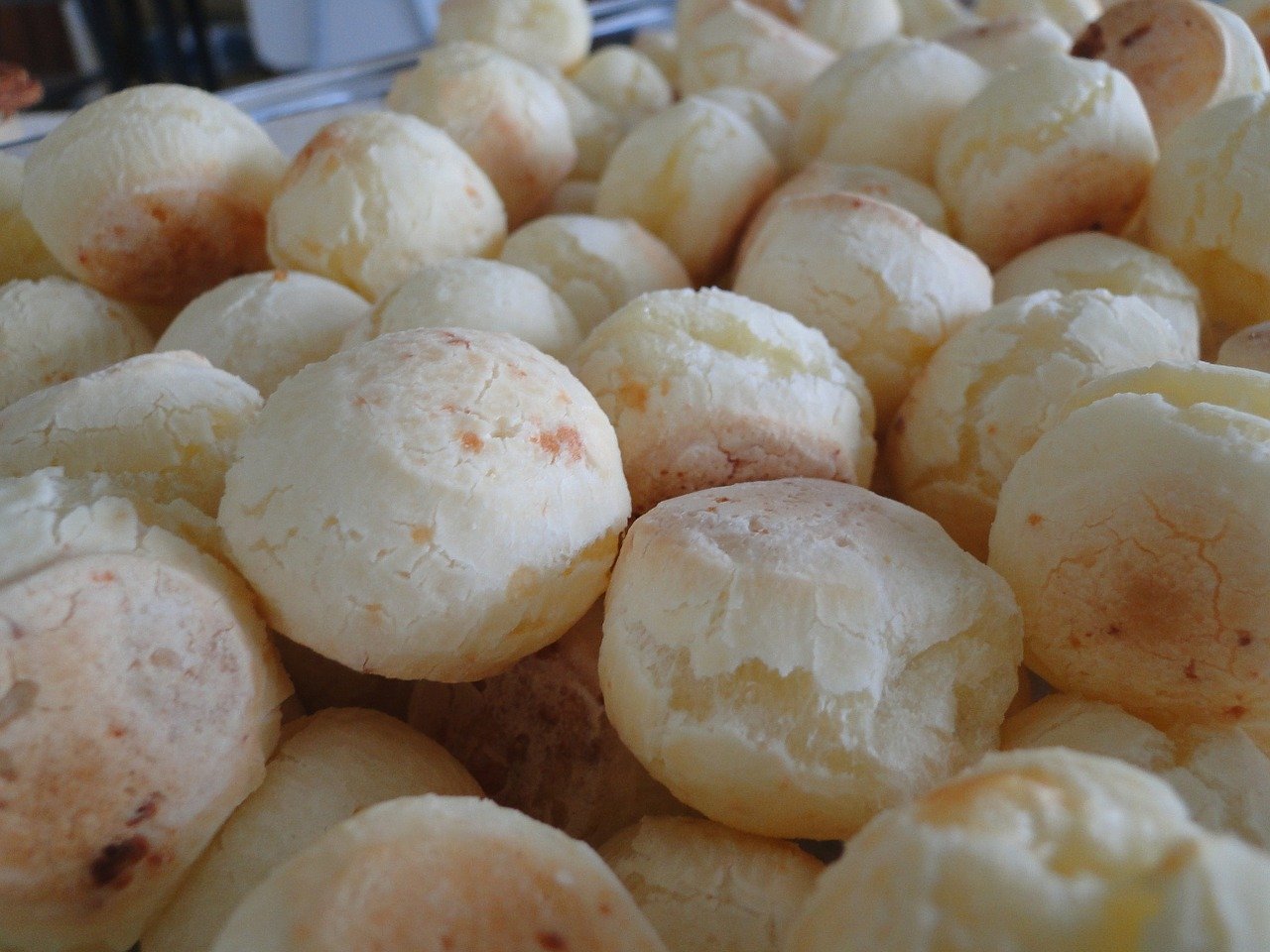 Farofa
A part of the salty and savory food group in Brazilian cuisine, it is prepared by mixing tapioca flour with small pieces of fried bacon. It is generally a side dish alongside rice and beans that help in absorbing the smoky flavor of the bacon. 
Feijão Tropeiro 
If you are fond of Brazilian food, you will fall in love with Feijão Tropeiro or Troppeiro beans. This ultimate dish from Minas Gerais constitutes sausage, eggs, beans, manioc flour and collard greens.
Açaí
The super-food around the world, açaí, is a traditional purple berry in Brazil that people consume in the form of frozen sorbet, juice, smoothie, powder, sauce, and even in its raw berry form.  Topped with fruits like strawberry or banana and granola, it is easily available in every supermarket, local store, café, restaurant, juice corner and bakery across Brazil. You can also purchase açaí beer and açaí vodka in the markets of Brazil.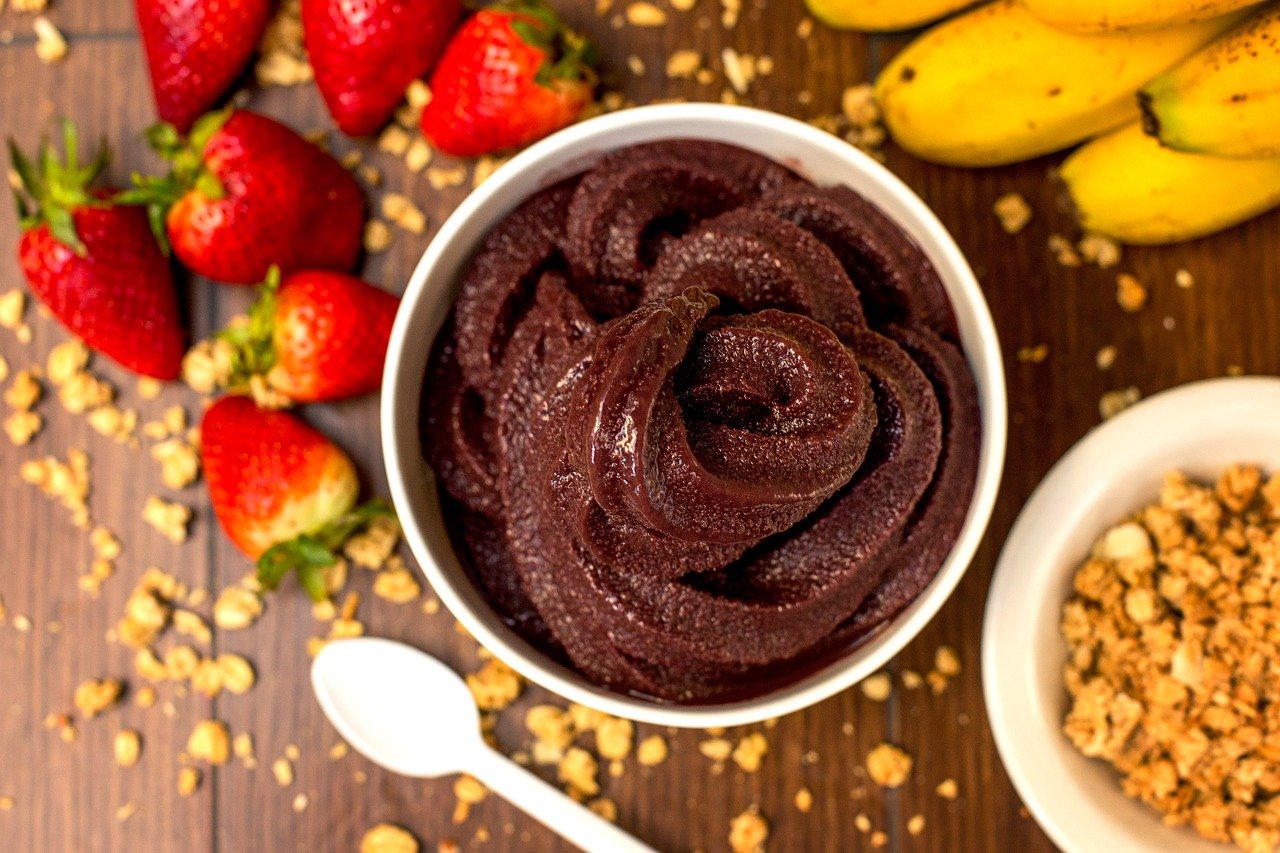 Pastéis
When traveling in Brazil, you must try these delicious finger foods. Deep-fried with sumptuous fillings of cheese, beef or codfish and vegetables, these crispy brown treats taste irresistible when dipped in Tabasco or any other hot sauce.
Mousse de Maracujá
The creamy and mouth-watering passion fruit mousse is a favorite Brazilian dessert that has tropical passion fruit pulp as the main ingredient. Other ingredients include whipped cream or condensed milk, and egg whites. 
Feijoada
Feijoada is a fatty yet delicious pot of stew made from the pig's ear and trotters and black beans, and is one of the most popular dishes in the restaurants and bars in Brazil. The national food of Brazil, it is served with fried kale, bacon bits, rice, farofa, a slice of orange and a tipple of cachaça to wash it down. Some of the best places to try feijoada are in the restaurants in the Santa Teresa neighborhood in Rio de Janeiro and the city of São Paulo.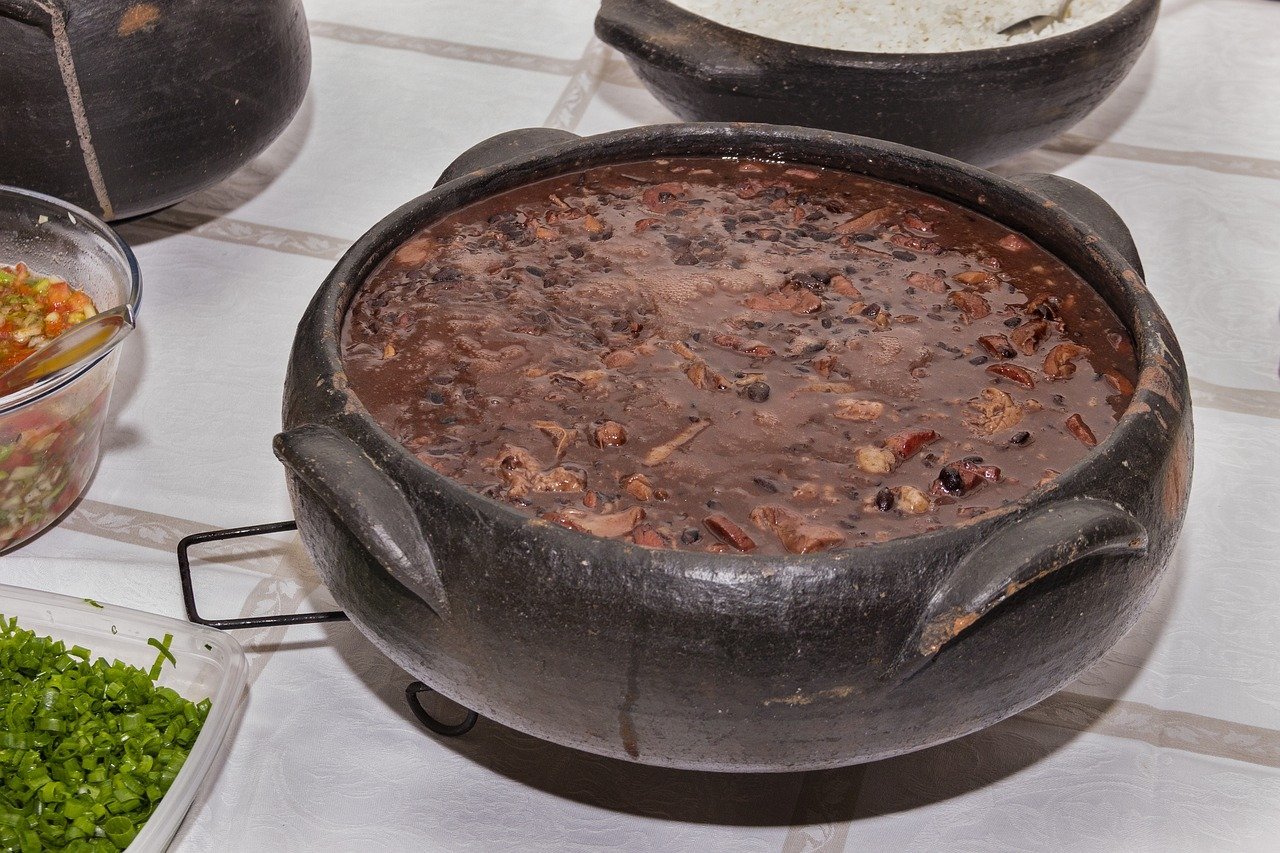 Bolinho de Chuva
Originally inherited from Portuguese kitchens, these Brazilian sweet treats or 'little cakes of rain' are a favorite with evening coffees. Sometimes stuffed with sweet whipping cream or doce de leite, the light Bolinhos de chuva are dusted with plain sugar or cinnamon.
Moqueca de Camarão 
Traditional Brazilian food from the state of Bahia in Brazil, this aromatic stew is slow-cooked with prawns or fish, coconut milk, garlic, coriander, diced tomatoes, and vegetables. Interestingly, the two neighboring states in Brazil, Baianos and Capixabas, both claim to have invented the dish.
Beijinho de Coco
An all-time Brazilian party favorite, Beijinho de Coconame or 'little kiss of coconuts' are little balls made with condensed milk and butter mixed together and coated in coconut flakes. This sweet and delectable mouth-sized dessert with a clove topping not only looks tempting but tastes delicious.
Vatapá
Vatapá is a tasty shrimp stew made with bread, coconut milk, groundnuts, and dendê or palm oil. Accentuated with herbs, this is a common household dish in the northern areas of Brazil. In Bahia, people enjoy this dish with white rice and acarajé.  
Bauru
A Brazilian classic, the Bauru sandwich, was the invention of a Brazilian law student named Casemiro Pinto Neto in an eatery in São Paulo in the 1930s. Bauru is a French bread roll with melted mozzarella cheese, slices of roast beef, pickled cucumbers, and tomatoes in it.
Créme De Papaya
Creme de papaya, also called creme de mamão, is a Brazilian dessert that dates back to the late 1980s. Very popular throughout the 1990s in Brazil, this dessert is a blend of the aromatic fresh papaya and vanilla ice cream. While the dessert has lost its status nowadays, you can still find it in some Brazilian churrascarias in the US and other countries. 
Acarajé
Acarajé are black-eyed bean fritters with stuffed prawns and vatapá, a spicy puree of pawns and cashew nuts. They are deep-fried and served steaming hot with chili oil. Originally from Bahia, the flavors have strong roots in African cooking. The authentic method for preparing these fritters is exhaustive; however, they still top the charts in the list of popular street food and snacks. 
Romeu e Julieta
Romeu e Julieta is the incredible combination of a thick guava jelly or 'goiabada cascão' and slices of white cheese from the populated state of Minas Gerais. Just like Romeo and Juliet, this sweet and savory pairing in this wonderful dish is a culinary marvel to die for. 
Misto Quente
Misto Quente is a daily favorite among snack options in Brazilian households. Sold on every nook and corner in the Brazilian streets, this is a French toast that is stuffed with ham and grilled later with melted cheese. You can enjoy this snack along with a glass of fresh fruit juice.
Requeijão
Requeijão is Brazil's answer to cream cheese, only a more flavored and condensed form of milk. The locals love to eat this like a spread on toasts. Some people also use this versatile product in baked rice and macarronada or the pasta. 
Mandioca Frita
If you are looking for a portion of healthier snacking finger food, look no further. Mandioca Frita is fried and crispy cassava that is sure to satisfy your hunger in an instant. 
Salpicão
Salpicão is a Brazilian chicken salad that is perfect for summer. Although it may have many variations, fried potato sticks, peas, raisins, carrots, corn, and apples make delicious toppings on this dish. Most of the times, this is made with a cream and mustard dressing instead of mayonnaise. This is a quick, nutritious and a refreshing salad that you can enjoy anytime.
Pavé
Brazilians are experts at making desserts, and one such marvelous creation is a Pavé. Just like tiramisu, a Pavé is a mouthwatering dessert that needs no baking. Delicious layers of a combination of fruits like bananas and pineapples, creams, cookies, and biscuits, and occasional toppings of dulce de leche, is what a Pavé is all about.
Empadão
Commonly found in botecos and street food stalls, an Empadão is like a chicken pot pie. It has a crispy, crunchy crust and a savory filling of chicken, corn, and other vegetables. Although families relish this dish as a dinner or lunch dish on the weekends, nearly all snack bars throughout Brazil sell the mini snack versions of Empadão. 
Quindim
The custard, Quindim is inspired by the Portuguese style of cooking their food with a heavy usage of egg yolks. Quindim is a glossy yellow flan with added coconut flakes and sugar. Quindim is made in a large ring mold, also called "quindão" and then cut in slices.
Canjica
Canjica is made by mixing a bowl of whole pieces of maize kernels with some coconut milk and cooking it with milk until it is soft. You can also add condensed milk to get a creamy texture. This enviable dessert tastes wonderful with sprinkles of cinnamon on top. This is a must-have dish during the annual June Festival.  Although it is too tasty to save for just once a year, it is easy to find year-round.
Just like the vibrant and diverse country of Brazil, eating the aromatic Brazilian food is an equally delightful experience, that you will cherish for a lifetime.