Think crystal-clear freshwater with manatees swimming, and chances are the image in your head quite matches some mesmerising freshwater springs in Florida, United States. 
With over 700 springs bubbling merrily through the American state's limestone terrain, hot summer days in Florida are easily spent lazing around in the tepid waters of natural springs in Florida or leisurely kayaking around. 
If a family outing is on the cards, or you're looking to pump up the adrenaline with a round or two of water sports, head down to these top 20 freshwater springs (with a waterproof camera and towel in tow):
Three Sisters Springs, Crystal River
To enjoy swimming with manatees, consider visiting the Three Sisters Springs. Tourists, locals, nature-lovers and adventurous photographers alike flock the springs to closely observe manatees as they interact. Visitors can choose to go underwater with snorkelling gear or, better still, pick an expert lead to guide you to the manatees.
601 Three Sisters Springs Trail, Crystal River, FL 34429
Rainbow Springs in Florida
Sapphire-blue waters beckon in Rainbow Springs, a lush park that's endured for centuries. It hosts a small waterfall, multiple water springs, and abundant wildlife. Time-honoured traditions include walking through the dense foliage and cooling off on a hot day in the springs themselves. Bring along a tube to enjoy a relaxing float or rent a kayak to paddle down the stream for a more stunning view.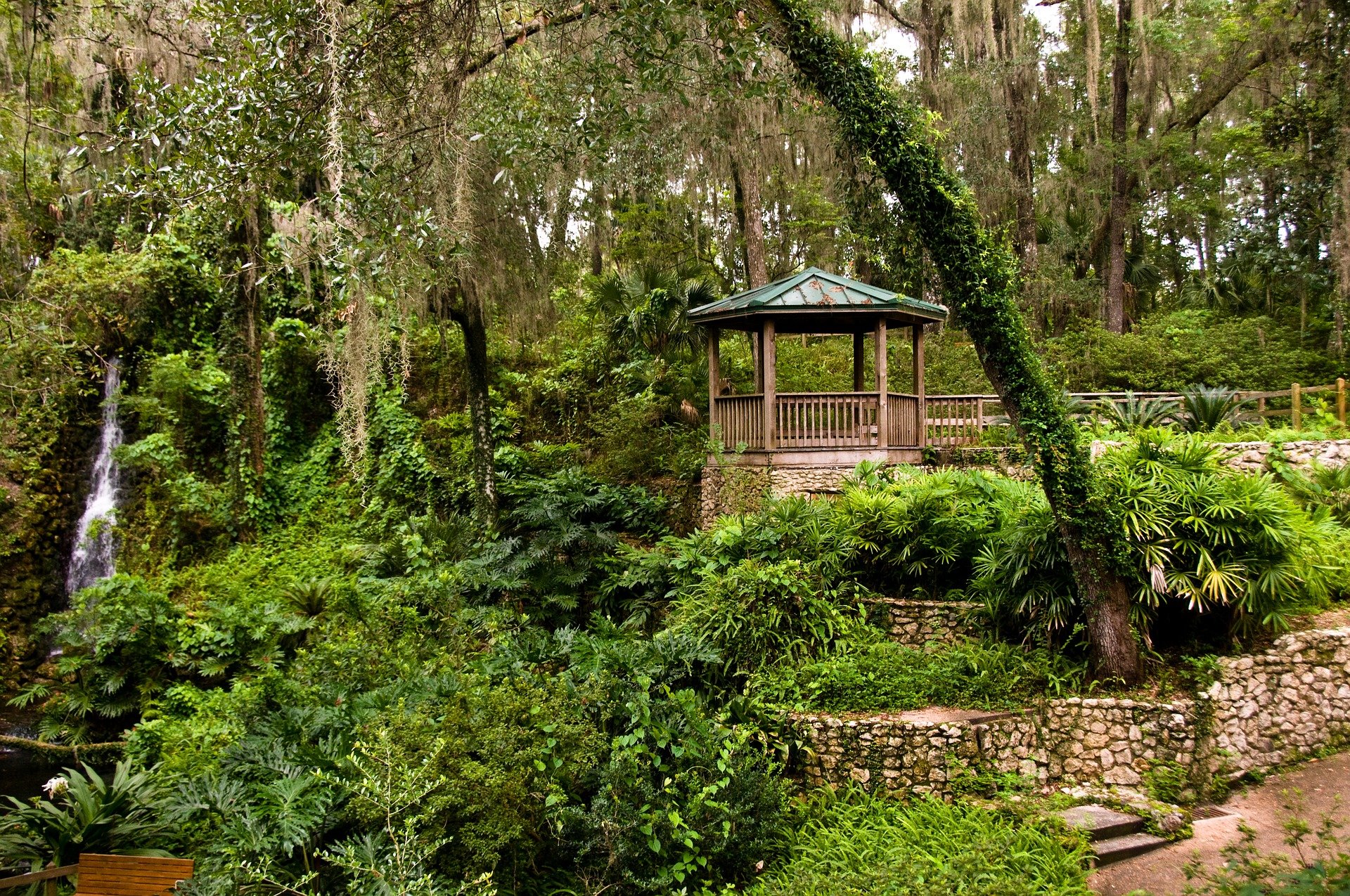 Weeki Wachee Springs
 Do you love mermaid performances? Then Weeki Wachee Springs is the place to be! The underwater 'mermaid' performances are the highlight of this jewel tucked into Nature Coast in Florida. One can also hang around the park's Buccaneer Bay, by the water slides or at the white sandy beach on a hot summer's day. 
6131 Commercial Way, Spring Hill, FL 34606
Rock Springs, Apopka
Interested in lazy floating? The Rock Springs is the place to be. The environment surrounding the springs is serene and undisturbed thus making it the ideal place to relax. Animal lovers, be sure to spot wood storks, blue and tri-coloured herons along the banks as you go down the springs.
Ichetucknee Springs
These springs in Florida are famous for exciting activities such as tubing, picnicking, scuba diving, snorkelling, hiking, swimming, wildlife viewing as well as canoeing. From the river, one can see white tailored deer, wild turkeys, raccoons, blue herons, and wood ducks. Expert divers flock to Blue Hole for a stint of freediving in strong currents.
Ginnie Springs
These springs, located southwards of the Santa Fe River, is well-known for its clear blue waters that draw hundreds of scuba divers and snorkelers to ultimately explore its caves and limestone floor. While tubing or kayaking, visitors will be regaled with views of turtles, wading birds and other wildlife. 
7300 Ginnie Springs Road, High Springs, FL 32643
Blue Springs
These springs in Florida are home to great Indian manatees. Even though tourists and locals are not allowed to swim in the winter seasons, scuba divers, swimmers, and snorkelers are welcome to do so during summer months. Other activities to enjoy include manatee viewing, boating and fishing which could be enjoyable even for children. 
7450 NE 60th St, High Springs, FL 32643
Silver Glen Springs
Visit the Silver Glen Springs and enjoy lovely sunset reflections. Although one may not be allowed to swim this spring, there are plenty of other activities to revel in, including paddle boarding, kayaking and canoeing. Don't miss the glass bottom boat ride as you can spot manatees, fish and alligators.
Alexander Springs
There are plenty of recreational activities available at the Alexander Springs such as swimming, camping, kayaking, hiking, snorkelling and good-old lounging. As you kayak along the spring, be sure to spot alligators, turtles and great herons. Professional photographers have been seen with heavy machines filming beneath the surface.
Wes Skiles Peacock Springs
Tourists around the globe flock to this international tourist destination for recreational cave diving. The spring has one-third magnitude and two-second magnitude springs as well as six sinkholes. Other activities to enjoy here include diving (though you have to be certified), snorkelling and swimming. Great nature trails lead tourists along twisting and winding tunnels.
Wakulla Spring
Wakulla Spring is the deepest and largest freshwater spring in the entire world. Because of this, thousands of scuba divers visit to go cave diving since it's home to a great underwater cave system. In addition, there are popular wooden jumping towers and great swimming holes to behold.
Wekiwa Springs, Apopka
The word Wekiwa, meaning 'bubbling water', correctly defines the freshwater in the spring. The serene green environment brings calmness to visitors. One can choose to either swim down the spring or rent a kayak. Florida wildlife, such as otters and birds, are often visible on some early mornings along the water's edge. 
Juniper Springs
One of the most famous campgrounds in Florida is found in Juniper. Hundreds of fresh springs bubble up from beneath the dense palms, oaks and canopies. In terms of adventure sports, Juniper Springs really does run the gamut– think swimming, fishing, wildlife viewing, camping, boating and hiking. 
Salt Spring
These springs in Florida have been named for its slight salinity from various sodium salts and minerals, and early tourists believed this spring had medicinal value.  It's fed by 9 fissures rising from the Earth. Fishing in the area offers prime pickings that can be savoured over a campfire in the spacious campgrounds. What's more, Lake George, which is the second largest lake in Florida and is neighboured by a historical town of the same name, is only a stone's throw away.
Troy Spring
Troy Spring is located on Suwanee River and is home to the Madison, believed to be the remains of a Civil War-era steamboat and sunk in 1863. It's a popular spot for scuba diving; however, the surrounding forested area, with its wildlife such as deer and turkey, holds just as much charm. 
674 NE Troy Springs Rd, Branford, FL 32008
Ponce de Leon Springs
These springs were named after a legendary Spanish explorer, Ponce de Leon, who was on the hunt for the 'fountain of youth'. These springs don't promise immortality, but that doesn't mean a dip in the waters won't rejuvenate you! At a constant 20°C, these chilly waters offer a refreshing escape from the Florida summer heat.
Manatee Springs
This is a first magnitude spring along western Florida that flows into the Suwanee River. Manatees congregate here during winter and swimming is forbidden during this period. But during hot summer, swimmers can dip into these refreshing waters.
11650 NW 115 St, Chiefland, FL 32626
Fanning Springs
Azure-blue waters surrounded by oaks as old as time, Fanning Springs is a dreamy interlude away from bustling cities. Take to the boardwalk to view the stunning cypress swamp or retire to the oaks' shade for a mid-day picnic.
Vortex Spring
Vortex Spring in northern Florida is home to eels and koi fish, to name a few. It boasts dynamic diving platforms, making it a popular place for experienced and novice divers alike. There are also thrilling underwater caves, diving through which is only allowed for certified cave divers as these are dangerous sections that have previously caused many accidents.
Ellie Schiller Homosassa Springs
If you fancy a rare glimpse of the endangered Florida panther, make your way to the Ellie Schiller Homosassa Springs. The forested area around the springs is home to the red fox, the bald eagle and other native Florida species. The Underwater Observatory lets visitors 'walk underwater', beneath the surface of the spring. 
9350 W Fishbowl Dr, Homosassa, FL 34448
From wild wetlands to crystal-clear waters that are home to rare wildlife, these 20 springs in Florida are a must-visit for those looking to get away from their fast-paced lives for a while.
Cover Image Credit – Rain0975