Ireland, also known as 'The Emerald Isle,' is a country of great historical significance, where rich history and cultural heritage come together in a beautiful medley. The dramatic history and series of events that have unfolded at various sites across the nation make it a must-visit for all history enthusiasts. Apart from history, the natural scenic landscapes of this island country – from tall mountains to glistening lakes, and friendly Irish locals make it a part of every travel enthusiast's bucket list.
Whether you prefer the rush of cities or enjoy calm countryside, you will get it all here. This place is also known for the highest number of recipients of the Nobel Prize in literature. No doubt then that it carries a legacy of knowledge and eloquence with pride. If you are planning a trip to 'The Land of Saints and Scholars, the things to see in Ireland are plenty! Here are a few handpicked sites and unmissable places to visit in Ireland to make your trip an unforgettable experience.
Sligo
Sligo is a beautiful small town that welcomes you with an arched bridge with a vibe that takes you back to the 19th century. Its name means 'abounding by shells'. It was named so due to the plenty of shellfish found in the river and estuaries nearby. This town is home to many Ireland tourist attractions and is a much-loved destination for all culture enthusiasts.  
The romance this place offers is known to have shaped the thoughts of legendary poet W.B. Yeats. Its natural beauty expressed through the beach, stone bridges, and townhouses will win your heart instantly! As a significant site for culture and history, the sheer number of ancient sites and Celtic ruins in and around this town might surprise you. But that's not all that Sligo has to offer. For the party enthusiast in you, there are many pubs, lounges, and restaurants here that are awaiting your arrival too!  

By delta_avi_delta, CC BY-SA 2.0, Link
Google Map Location: https://goo.gl/maps/DxigDkBM97r8ALch7  
Cliffs of Moher
Rising from the Atlantic Ocean, Cliffs of Moher are one of the favorite tourist spots in the country, welcoming about a million visitors every year. In fact, over the years, this spot has become so synonymous with Ireland's Identity that it appears on several travel souvenirs and memorabilia!  
Spread across five miles, these magnificent natural structures jutting out of the ocean stand 700 feet (200 meters) tall and offer a splendid view of Aran Islands out at sea. These rocks are genuinely amongst the best places to visit in Ireland and should definitely be a part of your list.  
(P.S. Did you know? A scene from Harry Potter and the Half-Blood Prince was filmed at these very cliffs. Another reason for Potterheads to make a beeline for this destination!) 

By Bjørn Christian Tørrissen, CC BY-SA 3.0, Link
Address: Lislorkan North, Co. Clare, Ireland | Google Map Location: https://goo.gl/maps/tQJzn1pRgEiwgKZz6  
Boyne Valley
Named after the Boyne river, Boyne Valley is situated between Irish Sea and County Kildare. The scenic valley, located in the eastern part of the country, is just about 20 minutes away from the north of Dublin airport. This place will be easily accessible for you if your base is in Dublin. The Boyne valley itself is a highly picturesque site and lets you experience true serenity with its natural landscape and splendid waterways.  
It is also home to the beautiful Newgrange monument, which is said to be more than five thousand years old, as well as the walls and gatehouses of Trim Castle, which once belonged to the Norman rulers in Meath. With a combination of fantastic sites, pubs, restaurants, and multiple outdoor activities to indulge in, this valley is perfect for a weekend family getaway as well as for a solo adventure.  
Google Map Location: https://goo.gl/maps/v2AtkwaShTzT9eAp8  
Killarney
If you enjoy being surrounded by nature and admire natural beauty, this is one of the best places to visit in Ireland for you. It takes you out to the great outdoors and offers you a sense of calm with an Irish touch. If breath-taking views, fresh air, and a soothing ambiance of natural elements excite you, this should definitely be a part of your itinerary.  
The lakes of Killarney and the entire national park and lakes region are important highlights to discover while at Killarney. You need not be a pro at camping and hiking to enjoy the beauty of this locale. All you have to do is just be there and let the tranquility of nature engulf you!  
(P.S. While here, sign up for some extra fun by choosing the Jaunting Cars tour to discover the scenic views of the mountains and valleys!) 

By 瑞丽江的河水, CC BY-SA 4.0, Link
Google Map Location: https://goo.gl/maps/av1ZRaGwT1AcWPJP7  
Grafton Street 
Fun, affordable, and filled with amiable locals, that's the beautiful Grafton Street for you! A trip to Dublin is incomplete without frolicking around at Grafton Street, which is so much more than just a casual shopping site. Filled with branded shops and uptown designer stores alike, it is buzzing with exceptionally talented buskers showcasing their performances through the day and well into the night. The vintage shops here are perfect for some pretty travel souvenirs without burning a hole in your pocket. Just make sure you use a friendly tone to bargain with the shopkeepers!  
Grab a coffee from a nearby cafe or head to one of the many pubs for a quick drink – there is something for everyone here. If you enjoy shopping and are up for some Dublin sightseeing (on foot!), you have found your destination.  

By Donaldytong, CC BY-SA 3.0, Link
Google Map Location: https://goo.gl/maps/ySuxW4uEQjA4tjTw5   
The Rock of Cashel
Back in the Early Middle Ages, Rock of Cashel was the fortress of Kings of Munster, who ruled from 1st century BC until 1118. This scenic spot is home to Round Tower, the oldest rock and stone structure here, and Cormac's Chapel, made in a unique style of architecture that combined European elements with native Irish elements.  
The historical buildings of Rock of Cashel have stood the test of time. They held their ground even during the Norman and English invasions in the years to come. Also called the Cashel of the Kings and St. Patrick's Rock, it has an eerie gothic vibe that makes it difficult to leave once you have stepped in.  

By Mike Searle, CC BY-SA 2.0, Link
Address: Moor, Cashel, Co. Tipperary, Ireland | Timing: 09:00 am to 07:00 pm | Google Map Location: https://goo.gl/maps/bHag32zACDTSsbLm8 | Phone Number: +3536261437   
Spend some time at busy streets of Galway 
On the west end of the country lies the lively port town of Galway that offers you both – a bohemian casual along with a traditional cultural vibe. Situated at the edge of the Atlantic, this town is famous for its many pubs and restaurants offering a wide array of local flavors that present the possibility of a 'love at first bite'!  
The best way to discover Galway is by gallivanting around its busy streets. It is the country's only bilingual city and was named 'European Capital of Culture 2020'. The beautiful streets of this town offer pulsating nightlife and a youthful vibe that can be found in every corner. If you are planning to visit Ireland during the summers, get ready to treat yourself to the Galway International Arts Festival and the Galway International Oyster Festival.  
Google Map Location: https://goo.gl/maps/DDQjfApc3MZWNYR16  
Dingle
If a remote place, less frequented by tourists, with pristine beaches and jaw-dropping vistas, is your idea of an ideal getaway, Dingle should be on the top of your list! Located between County Kerry and Mount Brandon, Dingle exudes a mesmerizing Irish charm. It is the capital of the Dingle peninsula and offers a variety of things to do for tourists. From going dolphin spotting to spending time at the boutiques and pubs located in central Quay Street, Dingle has it all.  
Dingle Way, a network of hiking trails encompassing the entire peninsula allows you to explore this place on foot and lets you take a step closer to nature. But if instead of hiking, you'd rather relax, hop onto a ferry to nearby Blasket Islands to experience the rustic charm of Ireland. 
Google Map Location: https://goo.gl/maps/mxbwzwHf8Mu7fUiz5  
Limerick
Limerick rests peacefully at the bank of the river Shannon and witnesses the river meet the Atlantic ocean. It is also known as the City of Culture of Ireland due to its famous spots like Belltable Arts Centre, which takes pride in new productions and dramatic plays, University of Limerick, and gallery of art that hosts events like the EVA International festival.  
A few other Limerick attractions include King John's Castle and St. Mary's Cathedral, which boast a unique style of architecture, and Hunt Museum. Other places to visit include pubs, restaurants, and shopping centers around the city, as well as many public gardens that make for perfect tourist spots to enjoy some lush greenery and fresh air while interacting with and befriending some locals! 

By Stevesphotography, CC BY-SA 4.0, Link
Google Map Location: https://goo.gl/maps/KZNeEAr1FaqdrycC6   
Blarney Castle
Situated near Cork, Blarney Castle a popular spot that finds itself on the list of Ireland tourist attractions. It has witnessed many pivotal wars and battles that took place back in the 1200s.  
While some areas in this site have been reconstructed, the famous Blarney Stone continues to stand tall. It is believed that kissing this stone gives one the gift of eloquence, but only if you are daring enough to kiss the rock! There are extensive lush gardens surrounding the main building, including a poison garden with numerous poisonous plants, like wolfsbane, cannabis, ricin, and opium.  

By Ryanhuntmuzik, CC BY-SA 4.0, Link
Address: Monacnapa, Blarney, Co. Cork, Ireland | Timing: 09:00 am to 04:30 pm | Google Map Location: https://goo.gl/maps/MHLKYbJJ5a9YiB3m6 | Phone Number: +353214385252  
The Book of Kells and Trinity College
There are a plethora of things to see in Dublin but Book of Kells pretty much tops that list! Trinity College was founded by Queen Elizabeth in 1592 and is a legacy in itself. Apart from being the oldest university in Ireland, it is also known for the priceless treasure that is the Book of Kells, and the impressive Long Room, which was also the inspiration for the library in the first Harry Potter movie.  
Once you arrive at the university campus, you will leave the hubbub of Dublin city behind and find yourself drawn to the beautiful environment conducive to gaining knowledge and the years of scholarly excellence that each stone in the university radiates.  
Address: The University of Dublin Trinity College, College Green, Dublin, Ireland | Timing: 09:30 am to 05:00 pm| Google Map Location: https://g.page/TheBookofKells?share | Phone Number: +35318962320  
Cork
With a population of about 200,000 residents, Cork is the country's second-largest city. It is a lively town famous mainly for the Blarney Stone. According to a local legend, the stone grants you the power of expression and eloquence if you have the guts to kiss it. But there's a catch! In order to be able to kiss the stone, you need to be hanging upside down!  
The River Lee flows through the town, adding to the charm of local riverside pubs and coffeehouses. St. Fin Barre's Cathedral and several other 18th and 19th-century churches still stand tall, and locals believe they look after the quaint streets of Cork. Cork City Gaol, which used to be a prison and is now converted into a museum, and the lush greenery of the Fitzgerald Park, are some of the most attractive tourist destinations in the town.  

By Michal Gorski, CC BY-SA 3.0, Link
Google Map Location: https://goo.gl/maps/6HzbN7M9VjD9xqWP7  
The Ring of Kerry
It isn't always the destination but also the journey with scenic routes to reach these destinations that makes a trip memorable. The Ring of Kerry is one such route that gives lovely memories for all travelers to cherish forever. Located in County Kerry, it is a 179-kilometer-long (111-mile) route that is extremely popular among tourists.  
Unlike any other standard route, this takes you on a journey where you dive into deep forests on the rugged roads while also witnessing crashing waves of the Atlantic and panoramic mountains. From wild stag to salmons, you will find the actual experience of enjoying a holiday in the wilderness here.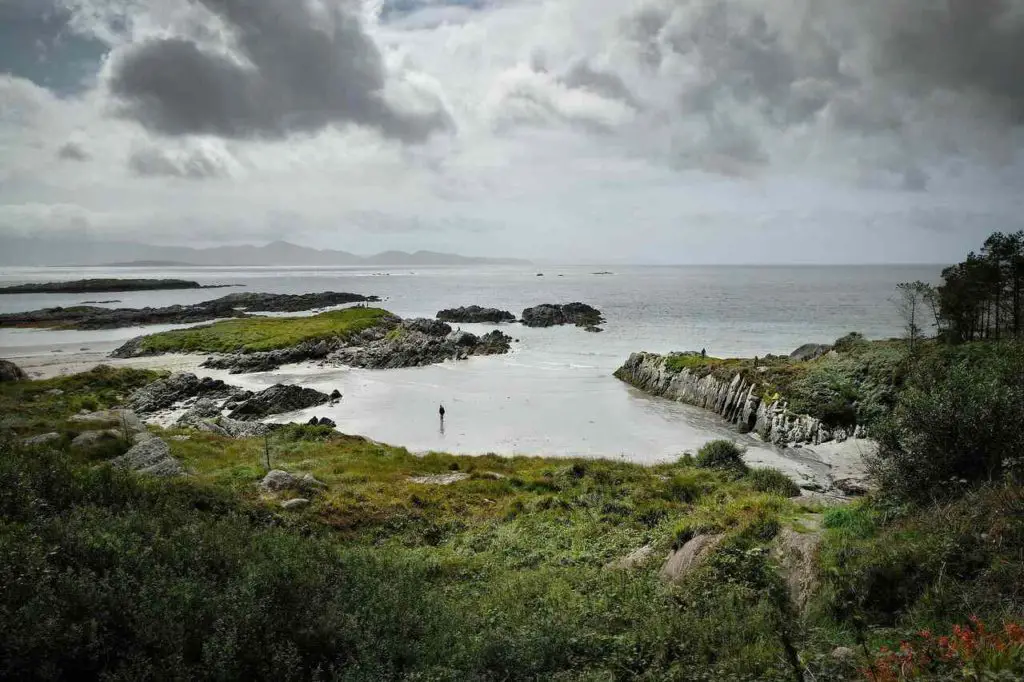 Google Map Location: https://goo.gl/maps/qPxeA8FPT7hK2sDz9  
Aran Islands
Aran Islands are a group of three islands- Inisheer, Inishmore, and Inishmaan that show you the old Ireland. Be it a planned vacation or just a break from your regular monotonous life, the ambiance and setting of these islands will win your heart.  
They are located on the mouth of Galway Bay, and the locals primarily speak Irish but are fluent in English as well. All the natural elements that Aran Island offers, like karst plains, majestic mountains that are cut through by the creeks, and canyons, are well known for their scenic beauty. Though each island has its own exciting attractions, all of them are also famous for traditional Celtic heritage that they carry. The largest one, named Inishmore, is home to UNESCO World Heritage-listed archaeological site of Dún Aonghasa.   
Google Map Location: https://goo.gl/maps/dsghgvYvUVK3Lm3E8
Kilmainham Gaol
This museum initially opened in 1796 as the new County Gaol for Dublin closed its doors in 1924. It is a somber reminder of one of the darkest phases of the country's history as prolific leaders of several rebellions and uprisings were detained and executed here. Robert Emmet, Charles Stewart Parnell, the 1916 Rising leaders, and Eamon de Valera were all held here. 
This museum not only allows you to go around and explore on your own but also provides guided tours of the cells. If the stories of the events that unfolded within the walls of the Kilmainham Gaol and its long and winding history intrigue you, you are sure to enjoy this one.  

By Velvet, CC BY-SA 3.0, Link
Address: Inchicore Rd, Kilmainham, Dublin 8, D08 RK28, Ireland | Timing: 09:30 am to 06:00 pm | Google Map Location: https://goo.gl/maps/bRauGW4WSornXiaD8 | Phone Number: +35314535984 
Powerscourt House and Garden
A visit to this site located 20 kilometers (About 12.5 miles) away from Dublin offers an insight into the former Palladian home, a scenic waterfall, an opportunity to marvel at the beautiful artwork at the craft and design shops, and a great café-restaurant.  
Leisurely strolls in the beautiful gardens at this sprawling place will take you 150 years back in time. There are over 200 types of plants and flowers thriving on 47 acres of carefully manicured plot. It also has a section where the beloved family pets were buried, complete with headstones and inscriptions.

By DXR, CC BY-SA 4.0, Link
Address: Powerscourt Demesne, Enniskerry, Co. Wicklow, Ireland | Timing: 09:30 am to 05:30 pm | Google Map Location: https://goo.gl/maps/sjH3kRxRRoVWSZ377 | Phone Number: +35312046000  
Iveragh Peninsula
Located in County Kerry, it is the largest peninsula in the southwestern region and home to famous Ring of Kerry, considered to be the most scenic route in the country. The stunning natural landscapes of this place have been attracting an increasing number of tourists every year. It is a nature lover's paradise and a hotspot for adventure-seeking cyclists and hiking enthusiasts.  
Iveragh Peninsula also has many quaint towns like Ballinskelligs, Portmagee, Caherdaniel, Kenmare, and several abandoned castles. It is also home to Carrauntoohil, which is the highest peak in Ireland. In Iveragh Peninsula, you can also visit the Kerry International Dark-Sky Reserve, Ireland's first International Dark Sky Reserve.  
Google Map Location: https://goo.gl/maps/WUn5w7HyH2Rft7Sg7  
Connemara National Park 
There are different kinds of travelers; some like shopping and busy cities, while others enjoy natural elements and wilderness. If you prefer the latter, make sure you visit the Connemara National Park when you visit Ireland. It is one of the six national parks of Ireland and is located in Galway County.  
It is spread over about 5,000 acres of landmarked with untouched mountains and forestland out of a picturesque postcard. There's stunning scenery as far as eyes can see! The iconic Cliffs of Moher also form a part of Connemara National park and are well-known for the diverse range of migratory birds that flock here seasonally.  

By Karie Kuiper, CC BY-SA 4.0, Link
Address: Letterfrack, Co. Galway, Ireland | Timing: 24/7 | Google Map Location: https://goo.gl/maps/EaeSeawHRdYqTMuz7 | Phone Number: +353761002528  
Be it beautiful grassy knolls or majestic castles, haunting Celtic ruins, or pristine, untouched mountains, the places to see in Ireland offer it all. While the list of Ireland tourist attractions includes pubs and eateries buzzing with excitement, it is the quaint nature and beautiful cobbled streets that provide a unique traveling experience and cast an irresistible Irish charm on you!