Great job opportunities, high median income, good schools, affordable housing, and safety – these are the major factors one looks into while looking for new cities to relocate to. Arizona provides you all of this, along with some of the most picturesque views of the stunning Arizonian landscape. So, if you wish to relish Southwestern history while enjoying the luxury and modern-day amenities, then the state of Arizona is the perfect fit for you! It combines the rugged natural beauty with the warm comforts of a close-knit community and well-planned cities. To help you make the right choice and move to a place that suits all your needs, we have rounded up a list of the 17 best places to live in Arizona for you:  
Scottsdale
If you are looking to start afresh with your family or you wish to relocate to a small, well-planned town nestled in nature, Scottsdale is the place for you. The city has warm and sunny weather through most of the year and faces a mild winter. It has plenty of job opportunities, great neighborhoods with beautiful single-family homes, a low crime rate, excellent education, and a high median income making it one of the best cities in Arizona. 
The nature lover within you would love it here! It has some of the best nature trails, and it is surrounded by mountains on one side and beaches on the other – giving you ample opportunities to travel and explore the nearby areas.  
Various festivals and events such as Scottsdale Fall Festival, Arizona Taco Festival, Scottsdale International Film Festival, Salt River Fields Balloon Spectacular, etc., are organized around the year. The Old Town area offers fine dining and luxury shopping experiences while maintaining the Wild West vibes. All this and many other things make Scottsdale an option worth considering.  

By Joseph Plotz., CC BY 3.0, Link
Google Map Location: https://goo.gl/maps/pReTmsUCPvWCEcGCA 
Gilbert
Gilbert should be on the top of your list if you are looking to settle in a town with preferable weather, a lovely community of residents, a low crime rate, and a robust job market. Once known as the "Hay Shipping Capital of the World," it has the highest median income in the state. It is also the fifth-largest municipality with a population of over 240,000. The public schools in this area are highly rated too. 
The town's proximity to cities like Phoenix and a vibrant downtown area will provide you with a variety of leisure activities to partake in. It is a nature lover's dream come true owing to its closeness to some of Arizona's most impressive natural landscapes.  
On weekends, you can trek to the Riparian Preserve at Water Ranch, which includes over 4.5 miles (7.24 km) of trails. These trails lead you to scenic views and are home to a number of species of birds, insects, amphibians, and mammals. For these reasons, you will find Gilbert topping the list of best towns to live in Arizona every time. 

By formulanone, CC BY-SA 2.0, Link
Google Map Location: https://goo.gl/maps/BVjKEArFfBevDmSW8 
Tempe
Being the home to Arizona State University, Tempe is one of those cities that is always buzzing with life. It was named by Google as its 'eCity' for the state of Arizona due to the constant influx of tech firms, which also provides a lot of well-paying job opportunities.  
The suburbs have many single-family homes with great amenities. The cost of living in Tempe is high, almost 2% above the national average. Still, you can easily find homes that suit your budget. Tempe provides one too many transportation options that make the daily commute easy – a perfect choice for the daily commuters.  
Arts and culture find a great place of respect in Tempe. It has a rich history which can be revisited in the many museums across the city. You can experience fine dining, great shopping, and many relaxing activities to keep you engaged through the week and over the weekends. If you like spending time outdoors, you can choose to trek or go kayaking at Tempe Town Lake. There are also many parks to explore for some quiet time with your family. This lively city indeed makes it to the list of fabulous cities to live in Arizona. 

By davidpinter, CC BY 3.0, Link
Google Map Location: https://goo.gl/maps/qeYy1916uQ6foVsN7 
Chandler
Chandler exudes the vibes of a small town due to its laid-back attitude, with the amenities of a bigger city due to its proximity to the capital city. It has bigger homes without the high rents, making it one of the top places to live in Arizona. It's over 250,000 residents enjoy an average median income of more than $30,000.  
Hailed as the Innovation and Technology Hub of the Southwest, it is both a cosmopolitan and a family-friendly place with a lot of single-family condo options to choose from. There are some high-rated public schools in this area as well. Even though it was voted as one of the most boring cities in America by Forbes, Chandler does have many museums, golf courses, art galleries, and restaurants that make it a fun place to live in for the many residents that it houses.  
The Desert Breeze Park offers a tour of the Desert Breeze Railroad, the Veterans Oasis Park has wetlands, and Tumbleweed Park features playtopia for children. All these surely make Chandler one of the best cities to live in Arizona. 
Google Map Location: https://goo.gl/maps/JqeXa242SbLFk74B9 
Glendale
Glendale is known for its affordable living. This small city has a population of over 250,000 people and offers housing options to suit every kind of budget. The median household income is above $50,000. Glendale makes it to the list of best places to live in Arizona by offering good jobs, education, reasonable housing, and a lot of fun activities. 
It was once thought of as old-fashioned but has since undergone a complete transformation combining old history with modern entertainment. It is now very popular with the young crowd since it has a lot to offer in terms of shopping, luxury, and nightlife.  
If you are into sports, this place has a lot to offer you. It is home to the two major sports venues – State Farm Stadium and Gila River Arena. It also hosts home games in the University of Phoenix Stadium. It has many pleasure grounds and areas to take your kids to who will enjoy every moment there. Wet "n" Wild Phoenix being the most famous of them. The Petroglyph Preserve gives the visitors an insight into the lives of the Hohokam people who lived in this region. 

By Tony the Marine, CC BY-SA 3.0, Link
Google Map Location: https://goo.gl/maps/mXjDYCnyp4eCTRYA8 
Mesa
Mesa is situated to the east of Phoenix and is a thriving metropolis with a population of nearly 500,000 people. It emanates the vibe of a large city minus the high real estate prices. It has diverse attractions ranging from museums to trekking, golfing to a thriving nightlife.  
Though situated in the middle of the desert, Mesa is home to two rivers, namely, the Salt and the Verde, that allow you to go tubing on warm sunny days while soaking in the sun and marvel at the spectacular views. Or you can glide through the sky in a hot air balloon to observe the city from an entirely different perspective! 
If you are a sports fanatic, you will surely love to see the Chicago Cubs during their training at the Spring Training Stadiums in Mesa. It is home to the largest comprehensive arts campus in the state, the Mesa Arts Center. Various concerts, performing arts, events, art activities, music, dance, shows, comedy, and more are held here round the year for you to enjoy and experience. 

By Ixnayonthetimmay, CC BY 3.0, Link
Google Map Location: https://goo.gl/maps/hvS9Layx7KKdWWUz9 
Cave Creek
Cave Creek is a town in Maricopa County, and Phoenix is the largest city that it borders. It is a small community with a population of just about 5,000 people with an average household income of almost $78,972.  
The real estate market in Cave Creek is considered to be quite competitive, with the median home cost being $800,000. However, if you are willing to pay a reasonable amount, a good home with scenic views is guaranteed. Single-Family homes and condos with great amenities are also available. There are also some great public schools here to ensure good education for your children. 
It also has numerous art galleries and charming restaurants. Thanks to its 1800s theme, you are sure to have a unique shopping experience. The Cave Creek Regional Park is located at the height of approximately 2000-3000 feet (609.6-914.4 m) and provides fresh air and beautiful views. Carefree Desert Gardens are like an oasis in the heart of the town and show that vegetation can thrive in harsh desert conditions too! 

By Marine 69-71, CC BY-SA 4.0, Link
Google Map Location: https://goo.gl/maps/WJAAC7fgmz4FyBb6A 
Paradise Valley
As the name suggests, the small town of Paradise Valley is truly nothing short of a piece of paradise. It is filled with serene and picturesque spots wherever you look. It is the state's wealthiest municipal area and is known for its luxury golf courses, spas, resorts, and restaurants.  
The suburb has lovely condos and single-family homes, which complement the rustic beauty of this place with their modern touch. No doubt then that the prices of the houses are pretty high, with the average home price being well over the one million mark. But the standard of living and amenities that this place offers is worth it. 
Apart from indulging in the spas and golf games, at Paradise Valley, you can go trekking on the spectacular Mohave Trail, visit the interesting Mummy Mountain, enjoy Happy Hours at O.H.S.O Brewery, and camp at the largest forest in the state, Tonto National Forest. Even though it is situated in the middle of a desert, Paradise Valley promises a calm and leisurely life, making it one of Arizona's best places to stay. 

By Marine 69-71, CC BY-SA 4.0, Link
Google Map Location: https://goo.gl/maps/seHyub1VaziQS6AE8 
Peoria
Peoria is one of the central suburbs of Phoenix and the sixth-largest city in Arizona. It makes it to the list of best areas to live in Arizona because of the significant developments taking place here on the industrial and commercial fronts. The average home value in this city is a little above $400,000, and the market includes all kinds of houses for the residents to choose from. It has many high-ranking public schools, and it is known for its quality of life.  
If you are a water baby, Peoria is undoubtedly the perfect place for you to settle down as it is home to the Lake Pleasant Regional Park. Its two marinas make it an ideal site for activities like boating, fishing, kayaking, and scuba diving and a great place to relax during the sweltering summers.  
The sports fanatic within you would be delighted to know that Peoria is also the home stadium to both the Seattle Mariners and the San Diego Padres during spring training! 

By Ceemo, CC BY-SA 3.0, Link
Google Map Location: https://goo.gl/maps/ojorDkPWcajcZ6YMA 
Phoenix
If warm weather and desert don't bother you much, then Phoenix is undoubtedly one of the best cities in Arizona to live in. It is the state's capital city with a solid job market and low taxes, which attracts youths from the neighboring cities and towns. This has translated to the city's thriving real estate market with a variety of housing options on both the purchasing and rental fronts. The median income of people living here is $ 57,652. 
If you are looking to settle in a well-planned neighborhood with amenities included, then master-planned communities in the Southwestern part of the city will surely attract you. High-end spa resorts, luxurious golf courses, and eclectic nightclubs have made this city very popular. There is also a lot to do here, which ensures that you never have a dull moment.  
Known for year-round sunny days, this area has been aptly named the 'Valley of the Sun .' It enjoys proximity to The Grand Canyon National Park. It has many museums, restaurants, lounges, and bars to ensure that your weekends are well planned for and fun-filled.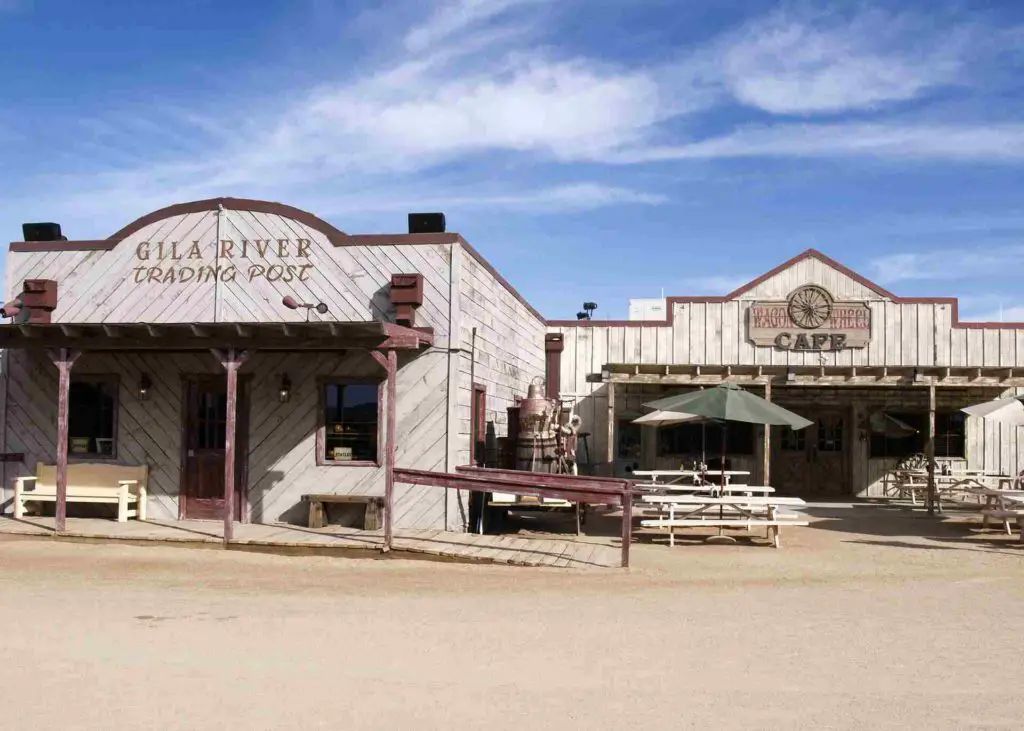 Google Map Location: https://goo.gl/maps/NzAqdMk4at9oSbYa6 
Prescott
Prescott will give you the feel of a small town while also providing you with the advantages of a big city. It is perched at the height of 5,400 feet (1600 m) and experiences a unique climate. The city has many Victorian-style houses giving it an old-world charm. Although the housing expenses here are high compared to the national average, if you are a nature lover, the beautiful landscapes and the calmness will more than makeup for it!  
The historic downtown of Prescott, which is also known as the Whiskey Row, is famous for its bars and live music venues. The Court House Plaza is always a venue for festivals, events, shopping, picnics, and more.  
There are also two lakes here, namely, the Goldwater Lake, where you can take leisurely lakeside strolls while your kids can play, and the Lynx Lake, where you can go boating, fishing, and camping. You can also go horseback riding on the many trails in and around Prescott and experience the authentic old western culture at Blazin' M Ranch. Prescott National Forest also has a lot to offer to thrill-seekers and nature lovers. 

By Mike McBey, CC BY 2.0, Link
Google Map Location: https://goo.gl/maps/UyHNBLhqW4jTqW7e9 
Litchfield Park
If you are looking for a unique, small, and close-knit community to settle in, Litchfield Park will be your go-to place! The city is located approximately 20 miles (32 km) west of Phoenix and is known for its abundant towering palm trees lining the road. It has a well-planned residential community that gives an air of casual lifestyle, provides luxurious amenities to all the residents, and quick access to dining and nightlife. The city also organizes various outdoor events throughout the year to keep the excitement alive and its residents entertained! 
It is a short drive away from the State Farm Stadium, which is the main stadium of the Valley of Sun and Gila River Arena. These two are home to the Arizona Cardinals of the National Football League and the National Hockey League's Arizona Coyotes, respectively. 
The largest training center in the world for F16 fighter pilots, Luke Air Force Base, is situated two miles north of Litchfield Park. To its West, Litchfield Park has the White Tanks Regional Park, which is named after its natural rock water tanks.  

By Marine 69-71, CC BY-SA 4.0, Link
Google Map Location: https://goo.gl/maps/fZ7ATRpUtH8JJYwG8 
Strawberry 
Strawberry will attract you if you are looking for a small, comfortable, almost rural town to settle in. This area has only about a thousand residents, making it a very closely-knit community. It has high-ranking public schools, and the median household income in Strawberry is $49,821, not too less than the state median income of $51,340.  
It is very close to the city of Payson, which is called "The Heart of Arizona" due to its location and offers a horde of outdoor activities to its residents.  
You will lose yourself in the natural beauty of the ponderosa pines while trekking or visit the Tonto Natural Bridge State Park, home to the largest travertine bridge in the world, or gazing into the night sky while in Rim County.  

By Alan Levine, CC BY 2.0, Link
The town also has many museums and historical buildings that offer a glimpse into its rich history and the good old days. Though it is a small place and, honestly, low on day-to-day action, it still makes it to the list of being one of the good places in Arizona to live. 
Google Map Location: https://goo.gl/maps/rNv1pyRzXGUpsTrAA
Tucson 
Tucson is the second-largest city in Arizona, with over 500,000 residents. The city experiences hot summers and mild winters. Due to this, many winter residents or "snowbirds" are attracted to this place. Tucson is also nicknamed the "Optic Valley" due to many companies' involvement in the design and manufacture of optics.  
The University of Arizona is the largest employer in the city, and thus Tucson has a mixed crowd and a lovely multicultural heritage. It has a very lively art scene with lots of visual and performing arts festivals taking place all year round. In addition to this, Tucson is also famous for the Sonoran Desert and Sonoran-styled Mexican food.  
It has more than 120 parks, and there is a popular trail encircling the city for walking, running, biking, and horse-riding named "the Loop." It has some good neighborhoods, excellent public schools, and many activities to keep you engaged. It also has a variety of outdoor activities for older people and has no tax on Social Security benefits, making it a popular place for retirees. 

By JonRidinger, CC BY-SA 4.0, Link
Google Map Location: https://goo.gl/maps/Sq3tggLAxTt3GKi59 
Flagstaff 
Flagstaff is surrounded by a desert, stunning mountains, and breathtaking ponderosa pine forests – yes, all three! The people of Flagstaff are amicable, and the city has a growing job market in a thriving economy. The public schools here are also high ranking. 
Just north of Flagstaff are the San Francisco Peaks, where you can lose yourself in the arms of nature and incredibly clear night skies for you to marvel at while enjoying a long trek. The Arizona Snowbowl is a featured alpine ski resort where you can enjoy the scenic Chairlift getting a clear picturesque view of the fantastic Arizona scenery. 
Flagstaff is within driving distance from the Grand Canyon and the highest point in Arizona, Humphreys Peak, is just 10 miles (16 km) north from here. The city itself holds various cultural events, art exhibitions, and festivals all through the year to keep you busy and entertained. If you want to get out of the city to explore, there are many famous spots like Walnut Canyon, Meteor Crater, and Lava Tubes. 

By Ken Lund, CC BY-SA 2.0, Link
Google Map Location: https://goo.gl/maps/RcjVV1haUmkVt9ZJ9 
Ahwatukee Foothills 
Ahwatukee Foothills is one of the safest places which makes it to the list of best places to live in Arizona for many reasons! It is a small urban village with a high-ranking public school system, a population of around 80,000 people, and an average household income of about $102,548, which is significantly high. The median home value in Ahwatukee Foothills is approximately $350,000, and the average rent is $1,591.  
If you are considering moving to the Phoenix area, Ahwatukee Foothills is a highly recommended area. It is a few minutes drive from major attractions like Phoenix Art Museum and Desert Botanical Garden and has tons of restaurants, bars, lounges, and a vibrant Farmers' Market. 
Ahwatukee Foothills also hosts the Festival of Lights "Million Lights" display annually and provides easy access to the South Mountain, which has an impressive network of hiking trails.  

By Mountain Mike Johans, CC BY 3.0, Link
Google Map Location: https://goo.gl/maps/4UDRSAWA5ZPgukLh8 
Avondale 
The sunny Avondale is a perfect place to settle down if you are looking at permanent relocation. Due to its convenient location and stimulating job market, Avondale has seen rapid growth in the residential and commercial sectors over the last few decades. It is a sought-after city in Arizona with a population of over 84,000 people.  
It has an affordable cost of living with housing options for every budget. Avondale is home to the famous Phoenix International Raceway, which holds two NASCAR races each year. It also holds two Xfinity Series Races to cater to race car enthusiasts. Monument Hill provides excellent views of the racetrack, and people can view the races at lower prices. 
Avondale gets sunny days all year round, and Tres Rios Base, where three rivers meet, is an excellent location for spotting wildlife. Tres Rios Nature Festival is held in early March and hosts several events such as fishing, canoeing, and more. Estrella Mountain Regional Park in Avondale will introduce you to the beautiful natural landscapes of the state. At the same time, the Tierra Verde Lake Park not far from Avondale will let you spend quality leisure time with your family.  
Google Map Location: https://goo.gl/maps/6PhvGyYY1dmrG3SH8 
All in all, Arizona provides you with beautiful landscapes and wonderful weather along with modern amenities, luxurious spaces, safety, endless activities, and an amazing community to call your own. It has a strong economy and a low cost of living. This is a great place to either start a new family or to retire and settle.