The people of Washington are an inquisitive, questing lot. Whether you lived in Spokane or called Tacoma home, if you grew up here, you've got a reputation for being resourceful. It's not just their geographic diversity that makes them resourceful, though. Washington has one of the highest concentrations of STEM workers in the country—a fact that's standing them in good stead as automation specialists.
It was built on the idea that every person should be able to live in safe neighborhoods, access the best public schools, and get a job that allows them to support their family without any fear of violence or a high crime rate. And the state consistently makes strides towards achieving this, making it one of the most highly sought-after places to live in the country. 
If you're getting ready to move here, you'll want to consider the best places to live in Washington. With its abundance of natural beauty and stunning landscapes ranging from lush rainforests, snowy peaks, placid lakes to rolling plains, the Evergreen State offers something for everyone. Whether you're moving to rural farmland or if you are looking for places with the best public schools for your kids, or perhaps you just want to live in a bustling metropolitan area, here's a curated list for your perusal! 
Sammamish
It is located in Washington's King County, east of Lake Sammamish, making it a part of both the metropolitan area and the Eastside. It is one of many places that comprise the metropolitan area and is located just east of Bellevue and Redmond.  
Along with great amenities like schools, hospitals, public gardens, malls, and shopping complexes, Sammamish also has the beautiful Sammamish Valley and Sammamish Lake. They offer a variety of recreational opportunities for residents and visitors alike. Among the many public parks, the popular Pratt Park is a hit among the residents. It consists of an outdoor amphitheater and numerous parks that host free concerts and movies throughout the summer. It is also home to the area's largest farmer market. 

By Emmanuel BRUNNER, CC BY-SA 3.0, Link
Google Map Location: https://goo.gl/maps/CxX3JgqKpJ4hW3Nz9 
Redmond
The first thing to know about Redmond is that it has a population of just around 100,000. Now, if you're looking for a place that is decently large but not a full-fledged metro, then this destination should be your top choice, full stop. Located in King County, about 15 minutes away from Seattle, Redmond is one of the best places to live in Washington. It is close to two major freeways, I-5 and SR 520, and has its own police station and a very low crime rate. 
If you've ever used a Windows PC, then you've probably heard of Microsoft. Microsoft has multiple campuses here, including the Microsoft global headquarters. It is a hotbed of technology companies (including T-Mobile, the cell phone company, and Costco, the big-box seller) and home to some of the most creative, ingenious people. This is a hidden gem that shouldn't be overlooked. 
Google Map Location: https://goo.gl/maps/VLGyFua9NT4by1m76
Issaquah 
Part of the metropolitan area in King County, the town of Issaquah is located in the foothills of the Cascade Mountains – making it a treat for anyone interested in hiking and climbing. If you're looking to move here with your kids, there are several good schools and colleges for world-class education as well.  
This destination is home to many recreational parks and the great outdoors. There's a little something for everyone: outdoor activities like hiking and biking at the Issaquah Highlands, outdoor sports like football and soccer, outdoorsy music festivals like Mountain Soul Fest and the Northwest Folklife Festival, outdoor arts and culture installations like the Issaquah Salmon Days celebration, and live concerts and shows!  

By Joe Mabel, CC BY-SA 3.0, Link
Google Map Location: https://goo.gl/maps/b7fX1rVyzKXCR7uR8
Pullman 
Pullman is located in the southeastern part of Washington, in the northwestern United States, right where the Palouse Hills meet the eastern portion of the Cascade mountain range, a few miles west of the confluence of the Snake and the Clearwater rivers.  
Pullman is a relic of the Pacific Northwest's railroad era as if plucked straight from a movie set. Antique shops, bookstores, and homes are scattered throughout Pullman, which never saw much in terms of modernization after the demise of the railroad industry. 
Pullman is one of the best towns to live in Washington. Pullman is a popular college town that is home to Washington State University. It also has many good schools for primary education. It's quiet, welcoming, cultured—and perhaps most surprisingly—a famous travel destination. Pullman's unique experience makes it one of the most exciting places to live in the US. 

By Jeremy Segrott, CC BY 2.0, Link
Google Map Location: https://goo.gl/maps/iMY4kHpcXK2RZydf7 
Bainbridge Island 
Bainbridge Island is one of Washington's most popular vacation spots and a fantastic place to raise a family. From numerous schools and other essential amenities to a series of entertaining recreation options, there's a lot that this place has to offer to its residents. Residents can also enjoy its relaxed vibe, numerous parks, island ferry, hiking trails, and other outdoor activities.  
If you like the idea of locals for neighbors, then this is the time to invest in real estate on Bainbridge Island. With a population of around 30,000, Bainbridge Island has a unique and bustling culture – Bainbridge feels safe and familiar while still being a place that offers a dynamic quality living experience. 

By Dicklyon, CC BY-SA 4.0, Link
Google Map Location: https://goo.gl/maps/hyaV61AQ1XkV6DJ79 
Richland
Richland is a city in Benton County. Nestled in the breathtaking Columbia River Gorge, this destination has all the perks of a sleepy, rural town mixed with easy access to Portland, the Tri-Cities, and Vancouver. It's also one of the most diverse places in Washington! 
It may be small in population, but this city has seen tremendous socio-economic growth in the last couple of decades. It is considered to be among the best cities to live in Washington, with outstanding schools and colleges. As the sixth-largest city in Washington, it is rapidly becoming a famous tourist destination with many attractions to draw people from the big cities such as Portland to experience local entertainment. In addition to its spectacular location, Richland's mild climate, natural beauty, and history make it a top spot for residents as well as those who visit from nearby large metropolitan areas. 

By Corbin Harder, CC BY-SA 4.0, Link
Google Map Location: https://goo.gl/maps/rDGDseveu7t73JXi9 
Kirkland
There are many stories of small, obscure locations getting their 15 minutes of fame thanks to movies and television shows. For Kirkland, King County, Grey's Anatomy was the show that launched it into the spotlight.  
It is a place of contrasts. It's vibrant, eclectic, and rich in history yet still has that small-town feeling. The city encompasses several communities, all nestled around the beautiful Lake, Lake Washington. Kirkland is also a great place to raise a family. It's picturesque, safe, and extremely comfortable – especially if you love to be surrounded by water!  
Tucked away on the east side of Lake Washington, this city is just a stone's throw from the big spots that border the Lake. It is bordered by Bellevue across a short bridge and Redmond to the South East, Fisher's Landing to the south, and Totem Lake to the West. Kirkland is a charming place with its historic downtown area nestled along a tree-studded creek fed by the Sammamish Lake. In fact, Kirkland has been voted the most 'livable' city in Washington state for almost a decade running now. 

By Jelson25, CC BY-SA 3.0, Link
Google Map Location: https://goo.gl/maps/SygfRic5PtVEGUNm6 
Snoqualmie
There is just something about Snoqualmie that makes it the perfect home for you to raise your family. From that first view of the falls to that moment when you drive into the city and see all the shops lining the streets, it's not hard to see why you will fall in love with this place. 
As with any city, you will find that there are several different activities that can be enjoyed when in Snoqualmie. Some of these activities center around the arts and live performances by residents (and the several casinos that dot the skyline!), while others center around historical homes and landmarks. There is a handful of shops, restaurants, and parks in Snoqualmie that residents love. They even offer many outdoor adventures.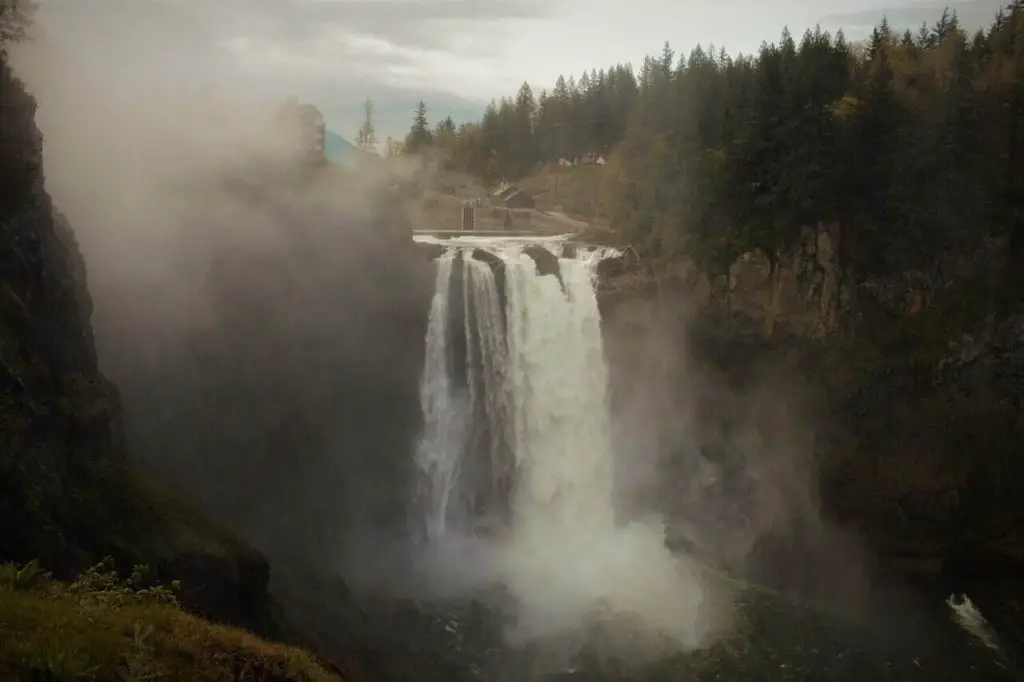 Google Map Location: https://goo.gl/maps/GREZNRLMuZMPAuZr7 
Woodinville
In a dazzling burg of around 88,000 citizens adjacent to the city of Seattle is a place called Woodinville. Woodinville is a small community located in the northernmost part of the Seattle Metropolitan area, i.e., King County. It is a quiet and peaceful community. The city is considered a bedroom community for some commuters who work in Seattle and other surrounding areas. 
Woodinville, Washington, is a beautiful place where you'll find some of the most popular restaurants in the entire world. No, really…just take a peek at the Wine Country page, and you'll see what we mean! Woodinville has always been an active farming community. It was the first place the Fox Hill Wineries provided many bottles of wine to the public in 1968. The town of Woodinville has always had a history of entertainment, sports, and special events enjoyed with a side of whisky.  

By Joe Mabel, CC BY-SA 3.0, Link
Google Map Location: https://goo.gl/maps/hokbGds5NTqWrqwKA  
Bellevue 
Bellevue is located in King County in the USA. The population is estimated to be around 161,000 residents. With world-class amenities, low crime rate, beautiful, budget-friendly living spaces, and excellent public schools, Bellevue is a wonderful town to live in. Especially if you are hoping to start and raise a family in the near future. 
It was officially incorporated on March 4th, 1891, after New York native John Leary was drawn to the area because of its similarity to his home state. John's brother William joined him shortly after to make real estate investments throughout the surrounding area. They were instrumental in creating what you see today!  

By Ken Lund, CC BY-SA 2.0, Link
Google Map Location: https://goo.gl/maps/mNUdyZ3AXM1W5UXPA 
Spokane 
Spokane is a hidden gem. It receives around 400 inches of rain per year, making it the largest city in the United States to receive that much precipitation. This amount of water translates to the most popular skiing spots in the PNW and some of the most famous mountain biking trails. You can ski at Mt. Spokane during winter or Mt. Squak year-round. 
Spokane is also an excellent place for both educational and business opportunities. Several schools and colleges here impart good-quality education, and its close proximity to major railroads and highways attracts and retains many multinational corporations. In addition, Spokane boasts the famous Spokane International Airport as well as a vibrant downtown art scene that draws folks from far and wide. 
It is one of those places that have witnessed rapid economic growth over the years. Its low population density and easy access from significant stops across Washington state have made it a desirable locale. Spokane prides itself on being the largest city in inland Washington and welcomes new residents and visitors with open arms.  

By Ron Reiring, CC BY 2.0, Link
Google Map Location: https://goo.gl/maps/f6fhbSJ3Hr5X72828 
Gig Harbor 
Gig Harbor is a popular choice for parents raising kids in Washington state. Partly because of the overall warm and welcoming atmosphere and partly because of the great schools here. This part of the state offers a small-town atmosphere with warm weather. However, the population is starting to grow steadily. So, if you're looking to move here, now is the right time.  
Gig Harbor is among the best areas to live in Washington! This small beach town has miles of untouched beaches, good seafood choices, and lots of boating options. Gig Harbor also has other amazing things going on. The Navy Museum is a must-see while in town; there are many art galleries to see some great artwork and plenty of local restaurants to check out. In addition to the town itself, the Puget Sound area is fantastic for boating, kayaking, and snorkeling. 
Gig Harbor is often described as an unexpected surprise on the way to the more popular attractions of Spokane and Tacoma. This is one of those places that have a small-town feel but with big-city amenities nearby – making it an excellent place for residents to live, work and play! 

By Ken Lund, CC BY-SA 2.0, Link
Google Map Location: https://goo.gl/maps/DRkZVxRdHp9QxbU29  
Bellingham 
Bellingham is the county seat of Whatcom County in the US state of Washington, about one hundred sixty miles (260 kilometers) north of Portland, Oregon, and twenty-five miles (40 kilometers) south of the Canada–United States border. If you love a small, scenic, and safe city that's a step away from the prominent places in WA, then Bellingham is the place to be!  
Not only does it have a classic college town feel with plenty of schools, restaurants, parks, entertainment, and outdoor activities to offer, but it also has a growing local club full of fun-loving folk. You'll be surprised by how active everything is here! With so many things to do in Bellingham, you are sure to have an incredible time. You'll find great food, entertainment, scenery, and so much more when you meet residents. 

By Joe Mabel, CC BY-SA 3.0, Link
Google Map Location: https://goo.gl/maps/eT1m1jtNg8jXcRF86 
Olympia
Olympia is more than just the state capitol. It is the perfect place to buy homes or set up businesses with outstanding schools, reasonable taxes, and a small-town, big-city feeling. It is one of Washington state's oldest places, and there has never been a better time for residents in Olympia!  
It was incorporated in 1890, the same year Washington became a state. Olympia experienced slow growth until recently when it saw an increase in population due to the many technology companies that have, or are choosing to, establish operations there. 
In the winter, Olympia is blanketed in snow and ice. You can go snowboarding, sledding, and snowshoeing in this winter wonderland. It's a tradition to take a break from school and work, enjoy the outdoors, go hiking, and have fun with friends and family at the parks. 

By Joe Mabel, CC BY-SA 3.0, Link
Google Map Location: https://goo.gl/maps/wt6xBssNpAfJd2Nr7 
Seattle 
Seattle is both the largest city of the state and the major metropolis on the West Coast of the United States, often considered an extension of the urban area of San Francisco. It is nicknamed The Emerald City due to the lush, evergreen trees that cover the hills around the city. Seattle sits between beautiful Lake Washington, a Lake, and stunning Mt. Rainier. 
Seattle has a lovely little shoreline on Puget Sound, but there isn't a ton of beach because the area gets a lot of rain year-round making the hillsides covered in dense greenery. Seattle is a very park-friendly city, and there are thousands of acres of parks, forests, and tree-lined streets. There are also places to get outdoorsy, like Discovery Park and Lincoln Park, which have lovely beaches along with hiking trails that overlook the water. 
Google Map Location: https://goo.gl/maps/Y54VQjDbPtt5T3Cm9 
Everett 
Among the really good places in Washington to live, Everett is located in Snohomish County in the northwestern corner of Washington state. With approximately 101,000 residents, Everett has become a major regional center in Snohomish County, along with its twin city of Lynnwood. 
Everett was officially incorporated on the last day of 1903. It is noted for both its well-preserved downtown area and for being the birthplace of grunge music. Nearly half of all residents living in Everett were born outside of the US, with significant sources of immigration from Vietnam, Cambodia, Thailand, Laos, Russia, Ukraine, Philippines, Mexico, El Salvador, Japan, Korea, China, Canada, and Poland. 
Everett is a city that boasts many talented and passionate individuals. Whether it's artists, athletes, or video-game designers, the community is rich with bright and intelligent people who love to use their talents and skills to help out their neighbors and enjoy life. 

By SounderBruce, CC BY 3.0, Link
Google Map Location: https://goo.gl/maps/ajZX8ceY3nEPNmA3A 
Bothell 
Welcome to the city of Bothell, one of the most beautiful places located towards the north in King County. Wherever you go in Bothell, there is a sense of community and local pride. Bothell combines the popular bits of both worlds – easy access to metropolitan areas with a small-town feel and supportive neighborhood.  
Bothell, WA, is among the best cities in Washington for many reasons. Compared to the surrounding areas like Tacoma, it's definitely quieter. But what people might not realize is that there are so many things to do here! The Bothell Town Center features a state-of-the-art movie theater, beautiful parks, and an array of dining and shopping options that include Costco, DSW, Ross, and JCPenney. Bothell Landing is also nearby, as well as the golf course communities of Brookside and Canyon Park. 
Fun fact: Bothell is a relatively new name for this town, which was previously known as Woodland! 
Google Map Location: https://goo.gl/maps/z53zW5opAkJw4e797 
Tacoma 
Tacoma is a small city by many standards, but it's rich in community and art. It has a population of just around 211,000 people. Tacoma has a substantial commercial and military presence, and its influence on the civilian economy is far-reaching. 
There are many great neighborhoods in Tacoma, Washington, with the most popular being Allyn-McLean, North End, South End, and Midland. You could move into one of the beautiful homes in East Tacoma if you think that's a better location for you because there are plenty of properties available for sale in many price ranges. 
If you plan to live here for a while, it is wise to invest in a property instead of living in a rental house. You can find something nice in both North End and South End communities that fall within the boundaries of Tacoma. 
Google Map Location: https://goo.gl/maps/JBTybqfkWoY6AQ8HA 
If you're looking for a city that you can call home and a place with good schools to raise a family, then among all other places, Washington is worth serious consideration. It is one of the most prosperous places in the country, not just in terms of culture and social life but also in terms of economic success. 
Washington is the most populous state in the Pacific Northwest region of the United States. It has diverse landscapes, including sandy beaches, rugged coastlines, and forested mountains.  However, it is one of the Pacific Northwest States that people don't usually think of when they think sun. They think rain, fog, and mountains. The winters are cold, and the summers are wet. But it is also one of the most beautiful states in America and living here can be beautiful. The only problem? There are many places to choose from! That's why this article about the best places to live in Washington state has been curated as a guide to help those who want to move to Washington.