Just a short walk away from the bustling district of downtown Minneapolis lies West End, a chic shopping arcade that offers a unique experience blended with shopping, work, rejuvenation, and of course, some dining. West End is home to both designers as well as homegrown brands like Francesca's, ApricotLine, fashion chains, innovative bars and craft breweries such as Yard House, dessert parlors, theatres and performance venues like Twin Cities Film Fest. It has experiential salons like Glamour Nails and restaurants that bring together cuisines from across the world and from parts of China, Mexico, Japan, and the Mediterranean. The shops at West End Minneapolis, St. Louis Park offer an experience like no other, and the West End restaurants offer flavors like no other.
Yard House
Established in 1996, the Yard House group of restaurants is available across the United States. It draws in much attention from the tourists who come here to experience the real American charm. The restaurant chain was established around the time when craft beer was all the rage in the United States and has since taken off successfully, setting up more than seventy-five restaurants along the way, all with the idea of providing innovative beers and an peppy vibe. Each restaurant under the chain runs with a theme exclusive to the outlet and is complete with decor and interiors that enhance its character. The menu here is unlike the ordinary and gives you a glimpse into the culture and thrill with which the place operates. It boasts of more than hundred flavors of draught beer and a plethora of innovative bestsellers such as the Poke Nachos, Fried Mac and Cheese, Street Tacos, and Grilled Burgers. The unique Chalkboard Series is the one to look out for and draws in a significant chunk of their crowd as it features innovative beers from local, domestic, import brewers.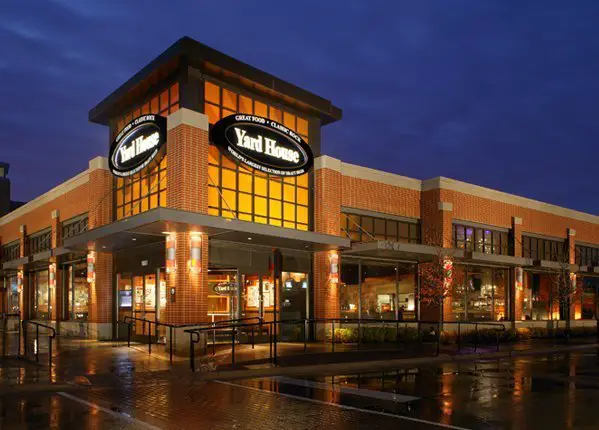 Punch Bowl Social Minneapolis
Punch Bowl Social comes from the award-winning restaurateur Robert Thompson who set up the place to bring together larger-than-life entertainment and binge-worthy cuisine. The upscale, casual eatery sets the backdrop for an ecstatic evening with everything from bowling and bonzini to giant Scrabble, Jenga and Connect Four available under one roof. The restaurant provides a complete experience and a perfect melange of craft cocktails, delectable food, and quality entertainment. While it is on the pricier side, the menu surely does make up for it with food options such as Cauliflower Nachos, Crab Rangoon Dip, The Knockoff Burger, and a range of indulgent drink options with the House Punch being the crowd favorite.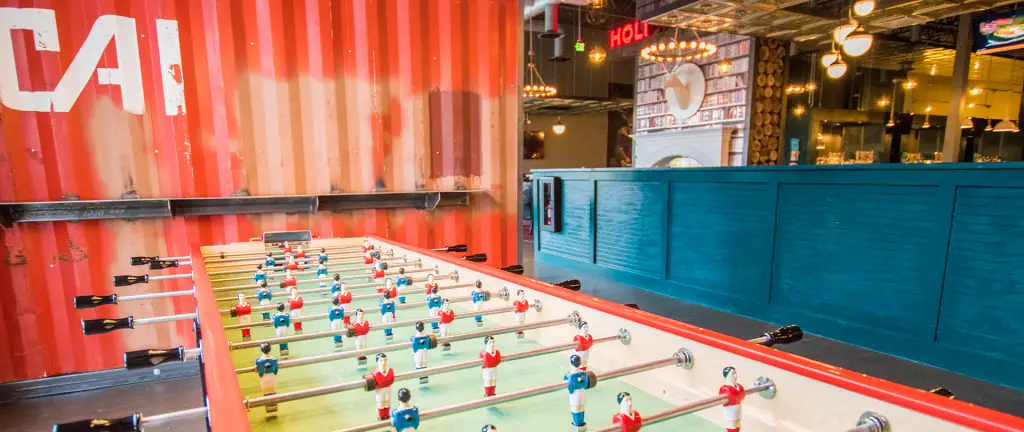 The Loop – St Louis Park
The fourth venture of the Rocket Restaurant Group, The Loop, is a place of excitement and adventure. Their Yelp page describes them as a high energy fun place, which means that it is perfect for those looking to explore Minneapolis and delve into the nightlife it offers. Live bands and DJs lend the restaurant its high energy as they take you through an enchanting melody as the night unfolds. The Happy Hours are what makes The Loop a fun place with unbelievable discounts and fantastic offers available twice a day between 2 pm and 6 pm and 9 pm and 12 am. The lavish menu boasts of bestsellers such as the Buffalo Chicken Wontons, Cubano, Hummus Trio, and Minnesota 75.
Lucky Cricket
The Lucky Cricket in Minneapolis is a tiki lounge curated by Andrew Zimmern and Michael McDermott. It is a bold take on honest, rustic Asian flavors blended in to suit the American palette. The lounge takes pride in offering a selection of tiki cocktails, each as unique and innovative as the last, and Asian dishes that hit the notes and intensity of their local counterparts. With tuk-tuks gracing the dining area and Japanese fans adding touches of color, the decor and interiors match the theme of the place and have elements of Asian culture. The menu has a range of well recommended experimental dishes such as The Crispy pig ears, Roasted Duck Dumplings, Mongolian Beef Bowl, and indulgent cocktails like West End Girl, Ginger Spiked Bourbon, and a range of Asian beers.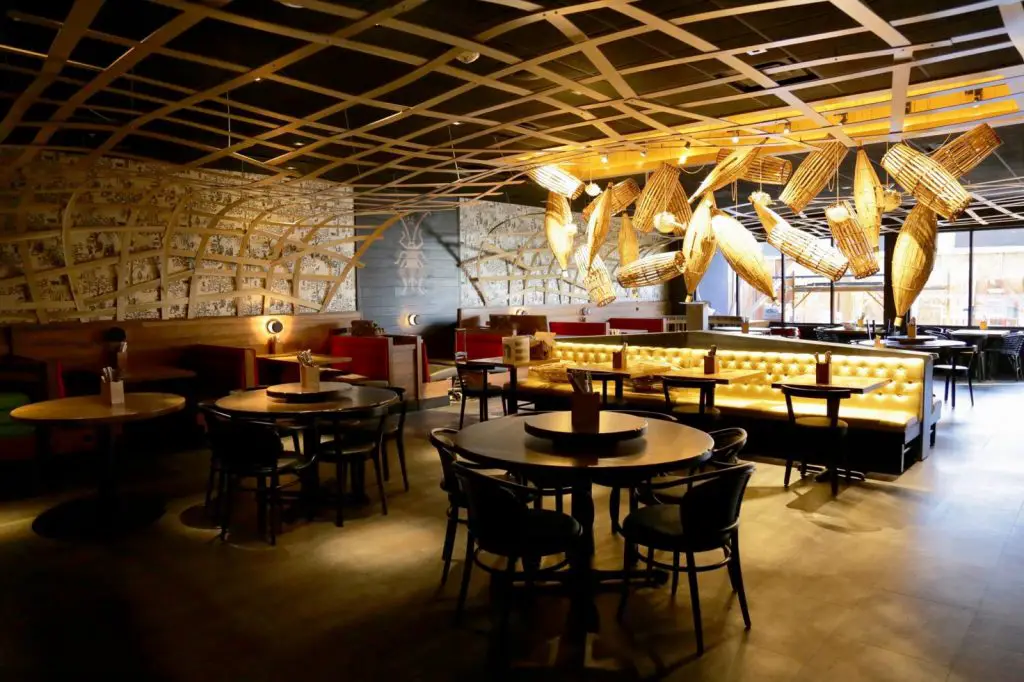 Crave American Kitchen & Sushi Bar – Saint Louis Park
Set up in 2OO7, Crave has quickly established its presence in Minneapolis as a premium, award-winning restaurant with a hot concept and a menu that transcends the ordinary. Made with fresh, locally sourced ingredients, all the food here is of the highest quality and caters to those on special diets such as Keto, Gluten-Free, and Paleo. The bar selection perfectly complements these dishes with premium alcohol and handcrafted cocktails. Their hot concept is that the restaurant has space for all kinds of customers. Guests who want a sophisticated meal can do so in the luxe dining area, while guests who wish a sunny afternoon vibe can lounge on the patio. They can observe the creation of sushi at the Sushi Bar or participate in one of the many events the restaurant hosts such as the Theatre Night Out. For those with kids, Crave has a special kids menu with meals for free on Sunday.
Roti Modern Mediterranean
The concept is in line with that of Chipotles. It is a quick-service restaurant that offers customizable meal options with everything from the base to the toppings made to the customers' taste. The restaurant provides wholesome, healthy Mediterranean food with fresh produce, locally sourced ingredients, and bright spices. The meals are available on a base of wholesome grains, drizzled in authentic olive oil, and complete with lean protein. Each meal is affordable, filling, and healthy, and leaves the customers feeling satisfied and content.
Rojo Mexican Grill
Rojo Mexican Grill is a locally owned and operated restaurant that offers a warm homely space with opening seating and wrought iron chandeliers, which give the area an ancient luxe touch. The flavors of the food here are Mexican by origin but are curated to suit the American palette, offering an Americans take on the bold, bright flavors of Mexico. Each dish is made with ingredients sourced in Mexico and with proprietary blends that are native to the country. The drinks available on the bar menu complement these dishes well. Cocktails made with local Mexican fruits are the bestselling favorite. The Tequila Bar offers a range of premium tequila and tequila-based drinks, which add to the already extensive bar menu.
Raku Sushi & Lounge
Raku Sushi & Lounge offers a luxurious setting that transports you to the world of old Japan with its ancient elements and old-world touch. The interiors have a warm cozy character and provide a perfect backdrop for the adventure that is Raku. The restaurant offers a range of experiences that are unique to the Asian culture, such as the traditional Japanese low seating, and a range of flavors that maintain the Asian heat. They also offer a three-course set menu that takes customers on a journey across Asian food with dishes such as the Crab Salad, Manila Clam Miso Soup, Gyoza, Filet Mignon, and Tempura Sushi Roll. If that wasn't enough, there is also free underground heated parking.  
Good Day Café
The Good Day Cafe runs keeping one principle in mind, "we're only as good as your last meal." They successfully deliver quality service and irresistible food, so each visit is as good, or perhaps better, than the last one. They take special care in ensuring every aspect of the meal is in line with the highest standards, whether it is by using only fresh produce and locally sourced ingredients, authentic flavors, or by having staff that makes you feel at home. Their goal is to make sure you feel like you are part of the family when you complete your meal there. Their atmosphere provides a warm, comforting energetic place welcoming of all.
Wrecktangle Pizza
A recent addition, Wrecktangle Pizza came into being on 16th December 2o19, by two brothers, Jeff Rogers (Chef) and Alex Rogers(Owner), who opened the place to bring family recipes to a Detroit style pizza joint. If you don't know what a Detroit style pizza is, picture a deep-dish pizza with cheese, crispy edges, and fresh, thinly sliced pepperoni crisped to perfection. The fun part about Wrecktangle is how they serve their pizzas in the shape of a rectangle, breaking the monotony of the circles and triangles. Although new in business, the restaurant has already seen tremendous successes and is slowly establishing its place in the West End market.
The West End restaurants are known for their diversity and flavors, and how they all come together to provide a cohesive experience. Each restaurant has a unique feature, a driving purpose, which makes it warm and welcoming, and staff that enhance the experience. The best part, perhaps, is how you will find yourself in another restaurant just as you finished with the first. One is never enough.