Martha's Vineyard is a quaint, charming island, located seven miles, or about eleven kilometres or 6.8 miles from the coast of Cape Cod in Massachusetts, USA. It is only accessible by boat or air and houses Vineyard Haven as its ferry port and commercial center, and Edgartown as its most popular tourist center. Martha's Vineyard is larger than you may think and encompasses six towns, each of which is unique with its personal qualities. It offers visitors a captivating experience, complete with lighthouses, sandy beaches, and diverse landscapes, with each one being more enchanting than the other. It is no wonder then that a trip at Martha's Vineyard can only be complete once you explore everything it has to offer.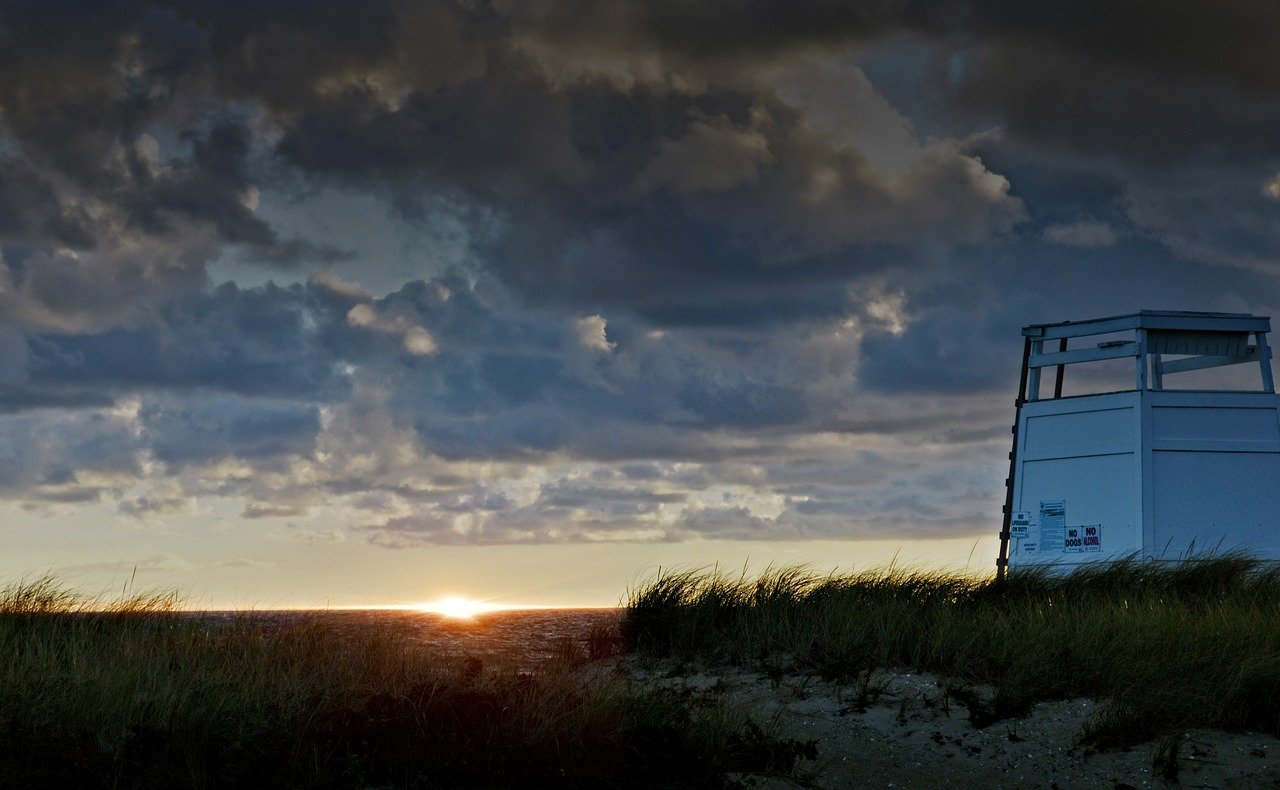 Find below the list of 15 most fascinating things to do at this charming Massachusetts island. 
Gingerbread Houses of Oak Bluff
The Gingerbread Houses of Oak Bluff look exactly like the ones we read in all the fairytales we grew up on – vibrant candy-like colors, intricate details, and a cheerful presence. The Gingerbread Houses offer a quaint glimpse into the life of the people that once inhabited them- the 19th century Methodists who initially visited Martha's Vineyard for worship and eventually settled in. For those who visit in the summer season, the Cottage Museum also hosts a tour that brings to light period pieces and memorabilia from the times that have passed. 
The Grange Hall
The Grange Hall in West Tisbury, Massachusetts, is a historic building that was built in 1859 by the Martha's Vineyard Agricultural Society and was the official location for the annual Agricultural Fair until 1994. It was sold to the Trust and restored in 1997, following which it has been open for use by the public. Ever since, Grange Hall has been a monumental venue and the preferred one for both large gatherings, as well as smaller, private ones. The first-floor hosts various professional gatherings such as society ceremonies, community meetings, etc., whereas the second one serves community interests and provides space for theatre, art, film, music, and local gatherings. 
Shopping on Martha's Vineyard
Shopping on Martha's Vineyard offers a whole different approach. Since there are no retail chains or malls such as in major towns and cities in the USA, the products are Island made and Island found, making each one unique and distinctive, and certainly a breath of fresh air in the world of fast-moving mass-produced consumer goods. Each town has a shopping district with unique styles and trends. The Island also hosts an Artisans Festival every Sunday and Thursday that highlights the works of local artisans and brings to light unique, local products. Vogue highly recommends the Slate and Lodestone in Edgartown for their artsy pieces. 
Fishing on the Vineyard
Being an island, it isn't difficult to imagine that age-old traditions and customs at Martha's Vineyard come from an ancestral history of fishing. The Island offers fish for everyone, and the Islanders are more than happy to catch them up. Here, there is a fish for every skill level and every person. While some go on to catch the larger kind, such as shark and giant tuna, others are happy with fishing scup and even clams. The Edgartown Meat and Fish Market receives a large footfall for its fresh, quality products and extensive range with local delights such as the striped bass, bonito, shark, squid, sea bass, etc. that are native to Massachusetts and the USA. You should also look out for the Martha's Vineyard Striped Bass and Bluefish Derby, which has been celebrated on the island for over 70 years now. 
The "Jaws Bridge"
The American Legion Memorial Bridge, commonly nicknamed as The Jaws Bridge, is a wooden bridge that divides the area between Edgartown and Oak Bluffs and is famously known for its role in the movie, Jaws. The bridge is continuously flocked with tourists and locals as it is considered a rite of passage for all tourists to jump from this bridge, dive into the sea, swim to the shore, and do it again, especially more so during the summer months. Martha's Vineyard warns all the tourists to avoid doing so during the low tide as the water is not deep enough then, and one may touch the sand underneath. 
Menemsha Hills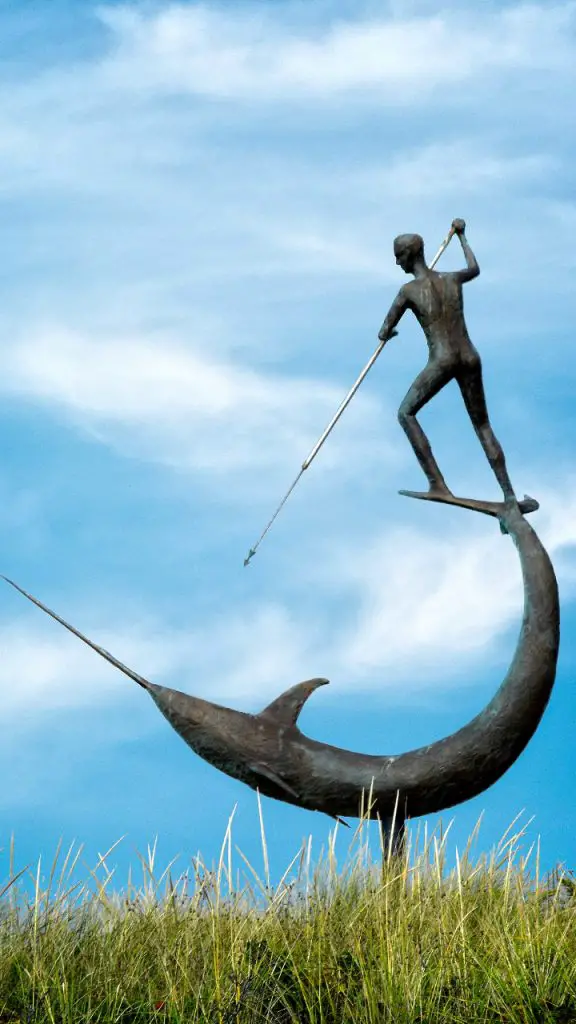 Menemsha Hills are a range of hills spread over a 211-acre site with scenic horizons and rocky shorelines surrounding them. Tourists popularly frequent the hills for the abundance of activities they offer. Visitors can soak in the lovely views, enjoy the ocean breeze, fish for a fresh catch, and even climb up to Prospect Hill, the second-highest point on Martha's Vineyard. The hills also provide a lovely ground for early morning hikes complemented well by views of the deep blue ocean and perhaps of the glorious sunrise. 
Felix Neck Wildlife Sanctuary
The Felix Neck Wildlife Sanctuary, located in the bustling area of Edgartown, offers four miles or about six kilometres of trails, nestled in the lap of nature. They allow for contemplation, meditation, and exploration through which you can be one with nature and with yourself. The Sanctuary also makes for a fun day in Edgartown, one in which you can settle in with nature and enjoy the different flora and fauna the island has to offer through activities such as bird walks, snake walks, owl prowls, kayak tours, day camps, sunset hikes, stargazing, etc. You should look out for sightings of birds such as oystercatchers, ospreys, and red-tailed hawks, which are exclusive to the USA  
Edgartown Harbor Lighthouse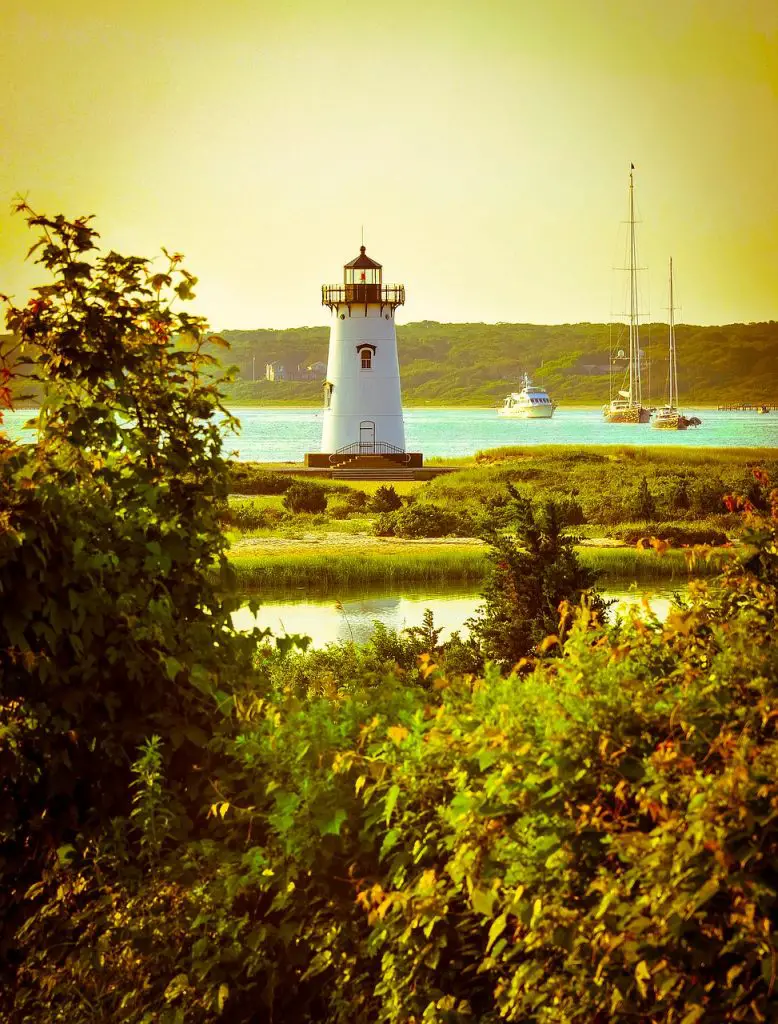 Located on the Harbor of Edgartown is a 45-feet or 1371.6 cm tall tower which was opened in 1828 and is maintained by the Martha's Vineyard Museum, Massachusetts. The Edgartown Harbor Lighthouse is perhaps the most popular of the five lighthouses that dot Martha's Vineyard. Tourists commonly flock to the lighthouse to admire the views it provides and enjoy the fresh catch you get nearby. 
Mytoi Japanese Garden on Chappaquiddick
Tucked away behind Edgartown Harbor lies the quaint town of Chappaquiddick. Here, you will find the Mytoi Japanese Garden, which is spread over 14 acres of land and provides a bustling, welcoming space for walking trails, birch walks, stone gardens, camellia dells, flower gardens, and a relaxing getaway. The scenic Poucha Pond is the signature feature of the garden and provides a great backdrop to a picturesque time. Turtles, frogs, and goldfish inhabit the pond, and you can see ospreys fishing from the sky onto the pond. 
Flying Horse Carousel
Constructed in 1876, the Flying Horse Carousel is the oldest operating carousel in the USA and undoubtedly has an abundant history attached to it. The carousel is so well preserved that the hand-painted horses still have most of their horsehair manes and tails intact. Kids and adults alike flock to the carousel to enjoy the historical thrill it provides, and some also participate in a challenge in which the player that catches the brass ring gets to ride the carousel for free. The Carousel is well recommended by parents, especially those with young children. 
Martha's Vineyard Picnic
Any island in the USA that offers picturesque views, sandy beaches, and ocean-fresh fish is bound to have a signature picnic to mark its identity. The Martha's Vineyard "Picnic" is one that all tourists are encouraged and advised to try. Think steamed lobster and clam chowder overseeing a tranquil sunset on the charming Menemsha beach, and you've got yourself an evening that will stay with you for a lifetime. Another classic picnic favorite is Memorial Wharf, in Edgartown, which has picnic tables on the lower level and seating on the upper level that provides a lovely view. 
Gay Head Cliffs of Aquinnah
The Gay Head Cliffs of Aquinnah, Massachusetts, are multicolored clay cliffs carved by glaciers many years ago and are one of the most popular tourist spots on Martha's Vineyard. They are constantly frequented by bus and bike tours, especially more so in the summer months. For those who would like to explore the area on foot, one can take the upper trails to enjoy the picturesque view the lighthouse provides or can use the lower path and explore the beach, capturing a most enchanting sunset. 
Rent A Bike
Picturesque views, enchanting sunsets, golden beaches, indulgent seafood – the only thing that can make Martha's Vineyard any better is a quaint bicycle that takes you around the charming towns. There are plenty of rental services scattered around that offer bikes, jeeps, mopeds, etc. on rent at reasonable prices. Be sure to look out for shops that do not mark up prices for tourists. Most tourists park their bikes by the Jaws Bridge, Edgartown, and take a jump into the ocean while they are at it. 
Island Alpacas
A South American delight, alpacas are found aplenty at the Island Alpaca Company, which breeds and looks after 50 to 70 alpacas. They also have the highest quality fleece. This is one of the unique attractions on Martha's Vineyard and attracts people of all ages. The Company is highly recommended by parents, especially those with young children, as it provides a fun day for the entire family. Spread across 19 acres, the Island Alpaca Company also offers a self-guided tour, friendly animals, and a gift shop with distinctive souvenirs. 
Martha's Vineyard Gourmet Café & Bakery
Martha's Vineyard Gourmet Café & Bakery has been a crowd favorite since its inception. Regardless of whether you're a local or a tourist, you will find excuses to visit this place for a sweet treat. The cinnamon bus, croissants, apple fritters, cheese bread, etc. are things all locals have grown up on. After the sun sets, the bakery also houses Back Door Donuts, a gourmet donut shop, operational in the evenings. 
Located in a small area of 100 square miles, or about 160 square kilometers, Martha's Vineyard, Massachusetts USA, certainly goes all the way in providing amenities to match the most urban cities. It is no wonder that tourists come from across the USA and the world to explore the island's picturesque views, golden beaches, breezy hills, fresh seafood, warm hospitality, and general charm and cheer.