The things that conjure up in your mind upon the mention of Colorado are visually arresting landscapes and their overall magnificent natural beauty. This mountainous state is host to an array of beautiful towns ideal for anyone looking to align their senses with nature. 
Although Colorado is typically recognized as a ski lover's haven, its lush forests, mountain trails, and gurgling rivers ensure that hikers get their money's worth, as well. Throw Colorado's rich history and culture into the mix, and the many museums in the region make it nothing short of a joyride for visitors and tourists. In this article, we take a look at 15 breath-taking small towns in Colorado that are as picture-perfect as they are iconic.  
Bookmark this page; it's sure to come in handy during your next (or first!) trip to Colorado. Oh, and if you're a shutterbug, then feel free to trade a few pairs of clothes in your luggage to make space for your camera. Trust us; you won't regret it. Hope you have your snorkels on because we're all set to dive in! 
Creede 
This quaint settlement, located in Colorado's southern region, is a beautiful confluence of mesmerizing landscapes, snow trails, rich history, and the inimitable Colorado charm. Creede's incredibly popular Mining Museum casts a thorough light on the town's mining origins that trace back to the silver boom of the late 1800s. The town has plenty in store for outdoor adventurers in the form of kayaking, fishing, hiking, skiing, biking, and wildlife watching.  
Google Map Location: https://goo.gl/maps/rGkFJ8fkZXjZtntx6 
Breckenridge
Cradled within the lofty trails of the Rocky Mountains, the 19th-century settlement, borne of mining,  packs incredible scenic beauty, making it among the top tourist hotspots in Colorado. It is also home to the eponymous Breckenridge Ski Resort, Colorado's most popular skiing destination by a mile and a half. Not to mention the thrill of the gondola ride that you have to take to reach the resort. 
If you're looking for a beautiful place to escape the humdrum of everyday life, then Breckenridge should be your go-to spot. This is because the all-nature surroundings offer solitude and serenity in plenty to its visitors. Other attractions include the incredibly scenic Breckenridge Golf Course and the Barney Ford House Museum. 

By Av9, CC BY-SA 3.0, Link
Google Map Location: https://goo.gl/maps/2JXaWWjrQpYv9iWE9 
Cripple Creek
The quaint recesses of Cripple Creek, Colorado serve as the meeting point of skiers, hikers, and history aficionados. A single stroll down the quiet streets of this gold mining town would expose you to several antique stores, shops, and restaurants, all formed from the hull of majestic turn-of-the-century buildings.  
Other notable tourist attractions include the famous Cripple Creek & Victor Gold Mine and the Cripple Creek District Museum. Equally well-known are multiple casinos around.  

By David Shankbone, CC BY 3.0, Link
Google Map Location: https://goo.gl/maps/phExXpi5GxoBREmg9 
Crested Butte
Outdoor enthusiasts, brace yourselves to experience the time of your life at the beautiful mountain trails of the "wildflower capital of Colorado", Crested Butte. From hiking to skiing to camping, the town of Crested Butte, formerly a mining haven, has plenty in store for you to get your adrenaline pumping. Additionally, the Crested Butte Mountain Resort is an absolute paradise for skiers and ski enthusiasts in general. While you're here, don't forget to treat yourself to the picturesque lift rides over here. You'll get enough fodder to populate your Instagram feed for a year or two. 

By Corey Leopold, CC BY 2.0, Link
Google Map Location: https://goo.gl/maps/3hFQejuZWjfwszMu8 
Georgetown
Called the Silver Queen of the Rockies, Georgetown is a small Victorian village with a mining background, much like Colorado's other small mountain towns. Housed within the Clear Creek Canyon, Georgetown is characterized by specialty shops, red sandstone sidewalks, and a host of delightful eateries. The town also hosts the charming Georgetown Lake, which serves as a great spot for outdoor activities like hiking, skiing, and the like. 
If you've ever wondered what residential living in the 19th century might have looked like, get your curiosity satiated by strolling into the stunning halls of the Hamill House Museum. Another site of historical importance is the Georgetown Loop Railroad, a heritage railroad that runs between the communities of Georgetown and Silver Plume. 
Google Map Location: https://goo.gl/maps/4papRgXWFi5D2jjM7 
Estes Park
 Perched on the eastern edge of the renowned Rocky Mountain National Park, Estes Park is a thriving hotbed of outdoor activities. From skiing to hiking and everything in between, the town is a true delight for adventure seekers. But that's not all there is to Estes Park. This town abounds in multiple options for its leisure-loving tourists as well. Some of these offerings include art galleries, restaurants, and art galleries. 
The town is also home to The Stanley Hotel, best known as serving as the inspiration for Stephen King's 1977 best-selling horror novel, The Shining. In case you were wondering, yes, the hotel is a historic landmark and open to bookings, as well. You can also visit Colorado's first homestead ranch — MacGregor Ranch and check out its museum for some historical stuff. Go ahead, book your cabin right now. 

By Sarbjit Bahga, CC BY-SA 4.0, Link
Google Map Location: https://goo.gl/maps/tjBitN23bamfge3p8 
Ouray
Known popularly as the "Switzerland of America", Ouray is hands down among the most scenic places in Colorado. The Victorian-era houses of this erstwhile mining town and its surrounding snow-capped mountains are a sight for sore eyes to behold. If you're looking for a place to pump new life into your weary bones, then no look no further than the Ouray Hot Springs Pool. 
While camping lovers can get their kick at the popular Ouray KOA campground, those looking to unwind in the lap of nature can book a cabin in the splendid RV Park. Others can spend some time at the Ouray County Historical Museum or go skiing at Lee's ski hill. 

By Andreas F. Borchert, CC BY-SA 4.0, Link
Google Map Location; https://goo.gl/maps/xgBNeQpqPiKdWQHU8 
Manitou Springs
Manitou Springs' claim to fame is its eight natural hot springs that tourists frequent in Colorado on a daily basis. The town's wondrous offerings of sculpture displays, music, art galleries, and theater make it the darling of art lovers all over.
If you're big on hiking, then visit the Manitou Incline or just "The Incline", as locals fondly refer to it. Hailed by many to be Manitou's crown jewel of outdoor reaction, this hike climbs over 2,000 vertical feet in less than a mile. If you want to dig into the town's rich mining-laden past, then Miramont Castle Museum is your go-to place. Cap off your trip with a trip to the famed Penny Arcade.

By David Shankbone, CC BY 3.0, Link
Google Map Location: https://goo.gl/maps/FbscDLh39V5vCjPB8
Trinidad
Established in 1876, Trinidad in Colorado has plenty of history associated with it, much of it revolving around mining. It is one among the few designated Colorado Creative districts, which makes the town a delight for art lovers. Trinidad's serene and beautiful outdoors is ably complemented by its astonishing Victorian buildings and meticulously crafted brick-lined streets.
Besides stopping by the Trinidad History Museum, check out the art scene of this town at the prominent A.R. Mitchell Museum of Western Art with its impressive collection of Native American art and artifacts as well as over 350 paintings by Western artists.
Google Map Location: https://goo.gl/maps/Z7AZGXMnMqqC9cn79
Telluride
Considered by many to be Colorado's most beautiful town, Telluride abounds in gorgeous historic buildings. It is also widely regarded to be the abode of mountain living. Nothing else affirms that statement more than the magnificent The Peaks Resort & Spa. Home to Colorado's largest spa and fitness center, you won't find a better place to unwind in Telluride, Colorado than the alluring confines of The Peaks. 
Other must-try things include taking the gondola ride to the mountain village and hopping aboard a lift at the Telluride Ski Resort. History lovers can stop by at Telluride Historical Museum, as well.  
Google Map Location: https://goo.gl/maps/XDZxgy6bbbRMipns7 
Victor 
If you've ever been to Victor, then there's a very slim chance that the mention of the Black Monarch Hotel would have escaped your ears. First-time visitors, consider this your cue. This famous haunted Victorian Hotel has been leading the charge in reviving this beautiful town of neglect and putting it on every visitor's "to-do" lists. The interior of the Black Monarch Hotel is straight out of a vintage horror movie set- full of eerie portraits, grand chandeliers, and taxidermied animal heads.
Google Map Location: https://goo.gl/maps/Gp5USFC2dWuPBVGr7 
Frisco 
What is better than hiking and biking during the summer months in the incredible Frisco Adventure Park? Yet another haven for skiiers, the beauty and popularity of Frisco lies in its proximity to the popular ski resorts of Breckenridge, Keystone, Arapahoe Basin, and Copper Mountain.  
That's not all. Located near the Frisco Adventure Park is the beautiful Dillion Reservoir, where, depending on the season, tourists either can go for rainbow trout fishing, snowmobiling, or yachting! 
Google Map Location: https://goo.gl/maps/AxaZrV62DzAN6DXD7 
Aspen 
The mountain scenery that you can treat yourself to at Aspen is quite unparalleled. In large, it is attributed to these four mountains — Snowmass, Buttermilk, Aspen Mountain, and Aspen Highlands. The most endearing aspect of this town is that it has something in store for each season. During summer, you can busy yourself mountain biking, fly fishing, and hiking while it becomes a go-to spot for skiers during winter. Disney lovers, if you want to have your very own Simba "Circle of life" moment, then do pay a visit to Aspen's awe-inspiring Independence Pass. History buffs can find out more about the mining boom of aspen at its many museums.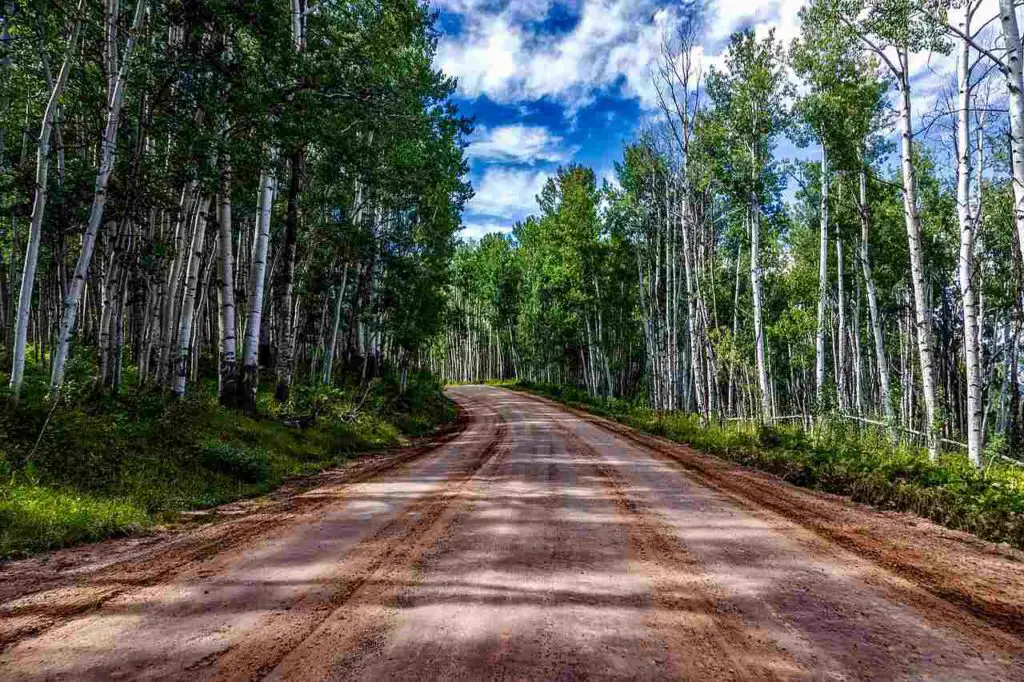 Google Map Location: https://goo.gl/maps/jNJwZ4tha4VwMZWU6 
Gunnison 
The town of Gunnison got its name from its first known English explorer, John W. Gunnison. This old town brings with itself plenty of history and heritage to the table, all of which can be uncovered at the Gunnison Pioneer Museum. 
The town is particularly well-known for Cattlemen's Days, a 121-year-old festival that celebrates Western culture, heritage, and their way of life. Known as the "Grandaddy of Colorado Rodeos", the locals leave no stone unturned in making Cattlemen's days an utterly fun-filled affair. Gunnison is also known for the Black Canyon of the Gunnison National Park, where you can come across some of the oldest rocks and steepest cliffs in North America. 
Google Map Location: https://goo.gl/maps/ELx7a3awirSVeF3H7 
Glenwood Springs 
Although the hot springs of Glenwood springs form a considerable part of its appeal, they are not the town's sole claim to fame. Glenwood is also recognized for its wonderful sites for camping, and for its vibrant culture as well.  
There's a lot you can do here. From hiking the picture-perfect boardwalk of Hanging Lake to skiing at the renowned Sunlight Mountain Resort, you'll never run out of outdoor ventures here. Additionally, the town also houses the Glenwood Caverns Adventure Park, known for its entertaining cave tours. 
Google Map Location: https://goo.gl/maps/NdHtN7Hq3A7JmhwD6
If you are currently awash with a strong sentiment of wanderlust, then we don't blame you at all. We firmly believe that after reading this article, the next time you sit down to figure out a destination for your upcoming vacation, your travel compass will find itself pointing unequivocally towards the arresting mountain towns of Colorado. Bon voyage!