Pizza, pasta, Andrea Pirlo, The Bicycle Thief, Leonardo Da Vinci- we have much to thank Italy for. Among Europe's most famous tourist destinations, Italy captivates the imagination of countless souls around the world, and we're sure you're no different! Home to exquisite architecture, stunning cities, absorbing art, and mouth-watering cuisine, Italy has enough in store to leave you enchanted for a lifetime and a half.  
With so many options at your disposal, planning a fulfilling itinerary for Italy can be a tough ask. To make matters easier for you, we've compiled this list of the best things to do in Italy. Follow this list, and you're assured of getting the best of Italy sightseeing on your trip! 
Mount Vesuvius
Mount Vesuvius is hands down among the most famous mountains in the world and one of the significant Italy attractions. Best recognized for its eruption in 79 AD that left the citizens of Herculaneum and Pompeii buried under meters of ash.  
Its last major eruption was recorded in 1631. Since 1944, the year of its last eruption, it has been dormant. As a result, it is now considered safe to climb. Hiking trails up to the summit will bring you to not just the mountain's crater but also some awe-inspiring views, which absolutely obliterates the exhaustion of the climb.  

By Bill Chizek, CC BY 3.0, Link
Address: 80044 Ottaviano, Metropolitan City of Naples, Italy | Google Map Location: https://goo.gl/maps/jgnBc7yShc2ZeZ5f9  
Valley of the Temples
If you're a history buff, you must make it a point to visit the famous Valley of the Temples situated in Agrigento. Nestled in Western Sicily, the Valley of Temples is an archaeological site that is among the most-renowned Italy attractions and is one of the best things to see in Italy. 
A brilliant example of Greater Greece art and architecture, these temples are living proof of Sicily's illustrious culture. The Valley of the Temples is home to the ruins of seven temples constructed in the Doric style. 
These temples include the temples of Concordia, Juno, Heracles, Olympian Zeus, Castor and Pollux, Hephaestus, and Asclepius. Additionally, the site of the temples also overlooks the town, granting you some breathtaking views as a result.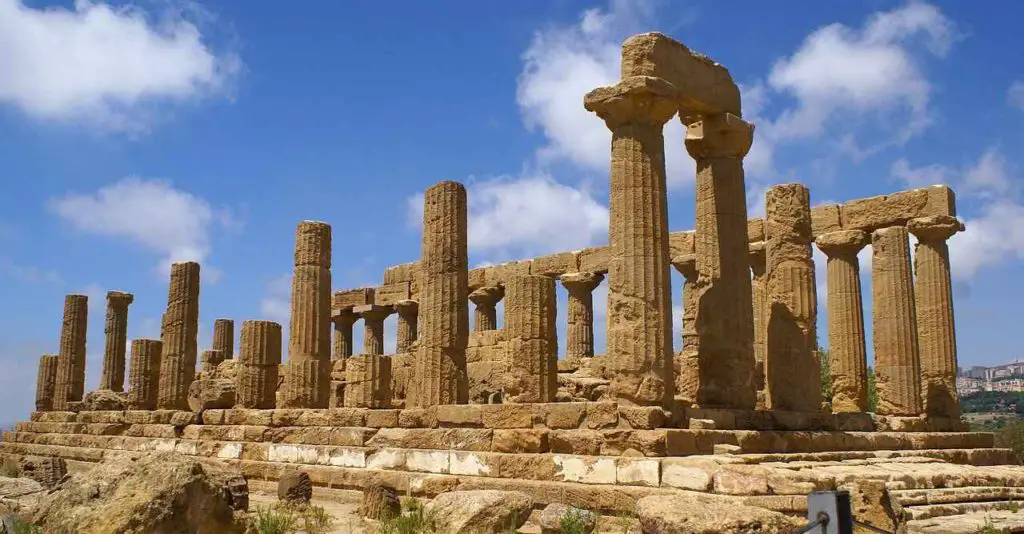 Address: 92100 Agrigento, Province of Agrigento, Italy | Timing: 08:30 am to 01:30 pm and 03:00 pm to 07:00 pm | Google Map Location: https://goo.gl/maps/5nz7CPJKegZj2TWVA | Phone Number: +3909221839996 
Lake Como
Located at the foot of the Alps, just one hour away from Milan, is Lake Como, the third-largest lake in Italy. It is spread across a vast 146 square kilometers. Its placid waters are surrounded by lush greenery, steep mountain slopes, and an array of striking villas, making it a sight to behold for sore eyes. 
Exploring the enthralling waters of the lake by boat is definitely among the top things to do in Italy.  On foot, you could either take a trip to the nearby, absolutely gorgeous fishing villages or go hiking on the neighboring trails.  
Star Wars fans, did you know that the Villa del Balbianello at the Lake Como acted as the shooting location for a segment of Star Wars Episode II? All the more reason for you to visit and take pictures of this place! 
Google Map Location: https://goo.gl/maps/68yac9S87Bd8sZqP7  
Go Hiking at Cinque Terre 
Composed of five mesmerizing cliff-side villages that overlook the Mediterranean Sea, the vibrant towns of Cinque Terre feature among the best Italy tourist attractions.  
The five villages are: Monterosso, Vernazza, Corniglia, Manorala, and Riomaggiore, with Manorala being the oldest village of the lot. Corniglia is the only village that doesn't have a direct connection with the waters of the sea. 
You might have been to many hiking trails before, but we doubt you'd find any as picturesque as Cinque Terre. Shutterbugs, do make sure that you've more than enough space on your memory cards before you pack your cameras for the hike! 

By Peter Thoeny, CC BY-SA 2.0, Link
Google Map Location: https://goo.gl/maps/os22vFLrKHASamXV7   
Juliet's House 
If you've read the famous Shakespeare play "Romeo and Juliet," you are well aware of the fact that the titular characters resided in Verona, Italy. 
Now, Romeo and Juliet might well be fictional characters, but so famous was the play that in 1905, the city of Verona decided to buy the house believed to have inspired Shakespeare's play. 
Cut to the present, the building, now known as Juliet's House, is one of Italy's major tourist attractions. No points for guessing which part of the house gets photographed the most; it is, of course, the iconic, and if we may add, immortal stone balcony.  

By Elliott Brown, CC BY 2.0, Link
Address: Via Cappello, 23, 37121 Verona VR, Italy | Timing: 09:00 am to 07:00 pm, Monday: Closed | Google Map Location: https://g.page/CasaGiuliettaVerona?share | Phone Number: +390458034303 
Uffizi Gallery 
Counted frequently among the most celebrated galleries in the world, the Uffizi Gallery in Florence, Italy, is quite the paradise for every art lover and enthusiast out there. 
From Leonardo da Vinci to Michelangelo to Raphael – Uffizi Gallery brings you the sculptures and paintings of some of the most gifted and prodigious exponents of Western art to have ever set foot on this planet. 
If you're planning a visit to the Uffizi Gallery, make sure that you allocate at least a good three to four hours to it. Anything lesser, and you'll be depriving yourself of the thoroughly hypnotizing experience that this gallery is capable of delivering. 

By Petar Milošević, CC BY-SA 4.0, Link
Address: Piazzale Degli Uffizi, 6, 50122 Firenze FI, Italy | Timing: 08:15 am to 06:30 pm, Monday: Closed | Google Map Location: https://g.page/uffizigalleries?share | Phone Number: +39055294883 
Pompeii
A trip to Italy's Campa region would allow you to witness the preserved remains of the historic city of Pompeii. 
The eruption of Mount Vesuvius in AD 79 is what caused this city to meet its untimely demise. At present, it is a UNESCO World Heritage City, featuring amongst Italy's most famous tourist attractions. 
The Antiquarium of Pompeii at the site allows visitors to witness casts of those victimized by Mount Vesuvius' eruption. It also presents archaeological discoveries of the excavations and displays that document Pompeii's settlement history before it became a flourishing Roman city. 

By Simon Burchell, CC BY-SA 4.0, Link
Google Map Location: https://goo.gl/maps/kwwPyvWxX2szJzkG6
Rome 
How can any tourist guide revolving around Italy be complete without recommending a visit to its capital, and arguably its most famous city, Rome? Although Venice and Florence do attract more tourists statistically, the charm that Rome exudes is rather inimitable. There is a reason why Rome is one of the most popular Italy things to do! 
Many identify Rome by its famous nickname "The Eternal City," a moniker borne out of the belief that Rome will never perish. No matter how many empires rise and fall within it or what happens to the world.  
Rome is replete with delightful museums, bewitching squares, and astounding monuments, the world-renowned Colosseum leading the pack, of course. Grown up listening to the proverb "Rome wasn't built in a day"? Well, a single visit to the city will certainly help you understand why.  
Google Map Location: https://goo.gl/maps/uSAnjiH7yB3Ggv7w8  
Historic Center of Siena 
Nestled in the heart of Tuscany, the historic center of Siena not only packs immense cultural value but is also among the most frequently visited tourist sites in Italy. If you are as interested in history as we are, we cannot recommend visiting this place enough!  
Recognized for its museums, medieval cityscape, arts, and cuisine, this historic center was added to the UNESCO world heritage sites list in 1995. 
When you are strolling the quaint streets of Siena, immersed in its inimitable charm, time is sure to trip by on rosy wings.  

By Francesco Bandarin, CC BY-SA 3.0 igo, Link
Address: Piazza Pio II, 1, 53026 Pienza SI, Italy | Timing: Open 24/7 | Google Map Location: https://goo.gl/maps/j1kEd7BYsQ5piFZu7  
Amalfi Coast 
Looking to beef up your photography portfolio? Or perhaps you're hunting for fodder to glam up your Instagram feed? Whatever might be the case, you're sure to get your needs catered at the breathtaking Amalfi Coast. 
Situated south of the historic city of Naples, the 34-mile-long coast plays host to as many as five million visitors annually. 
If you're up for a dare, then we have a suggestion. Try driving along the pixel-perfect Amalfi Coast without stopping even ONCE to admire the many views that it has to offer. Let us know if you succeed. 

By Glen MacLarty, CC BY 2.0, Link
Address: 84011 Amalfi, Province of Salerno, Italy | Google Map Location: https://goo.gl/maps/zPddXfRGksGUbcdm8  
Saint Mark's Basilica 
Located only a few minutes away from Saint Mark's Square in Venice is the iconic Patriarchal Cathedral Basilica, most commonly recognized as Saint Mark's Basilica. 
In 1807, it replaced the cathedral of San Pietro di Castello to become the episcopal seat of the Patriarch of Venice.  
It is arguably one of the world's most eminent churches and a remarkable case study of Italo- Byzantine architecture too. 
Address: P.za San Marco, 328, 30100 Venezia VE, Italy | Timing: 09:30 am to 05:15 pm | Google Map Location: https://goo.gl/maps/LFyRVtGAVi4rCP5f9 | Phone Number: +390412708311 
Vatican City 
In all probability, your first memory of Vatican City will date back to your school's general knowledge classes. It was introduced to you as the smallest city in the world. But it is so much more than that statistic!  
Home to the Pope and the headquarters of the Roman Catholic Church, Vatican City certainly needs no introduction.  
It is fair to assume, thus, that your trip to Italy will never be considered complete unless you have visited Vatican City. While you're here, do make it a point to visit the museums where'll you be greeted by a host of Renaissance frescoes and ancient Roman sculptures. Trust us, you won't regret having spent a single minute here! 
Google Map Location: https://goo.gl/maps/Ej6GcXjCoH9ViDwt9  
Visit the artistic Florence 
If you are an art connoisseur wondering 'What to do in Italy?' then no other place can soothe your senses as much as Florence can. 
Florence is famous for its many Renaissance palaces and museums, each more captivating than the next. It boasts of a profound cultural heritage, too, playing shelter to almost half of Italian works of art. 
Some of the must-see places in Venice include the Uffizi Gallery, Piazza Della Signoria, the Duomo, the basilica San Miniato al Monte, the Cupola del Brunelleschi, and the splendid Tuscan countryside. A word to the wise – don't try to rush through Florence in a day's time. Give yourself at least a couple of days to truly relish the many wonders of this place.  

By Alexander Waltner, CC BY 2.0, Link
Google Map Location: https://goo.gl/maps/FiBgX4V3pDyqPsJj9  
Travel through the Hills of Tuscany via Bike 
There's something inexplicably therapeutic about long, endless bike trips, isn't there? As they say, it is about the journey and not the destination. And when you embark on such a trip along Tuscany's picturesque countryside, navigating through biking trails meandering through majestic hillside towns, the zen-like effect amplifies itself by leaps and bounds. 
As you pedal on your bike gently past the several wineries and orchards dotting the countryside, you'll find yourself pregnant with insights and reflections enough to fill out a novel or two!  
But these bike rides aren't the sole prerogative of introspective solo riders; they make for an excellent family outing too! Take your kids on this adventure once, and they'll have enough fodder to narrate to their friends for a lifetime. 
Google Map Location: https://goo.gl/maps/bbFpaBCFs8v77xTh6   
Explore Venice in a Gondola 
You're lying if you tell us that you haven't fantasized even once about drifting along Venice's many canals in a beguiling Gondola (preferably with your partner in your arms!). 
Dressed in striped shirts and straw hearts, the gondoliers, gathered near the Rialto Bridge or the Grand Canal, are as fanciful as the rides they man.  
At night, the canals get more spectacular as the lights of the restaurants surrounding the canals and establishments frolic on the water. As tempted as you might be to carry your phones and cameras to capture these surreal sights, we suggest that you don't. Allow yourself to immerse headlong in the Gondola experience, sans any distractions. 

By Nino Barbieri, CC BY-SA 2.5, Link
Google Map Location: https://goo.gl/maps/qDPN6vQF9iZ5j65z5  
Explore the rugged landscape of Capri 
Exploring the rugged landscape of the island of Capri belongs, without any speck of doubt, to the list of the most fun places to visit in Italy. 
However, ceaseless natural beauty is not all there is to Capri. It is also quite well-known for its lip-smacking cuisine, world-class shopping, and upscale hotels. 
One of Capri's significant attractions is the Blue Grotto. This sea cave is illuminated blue courtesy of sunlight entering an underwater cavity and shining through the seawater. 

By Norbert Nagel, CC BY-SA 3.0, Link
Google Map Location: https://goo.gl/maps/yUzCEPmykt1FnBR37  
Leaning Tower of Pisa 
The very mention of the famous Leaning Tower of Pisa takes you right back to the history lessons from your schooldays, doesn't it? Well, if it does, it's about time you witnessed this marvel in person! 
The much-talked-about four-degree lean of the Leaning Tower of Pisa (one of the most famous Italian points of interest!) is actually the outcome of an unstable foundation. The leaning was first observed at the time of its construction during the 12th century.  
Does one of your search history queries read, "Is the Leaning Tower of Pisa still leaning?"? Don't worry, you're not alone. Now, let us answer your question – no, it isn't. Continuous remedial work over the years has ensured that the lean is now gradually reducing. 

By Maksym Kozlenko, CC BY-SA 4.0, Link
Address: Piazza del Duomo, 56126 Pisa PI, Italy | Timing: 09:00 am to 06:00 pm | Google Map Location: https://goo.gl/maps/jpGypAmhKVSTqCsn9 | Phone Number: +39050835011 
Dine at the top-rated restaurants of Naples 
If the question is "what to do in Italy?" The answer invariably involves pizza! And if you love pizza (and wine!) as much as we do, you simply cannot afford to miss Naples, argued by many to be the birthplace of pizza. 
It is believed that the first pizzas were made in the 1600s as street food to feed the bellies of the poorest Neapolitans.  
However, it's not just pizza that Naples is known for. A gastronomy powerhouse, this place hosts some of the top-rated restaurants in Italy, such as Palazzo Petrucci, Friggitoria Vomero, La Scialuppa, Ristorante Mattozzi, and The Grill, among countless others. If you want your tastebuds to experience the charm of authentic Italian cuisine and divine Italian wine, you know where you have to be. 
Watch an Opera Show at Verona Arena 
Located in Piazza Bra, the Verona Arena is a Roman amphitheater that was built in 30 AD. It is recognized internationally for hosting opulent opera performances. Watching an opera show at this venue, thus, is undoubtedly among the best things to do in Italy. 
The Verona Arena is the home of the Arena di Verona Festival, the inaugural edition of which took place in 1913 to commemorate the centenary of the great Italian composer Giuseppe Verdi's birth. 
So, how do you catch an opera performance at the Verona Arena? Simple, you just scroll through their website, pick a show of your choice, and then find yourself a seat in its stands that has a capacity of 15,000. 

By Ernesto Sguotti, CC BY-SA 4.0, Link
Address: P.za Bra, 1, 37121 Verona VR, Italy | Timing: For details of upcoming operas, visit https://www.arena.it/it | Google Map Location: https://goo.gl/maps/ynVeuebqki8iEJ4H6 | Phone Number: +390458005151 
Lecce: City of Baroque 
Lecce, situated in Italy's southern Apulia region, is home to an astounding assortment of museums, churches, and palaces, all belonging to the distinctive Baroque style of architecture. 
Multiple tourist attractions such as the Basilica of the Holy Cross, Faggiano Museum, La Basilique Santa Croce, and Sant'Oronzo Square all reside within the perimeters of Lecce. 
One of the city's major exports is the eponymous Lecce Stone which has also been used to build a majority of the monuments that the city houses. 

By MatthiasKabel, CC BY 2.5, Link
Google Map Location: https://goo.gl/maps/w2XSJJaiYo9qHers8  
Participate in a Local Festival 
If you really want to experience first-hand the rich culture of Italy, you must take part in at least one of its many vibrant local festivals. Characterized by colorful processions, flamboyant costumes, and irresistible delicacies, nothing sheds a better light on Italy's cultural depth than its local festivals. 
Some of the festivals in which you can participate are Carnevale, Game of the bridge, Regatta, Battle of oranges, La Quintana, Infiorata festival, Festa Della Madonna Bruna, Procession of mysteries, and Oh, Bej! Oh, Bej!  
Irrespective of which festival you decide to immerse yourself in, you're sure to earn yourself long-lasting and indelible memories. And if you are lucky, at least a couple friendships for life! 

By EvelinaRibarova, CC BY-SA 4.0, Link
Port of Genoa 
The voyages and discoveries of Christopher Columbus are something that pretty much all of us are familiar with via history lessons or otherwise. The Port of Genoa in Italy, however, was where it all began. In case you're wondering, no, Genoa wasn't his first discovery; it is, in fact, his birthplace! 
However, that is not Genoa's sole claim to fame; it is chock-full of tourist attractions. For starters, it houses multiple examples of Baroque, medieval, Gothic, and Renaissance architecture.  
The Aquarium of Genoa, Italy's largest aquarium, is a major tourist hotspot too. Spread across a staggering 33,000 square feet, the aquarium registers a footfall of around 1.2 million annually. Visiting Boccadasse and taking a stroll along the three km long Lungomare are some of the other fun things to do at the port of Genoa. 
Google Map Location: https://goo.gl/maps/AEPpkmL9UTpzvcAX8  
Go to Beach 
If you're a beach person, prepare to get spoilt for choice in Italy. The country is home to some of Europe's most exquisite beaches, and it'd be quite criminal if you came back from Italy without frequenting at least one of them.  
Some of the famous beaches that you could consider adding to your itinerary are Spiaggia Rena Bianca, Tropea Beach, Cala Goloritze, Spiaggia dei Conigli, and Baia di leranto.  
Picture this: soft powdery sand under your feet, pristine blue waters for as far as the eye can see, a glass of chilled cocktail in your hand, and hours of lazing around, being a beach bum! Pack an umbrella and a beach mat, and you're all set! Dive headlong into endless hours of reflections and musings by the calm shores of Italy's beaches. Trust us, you can never get enough of them. 
Go for Skiing in the Dolomites 
Adrenaline junkies, this one is for you. Get your blood pumping by going skiing among the unbelievably arresting recesses of the Dolomites. 
Classified as a UNESCO Heritage Site, the area comprises 18 peaks, with the tallest going upwards of 3000 meters – perfect for some skiing action!  
Looking for a skiing spot that can treat you to splendid sunrises and sunsets? Look no further than the Dolomites! And don't forget to carry your camera along while you're at it. 

By Vincenzo Gianferrari Pini, CC BY-SA 2.5 it, Link
Address: Str. Arnaria, 43, 39040 Castelrotto BZ, Italy | Timing: 08:00 am to 12:00 pm and 02:30 pm to 06:00 pm, Saturday – Sunday: Closed | Google Map Location: https://goo.gl/maps/oDmaDPYAnz42PfVo9  
Milan: The Fashion Capital of the World 
Home to the showrooms and luxury boutiques of the who's who of the fashion world, Milan is also one of Italy's foremost financial centers. 
Besides being the global fashion capital, the city packs a bunch of other tourist attractions as well. For starters, it is the site of the Santa Maria delle Grazie, most notably known for housing "The Last Supper," one of the Western world's most revered murals.  
Milan also has the famous Piazze del Duomo, which is, of course, adorned by the spectacular Gothic Duomo di Milano cathedral. Other places of interest include the Sforza Castle and Parco Sempione, the Pinacoteca di Brera, the Vittorio Emmanuel II gallery, and the monumental cemetery.  

By br1dotcom, CC BY-SA 2.0, Link
Google Map Location: https://goo.gl/maps/FwGcdQn145eftnXs7  
Go Hiking at Sardinia 
Positioned to the west of the Italian peninsula, Sardinia, the second-largest island in the Mediterranean Sea, is quite the hiker's paradise. 
While Sardinia does have a reputation for housing some truly magnificent beaches, its mountainous interiors make for an excellent hike too. What else could a traveler ask for? 
If you're in the mood for a challenging trek, then you must take the trip through Gola Su Gorropu, also known as Europe's Grand Canyon. Be warned, though, this trek can be quite a challenge for a trekking novice!  
Google Map Location: https://goo.gl/maps/6J1whive2uDWKDgR7  
Sicily 
To cap off this list is a place that has been immortalized by Mario Puzo's bestselling 1969 novel (and its subsequent movie adaptations), "The Godfather." Yes, we're talking about none other than Sicily. 
The largest Mediterranean island, Sicily, is one of Italy's prime tourist attractions. And why shouldn't it be? Scenic towns, majestic beaches, numerous castles, and Greek and Roman ruins – Sicily packs plenty in store for its visitors. 
To its east lies Mount Etna, one of Europe's highest active volcanoes. The Valley of Temples, the Greek theatre of Taormija, the Aeolian Islands, and the capital city of Palermo are some of the places you must visit during your time in Sicily.  

By cattan2011, CC BY 2.0, Link
Google Map Location: https://goo.gl/maps/Kwu5K8cUTPhY7Gzm7  
Even with our curated list, it is not really unnatural for you to still feel spoilt for choices in this magical land? But, at least, you have a starting point now! All that remains for you now is to pack your bags, book your flights, and tick off every single destination in this article! While you're at it, you'll surely let us know about your favorite pizza and pasta place, won't you?