New Jersey has almost 130 miles of coastline. Therefore, it is quite obvious that you will find some of America's best beaches in New Jersey. It has been seen that with the onset of summer, a majority of people living along the Eastern Coast take off to the beaches and boardwalks of New Jersey. 
Whether you want to enjoy a stroll or just laze around, you will be spoilt for choice when it comes to choosing the best Jersey beaches. Almost all of them have excellent amenities like restaurants, parking, restrooms, and accessibility. We have enlisted some of the top beaches in NJ, where you can enjoy a great vacation with family and friends. 
Point Pleasant 
Point Pleasant can be regarded as one of the good beaches in NJ for various reasons. The crystal-clear waters of the sea are a treat to the eyes. You can enjoy various kinds of fun activities here, including sunbathing, swimming and surfing. 
You will be surprised to see tropical palm trees lining the stretch here. Don't miss Jenkinson's Boardwalk, for it has some amazing ice cream shops, arcade games, and restaurants. 
Also, try visiting Jenkinson's Aquarium. There are bars in the area for refreshing cocktails and drinks. Constant monitoring by lifeguards makes the place safe. There are facilities like showers and restrooms, too, for vacationers. 
Google Map Location: https://goo.gl/maps/m1FqEe54oKf7N4tg6  
Asbury Park Beach 
The white beaches of Asbury Park draw lots of local as well as international travelers and vacationers. It extends to almost a mile and is popular for its boardwalks. It is undoubtedly one of the best beaches in New Jersey. 
You can enjoy various activities at Asbury Park, right from fishing and sunbathing to swimming. Visitors are allowed to bring dogs from October to May. During the other months, you can take your four-legged friend to Eighth Avenue Dog Beach at Asbury Park. 
Although Hurricane Sandy severely damaged the boardwalk, you will still find many restaurants and dining and shopping options along with lively music scenes at Asbury Park. 

By Arenapr, CC BY-SA 4.0, Link
Google Map Location: https://goo.gl/maps/iQHdJcBSiGFWGXWX7
Spring Lake Beach 
The pristine and immensely clean Spring Lake Beach in New Jersey is almost two miles long. Spring Lake has one of the longest boardwalks in NJ. Clear and beautiful ocean views are visible from here. 
If you want, you can also relax on the benches. Parking is free, but there is very limited parking space in the area. So, make sure that you arrive early to avoid parking hassles. 
The entry fee to the beach is $8, and badges are provided to guests. Spring Lake is one of the most sophisticated towns in NJ. You will find excellent ice cream parlors, restaurants, and local candy stores in the area. 
Google Map Location: https://goo.gl/maps/5ucw6YVmPPZhs4bW9  
Long Beach Island 
When talking about famous NJ beaches, you cannot miss Long Beach Island. Popularly called LBI, it is an 18-mile stretch of sandy beaches. 
Hire a car or take a bus from NYC, and you will reach the place within two hours. Some of NJ's most amazing beaches are here, namely Harvey Cedars, Ship Bottom, Beach Heaven, and Surf City. 
There are two more attractions here including, Barnegat Lighthouse State Park and Fantasy Island Amusement Park. Along with local people, many international vacationers also frequent the place. If you want to learn fishing and surfing, this is the place to be. 
Google Map Location: https://goo.gl/maps/GQ3vhFeZiUknRBzz9  
Belmar Beach 
Though the coastline here is only 1.3 miles long, Belmar is actually made up of many linked beaches. The boardwalk and the beaches are accessible year-round, but the activities vary. 
During summers, you can enjoy activities like fishing, surfing, swimming and boogie boarding in Belmar beach. However, the winter months are great for long strolls and enjoying the panoramic view of the place. 
Kids love this place as there are many playgrounds along the shoreline. Strict maintenance of cleanliness makes Belmar a famous and popular destination among locals and vacationers. 
Google Map Location: https://goo.gl/maps/81DRQZguggRdKjzP9 
Cape May
Cape May is a pretty seaside area in NJ. It can be counted among the most popular summer destinations in the area, with some of the nicest beaches in NJ, namely Steger Beach, Higbee Beach, Poverty Beach, etc. 
Along with lazing and strolling, people can enjoy various activities, including boating, surfing, windsurfing, and kayaking. If you want to stay away from the waters, indulge in bird watching, play beach volleyball or enjoy some delicacies at the restaurants here. Among the best beaches in New Jersey. 
Cape May is open throughout the year, but admission tags and badges are needed during the summer months. Cape May is also a prominent venue for 4th July celebrations in the state. 
Google Map Location: https://goo.gl/maps/vQb6ve1vQZeLBTo26 
Lavallette Beach 
Lavallette has two famous white-sand beaches, where you can enjoy swimming as much as you want. There is also a beautiful boardwalk measuring almost a mile. 
The beach and boardwalk are safe and protected as there is regular patrolling of trained lifeguards. A badge system persists in the place where passes have to be bought in advance. While dogs are not allowed at Lavallette, you can take your friend for a walk. 
You will find excellent restaurants, a yacht club, and innumerable shops in the small town nearby. There is no dearth of parking space in the area. 
Google Map Location: https://goo.gl/maps/nMMxpkq19WH4L9ED6  
Ocean Grove Beach 
Ocean Grove is loved by people who look for serenity and tranquility. The beach is not overly crowded here. Fine white sand presents a beautiful and picturesque view. 
Kite flying events are quite popular at this venue. During the summer season, you will be able to see inner tube races and sandcastle building competitions as well. You can wade in the shallow waters or play on the sand for hours. 
Boogie boarding and surfing are also enjoyed here. For entry, a nominal charge has to be paid to get a badge. If you have a pet, you can bring it along to the beach. Take leisurely strolls on the boardwalk. Ocean Grove town is also worth visiting. 
Google Map Location: https://goo.gl/maps/J1ZakDKje3qnr1Ef7  
Wildwoods Beach 
The tagline of Wildwoods is "As wild as you want to be" – and this is what defines this place. Wildwoods has a long pristine coastline that is five miles long. 
There are innumerable free beaches in the area, where various water sports activities can be enjoyed, including kayaking, swimming, jet skiing, surfing and boarding. The Wildwoods Boardwalk is amazing if you are interested in wild rides. 
There are also beachfront waterparks like Splash Zone Waterpark and Ocean Oasis Waterpark. Morey's Piers is another attraction in the area. Along the boardwalk, you will find many restaurants, entertainment venues, bars and shops. An ideal vacation destination in NJ. 
Google Map Location: https://goo.gl/maps/KHAgwZEb6MbgA3Nv5 
Gunnison Beach 
Talking of the famous Gunnison Beach separately makes no sense if we don't talk about Sandy Hook beach. One of the main reasons which have made Sandy Hook so popular is its easy reachability. 
It takes approximately 35 minutes from Manhattan via Seastreak ferry to reach this beach. A nominal price is to be paid for the badge and entry. 
There are four beaches at Sandy Hook – E and D Beaches, which are family-friendly, the famous North Beach, and Gunnison Beach, which is the nudist beach. Kids are not allowed on Gunnison Beach. 
You can enjoy fishing, biking, and windsurfing on these beaches easily. On Wednesdays, you can check the Summer Beach Concert, which begins at 6:00 pm. 

By Richard Arthur Norton, CC BY 2.5, Link
Google Map Location: https://goo.gl/maps/vZbhHXVopiPMoTeC7  
Margate Beach NJ 
Margate is not very long or extensive like many other NJ beaches. Around 1.5 miles long and a mile wide, it is not as crowded as other beaches in the region. 
However, there are days when you will find innumerable people, including tanners, teenagers, and families here. But, don't worry, you will surely find a suitable place for yourself. 
One of the attractions here is Lucy the Elephant. This is a six-story landmark by the beachside. You can visit Island Aqua Park to hone your skills in the water obstacle course. Local restaurants sell amazing lip-smacking delicacies. 
Google Map Location: https://goo.gl/maps/KdDFLZ6rhZzWFTCK7  
Avalon Beach NJ 
Also known as Seven Mile Beach, do not miss the amazing sunrises and sunsets when you visit this place. Birds flock to Avalon to absorb the beauty of nature. 
This famous southern NJ beach offers facilities like swimming, surfing, fishing, kayaking, paddleboarding, windsurfing, and lounging on rafts. Kids will be elated to know that there are nine playgrounds and parks here. Volleyball and tennis courts are also there. 
Google Map Location: https://goo.gl/maps/ALdFqS3NvnSxGKSP9  
Brigantine Beach 
When it comes to New Jersey beaches, Brigantine Beach, located 5 miles northeast of Atlantic City, needs special mention. Here, there are particularly assigned areas for swimming, fishing, and surfing. Experts have accredited Brigantine with excellent surf reports. 
During summers, you can enjoy barbecuing on the shoreline. Between October and March, try horseback riding as well. During the whole of summer, free movie nights are hosted here. You don't need any fee or badge for this. A family-oriented, clean shore, it's one of its kind. 
Google Map Location: https://goo.gl/maps/rnRCJTPuqF6MZukU7  
Ocean City 
Considered as one of the best beaches in New Jersey, Ocean City has the most amazing boardwalk in the country. Ocean City has an apt nickname — "America's Greatest Family Resort".  
The shoreline extends to almost eight miles and has the Atlantic Ocean on one side and Great Egg Harbor Bay on the other side.  
There are plenty of activities in which you can indulge in the area, including biking down the boardwalk, riding the waves on rafts, practicing yoga on warm sands etc. Ocean City shoreline is family-friendly with lots of restaurants and bars.   

By Dough4872, CC BY-SA 4.0, Link
Google Map Location: https://goo.gl/maps/1e9hGpNjeLrCNseq9  
Seaside Heights Beach 
Seaside Heights has many public beaches, and they are pretty expensive at $8 daily. The only exception is the famous Bay Beach, which is accessible free of cost. 
The boardwalk runs along Seaside Heights beach. You will find various kinds of dining options, carnival rides, and arcade games on the boardwalk. Don't forget to try Kohr's Frozen Custard, which is a staple here. You can bring your whole family to this place for complete enjoyment and relaxation.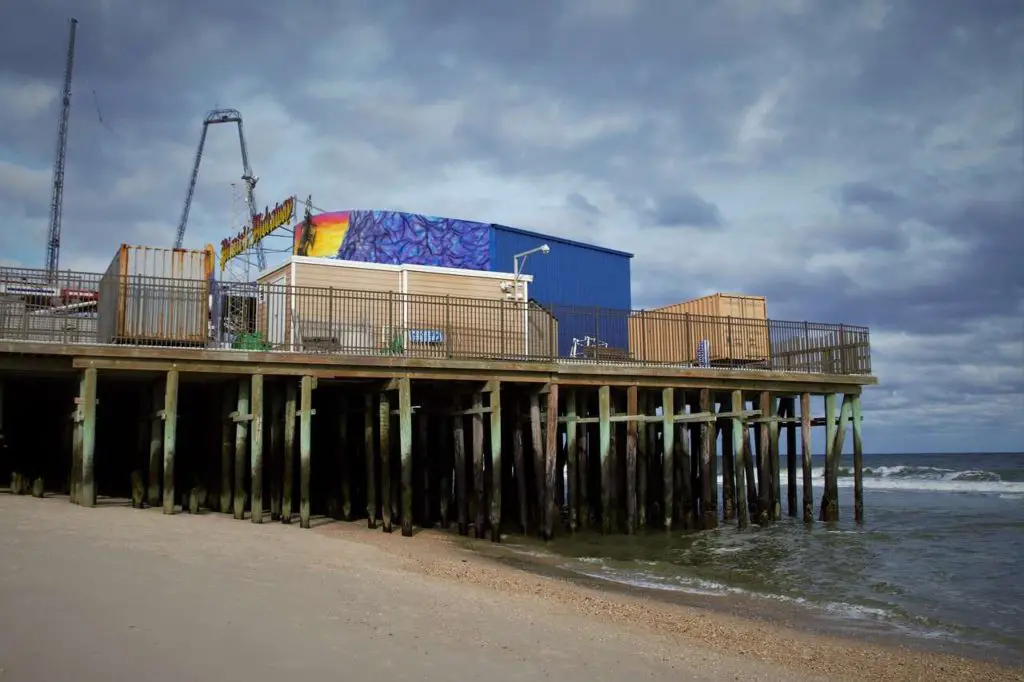 Google Map Location: https://goo.gl/maps/LQoHbTzbMnzD69fu7  
Stone Harbor Beach  
Stone Harbor Beach is an uncrowded beach. This pristine sun-kissed beach is an excellent destination during the summers. An ideal family-friendly spot, this beach has fascinated locals as well as tourists. 
The downtown area is famously upscale. You will find fashion stores and lots of expensive shops there. There are expensive restaurants, bars and cafes along streetsides, catering to the needs of the customers. There is an expansive bird sanctuary off Second Avenue as well – a great destination for nature-lovers.  

By Steve Riggins, CC BY 3.0, Link
Google Map Location: https://goo.gl/maps/uEWsutzTQScFmqXx6  
Sea Isle City 
Sea Isle City Beach is definitely one of the finest beaches in NJ if you are looking for kiteboarding, kayaking, or just playing beach volleyball. If you don't want to participate in such activities and want to simply relax and lay back, visit the Townsends Inlet Waterfront Park. 
You can lie down on the famous beach and get tanned, relax with your favorite book and drink or even enjoy the sunset amidst a peaceful ambiance. Morning yoga is also practiced on the beach – try it once. You are sure to love it! 
Google Map Location: https://goo.gl/maps/e3RG1nAZsJqRsGHC9
Now that you have a comprehensive list of the top NJ beaches, you can plan where you want to spend your summer weekends. Also, if you are on a trip to New Jersey, you will know the most amazing beaches in the state so that you can try and visit them. Almost all the beaches come with lovely boardwalks and are major attractions too.