As soon as you set foot in Oregon, USA the first thing you notice is the enlarged landscape of this region dotted with rugged mountain ranges. Due to the frequent volcanic activities in this region, you can see several mountainous peaks. The converging lines caused by these towering peaks have led to the formation of spectacular natural hot springs. A prime attraction in Oregon, several tourists flock these hot springs every year. Whether you are looking for a new way to enjoy yourself or just spend some peaceful time, visiting the ten best hot springs mentioned below can be an excellent experience for you. If you wish to keep your worries at bay and recharge your mind, body and soul; soak in any of the hot springs at Oregon, that hold water enriched with essential minerals.
Hot Springs in Oregon: Need to Know
There are about 19 natural hot springs which dot the landscape in Oregon. This region has several active mountains like Three Sisters and Mount Hood, which provide the optimal geothermal energy. This energy results in the scattering hot springs throughout Oregon. The hot springs here are of great cultural and historical significance since the time the native Americans have been using these spots for healing their minds and bodies.
Oregon houses both public as well as private hot springs. The public hot springs at Oregon are rustic and are free for the visitors except for a small sum that is charged as a parking pass. These places have volunteers who are responsible for managing these hot springs. Be aware of the fact that clothing is optional for many of the public hot springs here.
Private hot springs at Oregon are generally open for public, but there is an entry fee for the same. These hot springs in private places come with accommodation options as well. The owners of these private hot springs clean them regularly so that they are safe to use and that is why you need to pay a fee for accessing and enjoying the facilities.
What to pack for Oregon Hot Springs trip?
Oregon's landscape is pretty diverse, and so are the weather and climatic conditions prevalent here. This is why the things you will need to pack for visiting one particular hot spring may differ from another hot spring located at a different area in Oregon. Here are a few things you need to keep in mind while packing for a trip in hot springs Oregon.
If in case you are going to the hot springs on higher elevation regions, you need to carry enough warm clothes even during the summer season.
Not many services are present around the public hot springs at Oregon, so be sure to bring your swimsuit and a set of a towels.
Pack water-proof footwear to wear in and around the hot spring.
Carry a set of clothes for changing.
If you are heading towards the desert region along with your hot spring trip, make sure that you pack a bottle of sunscreen and a hat.
Plan your trip to hot springs in Oregon well in advance to avoid hassles.
12 Most relaxing Hot Springs in Oregon
Now that you are aware of all the prerequisites for a trip to the hot springs in Oregon, let's have a look at the 12 best natural hot springs worth a visit in this region.
1. Bagby Hot Springs, Mt. Hood National Forest
You need to head southeast from Portland for about 2 hours from the highway and you will be able to locate this popular hot spring. You will have to hike a bit after the drive from Portland along the Collawash River through a dense jungle teeming with towering cedar and pine trees to reach this location. You can choose from a range of bathing rooms and pools in this hot spring near Portland. Earlier this was a public hot spring, but due to the reckless behavior of some visitors, a private body took control over this area. You can expect the charges to be around $15- $28 for a day.
2. Breitenbush Hot Springs, Willamette National Forest
If you want a less primitive experience of soaking, head to Breitenbush near Portland. A company called Breitenbush Community has voluntarily taken over the management of this natural hot springs. The entry for the visitors here is free and they can enjoy services like shower rooms, sauna, dining, lodging, restrooms, etc. at a price. You can pitch your tent near the hot springs, but you need to get to this place early to claim the spot you desire before anyone else.
3. Bigelow Hot Springs, Willamette National Forest
This hot spring is very different from the other natural hot springs in the region as this is inside a cave. When here, you will get a chance to witness the spectacular backdrop of water dripping from the rocks, bask in the quaint atmosphere with the rippling sound of water and the naturally growing ferns. All in all, this place is perfect to experience serenity in a relaxing atmosphere.
4. Belknap Hot Springs, Willamette National Forest
This hot spring comprises of two pools with a consistent water temperature hovering between 185 to 190-degree Fahrenheit or 85 to 90 degree Celsius. Out of the two pools, one is open for visitors staying through the night and the other pool is open for the visitors who are there for a day trip. The charges per night for staying here are $8 to $15.
5. Terwilliger Hot Springs, Willamette National Forest
Popularly known as the Cougar Hot Springs, Terwilliger is quite popular among the foreign tourists in Oregon. This place consists of six different pools inside a cave. You will have to park your vehicle at the Cougar Reservoir and hike for about half a mile to reach Terwilliger Natural Hot Springs. The owners of this hot spring clean and drain the water in the pool weekly, generally on Thursdays. If you are in for an adventure, pitch your tent at Cougar Crossing Campground for a great camping experience.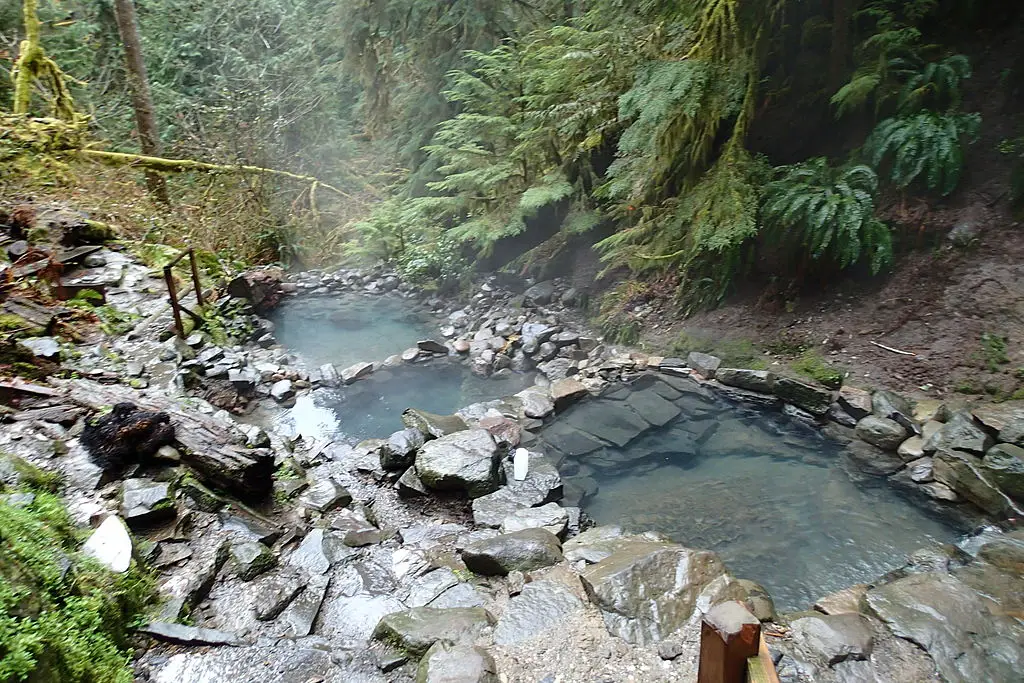 6. Umpqua Hot Springs, Umpqua National Forest
You can reach Umpqua Hot Spring in two different ways. You can take the North Umpqua Trail for a long hike towards the hot spring, or you can even park your vehicle and reach the spot through a short hike. There are about seven pools for relaxing in Umpqua and the water in each of these pools is at a temperature of about 108-degree Fahrenheit or 42 degree Celsius. While soaking, you can enjoy the gorgeous view of the North Umpqua River, and if lucky, you can even catch a glimpse of the Surprise Falls.
7. East Lake Hot Springs
The area around the East Lake Hot Springs Oregon typically smells of sulfur and this is one of the indicators during your hike that tell you that you are nearing the hot spring. Although this hot spring is great for stress-free soaking, it does not experience a lot of crowd as most of the visitors prefer visiting the Paulina Lake Hot Springs in the near vicinity. The entry is free for this hot spring and if you wish to extend your stay to two or more days, you can rent a room at the nearby East Lake Resort.
8. Paulina Lake Hot Springs, Newberry National Volcanic Monument
Paulina Lake Hot Spring is the neighbor of Newberry Volcano's Caldera. The water in this hot spring generally stays at a temperature of about 95-degree Fahrenheit or 35 degree Celsius, and this is why visitors choose to call it a warm spring rather than a hot spring. If you love camping, you can pitch your tents at Little Crater Campground and experience a delightful camping experience. After a nice soaking session, head to Little Crater and get a chance to witness the spectacular sunset from there. 
9. Summer Lake Hot Springs
This hot spring is unique as it is in an arid desert area. This hot spring is one of the most secluded hot springs and is perfect for all those people who love relaxing in a peaceful and calm environment. This experience, however, comes at a price of $10 for a single day. The mineral water inside the hot spring pool varies in temperature and is generally in the range of 108 to 118-degree Fahrenheit or 42 to 47 degree Celsius. This resort also features an indoor pool inside a rustic looking barn clad with metal.
10. Barnes Warm Springs
If you are an adventure lover, you must hike through the trail which reaches the famous Barnes Warm Springs. After a tiring day of hiking, you can have the most relaxing experience by soaking in the warm springs here. This mineral pool stays hidden and secluded as not many visitors prefer to endure the long and strenuous hike to this hot spring. 
11. Alvord Hot Springs
Alvord hot spring is famous among all the foreign visitors here as the most picturesque scenery surrounds this hot spring. Apart from soaking in the pools of this hot spring, you can also enjoy the crisp air of the desert brushing through the surrounding atmosphere. This place also features a wooden deck where you can relax and lounge after soaking in the hot spring.
12. McCredie Hot Springs, Willamette National Forest
This is an isolated hot spring inside the Willamette National Forest at approximately 50 miles or 80 kilometers from Eugene. This area accommodates the Salt Creek with the hot springs on either side. The temperature of the mineral water inside these pools keeps fluctuating from 98 to 114-degree Fahrenheit or 36 to 45 degree Celsius.
Leave no trace at Oregon Hot Springs
Due to the popularity of the hot springs at Oregon, there has been a constant issue of overcrowding and overuse. Among the several visitors are a few irresponsible ones who do not heed the instructions specified at these natural hot spots. Due to these reasons, the public hot springs are suffering a great deal and may deplete soon enough.
These geothermal spots are very delicate and the balance of minerals in them can quickly get ruined when not taken care of. As a responsible individual, every visitor must ensure that they adhere to the restrictions imposed in these areas to protect these hot springs for several years to come.
If in case you decide to visit any of these popular hot springs at Oregon, make sure that you follow the below etiquettes.
Observe the specified "Leave No Trace" principle.
Refrain from using soaps in these hot springs as the water cannot handle the suds in the soaps. You must try not to use even the natural soaps and organic soaps over here.
There are designated pathways and trails, restrict your movement to only these permissible regions.
Before jumping into the hot spring, follow the given instructions on showering.
You may be in a mood to scream and shout while enjoying with your friends but be mindful of the fact that some visitors prefer quietness and expect to enjoy a peaceful soak. 
Whatever you pack in, make sure that you pack it out while leaving.
If the previous visitors had left behind any form of litter, carry it out with you when you leave, so that the next group can have the same pleasant experience in these hot springs just as you did.
There are several other hidden and unexplored hot springs in and around Portland, Oregon. This list features only the ones which the tourists traveling to this region regularly visit. If you wish to soak in the hot spring that is less commercialized, go on a short hike to explore Oregon and you might find more than one such hot spring.