Holi festival (pronounced as "Holy") is an Indian festival of colors that celebrates the phenomenon of life, love, kindness, and togetherness. It exudes madness, excitement and a riot of mesmerizing colors all packaged into a single day of pure fun and frolic. The entire country bursts into colors as they celebrate this festival once a year. Not only does the Holi festival announce the arrival of spring and the passing of winter, but it is also a celebration of rebirth, revival and new beginnings, and a time to let the bad and the negative melt away. In different parts of India, people celebrate the festival of Holi to thank the Almighty for an abundant harvest season. With an atmosphere of social merriment everywhere, young and old bury their hatchets with a warm embrace and throw their worries to the wind as they play, sing, dance and toss colors on each other. Every nook and corner soaks in a vivid and lively spectacle of colors such as green, red, yellow, purple, pink and blue. Every year, before the heat of the dry, summer months begin, parts of India burst into colors, thanks to the Holi festival, one of India's most popular and legendary Hindu festivals. The festivities, which are celebrated by people across the world are most famous for their dazzling scenes of celebrators covered in colors and drenched in water.
What is Holi?
Positive vibes, cheerful faces, and euphoria are the things that come into the mind when we think of the most awaited festival of India. Holi always falls on Purnima or the full moon day and is celebrated for two days. On the first day of Holika Dahan, a bonfire is set alight for a prayer that cleanses the atmosphere and burns away all the evil and malevolent. The next day is all about the festival of colors, when people rejoice with colors, indulge in savory delicacies, meet and greet one another and create new beginnings. The infectious enthusiasm of the Holi festival reaches out to everyone's soul and invites them to be a part of this gala regardless of one's religious choices or nationality.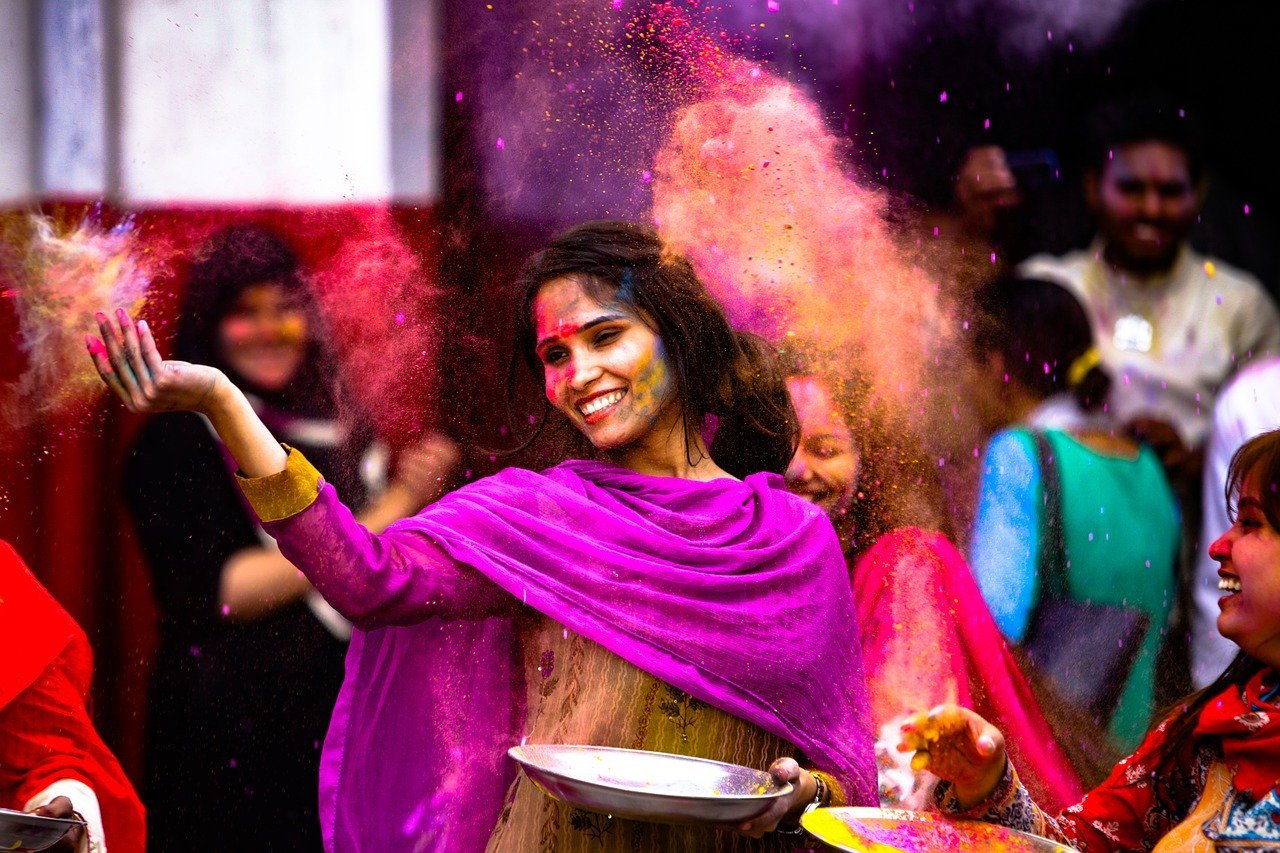 Why is Holi called the festival of colors?
Holi is the festival of colors as the significant event is a color-filled celebration. While Holika Dahan has a religious significance, the day of the Holi doesn't include a religious ritual. Holi is about entertainment and fervor by playing on the streets or going to private events to rub colors at each other. Fondly called the "Festival of Colors", Holi was named since the time Lord Krishna played pranks and displayed his charming antics on the village girls by drenching them in water and colors.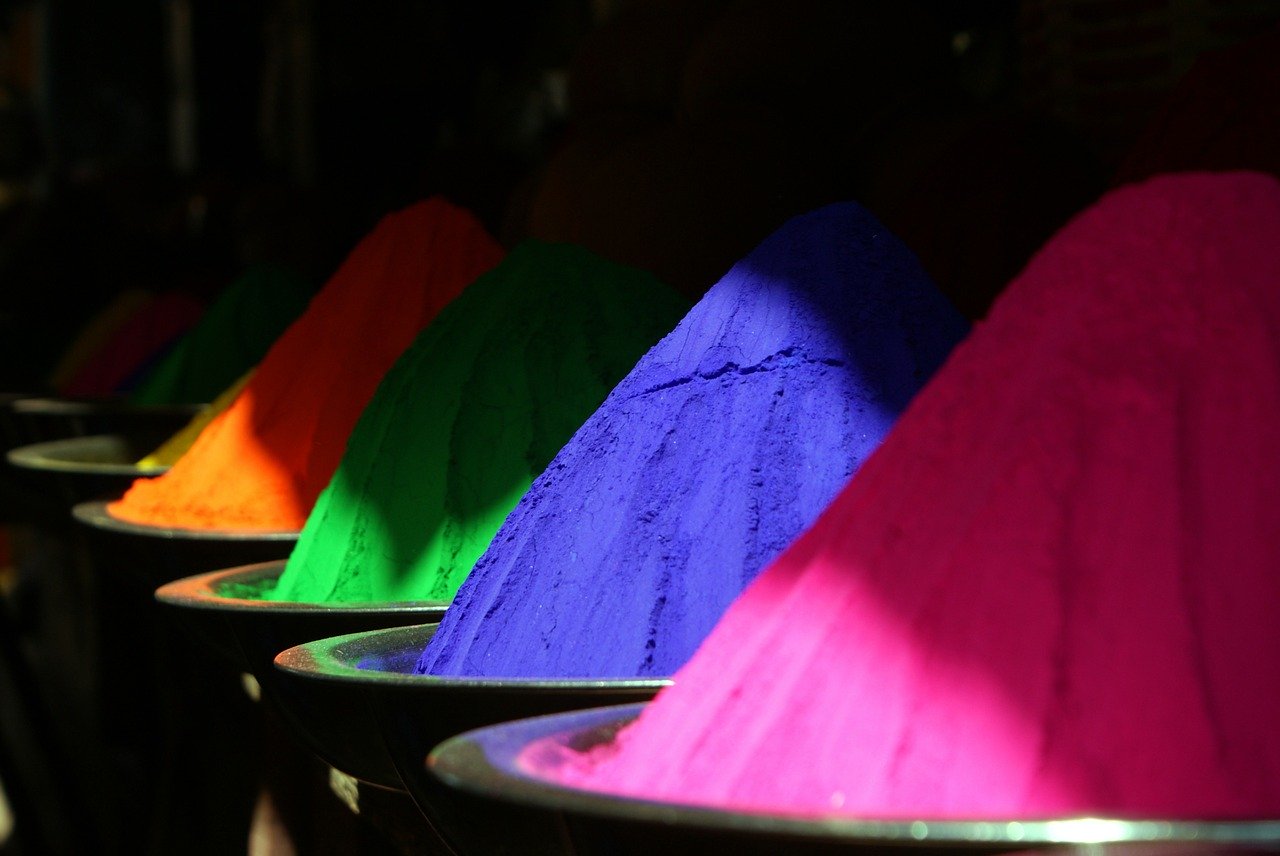 In the rainbow-hued Holi festival, every color is unique and has a symbolic meaning to it. Blue embodies Krishna, red is the color of purity, marital harmony and love, green denotes birth and new beginnings, and yellow is a symbol of auspicious occasions and traditions.
What is the history of Holi?
This Hindu festival of colors is linked deeply to its origins in mythology since centuries. The story revolves around Hiranyakashipu, a proud king who believed he was an immortal God, and his son, Prahlad, a devoted worshipper of Lord Vishnu, a Hindu deity. It displeased Hiranyakashipu that his son chose to worship Lord Vishnu over him. To punish Prahlad, Hiranyakashipu plotted with his sister Holika to kill Prahalad by burning him alive. According to the legends, the festival got its name from Holika, who charred to death in the pyre and Prahlad came out harmless. This story depicts the most excellent example of courage and faith and symbolizes the triumph of good over evil. Lord Vishnu appeared in the form of Narasimha avatar, half-lion and half-man, one of his Dashavataras, and killed Hiranyakashipu. Thus, this incident restored young Prahlad's faith in Lord Vishnu and liberated him from all the pains and agonies that he endured from his father.
Another mythological story that is associated with Holi is the story of Lord Krishna and Radha. A symbol of love and devotion, Krishna, being the dark-skinned God, was envious of Radha who was fair-skinned. To show her love and to please Krishna, Radha let Krishna put color on her face.
When is Holi 2020?
Make your life a little more colorful and check out for the Holi festival overlapping with your trip to India. Do remember that the exact date may vary every year as most of these enthralling festivals are planned according to the lunar calendar. Generally, it falls in February or March every year or the day after Purnima in Phalguna, a month in the Lunar calendar. In 2020, Holika Dahan is on Tuesday, March 10, when the customary puja and bonfires will take place and the festival of colors, Rangwali Holi will be played in full vigor on Wednesday, March 11. On the evening of Holi, huge bonfires and effigies set alight to mark the occasion and burn evil spirits, a ritual known as Holika Dahan. The next day begins with the throwing of colors, spraying each other with water guns, and mischief in the streets. Holi festivities begin a week earlier in some parts of India like Mathura and Vrindavan, whereas the festival takes place a day further prior in West Bengal and Odisha.
Where is Holi Celebrated?
Not only is Holi one of the most loved festivals in India, but Holi celebrations also take place around the globe. To celebrate the festival of colors, the busiest metropolis metamorphosis into a pleasant land. Offices and commercial centers remain closed during this festival, and people flock down to the empty lanes of the city to take part in colorful water fights with the tourist and fellow men. 
What are the best U.S. Holi celebrations?
In the US, just like any other festival, Holi is also welcomed with an equal elaborated passion and splendor. New York City's Holi celebrations are open to all religions. People of different color and backgrounds come together at events across the cities to brighten up spring with an explosion of colored powder and upbeat sense of fun. Cities like New York, New Jersey, Boston, San Francisco, Seattle and Houston boast of the biggest festival of colors in the U.S that includes dancing with colors, excellent Indian street food vendors, and musical concerts with live bands. With a large population of Indians in the US, you can celebrate Holi with gaiety and a lot of fanfare. Different societies formed by the Indians and religious organizations help people to celebrate this exuberant festival and feel connected to their cultural roots especially children who take this opportunity to understand the significance of celebrating festivals and traditions associated with them. Inviting Bollywood actors to celebrate Holi adds to the festive spirit.
Festival of Colors in Brooklyn, NYC is an annual spring art and music event in trendy Bushwick that invites painters and graphic designers and includes live DJ performances to make Holi even more colorful. 'Holi Hai' on Governors Island takes place every May and engages participants with Sufi and Punjabi entertainment, food vendors, and safe colored powders.
Popular legends behind Holi celebrations
Deeply ingrained in Hindu tradition, there are several mythologies connected with the festival. One such popular legends mentioned in the Hindu text, Narada Purana, is the story about Holika. Hiranyakashipu, Prahlad's King father, instructed Prahlad to start worshipping him instead of Lord Vishnu. Prahlad's immense dedication to Lord Vishnu and the refusal of his father's orders created such hatred in his father's mind that Hiranyakashipu along with his sister, Holika devised a plan to kill Prahlada. One popular adaptation of this tale narrates how Holika forces Prahlada into a fire and puts her on her lap, believing the fire would kill him. However, Prahlada survived while Holika burnt to death. To commemorate the triumph of good over evil, the evening before Holi highlights the torching of bonfires after sundown, signifying the burning of wicked Holika.
Another Holi origin arises from a separate story of Hindu folklore involving Lord Krishna. Lord Krishna was jealous of Radha's fair complexion and while playfully flirting, rubbed colors on her face. A prankster that he was, he would often harass the 'gopis' or the village girls and cow herders by throwing colors, water and flowers onto them. Krishna's jovial and mischievous practices originated the traditional festival of playing Holi with colors where the men imitated Lord Krishna to throw colors.
How is Holi celebrated?
In the evening of Holika Dahan, before people light the bonfire, they pray for their children's good health and protection from evil influences. Owing to its linked legends and traditions, Holi primarily revolves around the lighting of bonfires on the evening before Holi and playing with colors the next day when 'gulal' or colored powder and water are thrown and sprayed teasingly onto everyone. Another standard way of Holi celebrations and customs include meeting and wishing friends and sharing sweets like Malpua and Gujiya, a fried and sweetened pastry stuffed with dried fruits and nuts, snacks like Dahi Vada, Papdi Chaat, Aloo Chaat and traditional drinks like bhang or thandai, a milky concoction of pistachios, almonds, cardamom, and cannabis paste.
People spend the day smearing colors all over each other, pointing 'pichkaris' or water guns to throw colored water at each other, dancing to the 'dhols' or drumbeats, having parties, and merrymaking. 
Best place to celebrate Holi in India
In India, people celebrate the Holi Festival in the spring air of March with musical compositions through dance and concerts that include special events and celebrations with international guests and local visitors. Cities like Goa and Mumbai have become a splendid field with stage shows, rain dances and food stalls. Whether you are looking to escape into the royal palaces of Rajasthan, get tropical in Goa,have a more traditional experience at Mathura, or looking to celebrate Holi in a picturesque town like Hampi, there always is something unique for you to experience.
Barsana, which is 25 miles from Mathura practices the extraordinary tradition of Lathmaar Holi. Just like the tale, where Krishna was being chased away by the female cow herders for teasing them by flinging color or gulal on them, the women in the town hit the men with sticks or lathis to drive them back to Nandgaon. If you want to partake in Lathmar Holi in 2020, do not forget to block 4th and 5th March on your calendar. 
Holi in Mathura and Vrindavan 
Vrindavan – this is where the love saga began. Vrindavan is where Radha and Krishna met for their secret meeting in the garden of Krishna Leela. Celebrate Holi at Banke Bihari temple in Vrindavan that takes place for a week and play Holi with flowers, called Phoolon Wali Holi on Aanola Ekadashi.  After breaking the shackles of an age-old tradition, a large number of widows now participate in the magnificent Holi festivities of Vrindavan, throwing colors and flowers at each other. On Vasant Panchami, Mathura, just 100 miles from Delhi and the birthplace of Lord Krishna, hosts "Raas-Leela" performances and mythological shows along with a vibrant Holi procession of people who smear color on each other with great gusto and fervor. So, if you are looking for one of the best and most distinctive interpretations of Holi, head to the holy cities of Mathura and Vrindavan.
Relive the ancient legacy of Guru Rabindranath Tagore who introduced the Basant Utsav at Shantiniketan, the legendary university in West Bengal. Shantiniketan's charming and culturally rich history blends perfectly with the spirit of the Holi festival. To this date, Holi is celebrated in unmatched enthusiasm and vigor, where the students put on a massive cultural extravaganza for the visitors. 
Holi in Delhi is popular for the happening 'mad moozik' festival, Holy Cow. With an exciting line up of the country's best independent music acts, Holi Cow is a music lover hub in this spring festival. 
People in Purulia district in West Bengal celebrate three days of Basant Utsav or folk festival with folk Baul songs, and dance like Natua, Chhau and Darbari Jhumur. 
A popular Holi destination for foreign tourists, Rajasthan Tourism also organizes a spectacular Holi festival in the lawns of Khasa Kothi Hotel that arranges magnificent and royal Holi. On the day of Holi, The Maharaja of Mewar arrives in traditional clothes and welcomes dignitaries, guests and honorable foreign tourists to The Royal City Palace. He initiates the burning of a bonfire in the vast sprawling ground of the palace followed by lavish dinner, cocktails, fireworks and folk dances to mark the occasion.
If you are looking to celebrate Holi to the hilt at some of the most picturesque beaches, Goa serves as an ideal destination. 'Shigmotsav', a famous Goan spring festival, is celebrated with dances and parades in Colva and Panaji. Several Holi parties have rain dances and DJs that create a cheery ambiance and jolly mood and is enjoyed by all ages.
What do I need to know before I go?
Holi is a time for adoration, for playful flirting and letting go of all inhibitions. Whether you're interested in attending Holi 2020 in the U.S., or you want to witness Holi in its purest form in India this year, you must have enough information and knowledge about the festival of colors. From the reason Hindus celebrate Holi, what the colors symbolize, to the best place to partake in the color party, be thoroughly prepared.
In earlier days, natural and non-toxic products such as spices and flowers were used in Holi colors. But these days, the colored powders are contaminated with harmful and toxic chemicals. When buying colors, make sure you check the components to prevent any damage by the dangerous and toxic ingredients. Wear old yet fully covered clothing to allow minimum exposure to the colors. To make sure the colors pop more, people wear white clothes during this festival.
However, one thing you need to know if you are in India, there is no avoiding this festival. If you plan to attend a Holi event in India, no matter what, you will be covered with celebratory colored powders. Holi at times can seem wild and a bit intimidating experience for first-timers. Still, if you stay safe and be cautious, and are willing to participate with an admiration for the festival's meaningful and cultural merriment, you will have a colorful experience of a lifetime that will etch in your memory for years to come.
What Rituals are Performed?
The most prominent of Holi rituals is Holika Dahan or the burning of the evil Holika. On the night before Holi, people light large bonfires and perform a special worship ritual. People sing and dance around the fire with gaiety. In Saras village near Surat in Gujarat, people indulge in sacred fire walking across the hot coals of the fire to mark the occasion.
Holi in Odisha and West Bengal
In the eastern states of West Bengal and Odisha, the Holi festival is comparatively mellow and dedicated to Lord Krishna. It is celebrated as Dol Purnima or Dol Jatra on the same day as Holika Dahan and played with dry colors called 'gulal' or 'abeer'. According to a different mythological story, the Holi festival celebrates the love of Radha and Krishna. Festivities begin few days in advance, on Phagu Dashami and idols of the deities Radha and Krishna are seated on decorated palanquins and a procession commences with devotees taking turns to swing them. The idols are also smeared with colored powder. 
In Odisha, Holi traditions are like Bengal except that here the idol of Lord Jagannath, an incarnation of Lord Vishnu, is worshipped and placed on the swing.
What to Expect During the Celebrations?
Expect to get drenched with colors from head to toe in the huge crowd. Getting wet and dirty in the face and clothes in this very lighthearted festival is the best way to enjoy Holi. Whatever you wear is going to get destroyed with the colors; hence it is a prudent idea to wear old clothes and rub coconut oil into the hair and skin.  But in all the mess, be sure that beautiful memories of this vibrant festival get permanently imprinted in the minds of the people who celebrate the Holi festival. Escape the stress of your life and add more joy to the festive spirit by partaking in music concerts, dance programs, fashion shows and Holi events throughout the cities to mark the occasion.
Holi Safety Information
Holi is a day to let yourself loose. Often, the boisterous behavior of many local men may cause safety issues for women. If you are a solo woman traveler, avoid going out alone in public places during Holi, as troublemakers can be aggressive, causing a safety concern. Hence, travel as part of a guided group tour. Under the influence of excessive amounts of alcohol, bhang and other intoxicants, some groups of men might get inebriated, misbehave and cause a nuisance. If you must, consume 'bhaang' responsibly. Leave your valuable at the hotel or the house. Cover your head with a scarf and protect your eyes with sunglasses as much as possible. If you are a photographer, make sure the camera is secured in a waterproof case and cover.
For people visiting India to celebrate Holi, stay alert and enjoy going out into the streets around the early hours in the morning. For personal safety, be back in your hotel by midday. Most of the hotels hold special Holi events and parties for their guests in a safe environment, so enjoy this grand festival in all its glory.