Earlier recognized as the 'Hat Making Capital of the US', the city of Beacon NY had some 50 hat factories operating at a time around the 1800s.  With the passage of time and the establishment of the world-renowned art museum Dia: Beacon in 2003, Beacon NY has undergone a phenomenal cultural metamorphosis ushering a pleasant mix of both the modern and the traditional.  Your trip to the New York State is incomplete without a visit to this quaint city. Nestled in the banks of the Hudson River and well connected to the north of New York City, Beacon will offer you a great experience thoroughly steeped in world-class art, antiques, and marvels of nature.  With a culture so vibrant and welcoming, here are some of the top things that you cannot afford to miss in Beacon NY.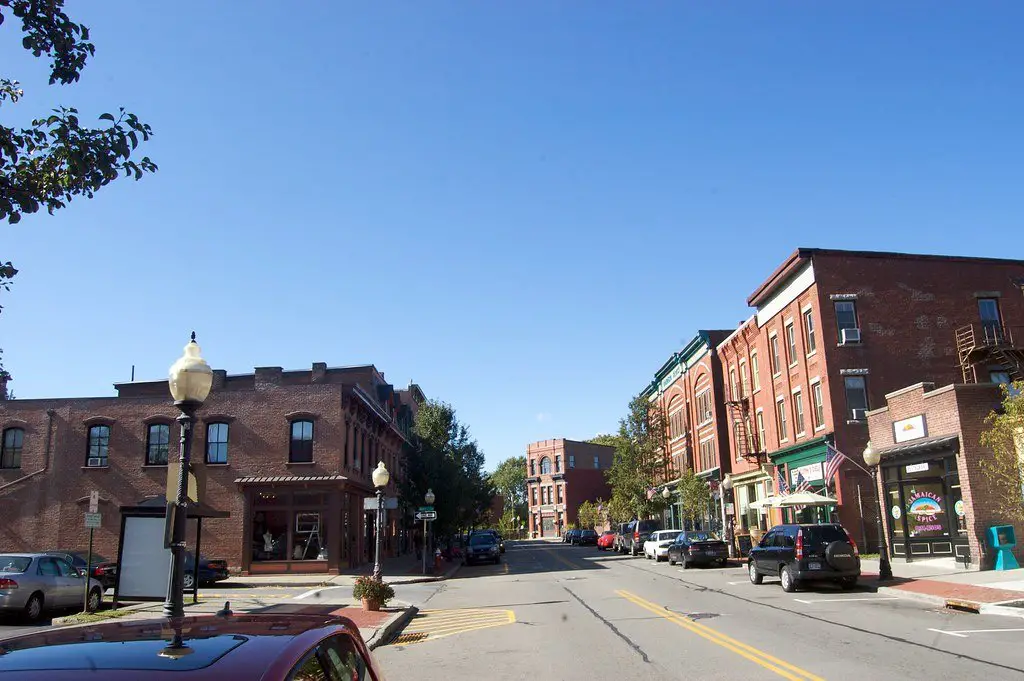 Stroll Main Street
A lazy stroll along the mile-long stretch of the main street of Beacon is a therapy in itself. The sight, smell, and sound will entice you and leave you craving for more. Across Beacon NY Main Street, there is a phenomenal line up of restaurants, cafes and pubs offering an exquisite array of cuisines and spirits to spoil you for choices. Do step into The Pandorica, the British restaurant inspired by the very famous Dr Who. The menu here features popular British mainstays. A pleasant evening stroll along the main street of Beacon will lead you to some of the best options for craft beer. You can step into Dogwood for a hearty drink and a pleasant atmosphere to spark new conversations. Apart from food, Beacon offers you a glimpse of its creative richness when it comes to art. Lined across the street are art galleries that encourage the local craftsmen and designers of the Hudson Valley and showcase their masterpieces. There is not a single dull moment strolling along the Main Street of Beacon NY because there is something for you and everyone. 
Art at Dia: Beacon
It is this museum built by the Dia Art Foundation on the banks of the Hudson River that etched Beacon NY prominently back on the world map in 2003. Dia: Beacon itself is an artistically transformed version of the old Nabisco box factory bringing together majestic pieces of art dating from the 1960s.  This museum is a symbolic bridge between the relaxed pace of life in the Hudson Valley and the hustle-bustle of New York City. Expansive open spaces teeming with natural light will transport you to the magical world of art and sculpture. The artefacts bordering on the concept of pop art, minimalism, and the abstract is bound to surprise you, and enthral you. There are innumerable thematic and interactive tours for you to select from. A visit to Dia: Beacon is one of the best things to do when you are in Beacon for a weekend getaway. 
3 Beekman St, Beacon, NY 12508, United States | +1 845-440-0100
Hike Mount Beacon
Beacon NY boasts of nature's bounty. Deviating away from the popular tourist activities popular in the city, you can take a hike to the peak of Mount Beacon for a panoramic view of the Hudson Valley and New York skyline both during the sunrise and sunset.  Your journey to the mountain peak begins with a stretch of gravel leading up to a massive metal staircase. You can take up the red trail in parallel and make your way up through various landmarks to reach the pinnacle, the Fire Tower and the Daughters of the American Revolution Memorial. Tough and physically daunting, this trek will challenge your spirit, but the reward is beyond words. All you need is a good company, a sturdy pair of hiking shoes and a GPS enabled smart-watch. So, if you have an inkling for adventure, this hike is one of the best things to do once you are in Beacon. 
Attend Second Saturday
Your trip to Beacon NY is incomplete without attending a Second Saturday.  Attending a Second Saturday is one of the best ways to soak into the true spirit of this unique city.  'Second Saturday' is a daylong carnival happening on every second Saturday of the month. The whole idea is to celebrate and encourage local businesses, art galleries and artists. Deemed as New York State's best offering to the world, Second Saturday celebrations will open up a whole new world of live music, art exhibitions, food and retail for you.  Leisurely exploring Beacon Main Street is the best way to enjoy this day. If you are planning a trip to Beacon, make sure you include a second Saturday in your itinerary. 
Beacon Farmers' Market 
The farmer's market every Sunday is sweet harmony of local produces laid on the table, bringing together the entire community. This small little city nestled in the lower Hudson Valley seems to have found a way to celebrate life and its people. You must bask in the experience of exploring and buying from an exquisite range of locally made soaps and household wares. Beacon Farmer's market is also a great opportunity for farmers to showcase their fresh produce from farms giving you this prospect of buying from them directly. Right from fresh coffee, spices, honey and pickles, there is so much that you can buy for yourself and your loved ones. 
Veterans Pl, Beacon, NY 12508, United States I Sunday 10am–3pm
Try Spirits at Denning's Point Distillery
Established quite recently in 2014, Denning's Point Distillery has worked its way to become symbolic of Beacon's tradition of crafting fine spirits.  With the legacy of sourcing superior quality grains from the reputed family farms of the Hudson Valley, this distillery offers you a wide array of award-winning spirits that have now become New York State's best offering to the world. If you are in Beacon on the weekend, you can be a part of the public tours arranged by the management of the distillery, for sampling some of the best spirits produced in the Hudson Valley.  Amongst the various top things to buy in Beacon, do grab a bottle of the winning spirit, Maid of the Meadows for your special occasions. 
10 N Chestnut St, Beacon, NY 12508, United States | Website
Kayaking from Long Dock Park
Beacon as a tourist destination is rich in experiences it has to offer whether it is art, music, food or outdoor activities. Being a riverfront city, Beacon NY provides ample scope for Kayaking and Canoeing on the Hudson Valley waterways.  Transforming the old, dilapidated terminal created in the1800s for ferrying rail cars across the river, the Beacon community has subsequently created a beautiful space, the Long Dock Park for kayaking, fishing and exploring restored wetlands of the Hudson River basin. If you are itching to kayak and explore the waterfront, you can rent a Kayak from the Kayak Pavilion in Long Dock Park. Based on your kayaking experience, you can choose from multiple day trips, point to point kayaking and overnight stay. 
23 Long Dock Rd, Beacon, NY 12508, United States
Beacon Flea Market 
Flea markets are the best way to unearth remnants of yesteryears and soak in the spirit of the place. The open-air flea markets in Beacon are mostly organized on Sundays from April till November. Beacon's flea markets are one of the best in New York State for its captivating showcase of antiques, curios and handcrafted products. If you are game to explore, then come as early as the market sets up, to pick the best from the treasure trove. Beacon is so much more than a tourist destination in the New York State. The city, with its deep-rooted connection to art and nature, conjures up a whole new world, far-fetched from reality. 
6 Henry St, Beacon, NY 12508, United States
Shop at Zakka Joy 
Strolling across narrow lanes lined with remarkable shops can wear away the stress of discovering new destinations. You must venture into the uncharted nooks and corners of the Beacon to find unique memoirs for yourself and your loved ones. Do hop into the shop 'Zakka Joy' when you are staying in Beacon NY. Resonant with the Japanese concept of finding joy in the mundane and everyday object, this shop features unusual and quirky stationery, journals, key chains and a lot of eye-catching party decorations. Zakka Joy in Beacon is the epitome of finding joy in the simplest of things. 
177 Main St, Beacon, NY 12508, United States | +1 845-632-3383
Live Music at the Towne Crier Café
Beacon boasts of being the cultural hub of New York State with its events, festivals and local businesses incorporating some aspect of art. True to this adage, stands the Town Crier Café. Deemed as one of the best cafés in the New York State offering phenomenal live performers, this place serves gastronomic delights par excellence. Planning a dinner here with your loved one is one of the best things to do while in Beacon. Interestingly, the fine-dining menu is crafted in sync with the choice of music on a given day. You can check out concert calendars and plan your special dinner date with your love.
379 Main St, Beacon, NY 12508, United States | +1 845-855-1300
Get a Pint at Hudson Valley Brewery
Located just off the main street, the Hudson Valley Brewery is one of the most popular destinations for beer lovers. With public taproom open for beer sampling from every Thursday through Sunday, this place in Beacon is always teeming with patrons looking out to try new flavors. Do not forget to secure a beer can, for it carries delicate murals in lighter hues. The quality of the beer, its varied tastes and smart packaging make it stand out as one of the best breweries that New York State has to offer.   
7 Main St, Beacon, NY 12508, United States | +1 845-218-9156 | hudsonvalleybrewery.com
Shop at Hudson Beach Glass
Beacon hosts this one of its kind glassblowing studios in an uncanny setup of a restored fire station.  Showcasing an impressive line-up of glassware, Hudson Beach Glass gallery is one of the top galleries in New York State. Very interestingly, this gallery hosts a studio where you can create your hand- blown glass jewelry and paperweights. Quite different from the conventional sightseeing and adventure activities, this glassblowing workshop and gallery in Beacon gives you a passage to a world so surreal and dramatic.
162 Main St, Beacon, NY 12508, United States | +1 845-440-0068 |
hudsonbeachglass.com
Bannerman Island Tours
The Bannerman Castle stands tall on the rocky Pollepel Island, ~60 miles (97 kilometers) from the north of Manhattan.  The entire castle bears semblance to fairytale castles in Scottish moors with the Hudson River acting as the moat. This 20th Century castle was once used as a warehouse by the Scot Frank Bannerman to store his ammunition. The New York State Office of Parks in conjunction with the Bannerman Castle Trust offers guided tour options. From Beacon, you can reach this castle through passenger boats. To add to the adventure, you can also opt for Kayaking to this castle from the Long Dock Park in Beacon.  Amongst the best things to do in and around the Hudson Valley as a tourist, heading out for a Bannerman Island trip features in the bucket list of top things to do when in Beacon. 
Clutter Gallery
Who would have thought that the laid-back city such as Beacon would host a gallery dedicated to uncanny and unconventional when it comes to toy making? Here you would encounter a diverse collection of designer toys created by master toymakers specializing in toy outline, pop and lowbrow craftsmanship. You can check out the digital Clutter magazine for more information on shows that continues to garner attention from far across New York City. If you have a penchant for abstract art, you might as well scout out the Clutter Gallery in Beacon. Attending exhibitions in Clutter Gallery is one of the top things that artists across the world love to do in Beacon. This city stands out as a trailblazer beautifully bridging the time lapse between the traditional and modern.
163 Main St, Beacon, NY 12508, United States | +1 212-255-2505
Madam Brett Park 
Named after the owner Catheryna Rombout Brett, Madam Brett Park is a sprawling 12 acre of land overlooking the Fishkill Creek in Beacon. In contrast to the prominent but cluttered spaces in New York City, Madam Brett Park in Beacon offers you the opportunity to discover picturesque nature and Beacon's industrial past. The Park trail leads you to the beautiful creek, forlorn ruins of a hat factory and the spectacular Tioronda Falls surrounded by Mount Beacon.
South Ave, Beacon, NY 12508, United States