Walk down any lane famous for its eating joints in any part of the world, and you will see at least one Thai restaurant. Thai food is among the most popular cuisines in the world. The best part is that you can binge on it guilt-free. It is healthy, full of vegetables, lightly prepared, and gives out a strong aroma. A significant emphasis is placed on taste, color, and texture, and the preparation behind these food items is far from being simple. 

Tom- Boiled dishes, Yam- Spicy salads, Tam- Pounded foods, and Gaeng- Curries are different parts of traditional Thai food. The cuisine witnesses a significant use of dried chilies, seafood, sticky rice and coconut milk in its food preparations. In 2017, in the list of the 50 most popular dishes in the world, Thai dishes featured in it the most number of times. Thai dishes are generally served with an array of the best sauces and spices such as sweet chili, fish sauce, lime juice, vinegar, etc. The food is usually spicy and served along with cucumber slices to cool the mouth off after a spicy bite.

If you are already salivating at the thought of ordering your next meal on your trip to Thailand, here are some of the best Thai dishes you must try for a mouth-watering experience:
Gai Tod (Fried Chicken)
Fried delicacies are enjoyed all over the world, and fried chicken is no exception. The best part of this dish is its crispy outer skin, covering the tender and juicy meat inside. The Thai Gai Tod is served along with fried garlic and a spicy chili sauce. The dish has chicken wings or drumsticks marinated with a variety of spices and rice flour, which is flavored with soy and fish sauce. It is generally served with sticky rice and is a perfect snack to keep your tummy satisfied in between meals.
Yam Talay (Spicy Seafood Salad)
Yam refers to the combining of hot and spicy ingredients, and Talay is Thai for the ocean, thus the name Yam Talay!  A healthy salad is always the best meal option. Thai Yam Talay contains fresh seafood, fish sauce, cilantro, mint, a hint of chili, and the sourness of lime to cut through the chili. The seafood salad can be made with shrimp, mussels, squid, crabs, or scallops, depending on the region of Thailand you are visiting. The salad also contains tossed veggies and rice glass noodles for added flavor.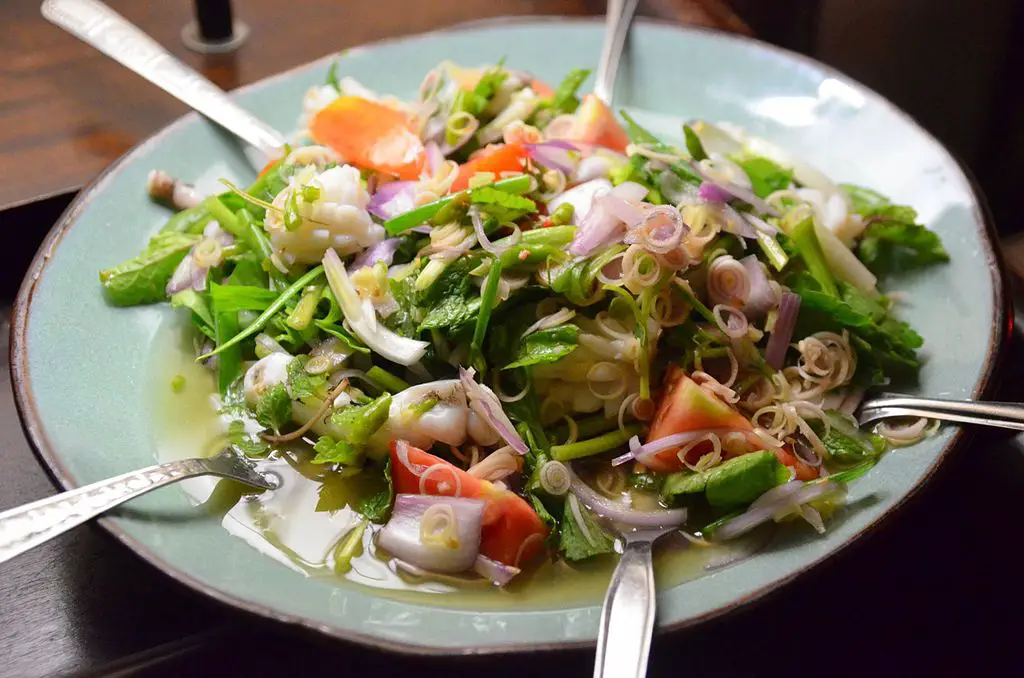 Laab (Spicy Salad)
The northeastern region of Isan in Thailand has given the world one of the most popular salads, Laab. It can be made with mushrooms, pork, and chicken and is usually eaten with a papaya salad and sticky rice. A must for the spice lovers, those who are not fond of the burning sensation on the tongue, must refrain from eating Laab.
Tom Kha Gai (Chicken in Coconut Soup Gravy)
Tom Kha Gai is a non-spicy and mild variation of the more popular Tom yum soup, which is prepared in rich and creamy coconut milk, giving it a sweet flavor. The sweetness of the coconut milk blends with the spices, giving the dish a hot and sour flavor. This dish is easily consumed by those who do not prefer spicy food and is loved by all Thai food lovers. The soup is usually made with kaffir lime, lemongrass, Thai chili, coriander, chicken, fish sauce, and lime juice, and vegetarians can substitute chicken for greens.
Som Tam (Spicy Papaya Salad)
Another salad from the north-eastern region of Isan in Thailand is the Som Tam, which contains shredded papaya, carrots, dried shrimp, peanuts, fish sauce, tamarind pulp, sugar, garlic and how can we forget, chilies! The ingredients are all ground together in a mortar and pestle, helping the flavors mix nicely, thus imparting the dish a unique heavenly taste.
Pad Phuk Tong (Stir-fried Pumpkin)
While Thai food does not offer a lot of vegetarian-friendly options, this is the best to look out for! Pumpkin is a popular ingredient in many Thai recipes, and it is no surprise that it is the hero of its dish. Pad Phuk Tong is prepared with pumpkin, oyster sauce, soy, sugar, and seasoning and is typically eaten with brown rice.
Kai Jeow (Thai Omelette)
A great breakfast dish, Kai Jeow, is served on a bed of rice with some sweet chili on the side. 'Kai Jeow Pak' is a dish with vegetables alongside your omelet. Often found on Bangkok streets, Kai Jeow is one of the first dishes a Thai cook learns to master. 
Kao Niew Ma Muang (Mango with sticky rice)
This is one of the most popular Thai dishes and finds its way on the dessert menu of almost every Thai restaurant in the world. Mango with sticky rice, as the name suggests, is made of mango slices, sticky rice, and condensed milk to give it a rich thickness.
Guay Teow (Thai Noodle Soup)
The unforgettable words 'Noodle Soup' are sure to resonate in the ears of every FRIENDS lover, with Joey ruining his audition every time he took a bite. Widely available with street vendors, the soup contains chicken, beef, or pork with rice or egg noodles. Garnished with chili, sugar, fish sauce, lime juice, the noodle soup is an all-time favorite. 
Tom Yum Goong (Spicy and Hot Shrimp Soup)
Another soup in the kitty of Thai food, Tom Yum Goong, is spicy and bold with flavor. Prawns and mushrooms are the main ingredients of the soup along with some kaffir lime, galangal, shallots, lemongrass, etc. Those not in favor of the spice can add a little coconut cream to add some sweetness to the soup to cut through the spicy flavor.
Yam Pla Dook Foo (Catfish Fried and Served with Green Mango Salad)
Yam Pla Dook Foo is a traditional Thai dish that is tasty, refreshing, light, and crispy. The best variant of fish is Thai charcoal-grilled catfish that is cut into tiny parts, seasoned with soy, fluffed up and batter-fried, and served along with mango salad that is sweet and spicy. The mango salad adds a zing to the dish, lifting its overall taste and experience.
Khao Soi (Creamy Coconut Curry Noodle Soup)
Khao Soi is a dish commonly consumed in northern Thailand, Laos and Myanmar. It is inspired by the Burmese Khao suey, which is a coconut milk-based curry and is extremely rich and creamy. The dish is popularly eaten as street food. The eastern half of northern Thailand relishes a different variation of Khao Soi, which is made without coconut milk.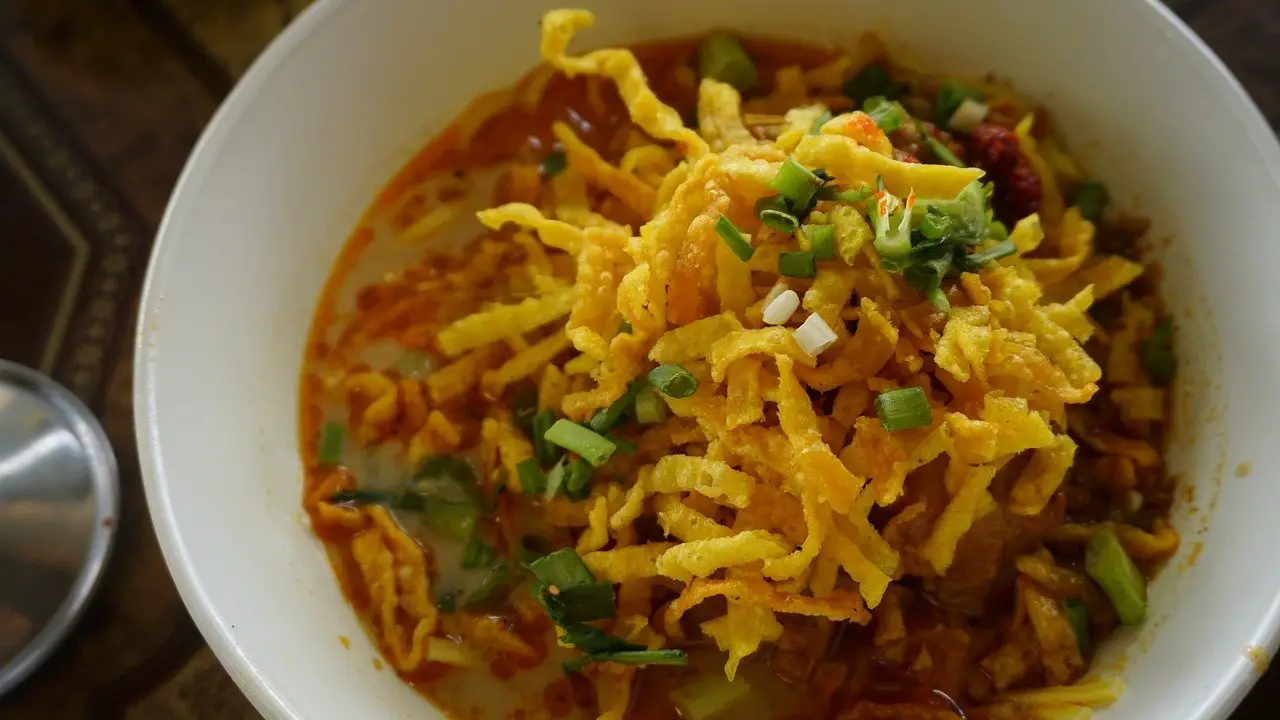 Pad Thai (Fried Noodles Thai Style)
This is the best-known Thai dish across the world. The chicken and shrimp in Pad Thai can be easily replaced with vegetables for the veggie lovers, making this a favorite Thai dish. Pad Thai is one of the national foods of Thailand. It is a pocket-friendly dish available at every street stall and in every Thai restaurant.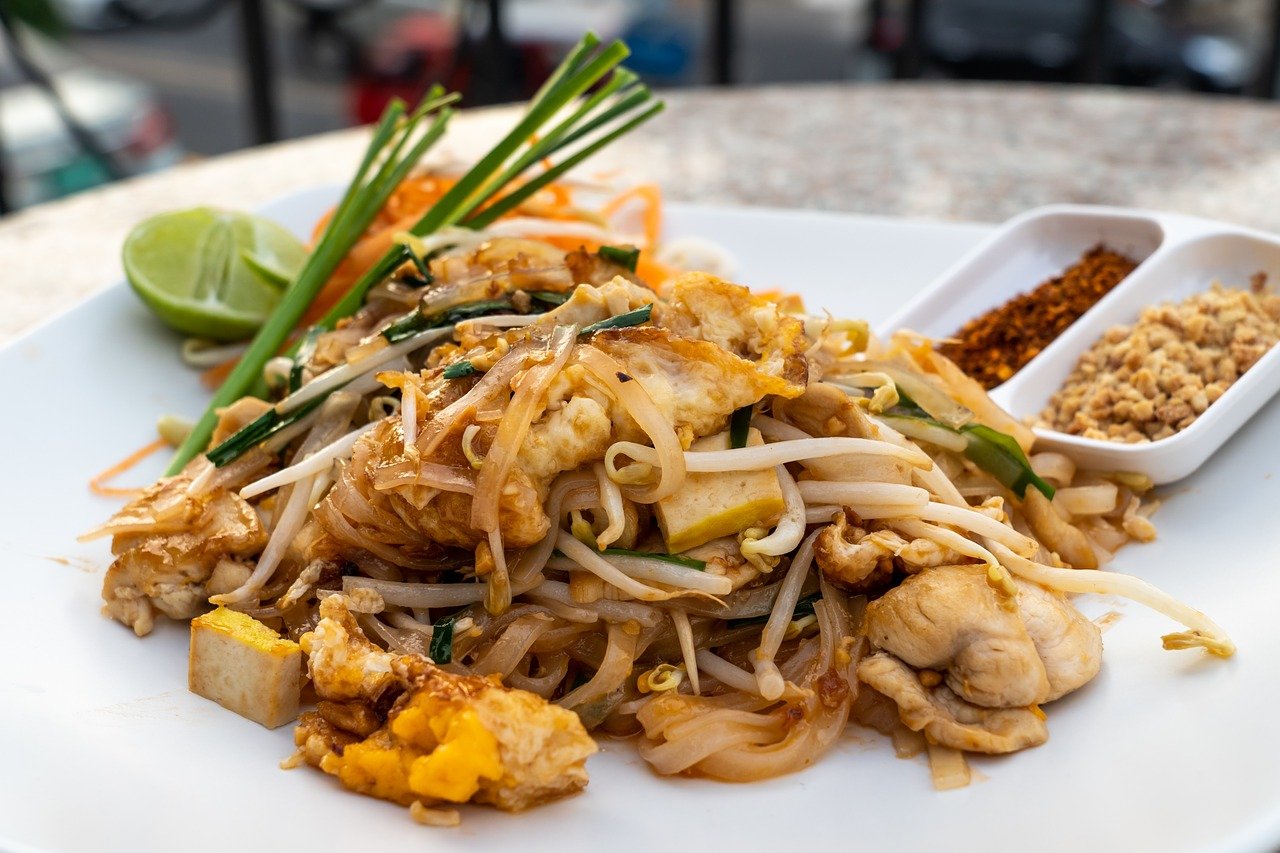 Pad See Eiw (Dish of Thick Noodle)
As the name suggests, Pad See Eiw is made of wider rice noodles and is cooked along with soy, chicken, beef or pork, broccoli, and cabbage. It is easy on the tongue as it is not too spicy. If you want to spice it up, you can add dried chilies and vinegar separately to give it that extra burn and sourness.
Pad Krapow (Spicy Fried Basil)
While this dish sounds vegetarian, it is primarily cooked with chicken or pork, although a vegetarian version can be made with tofu. Thai basil is stir-fried with lots of chilies. The dish is served with white rice and garnished with a runny egg, also called "kai dao." Thai basil also contains a strong flavor of pepper and is quite spicy to eat.
Panang (Rich and Creamy Thai Curry)
Who doesn't know Thai Curry? Served with white rice or noodles, Panang Thai curry is popularly available in almost all the restaurants, even if the restaurant is not a Thai one. Such is the popularity of the dish. The curry is coconut milk-based and is cooked with shrimp, but variations like chicken and vegetables can be added as per preference.
Gaeng Keow Wan (Green Thai Curry)
The spiciest and probably the best curry in all of Thailand, Gaeng Keow Wan, has its roots in the central part of the country. The main ingredients are coconut milk that cuts through some of the spices, green chilies, ginger, and eggplant. Green curry is served with white rice, although it also tastes terrific with noodles too.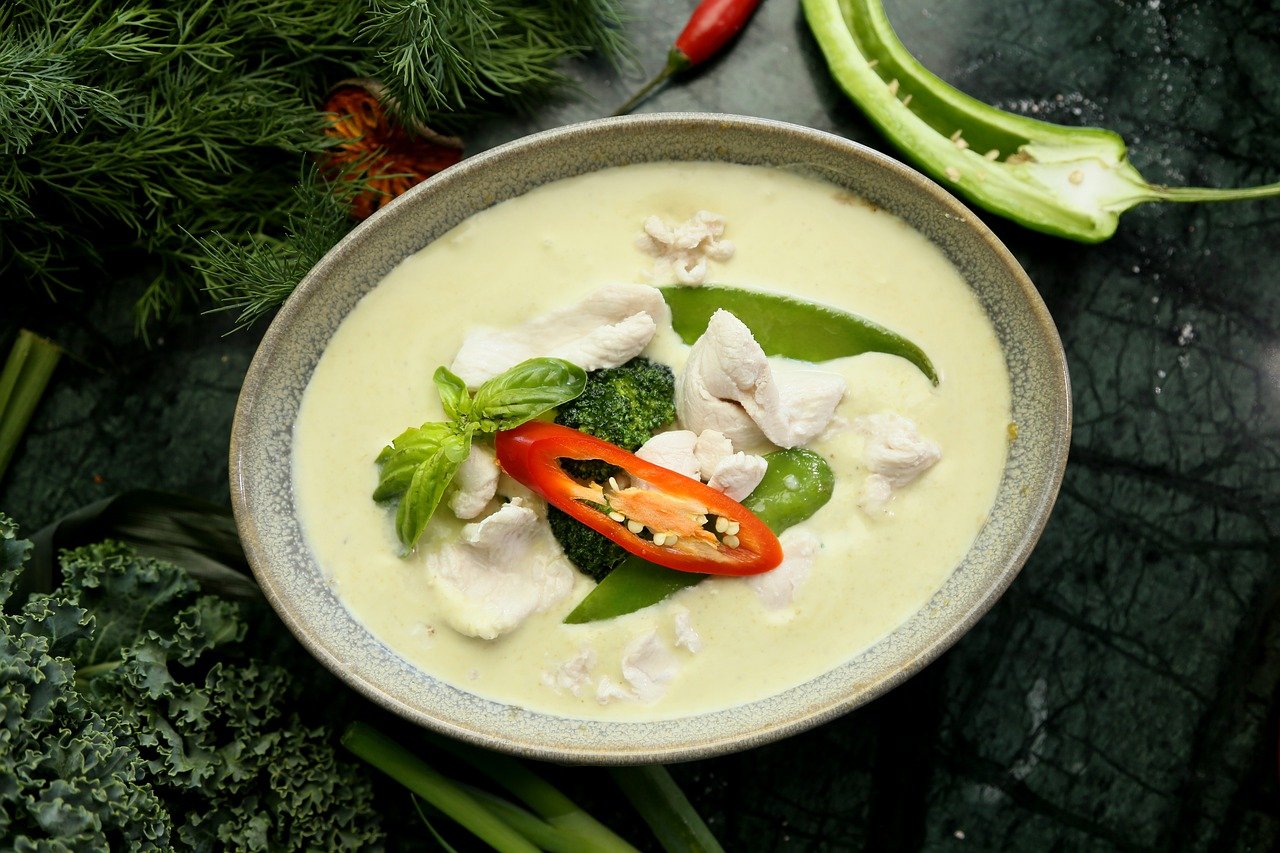 Pak Boong (Morning Glory)
Morning Glory is a healthy meal option, prepared with soy, soybean paste, garlic, and chilies. Its palette boasts of spicy, sour, salty, and crunchy flavors. Pak Doong is one of the tastiest dishes in Thailand. Morning Glory, also called water spinach, is much loved in the country and blends well with Thai flavors. The best stir-fried vegetables you will ever eat!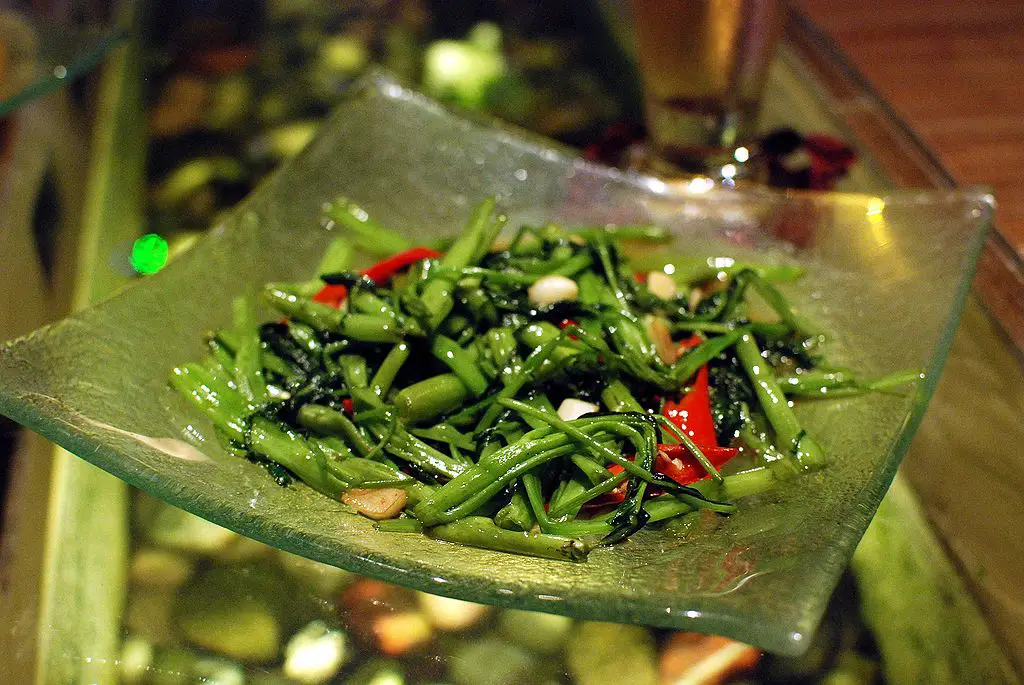 Khao Pad (Fried Rice)
A dish that is extremely popular and widely available in every country is Khao Pad. The rice can be spicy or mild. It is garnished with cucumber to cut the spice, should a person prefer the spicy version. The egg is generally added to the dish, although variations such as vegetarian fried rice and chicken fried rice are widely available.
Pad Phak (Fried Vegetables)
A treat for the vegetarians, Pad Phak, is a delight. It combines flavors of salt, sugar, and spices to give it a beautiful aroma and delicious taste. Pad Phak is an extremely satisfying meal and is usually served with rice. 
Kai Med Ma Muang (Stir-fry Chicken with Cashew Nuts)
Stir-fried chicken is all you need to satisfy your hunger and your taste buds alike. Kai Med Ma Muang does precisely that. Cashew nuts, sweet honey, mushrooms, pepper, soy, chili, whatever is available is added to the dish. It is a simple dish but makes for a scrumptious meal.
Khao Kluk Kapit
Fried rice cooked with ground shrimp, Khao Kluk is served with toppings such as raw mango, sausages, dried shrimp, omelet, pork, shallots, and of course, chilies. A colorful dish that is so flavorful that each bite brings with it a unique experience.
Kana Moo Krob
Consumed typically with jasmine rice, Kana Moo Krob is Chinese broccoli that is stir-fried over high heat and tossed with garlic, chili, and crunchy pork belly, topped with soybean sauce and oyster sauce to give it a sweet and salty taste. 
Nam Prik Noom
Nam Prik Noom is a Thai chili dip, which is not as spicy as it sounds. It is smoky, garlicky, charred, and is made of shallots, garlic, cilantro, fish sauce, lime juice and chili. It is an excellent accompaniment for sticky rice, boiled eggs, pork rinds, and boiled or steamed vegetables. It is an integral part of northern Thai food.
Tod Mun Pla
Tod Mun Pla is a fish cake, which is typically an appetizer. The dish gives out a beautiful aroma and is made from fish paste, long beans, red curry paste, and kaffir lime. Served with a refreshing sauce like nam jim, Tod Mun Pla is sweet as well as savory. It can also be used as a main dish along with a bowl of white rice.