You will experience a scorching sun and humid weather in Texas during the summer season; and in such a situation, a dip in cold water can offer tremendous relief. You can enjoy the shoreline if you are near the Gulf Coast like Houston, Galveston or Corpus Christie. However, if commuting to the beach is not an option for you, you can still cool your senses by visiting a lake in the vicinity. Fortunately, Texas hosts some of the most fabulous lakes where you can beat the sizzling summer heat. These lakes in Texas are not just good for a dip, but you can also indulge in exciting activities like fishing, swimming, and plenty of water sports.
Most of the lakes in Texas are man-made reservoirs that are a result of river damming. These lakes are a bird watcher's paradise as most of them are home to the migratory birds along with the other local species of birds. The pleasing sights of parkland, forests with towering trees, and the rolling hills in the backdrop surround most of these lakes, which are indeed a treat to the eyes.
If you are an outdoor enthusiast, you must make it a point to check out the below lakes in Texas for a memorable trip.
Lake Texoma
Situated beautifully at the confluence of Red Rivers and Washita, Lake Texoma is the country's largest lake and the most developed one in Texas alone. Lake Texoma in Texas was created by basing the Denison Dam between Oklahoma and Texas right on the Red River. It spreads over a vast area of 36,000 hectares and the surrounding cities and national parks with migratory birds and wildlife skirt this lake in Texas. It is also home to plenty of small quaint islands.
An immensely popular lake in Texas, more than six million visitors swamp this place every year to indulge in thrilling activities like water skiing, sailing, fishing, and windsurfing. You can find around seventy fish species inhabiting Lake Texoma, including White Crappie, Catfish, and Bass.
Around Lake Texoma, you can find over twelve marinas, two refuges of wildlife, and more than a hundred campgrounds. Each spring, this place hosts the grand charity event of Lakefest Regatta. During this season, you can find plenty of college students enjoying the events organized at this place.
Lake Travis
Lake Travis is in central Texas on the Colorado River. The formation of this lake took place in the year 1942, during the Mansfield Dam construction near Austin. This lake is the largest lake accommodated by the Highlands Lake premise and stretches for about 66 miles and spreads across an area of 7,660 hectares.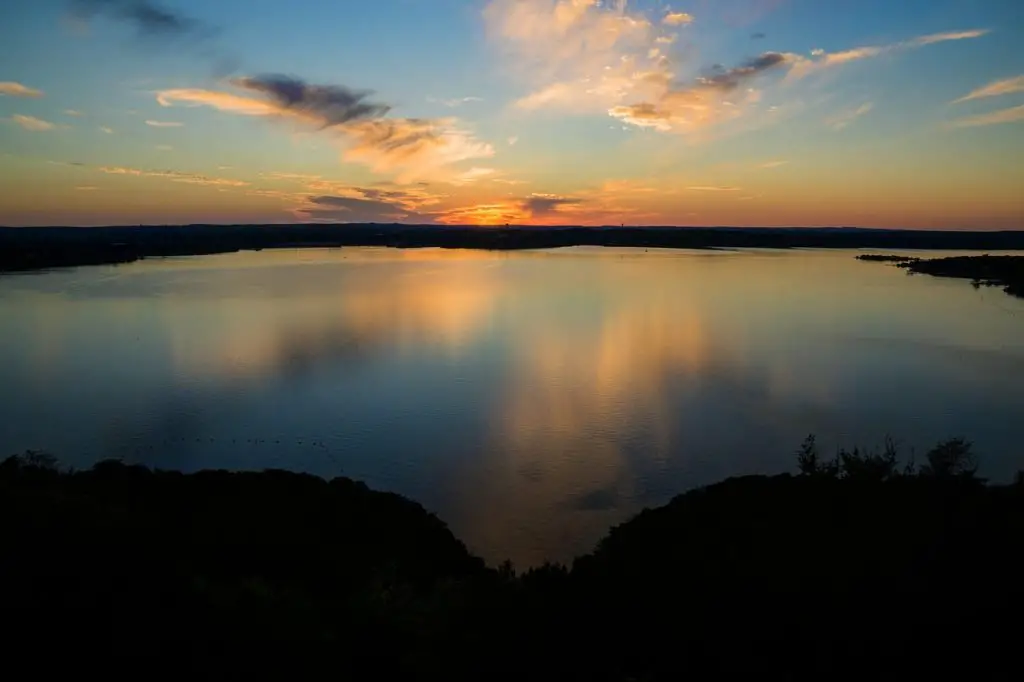 The recreational activities conducted in this place draws several tourists every year in large numbers. Scuba diving, swimming, and boating are just some of the many exciting activities, which you can indulge in when visiting Lake Travis in Texas. It is home to several well-known fish species, including catfish, bass, and sunfish. You can spot many species of birds as well.
About 248 miles of shoreline surrounds Lake Travis, where you can enjoy picnicking and camping. You can also find Hippie Hollow Park, which is a place famous among the nudists. Every year, the lesbian and gay community celebrate Splash day in this park.
Eagle Mountain Lake
Eagle Mountain Lake in Texas is a man-made reservoir that was formed by the Trinity River damming in North Texas. This lake is situated near Fort Worth and is 198 meters above sea level. It spreads over a surface area of about 3,500 hectares.
The renowned Fort Worth Boat Club is located at this place, making it a popular destination for boating. This boat club was established in the year 1929 and hosts several national and international regattas every year. Although this place is famous for boating, there are several other recreational activities like kayaking, water skiing, and boarding. 
Visitors and locals thoroughly enjoy fishing at Eagle Mountain Lake in Texas as it is the home to several species of fish, including channel catfish, largemouth bass, white crappie, and white bass. To enjoy this activity, you can rent a boat, or you can even make use of the ramps at the marina. The area around the lake has the facility for picnicking, camping, dining, and hiking.
Lake Granbury
Lake Granbury in Texas is about a thirty-minute drive away from Fort Worth. This lake is a reservoir that was formed in the year 1969 during Brazos River damming. This lake spreads over 3,360 hectares of area and boasts of a 137 miles shoreline where you can witness plenty of birds flying around.
Lake Granbury in Texas is a long narrow water body that is famous for hosting activities like boating, wakeboarding, fishing, and water skiing. The depth of the water in the lake is about 23 meters, wherein you may find plenty of fish species like catfish, bass, long nose gar, and sunfish.
There are a total of five areas sitting around the lake's shoreline where visitors can avail plenty of amenities such as playgrounds, picnic areas, walking paths, restrooms, camping grounds, etc. 
Lake O' the Pines
Big Cypress Bayou houses Lake O' the Pines, which is famous among the locals and the tourists. Cypress features picturesque sights, which are attributed to the lake's surroundings as well. One of the first things that you will notice when you arrive at this place in Cypress is the spread of magnanimous pine trees with birds towering in the area surrounding the lake.
This thirty square miles lake in Cypress is a popular spot for fishing where you can hope to catch glimpses of largemouth bass, spotted bass, catfish, white bass, chain pickerel, and several other fish species swimming underwater.
You can spot several marinas around this lake in Cypress, where you can find boats for hire along with the mooring and storage for those visitors who have their personal boat. You can also find camping grounds, boat ramps and parks surrounding this lake in Cypress, Texas. 
About seven parks dot the shoreline of this lake in Cypress, where you can access facilities and amenities like restrooms, picnic tables, playgrounds, and boat ramps. One of the parks called Lakeside Park, located near this lake in Cypress offers a beach area as well.
Lake Conroe
You can reach Lake Conroe in sixty minutes when you drive north from Houston. The drive to this place from Houston is spectacular as you will pass through the scenic wonders of the East Texas Piney Wood Forest.
Lake Conroe is one of the most beautiful lakes in Texas featuring hills, trees, and forests with numerous birds and wildlife in the surrounding background. Some of the best restaurants, golf courses, and bars are in the area surrounding Lake Conroe in Texas. It is also home to several famous personalities like Clemens, Aaron Grey, and Rudolph Tomjanovich.
This lake spreads over 32 square miles of surface area with the Sam Houston National Park in the vicinity. You can also find the Waterpoint Center and more than ten marinas on the shoreline skirting this lake. You can indulge in enthralling water sports like water skiing, wakeboarding, and jet skiing. You can either bring your equipment or rent it from the stores located here.
Lake Austin
Lake Austin is another one of the popular Highland Lakes in Texas. It is a reservoir spread around an area of about 647 hectares. This lake in Texas was created during the Tom Miller Dam construction in the year 1939. Lake Austin is an integral part of Lake Colorado, and the overflow from Lake Travis fills it up regularly.
Lake Austin is one of the most popular spots for fishing and boating as it hosts a large population of enormous bass fish that weighs up to ten pounds. This lake in Texas is also great for enjoying activities like water skiing, wakeboarding, and canoeing.
If you want to make the most out of your visit to Lake Austin, you must head to Emma Long Park for camping. Here, you can rent a boat and explore the lake, enjoy sports like volleyball on land, or you can even soak up under the sun on the beach.
Sam Rayburn Reservoir
You can find Sam Rayburn Reservoir about 68 miles north of Beaumont in the Deep East Texas region. A 288 miles lake, Sam Rayburn Reservoir is the largest whole lake located in Texas. The surroundings of the lake in Texas are not very developed and feature towering trees, rolling hills, and dense forests, which add to the natural beauty of the place.
Here, you can enjoy popular activities like water skiing, swimming, and fishing. While fishing, you can get a chance to catch catfish, largemouth bass, and crappies, which are some of the common fish species Sam Rayburn Reservoir houses.
You can find the top-notch Rayburn Country Resort over here along with plenty of campsites and marinas on the land surrounding this lake in Texas. If you prefer staying dry, you can enjoy activities like hiking and trekking through the renowned Sabine National Forest.
Toledo Bend Reservoir
This 465 square miles river sits on the Sabine River at the border of Louisiana and Texas. It is the largest man-made river in Texas and the fifth largest body made by man in the entire country.
The 1180 miles shoreline encapsulating this lake offers plenty of recreational activities like picnicking, camping, and hunting. Within the lake, you can enjoy boating, swimming, wakeboarding, and water skiing.
The largemouth bass is the most popular fish in the lake. These fish predominantly flock the areas which are on the edges of the lake where vegetation is most dense.
Possum Kingdom Lake
You can find this lake in forty minutes when you drive north from Fort Worth on the river Brazos. This lake in Texas sits at an elevation of about 304 meters above sea-level and covers an area of around 8000 hectares.
Also popularly referred to as the PK Lake, Possum Kingdom Lake is well-known in Texas for housing the stunning Hell's Gate cliffs. It also accommodates the Possum Kingdom State Park, which spreads across an area of about 620 hectares and is popular among those who enjoy fishing and boating.
The rolling hills in the background, towering cliffs, and the clear water of the lake make the Possum Kingdom one of the most spectacular lakes in Texas. You can also find several quaint houses of the locals nearby. If you wish to experience a rejuvenating activity, you can indulge in a massage or spa treatment at the Cliffs Resort & Spa.
Lake Whitney
This 96 square kilometers lake in Texas is on the river Mile, which was created as a flood control river in the year 1951 with the primary purpose of collecting the overflow from river Brazos.
Lake Whitney offers numerous fun-filled recreational activities that attract tourists as well as the locals throughout the year. Water skiing, sailing, fishing, and jet skiing are just some of the many popular activities presented here. At Lake Whitney, you can also enjoy a good amount of land-based activities like hiking, trekking, hunting, and golfing.
There are several resorts, lodges, and camping grounds in the area surrounding the lake where facilities like golf courses, tennis courts, playgrounds, and swimming pools are made available to the visitors. The 226 miles shoreline of this lake in Texas also features marinas, boat ramps, and beaches along with astounding scenery.
Lewisville Lake
You can find this lake near Lewisville in the northern region of Texas. Initially, this lake was called the Dallas Lake; however, after its expansion, it got a new name, which still prevails. This lake covers a total surface area of about 11,975 hectares, with nine bridges crossing over it.
Lewisville Lake in Texas is most frequented during the summer months as it boasts of a shoreline with a good number of recreational activity sites. You can find plenty of amazing restaurants, camping sites, lodges, and golf courses around this lake.
The most enjoyable activities in this place include water skiing, wakeboarding, and fishing, with crappie and catfish being the most found fishes in the lake.
Lake Amistad
Around thirteen miles northwest of Del Rio, you can reach Lake Amistad, which is a wonderful reservoir sitting at the junction of the Rio Grande and Devils River. This reservoir was formed along the border of Mexico in the year 1969 during the construction of Amistad Dam. Earlier, the indigenous Americans inhabited the lands surrounding this place, and even now, you can see the cave paintings created by them.
Today, this lake in Texas is world-famous for the recreational activities and the natural beauty featured in this place. It is particularly famous for the fishing activity and is known to host a fishing tournament of national and international standards every year.
You can enjoy several water-based activities here other than fishing, like water skiing, boating, scuba diving, swimming, among several others. You can find numerous boat ramps along this lake. The natural surroundings of this lake in Texas offer the perfect site for hiking, trekking, and camping.
Canyon Lake
Canyon lake in Texas features a shoreline of about 81 miles where you can find eight beautiful parks. This place offers exciting activities like picnicking, camping, boating, and swimming, which you can enjoy with your friends and family. You can also try out land activities like camping, horseback riding, trekking, hiking, and biking.
Several city dwellers head to this lake in Texas during the weekends, which led to the development of many campgrounds and resorts surrounding the lake. This lake was built in the year 1958 for flood control and water conservation.
Lady Bird Lake
This lake gets its name from Lady Bird Johnson, who used to reside in Austin and worked on the Town Lake Beautification Project. In the early years of its creation, Lady Bird Lake was called the Town Lake. This 189-hectare lake features astonishing scenic beauty in the background.
Lady Bird Lake in Texas is one of the fascinating reservoirs where you can find plenty of restaurants, hotels, trails, and numerous parks in the surrounding area. The area around the lake also accommodates the largest park in the city. 
It is a hot spot for people who enjoy dragon boating, kayaking, rowing, and canoeing. The motorized boats are not allowed in Lady Bird Lake, which keeps its natural beauty intact. 
A perfect addition to your travel itinerary, take a refreshing dip, enjoy the water sports, or just relax and have a rejuvenating experience in these lakes. Get your swimsuit on and give yourself the much-deserved treat by visiting any of these lakes, the next time you are in Texas.