From deep blue shimmering seas, evergreen trees and gardens to vibrant marinas and crowded squares, Capri is a dream destination. Every corner of Capri is as beautiful and artistic as poets and writers make it out to be. The small retreat in the Bay of Naples in Italy has been a magnet for royal families and celebrities since Roman times. From the jaw-dropping natural beauty of the Blue Grotto, beach clubs at Marina Grande, the imposing rock formation of the Faraglioni, amazing cuisine at the delightful hangouts at Piazzetta, world-class shopping to the beautiful town of Anacapri, Capri is an island that has it all.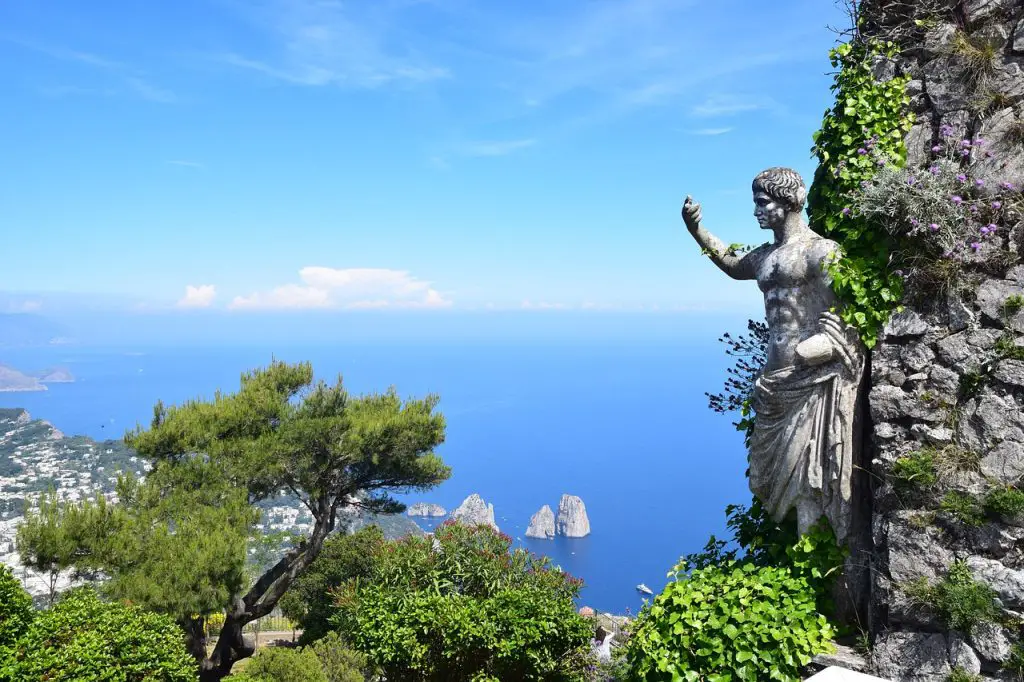 The Complete Travel Guide to Capri, Italy
Location of Capri, Italy
Where is Capri, Italy?
Capri is an Italian island with a dramatic view surrounded by the blue sea. Capri is an enchanting and charming island made of limestone rock. It is nineteen miles off the southern coast in the Gulf of Naples, near Sorrento and the spectacular Amalfi Coast.
Where in Italy is Capri?
The island of Capri, Italian Isola di Capri, or Latin Capreae is a breathtaking island near the southern entrance to the Bay of Naples, in the Campania region of southern Italy. This popular holiday destination is located in the Tyrrhenian Sea off the Sorrentine Peninsula, and on the south side of the Gulf of Naples in the Campania region of Italy. It is located to the south of Rome. The main towns of this island are Capri and Anacapri.
Where is Capri, Italy on the map?
Capri Island Is in Italy. Capri Island is direct across from Naples, Italy. Capri Island is located three miles from the Sorento Peninsula in Naples Bay. The rocky isle of Capri is located 19 miles south of Naples, Italy, on the edge of the Gulf of Naples and west of the Sorrentine Peninsula and the stunning Amalfi Coast. This island is famous for its unparalleled scenery and sea views, the Blue Grotto, and the ruins of Imperial Roman villas.
How far is Capri from Rome?
As the crow's flies, Capri is just 130 miles from Rome. This idyllic Isle of Capri is perfect for a relaxing getaway from the busy life. 
What sea is Capri, Italy in?
Capri in Italy is in the Tyrrhenian Sea. It is in the Sorrentine Peninsula, on the south side of the Gulf of Naples in the Campania region of Italy.
What ocean is Capri, Italy in?
Capri, Italy, is not in any ocean. Capri is an island located in the Tyrrhenian Sea off the Sorrentine Peninsula, on the south side of the Gulf of Naples in the Campania region of Italy. 
Is Capri, Italy on the Amalfi coast?
The Mediterranean island of Capri is in the Bay of Naples, south of the city, and near the tip of the Amalfi Peninsula, in southern Italy. Travel to Capri is the main feature of a Naples or Amalfi Coast vacation. 
When to go to Capri, Italy?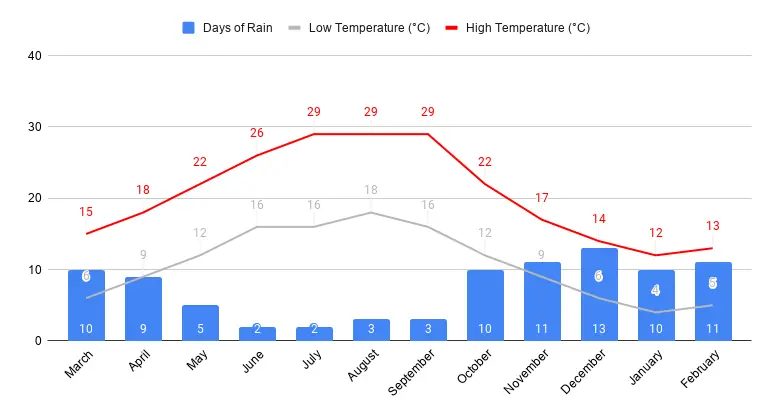 What is the best time to visit Capri, Italy?
Capri has a Mediterranean climate and has a naturally marine climatic condition. The weather is salubrious throughout the year. However, the best months to plan a trip to Capri are May, September, and October. You will expect a much thinner crowd than in the summer months.  Capri's moderate temperatures make it the most sought-after year-round destination, although spring and fall are the best times to visit. Summer between March to May is flooded with about 20,000 tourists in a day. You will find wonderful weather and cheaper rates of hotel around April, May, September, and October. Winter has fantastic deals too. But many cafes and restaurants close for the season and the funicular doesn't operate in January and February, and several ferry routes, especially the trips from Positano and Amalfi, do not service the island.
What's the weather in Capri, Italy?
Capri has a temperate climate, and its weather varies greatly. Although humid throughout the year, the hottest months in Capri are August, July, and then September, with average monthly temperatures around 13 degrees Celsius. The warmest time of year is generally mid to late August, where highs are regularly around 91.8-degree Fahrenheit, with temperatures rarely dropping below 74.8-degree Fahrenheit at night. Winters between December to February are quite cold and has a temperature of 13.1° C on an average. You can find sunny days during winters and some occasional rains too. 
Is Capri busy in October?
During the months of September and October, the summer crowds have dispersed. The temperatures stay above 60 degrees during the daytime, and most of the attractions and restaurants remain open. If you visit during the fall, you can get a competitive deal on the hotels, and you will be able to enjoy well-kept hiking trails to destinations like the Punta Carena Lighthouse. Around the month of October, when the summer is officially over and the autumn season has begun, it is the perfect time of year to visit the island of Capri and Amalfi Coast. With mild temperatures and limited crowds. You can use a day for hiking the island, walk the peaceful coastal paths, and explore the sea at a more relaxing pace. However, on Capri and the Amalfi Coast, most hotels and restaurants close at the end of October. Beach clubs close for the season in mid-October. 
Can you swim in Capri in September?
The average temperature in autumn or the months of September to November, is about 13.9 degree Celsius. In September, the temperature is cooling off and but is still distinctly warm. Most of the crowds start diminishing away during this time. You will find the sea warm to enjoy swimming without having to worry about too many boats passing. September is the best time of the year to go on a trip to Capri and the Amalfi Coast.
Getting Ready for Capri, Italy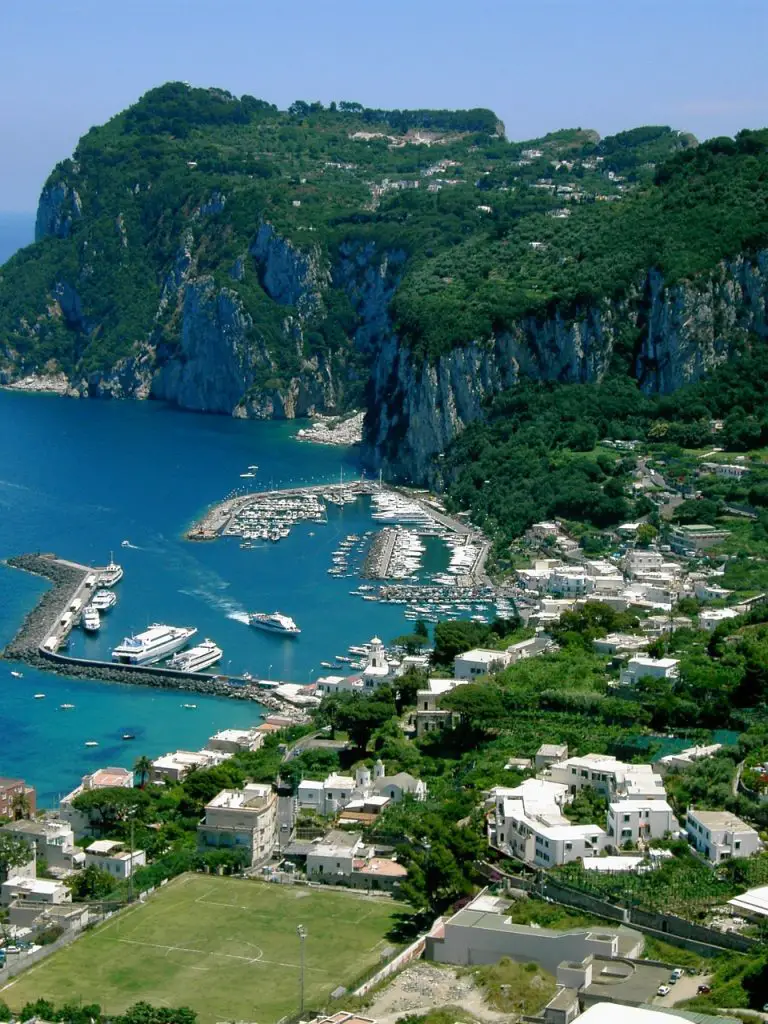 Is Capri, Italy expensive?
Capri is surest not the cheapest destination fit for luxury travel. While yachting, hotels, eating, and drinking are the past times here, you have the choice to treat yourself to a luxurious stay or a more budget-oriented trip by staying around Anacapri. Capri oozes luxury and is lined by designer shops in the main avenues in Capri. This may lead you to think that Capri is a shopping spree for the wealthy. However, some local shops won't burn your pocket and could get you special souvenirs. 
What to wear in Capri, Italy in September?
September is one of the best months if you are planning a trip to visit the Amalfi Coast and Capri. Temperatures in early fall have an average high of 77-degree Fahrenheit and a low of 65 degrees Fahrenheit. As the season changes from summer to fall, the temperatures in September also start to vary. There is a slight chance of rainfall too. Although never chilly, you can wear your summer clothes around this time. However, you must carry a light jacket in case it rains. As for shoes, carry comfortable yet stylish sandals and a good pair of sneakers.
What to wear in Capri Italy in October?
If you are planning a holiday in Capri, the autumn months are the most enjoyable time. In September and October, temperatures stay above 60 degrees during the daytime. In October, the weather will still be beautiful and warm. However, for cooler nights and unseasonably chilly days, it's a good idea to pack pieces that will work with layering with a chic blazer or a woolen sweater.
What to wear Capri Italy?
You can dress casually and comfortably in Capri, and there are no strict rules. People consider it rude to wear wooden clogs as they are loud on the cobblestone streets. Walking without a shirt on the streets is also regarded as impolite and lewd. The streets in the center of Capri are rough and steep, so women should avoid wearing high heels and instead opt for comfortable sneakers or flat sandals. Italians are incredibly fashionable, so if you are going in the evening, you will see locals and tourists dressed appropriately. In fine dining restaurants, everyone is expected to appear in formal attire. If you are visiting during the summer months, you must carry a light sweater as it gets cold and breezy in the evenings.
What time is it Capri Italy?
Capri Airport Timezone is GMT +01:00 hours.
What is Capri Italy like?
Capri has been a favorite location with artists, Roman emperors, the rich and famous, and writers. The rugged cliffs surrounded by azure waters make Capri, Mediterranean's most sought-after places. With fine bathing beaches and numerous hotels and villas, Capri's top attraction includes the famous Blue Grotto, Grotta Azzurra. Tourists arrive at the main harbor, Marina Grande, by boat. Capri island consists of two towns, namely Capri town and Anacapri. Besides tourism, agriculture of olives, citrus fruits, flowers, birds, and fishing are abundant.
How much does Capri cost?
Capri is a destination meant for luxurious relaxation. For example, an espresso with table service in the Piazzetta could cost you around €4; and if you are standing at the bar, the cost will be a little over €1. A couple going out on dinner that would include an appetizer, a main course, a dessert, and a bottle of wine could cost around €50 per person. If you are on a budget, it is prudent that you dine in Anacapri, where restaurants and pizzerias are generally less expensive than in Capri's high-end eateries.
Who lives on Capri?
Capri Italy is one of the cosmopolitan islands in the Mediterranean, a playground for celebrities from all spheres of life. For ages, it has been the ideal place to paint, compose poetry or simply relax and wait for the inspiration to wash over them like the sea and the warm Mediterranean breeze. The cafès and restaurants were once a hot favorite joint of writers, artists, aristocracy, and the intellectuals. Don't be surprised if you run into Hollywood movie stars, celebrity athletes, and famous faces from TV and entertainment.
Is Capri Over-rated?
The Island of Capri is a super famous destination in Italy that is insanely expensive. Most of the hotels and restaurants are luxurious and costly, perfect for high-end customers. Most travelers prefer to stay in the towns around Capri. While the Blue Grotto is marvelous, it is only open when the weather and tides permit. For travelers on a budget, Capri might seem an overrated destination, and you can make up by spending a day here and focus on exploring the towns nearby and the Amalfi Coast. For others, who are willing to shed off a few euros extra, Capri is unbeatable.
Is Capri, Italy safe?
Travel to Capri is safe for tourists of all ages, children, and college-age students. It is safe to visit Capri alone or with friends.  The water is safe to drink, and crime is relatively low. However, travelers are warned of not going overboard on vacation or drink too much alcohol. Like every tourist destination, you should be aware of the country's rules and follow precautions for water and sun on the beaches. Stay alert and mindful as theft is a common occurrence in the busiest time of the year when the tourist attractions are most crowded.   
Is Capri, Italy expensive?
Capri is an international destination that has continued to attract the glitterati across the globe. Soaked in year-round sunshine, Capri boats of its classy, upmarket boutiques, and well-heeled visitors. However, it has an abundance of delights to offer every visitor regardless of their budget. Apart from luxurious hotels and restaurants, you can still find places that are very affordable that you can enjoy with family and kids, partner, or just as a solo traveler. 
Is Capri, Italy an island?
Capri is one of the most picturesque islands in Italy, whose unique magnificence has been a mystical and dramatic theme since ancient times so much that Homer wrote about them in his poem, Odysseus, also called Ulysses in Latin. He described how the songs and voices of sirens lured Odysseus off the coast in Capri, narrowly escaping the fate of his boat being crushed onto the rocks. Not only is the island a mythical charm, but it also has plenty of natural treasures. Its stunning landscapes and beauty of its rocky caves has been an inspiration to lovers, poets, and vacationers throughout the centuries.
How do you pronounce Capri?
The beautiful island of Capri is pronounced as /kəˈpriː/ kə-PREE, ˈkɑːpri, ˈkæp-/ KA(H)P-ree in the United States, 'kaːpri in Italian, ˈkɑːpri in Neapolitan. To listen to the correct way Capri should be pronounced, click on the link https://www.youtube.com/watch?v=WtQG4yPFZPY.
How big is Capri, Italy?
The island is a single block of limestone 3.9 miles long, with a maximum width of 1.8 miles and an area of 4 square miles, rising to 1,932 feet or 589 meters at Monte Solano in the west. 
Why is Capri so famous?
Capri is famous for its dramatic views, the bluest ocean you've ever seen, even the scent of lemon blossoms in the air. The luminescent Blue Grotto, striking Faraglioni Rocks, and the Palazzo al Mare are popular with travelers, along with the delicious cuisines.  
Who made Capri famous?
Axel Munthe, Audrey Hepburn, Grace Kelly, Gracie Fields, Ernest Hemingway, Sophia Loren, Giorgio Armani- all loved Capri. The Roman kings Augustus and Tiberius were important characters from history whose ruins of their glorious empire remains intact in Capri. Since the 1950s, Capri has been a star-studded holiday destination ever since Jacqueline Onassis, Elizabeth Taylor, and Sophia Loren put the island on the jet-set map. 
Which famous people live in Capri?
Capri Italy has always been loved by the international jet set and Hollywood celebrities. Some of the cafes and restaurants that still exist today were favorite places of artists, writers, intellectuals, and the aristocracy. It is highly possible that you may run into movie stars, celebrity athletes, and recognized faces from TV and entertainment. Graham Greene lived in a villa on Capri for 40 years, whereas Lenin came to Capri in the early 20th century and made it his home.
Getting There
How do you get to Capri, Italy? 
Since Capri is an island, the only way to reach Capri is by sea or by helicopter; there is no airport. The only way to reach Capri is by sea and by taking the ferries that depart from Naples and Sorrento. In the summer, there are also routes from Amalfi, Positano, Ischia, and Salerno.
Where to fly into Capri, Italy?
The most simple and scenic way to reach the island of Capri is by helicopter. You can take a helicopter to Capri from Rome, Naples, Florence, Sardegna, and Sicily. These flights from Naples to Capri takes about twenty minutes and lands at the heliport in Damecuta outside Anacapri. Most helicopter transfers include a private car directly to your hotel on Capri.
What airport is near Capri, Italy?
There is no airport in Capri. The nearest airport to Capri is Naples Airport, which is located in Naples, in the Capodichino district. This is around 31 miles from Sorrento and serves as Sorrento Italy Airport. For international visitors, the most convenient and the closest airport to Capri is Rome, which is at a distance of 180 miles from Sorrento.  Some of the other local airports closer to Capri are Harbour Airport or Ponza airport, at a distance of 17.83 miles and Ischia Airport, at a distance of 21.7 miles. However, Ischia Airport is mostly of interest to pilots and private planes.
What airport to choose for Capri, Italy? 
Naples International Airport (NAP) at Naples and Rome Airport are preferred airports used by travelers on their visit to Capri. Naples airport is 32 miles from the center of Capri. If you're looking for international or domestic flights to NAP, do check the airlines that fly to NAP. Otherwise, domestic and international tourists arrive at Rome- Campiano Airport or Rome-Fiumicino Airport and embark on their journey to Capri from there.
How to get to Capri from Rome?
The trip from Rome to Capri can be long, so plan well ahead. From the Rome Ciampino Airport, take the bus to the Roma Termini train station and then the train to Naples. From Rome Fiumicino, you have to take the Leonardo Express shuttle train to the main Rome Termini central station, then transfer to a train to Naples. Once in Naples, a private car transfer services to Capri from the airport to the port, a sea crossing by private speedboat to Capri are the fastest and a hassle-free start to the vacation.
How to get to Capri, Italy from NYC?
Are you planning a trip between New York, United States, and Capri, Italy? If so, the easiest option is to take a nonstop flight from JFK Airport to Naples airport, which covers 4,408 miles and has a flight duration of 8 hours 38 minutes. Most airlines fly several times in week. However, this will be a costly affair. The other option is to take a flight from JFK to Rome and then travel from Rome to Naples. Hire a private car pick up from Rome airport with a driver who would drive you straight to the ferry in Naples. 
How to get to Capri from Naples?
There are two piers in Naples from which ferries to Capri depart all year: Molo Beverello and Calata di Massa. You can easily get to these ports from Naples airport and train station. The Molo Beverello pier is in front of Maschio Angioino in the Piazza Municipio, the Calata di Massa pier is located further east. High-speed ferries depart from Molo Beverello, and ferries and slow ferries from Calata di Massa. Ferries and slow ferries are cheaper and slower than high-speed ferries and take about 1 hour 20 minutes, whereas the fast ferries take fifty minutes from Naples to Capri.  
How to fly to Capri, Italy? 
Capri doesn't have an airport. The closest airport for domestic and international travelers are Naples Airport or Rome airport or Fiumicino or Leonardo da Vinci airport of Rome. Rome Ciampino Airport is another airport in Rome that is in service for some domestic and charter operations. However, if you really want to fly to Capri, the only possible option is in a helicopter. You can take a helicopter to Capri from Rome, Naples, Florence, Sardegna, and Sicily.
What is the best way to visit Capri from Sorrento?
The best way to visit Capri from Sorrento is through ferries that run all through the year and depart from the Marina Piccola port in Sorrento. You can tale the bus from the center of Sorrento to the port, or you can walk by taking the stairs from Piazza Tasso. Make sure you sit outside on the deck of the high-speed ferry between Sorrento and Capri to enjoy the view of the gorgeous stretch of coast. All the ferries in Capri arrive at and depart from Marina Grande. There is a good choice of operators that offer good service at a reasonable price. 
Should I book Capri ferry in advance?
Ferry tickets are available online, or you can purchase them from kiosks at the port. The tickets are sold with a specific schedule of the vessels. However, there are no seat reservations in those ferries. Keep in mind that the high season or the summer is incredibly crowded as travelers from all over the world flock to Capri between June and August. Expensive rates, jammed streets, and long lines for ferries and buses increase during this time. Hence, it is advised to book early ferries from Naples and the Amalfi Coast during the summer months and reserve your spot online before showing up at the docks for your departure.
How much is a trip to Capri from Sorrento?
Fast ferries from Naples or Sorrento typically cost about 20 euros or about $22, and they take approximately half an hour to one hour. Although remember that these prices go up in the summer. There are multiple ferry lines like Caremar car ferry that is slightly cheaper than the fast ferries, but also less frequent and takes about forty minutes from Sorrento. 
Can you drive to Capri, Italy?
No, you cannot drive to Capri, Italy. The only way to reach there is by taking the helicopter or the ferries from the ports. Motor vehicles are forbidden on the island of Capri. The non-resident vehicles can be embarked on the island only for the months between November and Easter. You will find several ferry services and operators to and from Capri from different points all around the Bay of Naples. However, the two major routes are from Naples and Sorrento. 
Stay in Capri, Italy
Can you stay in Capri, Italy?
You can stay in Capri, Italy. Almost all the hotels on Capri are open from April to November, and also during New Year's. But, if you are planning a visit during the months of July or August, it's best to book two or three months in advance. Though some hotels cost a little less than the others, there is no hotel for the low budget traveler. 
Where to stay in Capri, Italy?
Capri is the main center and has a range of hotels and vibrant nightlife. Hotel La Minerva has a fresh Capri feel with beautiful furnishings and black and white pics of 1960's movie stars who had visited Capri in the past. Another chic hotel in Capri is the Grand Hotel Quisisana, an exclusive hotel since 1845, with a spa and baths. The hotels around La Minerva on the quieter side of the island are expensive, but if you want to stay in this area, there are several affordable hotels like the Hotel Syrene. You will find lower rates the closer you get to Marina Grande.
Where do celebrities stay in Capri?
If you want to rub elbows with the rich and the famous, you should look around Pizaretta and yachts moored near the Blue Grotto. Most movie stars, TV artists and sports celebrities stay on their luxury yachts anchored near Marina Piccola right below the Faraglioni, or at the Capri Marina. They prefer to stay aboard all day to avoid the tourist gatherings and come ashore on the island only after sundown to dine at famous restaurants of Capri or spend the evening at a club. The celebrities who choose to check- in opt for the luxury Capri Palace or the Quisisana.
Should I stay in Capri or Positano?
Both Positano and Capri are fantastic places to stay in. However, Capri is a romantically beautiful and glamourous place on the Amalfi Coast. You will have a pleasant time exploring the island tour by boat, swimming, sightseeing at Anacapri, and club-hopping in the square at night. Positano also has its perks with cheaper hotels that have gorgeous views and private balconies. 
Should I stay overnight in Capri?
Capri looks absolutely charming at night. Without hordes of day-trippers swarming around, staying overnight in Capri is a totally different and beautiful experience on this breathtaking island. After spending the day sightseeing around Capri, you can relax and have a leisurely dinner. You can also go clubbing like the locals after sundown. You can plan to wake up early the next day for a boat tour around Capri and visit the Blue Grotto before it gets too sunny and overcrowded.
Is it better to stay in Capri or Sorrento?
Capri is a better choice to stay than in Sorrento. You can explore several exotic parts of this jaw-dropping island during the day and then enjoy the most stunning ambiance in the evening when the day crowds have left. However, if you have Pompeii in your plan, Sorrento is a good town to stay. Most people who are visiting Capri and are on a budget and can't afford the extravagance of Capri prefer to stay in Sorrento, and, from there, travel to Capri to enjoy the touristy bits. 
What to do in Capri, Italy?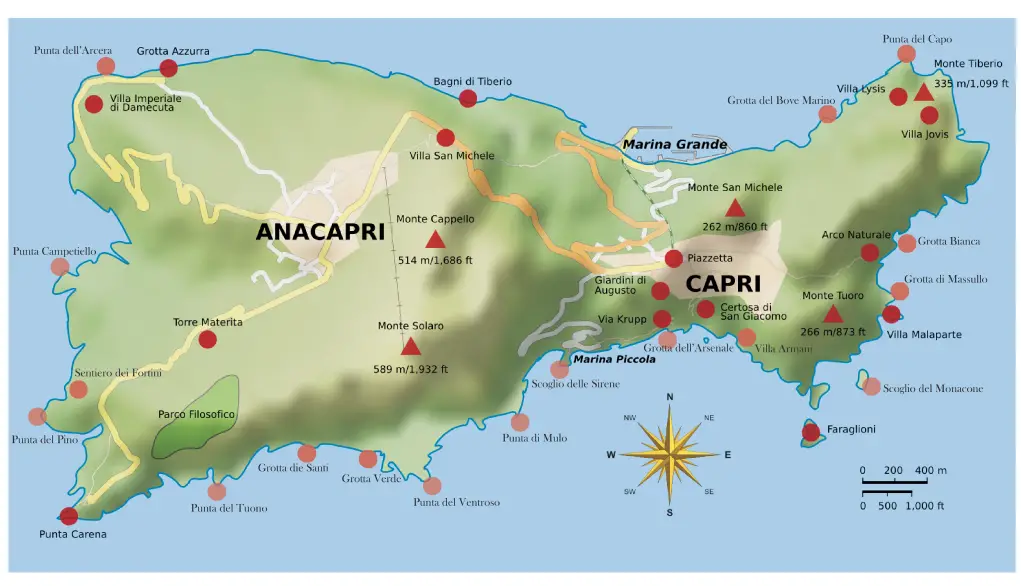 Why visit Capri, Italy?
From the splendid mystery of the Blue Grotto, beaches at Marina Grande, the Faraglioni rock formations, the delightful restaurants at Piazzetta, world-class shopping to the beautiful town of Anacapri, Capri has everything. If you're in the mood to get into a nightclub, Capri has the most exotic nightlife too. It is filled with first-class restaurants, five-star luxurious hotels, stunning hikes, and chic stores. Whether you are going for a daytrip or a long holiday, you will be besotted with the laid-back charisma of Capri and ache to return again.
Where to go in Capri, Italy?
Capri's popular attractions include the Blue Grotto, Green Grotto, and Faraglioni that can be visited during a short trip circling the island. Capri and Anacapri are two delightful towns flooded with restaurants, shops, museum complexes, and historical attractions. You can laze in the picturesque beaches, Marina Grande and Marina Piccola, on either side of the island. And if you love hiking and outdoor adventures, you can hike to the Natural Arch or take the chairlift up Mount Solano, to create beautiful memories of your trip for a lifetime.
What's in Capri, Italy?
One of the natural wonders that Capri is famous for is the Faraglioni rock formations. Anacapri, the highest town on Capri, offers fabulous views of the harbor. You can take a chair lift to Mount Solano and indulge in some limoncello tasting on your way back. Villa San Michele, in Anacapri, built by the Swedish writer Axel Munthe in the nineteenth century, has a garden with spectacular views of the cliffs and sea. Piazza Umberto I or La Piazzetta is Capri's central square that has several coffee shops and the beautiful Santo Stefano cathedral. The 800 ancient Phoenician Steps connecting Anacapri to the sea, offer wonderful views.
What to do in Capri, Italy for the day?
Capri is easily visited as a day trip from Naples or the Amalfi Coast, but it would probably be better enjoyed in the mornings and evenings when the multitudes of day tourists are not around. For a day's trip, you can visit Faraglioni, Mount Solano, the Blue Grotto, Piazzetta. There are several places like Napoli and Sorrento where you can take a day trip from Capri. You can also go to Pompeii on the Vesuviana rail line from Sorrento. 
What is there to do in Capri, Italy?
Apart from visiting the Faraglioni, and taking a chairlift to Mount Solana, you can visit the intricate Roman villa built by Emperor Tiberius. The Villa Jovis on Mount Tiberio, the Sea Palace and Baths of Tiberius near Marina Grande are the most intricate and fascinating. You can also explore the fourteenth-century monastery, Certosa of San Giacomo. Close to this, don't miss the beautiful Giardini Augusto, gardens of Augustus, where magnificent sea views from where the scenic road, Via Krupp, winds down to the sea. For a real treat, snorkel at the alluring Marina Piccola beach. 
What is Capri, Italy famous for? 
Capri, Italy, is a paradisiacal island that is known for an enchanting Italian lifestyle in Southern Italy's Sorrentine Peninsula. It is highly admired for the scenic footpaths that are etched into the mountains and coastlines. The famous Mediterranean beach towns of Positano, Sorrento, and Amalfi are great hiking places on Capri. Capri is also famous for the natural wonders such as the blue sea cave or the Blue Grotto, the rock formations, and the arch of the Faraglioni, the luxury-laden boutiques of the designer brands, the glorious views of the Villa Malaparte, and the cliffside walks to Villa Jovis.
Is the Blue Grotto in Capri worth it?
Capri's most popular attraction is the Blue Grotto and is worth your time. To enter the cavern, you need to climb into an old boat and duck as you glide through a low rock. It's another world altogether once you get inside. With darkness above and the water an electric blue color, a glowing reflection from the seabed, it is magical. This bewitching Blue Grotto is a must-visit on your trip to Capri.
Is Capri or AnaCapri better?
Capri and Anacapri are two distinct towns on the island of Capri. Although most visitors pay more attention to the famous sites such as the Marina Piccola, Piazzetta, and the shopping streets in Capri town, the surrounding towns are another world. Easily reached on a short bus ride or taxi, Anacapri is much more local, rustic, and residential. Although there is a marvelous chair lift from Anacapri to the top of Mount Solano, Capri's beauty is unparalleled.
Does Capri have a beach?
Capri has beaches that get crowded during the summer season. On the shore, the Faraglioni beach is one of the island's most beautiful beaches. If you are short on time, there are also larger boats which give one-hour-long tours around the island. These private beach clubs rent a place to lounge, have picture-perfect rows of chairs arranged neatly, changing facilities, and a restaurant. You will find three small areas of free beach in Marina Piccola, where you can squeeze onto patches of pebbles and engage in swimming with the locals. You can also take a boat to Bagni Tiberio, which is a lesser-known and secluded spot in Marina Grande, and you can swim around the Roman ruins.
Are there sharks in Capri, Italy?
Although shark attacks are quite rare in the Mediterranean, the occurrence of the sharks is more common to these deep waters. White sharks are more dangerous. Although there have only been ten sightings of white sharks in the last thirty years, they have been blamed for the unusual attack on tourists off the coast of Italy. The Mediterranean contains around 47 different species of shark. However, most of them are deep-sea species that are commonly found at depths more than 200 meters. That means only fishermen or researchers have chances to encounter them, tourists are safe. 
Which is better, Capri or Sorrento?
Capri is the world-famous island with captivating shorelines and a laidback Italian lifestyle and is a better choice than Sorrento. Known for its glam quotient, Capri has taverns, Italian restaurants and outdoor terraces that are perfect for a vacation. Lounging at the beaches with a cocktail in hand and staring at the deep ocean blue as the warm Mediterranean winds sway by, could be the best holiday you can imagine.
What to visit in Capri, Italy? 
Capri is a small island, but there is a plethora of places to visit here. You can embark on a classic boat tour that will take you around the island, and you can stop by the Blue Grotto, the massive Faraglioni, the green Grotto, and the Punta Carena lighthouse. Marina Grande and Marina Piccola are other attractions that have lush green surroundings, charming, colorful houses and beautiful harbors, clean beaches where you can spend the day relaxing. You can also take a short trip to Anacapri to bask in the enthralling views of Mount Solano. 
What to see in Capri, Italy?
In the laid-back Capri town, must-sees include the 14th-century monastery Certosa di San Giacomo and the Gardens of Augustus, a lush, green park, and an oasis of serenity. The most relaxing way to explore the island is to hire a small boat with skipper and sail around it. Make sure you stop at the Blue Grotto, the 200 feet long cave in which the light is the most unbelievable shade of blue. Wonder in amazement at the Faraglioni, the three imposing rock formations around the coast and overhanging out from the sea.
What is there to do in Capri for 3 days?
Apart from Blue Grotto and Piazzetta, you can plan a day for nature walks. The Pizzolungo or the wooded trail will take you from the Arco natural through a forest grotto, past the modern architectural marvel of the Casa Malaparte to a remarkable view of the Faraglioni. Take the Path of the Little Forts trail in Anacapri, which you can time to end with a sunset view of the lighthouse. If you wish, you can ascend the 921 Phoenician stone steps that link Anacapri to the Marina Grande. At Anacapri, take the spectacular 12-minute chairlift ride to the top of Monte Solano from where you get picturesque views of the mainland, Sorrento, the Bay of Naples, and Mount Vesuvius. Anacapri is house to Villa Jovis ruins, the palace ruins of Emperor Tiberius. You can also go to Villa San Michele, the home of the Swedish doctor and writer Axel Munthe, which is now a museum that showcases Roman and Egyptian artifacts.
Should I visit Capri or Sorrento?
Sorrento, as a more touristy city, is a popular base to explore both the coastline and islands. It is a good idea to hop on the train if you want to see Pompeii or Herculaneum. Sorrento is a forced choice for many people who can't afford to stay in Capri. But Capri is gorgeous with jaw-dropping views, where you can explore remote parts of the island during the daytime like the walk to Villa jovis for a dramatic view, and also enjoy the nightlife in the late hours. Make sure you cover Anacapri as well as Capri Town.
Is Capri, Italy worth seeing?
Absolutely! Capri is an amazing place and worthwhile a stop on your trip. Soak in the ambiance of this beautiful island and have some of the best food in Italy. Make sure you stay overnight to experience Capri on a whole new level. Spend some time on La Fontelina rocky beach, make sure to walk the Via Krupp stairs and go over to Anacapri to see the Casa Munthe or the Villa San Michele. You will have beautiful views from there, and the gardens are amazing. You can also rent a little boat to drive around the island, dip into the azure water, and dive into the mesmerizing Blue Grotto. 
How many days in Capri, Italy?
Capri is a world-class destination to visit, that deserves ample attention from you, and an exciting land to discover, where you can unwind and delve into its aura at a measured pace. For this reason, a one-day trip to Capri doesn't do justice to experience Capri fully. You need at least three or four days to be able to take in all the views at a relaxed pace. You can plan an overnight in Positano or Amalfi, if you would also like to visit the Amalfi Coast too.
How can I see Capri in one day?
If you have limited time to explore Capri, take the early morning two-hour Capri Boat Tour in Marina Grande to go to the Blue Grotto, which includes the thrill of sailing through the arch in the dramatic Faraglioni rock formations. Upon your return to Marina Grande, board a bus to Anacapri and take the chairlift to the summit of Monte Solano, where you can enjoy the most spectacular views of the Bays of Naples and Salerno. Visit the hermitage of Cetrella, stop for lunch at Anacapri, and head straight to Villa San Michele, the museum created by the nineteenth-century Swedish writer and physician Axel Munthe.  On your way back to Capri, you must stop in the buzzing Piazzetta to spend some time at Via Camerelle, which is famous for the luxury shops and designer fashion boutiques. 
Can you swim in Capri, Italy? 
Swimming in Capri is a different experience, and unlike other empty beaches, where you can just laze around anywhere, Capri is more sophisticated. You will find clusters of chairs and umbrellas arranged neatly on large boulders that face the sea. You can swim in the rocky beach of Marina Piccola in the south harbor. There are restaurants that not only have beautiful views of the deep blue waters and the Faraglioni rock formations, but they also accommodate bathing establishments that rent sunbeds or deck chairs for the day. 
Can you do Capri and Positano in one day?
Yes, it is possible. There is a direct ferry that departs from Capri and arrives at Positano every four hours and operates daily. The entire journey takes approximately 25 min. If you want to squeeze both Capri and Positano in a single day, you need to hire a private cab or a private boat to steer towards Capri and Positano and cover all the attractions. However, it is not a great idea and doesn't do justice to the beautiful places. Instead, you should spend your quality time in the beautiful Capri and make the most of your deserved break.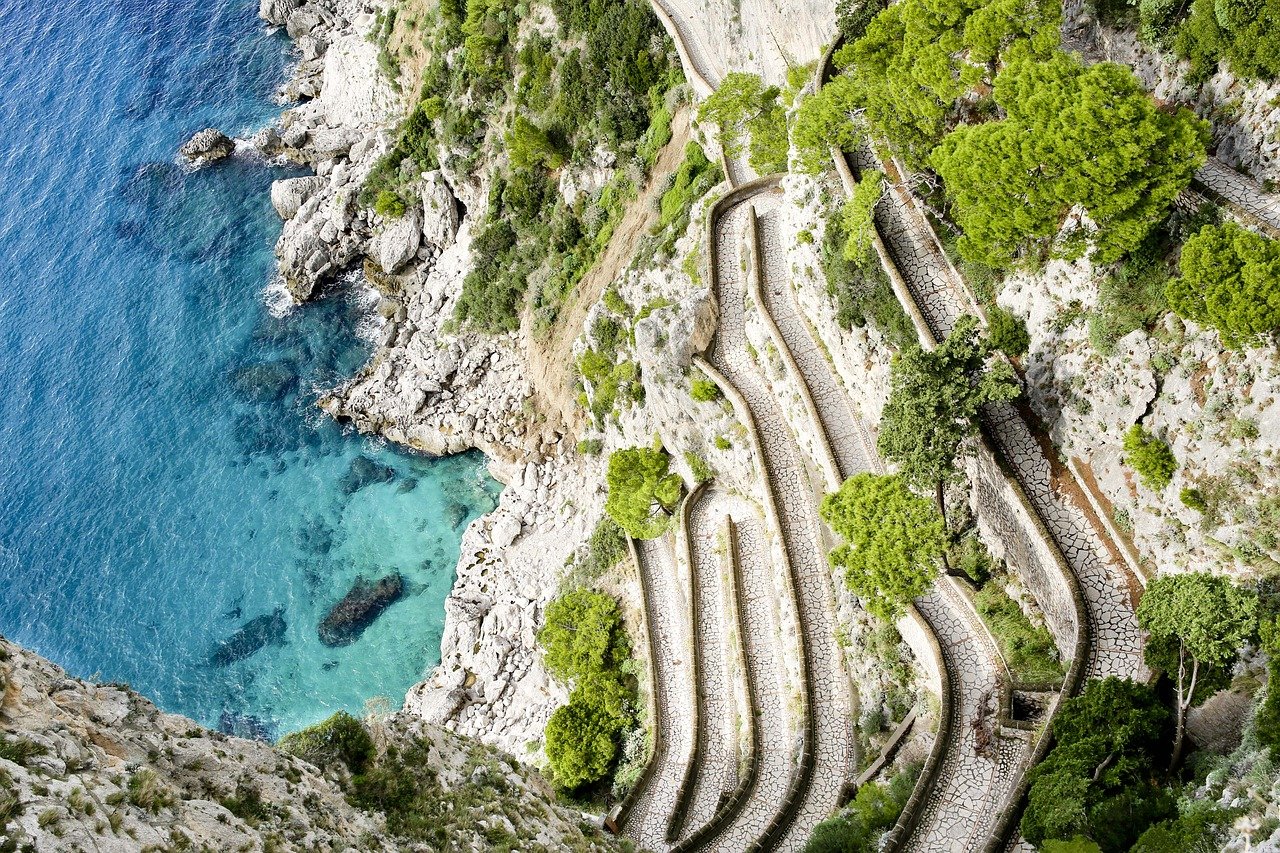 Getting Around in Capri, Italy
How to get around Capri Italy?
If you want to avail of the public transport around Capri Town, then there are yellow public minibusses that carry around ten passengers seated with some more standing. Naturally, these buses are always over-packed, and there are long lines at the bus stops. If you don't want to wait for the bus or in funicular lines, you can use a taxi. If you have a small group, taxis are convenient and not too much more expensive than the public buses. The funicular railway or cable car is another option to travel between Marina Grande and Capri Town. These run every fifteen minutes. However, with Capri connected to Naples and Sorrento by frequent steamer and hydrofoil services, there are frequent ferry services to and from Capri from points all around the Bay of Naples. 
Can you walk around Capri?
If you are pleased to walk a few miles, put on a comfortable pair of shoes for there are good forays around Capri, one of them is around a scenic stretch of the coast. You can take the extremely gratifying circular walk from the funicular railway station that passes by the posh homes in the town and pleasant trails around the peninsular. You can take the circular walk from Capri Town out to the Arco Naturale and around the coastal path back to Capri or the road from Capri to Marina Grande that starts at the Piazzetta. You can walk from Capri to Marina Piccola by taking the Via Mulo stairs to the port. Another interesting walk is from Anacapri to Marina Grande via the breathtaking Scala Fenicia stairway, which starts at the villa of Axel Munthe. 
What is the best way to see Capri?
Public buses are frequent, albeit crowded. You can use the funicular railway or the funiculare that will take you up the hill from Marina Grande to Capri. You can take a chair lift from Anacapri to go to the highest and most panoramic spot on the island, Mount Solano. The convertibles taxis are reliable and a convenient way to travel on hotter days. There are also boat tours at the harbor around the island. For more information, you can reach out to tourist offices at Banchina del Porto in Marina Grande, in Anacapri, and Capri's in Piazza Umberto I.
How long does it take to walk around Capri?
A walker's paradise, Capri has incredible views and scenery along its spectacular hiking routes. Especially in the summer with long queues for buses and funiculars, it is a good idea to strike out on foot. The walking time between Capri and Marina Grande is fifteen minutes on the road that begins at the Piazzetta behind the clock tower. Marina Grande to Capri takes thirty minutes. The uphill walk from Capri to Anacapri takes about an hour, whereas it just takes half an hour from Anacapri to Capri by taking staircases. The scenic walk between Anacapri to Marina Grande takes about twenty minutes, along with the spectacular 1,000 steps Scala Fenicia stairway. 
How do I get to the Blue Grotto Capri?
The Blue Grotto or the Grotta Azzurra, is the most fascinating of the island's many caves. To go to Blue Grotto, you need to book tickets and take the boat that departs from the Marina Grande port. It is also accessible by bus that departs from Piazza della Pace, and Viale Tommaso de Tommaso. The refraction of sunlight into the cave gets lit up and makes an shimmering blue light in the water. To enter the cave, you need to take a small rowboat to the entrance of the cave. Once you are inside, you will be left awe-struck with the dazzling sight of the beautiful blue water. 
Can you walk to the Blue Grotto in Capri?
Blue Grotto is a magical place and the biggest tourist attraction on the Isle of Capri. If you want to walk to Blue Grotto, you need to hike the Path of the Little Forts on Capri, along the coast between the Blue Grotto to the Lighthouse. It is a three-hour hike, and you can time it to watch the mesmerizing sunset. After visiting the Blue Grotto, you can get down at the stairs next to the grotto, and instead of taking the boat back to Marina Grande, take the stairs to take the bus to Anacapri. This is a good way to avoid long queues at the bus stop in Marina Grande.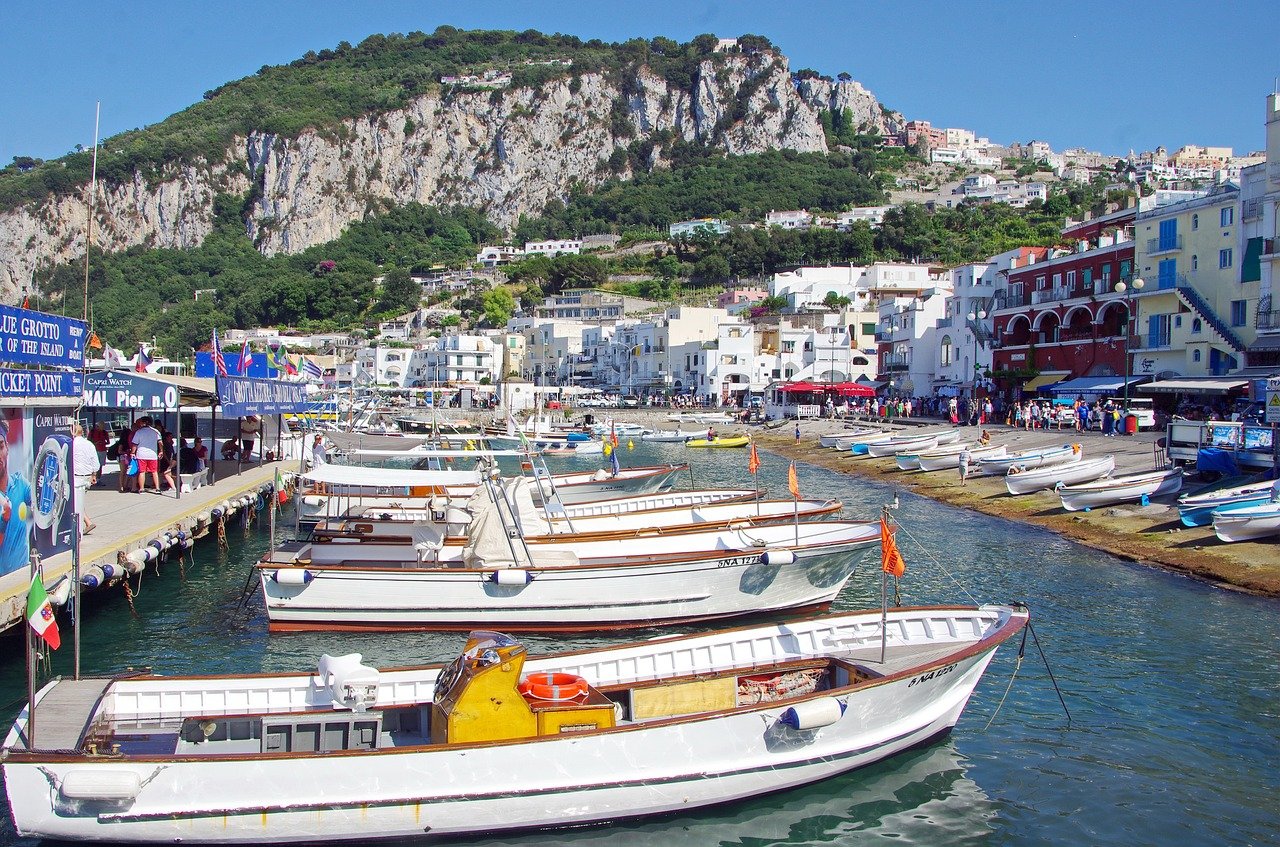 Eat & Drink in Capri, Italy
What food is Capri known for?
Capri is famous for ravioli capresi, a light and flavorful dish perfect for vegetarians. It is made with parmigiano and aged caciotta cheese fillings, and marjoram, and cooked in tomato and basil sauce. Another delicacy is Scialatielli, a fresh ribbon pasta, made from parmigiano, and served with seafood or sautéed vegetables. You can order pezzogna (red sea bream), a type of fish prepared all'acqua pazza. If you a seafood lover, you will find excellent shrimp that are served sautéed or tossed with pasta. Another beloved dish is l'impepata di cozze, which is a mussel dish, often served as an appetizer. 
Where to eat Capri, Italy?
Food is one of the biggest reasons, Italy holds an unswerving place high up on many traveler's bucket lists. Not just about food, the overall relaxing dining experience, the presentation, pleasant interaction with the staff and chef are worth absorbing. Ristorante Michel-Angelo is one of the finest restaurants in Capri that serves traditional Caprese cuisine like the Grilled smoked mozzarella served with pizza focaccia. You must try the Fried peppers with fresh basil, Pizza Napoli with anchovy, Spaghetti with cherry tomatoes at Da Giorgio. Ask for a seat outside under the lemon grove in the local lemon themed open-air restaurant, Da Paulino, and try the fresh mozzarella grilled between lemon leaves; Risotto al limone with baby prawns and arugula, and arugula salad. Also, don't miss Buca di Bacco, where you must revel in the Scaliatelli pasta with clams, shrimp, mushrooms, and Baba Rhum as the dessert. Give yourself a sweet treat with a messy yet delicious gelato in a baked waffle cone at Buonocore. 
What time do people eat dinner in Capri?
Capri is a late-night town, and it is perfectly normal to sit down to dinner after 10 pm. If you are nocturnal being just like the locals, then make sure you have a good sleep in the middle of the day, so that you can enjoy at Capri's famous nightclubs and discos until just before the sun comes up.
Shopping in Capri, Italy
Where to shop in Capri, Italy?
There are three main shopping streets in Capri. The main street of the Piazzetta is Via Vittoria Emanuele, where this street turns around to Via Camerelle in front of the Hotel Quisisana. Make your way along Via Camerelle, and you will come across all the biggest names from the world of fashion. This is where you will find the significant designer shops. If you want things that are not as expensive, you can explore Via le Botteghe. La Campannina Restaurant has a gift shop where you can purchase everything limoncello. These make great souvenirs and gifts for those back at home.
What stores are in Capri, Italy?
Capri is famous for colorfully jeweled watches, and neoprene bags that are offered at multiple namesake shops around town.  Bottega Capri, a shop that also makes handmade and custom-designed sandals. Marta Ray offers handmade supple leather goods, including shoes, bags, and belts. In the O Bag Shop, the customizable totes are made of soft material in different colors. They also offer rubber watches with playful faces. Carthusia I Profumi di Capri offers up the scents of the herbs and flowers of the island in the perfumes, candles, soaps, and lotions. These make for lovely gifts. The Italians know shoes, and if you are willing to splurge a bit, Alberto Guardiani should be on your Capri shopping list.
What to buy in Capri, Italy?
Capri is one of the few places in the world that has such a high concentration of designer showrooms. Capri is famous for its handmade sandals, made famous by Jackie Kennedy. Another unique souvenir from Capri, the artisan-made perfume, is a wonderful gift for your family and friends back home too. Stock up some gastronomic goodies on your way such as limoncello, the liqueur made with the island's lemons, which is a classic keepsake. If you like the idea of an edible souvenir, the Torta Caprese is an ultimate memento.
How expensive is Capri, Italy?
Capri is an expensive destination. A speedboat tour of Capri and the Amalfi Coast carrying six persons will cost €uro 550 per boat. Two round trips ticket from Naples could cost around EUR 60. Lunch for two people at a beach snack bar that could include sandwiches and drinks could cost EUR 30, whereas a pizzeria dinner of pizzas and beers for two people could cost EUR 40. If you are on a budget, a two-night stay in a simple B&B in Anacapri could cost you approximately EUR 250. Although you don't need to be a billionaire or a Hollywood celebrity to visit Capri, there are affordable ways to enjoy your holiday here, if you know how to manage your money well.