Tampa in Florida is one of the tourist's favorite holiday destinations. Along with the museums and gardens, the good beaches in Tampa make the place even more charming. The calm waters, soothing winds, and white sand combined with delicious delicacies offered at the restaurants make it the perfect spot for holiday plans. Here are the best beaches in Tampa that could be part of your next vacation! 
Apollo Beach Nature Reserve | Hillsborough County
A 63-acre natural preserve that is known for being the habitat of several aquatic species. It offers bird watching, a fishing pier for the fishing enthusiasts, picnic tables for families and groups, and has a dog park, as well. This is one of the few sites where you can spot the iconic Florida Manatee, which is also an endangered species. Popular among locals and tourists alike, Sseven acres of the preserve area are separated and dedicated to nature-based recreation.   
Apollo Beach Nature Reserve is also known for a 37-foot (11 meters) wheelchair-accessible observation tower, a short nature trail, and a stunning sunset view. Though it is open for sun-bathing, and other recreational activities, swimming here is prohibited.  
Address: 6760 Surfside Blvd, Apollo Beach, FL 33572, United States | Timing: 7:00 am to 8:00 pm | Google Map Location: https://goo.gl/maps/UxAJxf1gSi3UVW5M7 | Phone Number: +18136727876   
Ben T. Davis Beach | Tampa 
It is located closest to the airport and downtown, making it easily accessible by tourists. The calming sound of the waves, cool water, and the white sand make it a perfect spot for picnics and catching the sunsets. Be it the weekdays or the weekends, if you visit this place in the morning, you will meet local volleyball players competing and enjoying their game.  
With picnic tables, grills, and restrooms present here, it also offers bikes, kayaks, and paddleboards for rent. Along with the plethora of options to enjoy and affordable parking, this easily qualifies to be one of the best beaches in Tampa.  
Address: 7740 W Courtney Campbell Causeway, Tampa, FL 33607, United States | Google Map Location: https://goo.gl/maps/hzNqcxbh9YwAjHNG7 | Phone Number: +18132748615 
Archibald Beach Park (The Hammocks) | St. Petersburg
Known as the Hommocks by locals, there are a variety of facilities to enjoy starting from showers, volleyball courts, and cafes here. If you want to have a day out, away from the regular schedule, and relax, Archibald Beach Park is your place to be in.  
You can also enjoy a swim here and grab a bite post it. It also hosts regular events for locals and tourists. Do not worry if you have sudden plans to make, as this place has got you covered. It is a fun destination for all beachgoers, be it the locals or the tourists.  
Address: 15100 Gulf Blvd, St. Petersburg, FL 33708, United States | Timings: 8:00 am to 9:00 pm | Google Map Location: https://goo.gl/maps/MuDQj7N4xojyWTvQ8 | Phone Number: +17279146902 
Madeira Beach | Pinellas County 
Also called the Mad Beach in short, this place is perfect for family vacations. It is located between the Treasure Island and Reddington beaches and runs for 2.5 miles (4 kilometers). It is connected to the St. John's pass village and has over 100 restaurants and stores to visit.  
Like all others, this place is crowded during the weekends as locals and tourists come to enjoy fresh seafood, live music, and the calm breeze of the beach. The highlight event of this place is the seafood festival conducted in the last week of October, which attracts several tourists and encourages them to be a part.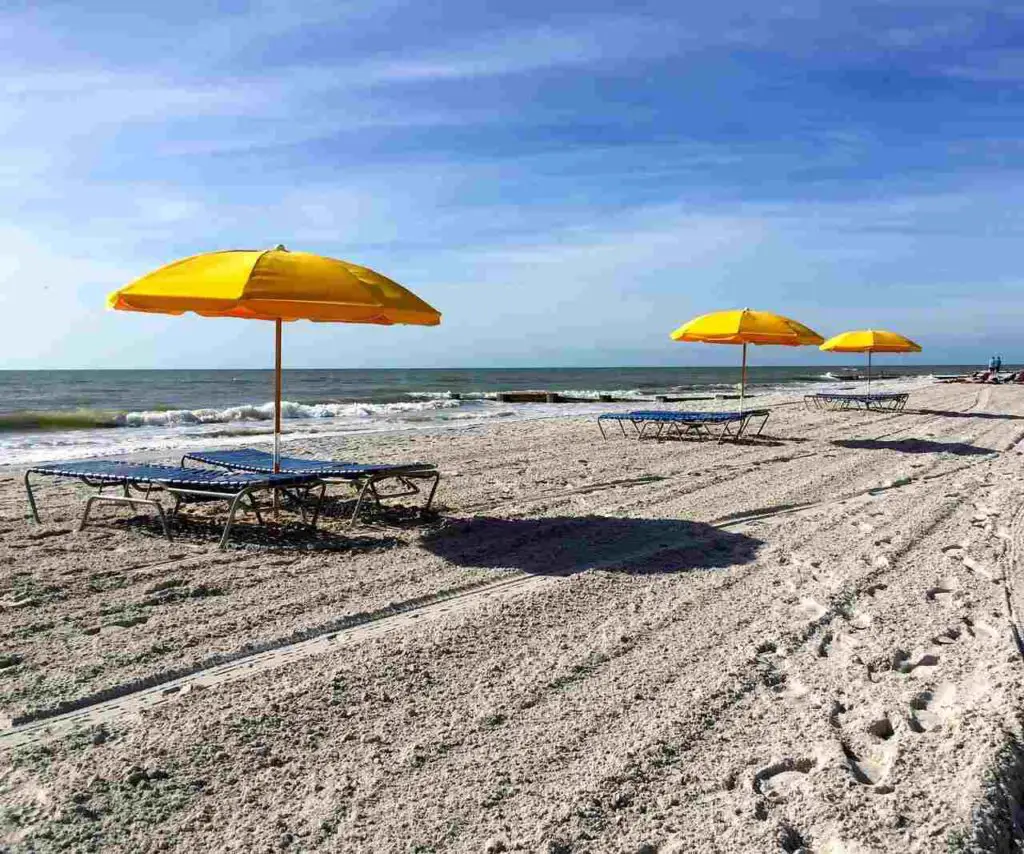 Google Map Location:https://goo.gl/maps/u9jWExuLUJAQVy24A 
Caladesi Island | Dunedin 
Situated in the north of Clearwater Beach is Caladesi Island, this place is just a 15-minute ferry ride away from Honeymoon Island. With white sand spread across 3 miles (5 kilometers), this is one of the best beaches in Tampa if you like collecting seashells, watching the sunset, and enjoying a scenic view of the Gulf. There are picnic tables, bathrooms, and rental umbrellas available if you make an impromptu plan. The cafes and restaurants provide quick and delicious bites.  
If you are an ardent nature lover, you can kayak through the mangroves, which is perfect for spotting birds such as blue herons, osprey, and bald eagles. Caladesi Island is secluded and an abode of natural elements and is the place to be in for all nature lovers. 

By Philipp Michel Reichold, CC BY-SA 2.5, Link
Address: Dunedin, FL 33767, USA | Google Map Location: https://goo.gl/maps/Vd9Yz6gAkbHhhCM19  
Sand Key Park | Clearwater 
Located on the barrier island, it is also known as the secret beach by locals. This place in Clearwater is a one-mile (1.6 kilometers) stretch of clear white gulf sand that is popular among locals for the abundance of seashells. If you plan your visit well, you might be greeted by the Kemp Ridley sea turtle as this is one of their favorite spots for nesting.  
Amenities like a boardwalk, showers, playground, and a picnic area check all the boxes for it to qualify as one of the nicest beaches in Tampa. What is unique about this one is the dedicated space for furry buddies, the dog park. It is also surprising to find sand dunes, salt marshes, and a diverse range of birds here. Its strategic location of being near resorts offers you the option of several restaurants in the area. 
Address: Clearwater, FL 33767, United States | Google Map Location: https://goo.gl/maps/JyZHAL85BSm4NBGR9 | Phone Number: +17275822100 
Sunset Beach | Tarpon Springs 
Located on the south side of Barrier Island, this place is present between two rocky jetties. Did you know it is believed that Jimmy Buffett took inspiration from this beach for his popular song titled "Margaritaville"? It is extremely popular among the LGBTQ+ community for the laid-back atmosphere it offers among the other beaches.  
As a spot that experiences windy conditions, it is also the favorite spot for surfers. If you are lucky, you might spot some dolphins offshore too! It is a tourist-friendly location and has cafes, bars, restaurants, shops, and also the provision to book accommodation.  

By Samuel Lannister, CC BY-SA 3.0, Link
Address: 1800 Gulf Rd, Tarpon Springs, FL 34689, United States | Google Map Location:https://goo.gl/maps/8SsJkvNbuWnikh1s6 | Phone Number: +17279425628  
Honeymoon Island State Park | Dunedin 
Spread across four miles (6.4 kilometers), this site greets you with white sand and nature trails. You can lie down and enjoy the breeze stroke your hair on a bright sunny morning. The Honeymoon Island State Park is known to be the home of Osprey, and a walk through the Osprey natural trail might give you a glimpse of an Osprey. 
It can also be called a dog beach as the four-pawed friends enjoy the sand and the waters while wagging their tails in excitement. If you are a nature enthusiast, it offers you the chance to learn at the Rotary Nature Center. The best part is that you do not need a boat to reach and can explore this island by cycles and kayaks.   
Address: 1 Causeway Blvd, Dunedin, FL 34698, United States | Google Map Location:https://goo.gl/maps/fLf9VN73o2kxdvfL6 | Phone Number: +17272416106 
John's Pass | Pinellas County  
This site was earlier a spot for just fishing, but today it is not just a popular beach but also a site for boating, deep-sea-fishing, and parasailing. A 1,100-foot boardwalk leads you to Madeira Beach, which also hosts a seafood festival in the last weekend of October.  
John's Pass also has over 100 stores and restaurants that are very popular among both tourists and locals. The fine and white sand and soothing waters let the adventurous ones indulge in activities, while the ones who are there to relax can sit back and enjoy themselves.  

By Richard Mc Neil, CC BY 3.0, Link
Address: 12714-12798 Gulf Blvd, Madeira Beach, FL 33708, United States | Timing: 24 Hours | Google Map Location: https://goo.gl/maps/TtD5GYYM7SJAnnab9  
Indian Rocks Beach | Pinellas County 
Also known as IRB in short by locals, the Indian Rocks Beach is one of the most family-friendly beaches in Tampa Bay. With almost 27 access points located along three miles stretch of soft white sand in Pinellas County, the winds and water welcome you in a calming manner. Amenities like parking, showers, cafes, restaurants, and restrooms are available and it takes you to a laid-back and relaxing atmosphere.  
It is a small town of just 4,000 people and hosts the annual Oktoberfest in the month of October every year. It also offers a scenic view for birdwatching and a beautiful view of the sunset before you end your day. 

By Mikereichold, CC BY-SA 2.5, Link
Google Map Location: https://goo.gl/maps/5tWxQWz7t1agbFvs8  
Pass-A-Grille | Long Key Island 
Pass-A-Grille is present on an island between the Gulf of Mexico and Boca Ciega Bay and is present on the southern tip of St. Petersburg Beach. It is well-known for the 1928 monument, the Don CeSar hotel, and is one of the biggest hotels present in the bay.  
It has a laid-back and artsy vibe similar to Old Florida and powdery white sand and turquoise waters are irresistible if you enjoy beaches. With all the basic amenities available on Pass-A-Grille and all activities being easy to access from here, this beach is one of the top beaches in Tampa.  

By Grendelkhan, CC BY-SA 3.0, Link
Google Map Location: https://goo.gl/maps/oQEQ6d3SjTEKt3uW9  
Beer Can Island aka Pine Key | Tampa Bay 
Named after the act of visitors docking their boats on the island to enjoy having beers while they are there. Though it lies secluded in the heart of the bay, it is extremely crowded during holidays and weekends. The place offers a laidback vibe and is currently owned by the owners of a floating bar who have plans for transforming it into a beach lover's paradise.  
You will find a 74-foot-long floating tiki bar, a campground, a sand volleyball court, restrooms, and a concert stage. They also conduct events regularly and offer delicious bites at the restaurant.  
Address: Florida 33572, USA | Google Map Location: https://goo.gl/maps/uKP89fHzwoCpwZiU9
Clearwater Beach | Clearwater 
As one of the best beaches in not just Tampa Bay but all over the United States, it offers everything one could possibly ask for at a beach. As a full-service beach, it has cabanas, restaurants, water sports, and entertainment. You can let your feet kiss the warm water and the sand touch them as you walk across this clean place. Catching the sunset here is one of the highlights in the list of every tourist's itinerary. As you grab a bite while listening to the soothing live music, you can bid adieu to the sun in a gorgeous way.  
The Clearwater Aquarium is located nearby and is home to a popular dolphin named Winter. If you are looking at events taking place, head over to Clearwater Beach because this one has something for you always! 

By Stepheneric9, CC BY-SA 4.0, Link
Google Map Location: https://goo.gl/maps/eSmXHjmrCex649eW8  
St Pete Beach | Long Key Island 
If there is a beach that people beyond the borders of Tampa adore, it is St Pete Beach. A large space with all necessary amenities and water sports available, it is truly one of the best beaches in the state. You can visit and end your day with a view of the beautiful sunset right before dinner time in the restaurant.  
As a nature lover, you may like to take a boat ride and if fortunate, you might stand a chance to spot sea birds and turtles. Be it spending relaxing time under the sun or checking out the calm and clear waters, St Pete Beach has it all for you! 

By qwesy qwesy, CC BY 3.0, Link
Google Map Location: https://goo.gl/maps/t9g4ffi41cA2Qyee6  
Fred Howard Park | Tarpon Springs 
Situated slightly away from the city, it takes you into an environment that radiates calmness and relaxation. It is about 25 miles (40 kilometers) from the airport and gives you a clear view of the Gulf of Mexico. It is extremely popular among swimmers, fishermen, kayaks, and windsurfers as well. At this site, you can also spot endangered wildlife such as Osprey, eagles, and tortoises. Spread across 155 miles (249 kilometers), this beach is also a hotspot for families as it makes for a perfect site for picnics and playgrounds.  
Over the years, this place has been protecting disappearing landforms of Florida such as wetlands, grass beds, and mangroves. One visit to this place clears your thoughts and uplifts your spirits instantly! 
Address: 1700 Sunset Dr, Tarpon Springs, FL 34689, United States | Google Map Location:https://goo.gl/maps/rMrx1UK4MrnHhn6G8 | Phone Number: +17275822100   
Davis Island Dog Beach | Tampa 
If you have a four-legged furry friend and are wondering where they would enjoy in Tampa, you have found the spot. Davis Island Dog Beach is dedicated to dogs where they can walk, run and play with fellow dogs and have a great time. Poo bags and rakes are available for owners to make things convenient for all visitors.  
Although there is plenty of space available, it is wise to visit during the odd hours. With three different play areas and a dog fountain washing area, and this laid-back and beach will be the favorite spot of your four-legged buddy.  
Address: 864 Severn Ave, Tampa, FL 33606, United States | Google Map Location: https://goo.gl/maps/5otG13cexfsWwhPm9 | Phone Number: +18132748615 
Fort De Soto Beach | Pinellas  
Fort De Soto Beach is the largest public park in Pinellas County and is spread across over 100 acres. Each side radiates a different charm. While the northside was voted by Parent's magazine as the best Tampa Bay beach for families, the east one is best for collect seashells and having your me-time.  
The north side has most amenities such as bathrooms, lifeguards, and a pirate ship playground and qualifies to be extremely family-friendly, hence is usually crowded. Overall, Fort De Soto Beach has a calm and tranquil setting that lets one experience relaxation to the fullest.  
Address: 3500 Pinellas Bayway S, Tierra Verde, FL 33715, United States | Timings: 7 am to 7 pm | Google Map Location: https://goo.gl/maps/fJYneWpu1LvR149QA | Phone Number: +17275822267 
Beaches offer a soothing and relaxing vibe that can only be experienced when one makes a plan and spends considerable time at the beach. Each place has a different charm to it and offers a different kind of relaxation. Now that you have the list of best Tampa beaches, why are you holding back? Make your plans to visit the Bay and explore!