Some wonderful Upstate New York towns are known for their breathtaking beauty, history, and hospitality. Whether you grew up in this part of the state or have moved here from another part of the country or world, you are sure to find one of these towns to be a great place for a vacation. 
Saratoga, Schenectady, Syracuse, Utica, and many more Upstate New York towns are a treasure trove of places to explore and things to see — from historical landmarks and abandoned homes to festivals and outdoor activities (and everything in between). There's no better way to go out there and experience the natural beauty than with these top towns in Upstate New York.
Cold Spring 
Cold Spring, NY is situated in the southeastern corner of Orange County. The village of Cold Spring sits on the western bank of the Hudson River. It is named for the spring-fed pond that existed in this region in colonial times, providing a natural source of refrigeration for the settlers' ice houses. It is best to check into Hudson House River Inn while you go on a hike through the area. 

By DanTD, CC BY-SA 4.0, Link
Google Maps Location: https://goo.gl/maps/PSKd79dTnPfYjRKy8  
Skaneateles 
Nothing captures the beauty of Northern New York better than the quaint little town Skaneateles. Nestled in the heart of Central New York, this Olympic Village of sorts is one of New York's best-kept secrets. Skaneateles is a beautiful small and historic township located in Onondaga county. It sits on the southern shore of beautiful Lake Skaneateles in central New York. The town boasts three public beaches, a number of private beaches, a marina, two campground areas, several restaurants and bars, two wineries, Mirbeau Inn & Spa, and an Entertainment Series that hosts free outdoor concerts.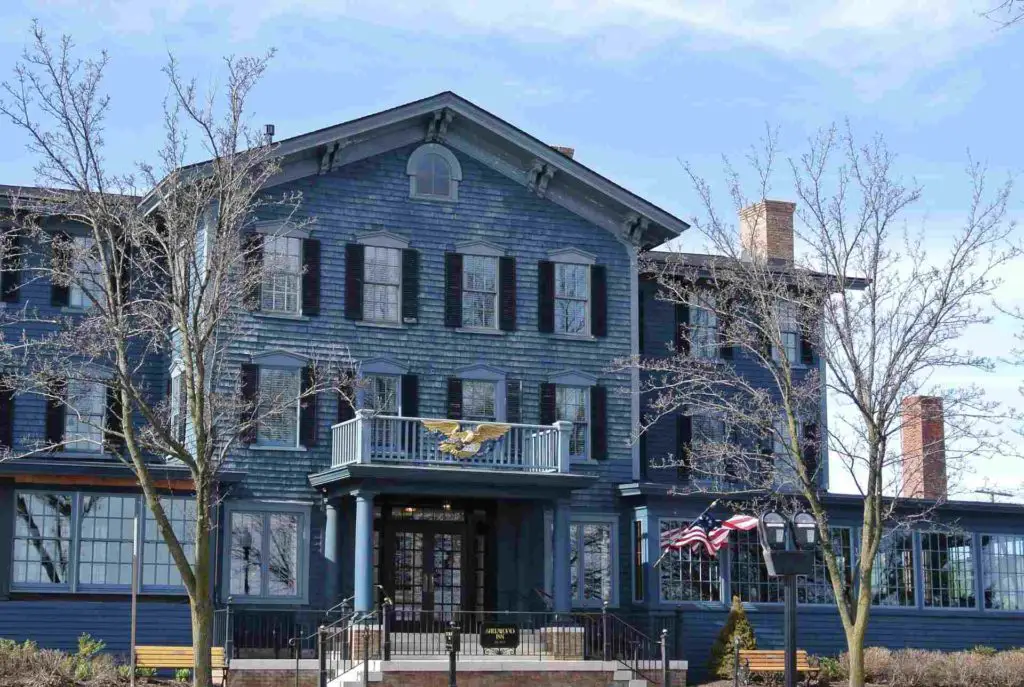 Google Maps Location: https://goo.gl/maps/gLrxgwBFif8pq2ot5  
Ithaca 
Ithaca falls in the region of Finger Lakes in New York. Its residents are known as "Ithacians" or "Ithacites". As of the 2010 census, the city had a population of 30,014. It is well known for being one of the most popular places in the country for good education. Ithaca is home to Cornell University, Ithaca College, and a number of other schools that offer a variety of undergraduate and graduate programs in every imaginable academic field. Notable attractions here are Ithaca Commons, The Haunt, and Greenstar.  

By LBM1948, CC BY-SA 4.0, Link
Google Maps Location: https://goo.gl/maps/onHwgBjuQowZUfsY8   
Lake Placid
Lake Placid is one of the unique upstate NY towns, at the heart of Olympic National Park and partially in the Adirondack State Park. Founded in 1884 due to its enchanting natural beauty near Lake Placid, it became famous worldwide when it hosted the Winter Olympics in 1932. To this day, winter sports are still a big draw to Lake Placid, with other activities such as hiking being available all year long. 
In addition, check out the Cable Car Museum (home to the Lake Placid Snowmobile Club's world headquarters), MacGregor Point (featuring an observation deck with epic views), and Saranac Inn Museum & Cafe (which serves homemade cuisine). You can also tour the local attractions at Lake Placid whenever you feel like. 
Google Maps Location: https://goo.gl/maps/MuQH8RAfrQoUAQaz7  
Alexandria Bay 
Alexandria Bay, in Jefferson County, is one of the many beautiful upstate NY towns. With a population of 4,313, this city is located at the mouth of the St. Lawrence River near Cape Vincent, Oswegatchie, and Ogdensburg. Among the several mesmerizing things here, the most beautiful is the shoreline that covers 77 square miles and has several islands — Hayward Island, Brown's Island, and Grass Island — as well as the shoreline at Water Township Point on the Canadian side of the river. Do check out the Boldt Castle nearby and the many boat tours it hosts. 

By Steven Hamsness, CC BY-SA 4.0, Link
Google Maps Location: https://goo.gl/maps/4abRRRpTPb1GGyRC7  
Sleepy Hollow 
Sleepy Hollow is a village in the township of Mount Pleasant in Westchester County, New York. As of the 2010 census, the village population was 9,570. The Village of Sleepy Hollow is named after the 1820 short story "The Legend of Sleepy Hollow" by Washington Irving. It is located on US Route 9, south of New York City. Sleepy Hollow is at your service, providing residents with an assortment of quaint shops and delicious dining options to cater to all tastes. 
The popular, sleepy-looking township of Sleepy Hollow, New York sits just north of Westchester County and is also home to the historic Sleepy Hollow Cemetery and Haunted House. The ghost of Ichabod Crane is rumored to make its presence known around Halloween, chasing away tourists and also looking for his lost head — aka the Headless Horseman. This has become such a big tourist attraction that there are festivals held during Halloween. 

By Bestbudbrian, CC BY-SA 3.0, Link
Google Maps Location: https://goo.gl/maps/gt8r1PJRPx2QPfMv6  
Saratoga Springs 
Saratoga Springs has long been a popular summer spot for the wealthy, but the history of this township truly amazes all that visit this popular haven. Once an important Native American settlement, Saratoga Springs has survived two major wars and dozens of race tracks. Despite its 200 plus years of operation, Saratoga still retains much of its original atmosphere. It's only 165 miles from New York City, making it a great weekend getaway for those who like to dip into the hot springs.  

By Daniel Case, CC BY-SA 3.0, Link
Google Maps Location: https://goo.gl/maps/FNEDVBxAeH7xbrTcA  
Cooperstown 
It's hard to believe that Cooperstown is the only one in New York State chosen by the US Government as a destination for visitors. Most visitors are American baseball fans who come to pay their respects to players, fans, and writers who made Cooperstown an integral part of American baseball. In other words, Cooperstown is THE Mecca for all who love the game of baseball. Be sure to check out their Baseball Hall of Fame! 

By Kenneth C. Zirkel, CC BY-SA 4.0, Link
Google Maps Location: https://goo.gl/maps/zSM1uRn3RiEcZ3Pp6  
Albion (Orleans County) 
Albion, the county seat of Orleans County, has a population of over 3,300 people. A family-friendly town located along the Niagara Escarpment, 5 miles west of Lake Ontario and 25 miles east of Niagara Falls, Albion attracts visitors from across North America.  
Orleans county is home to 20 towns and surrounding villages, including Medina and Albion, which provide accommodations and attractions such as art galleries, historical museums, and deluxe resorts. If you are planning to head to the area either for business or pleasure, make sure that Albion makes it to your itinerary. 

By Daniel Case, CC BY-SA 3.0, Link
Google Maps Location: https://goo.gl/maps/ndZNtMypc5ND5mUUA  
Woodstock 
Woodstock is the jewel at the genteel and delightful Hudson Highlands. Nestled between charming villages, within rolling pastures, and in proximity to the fascinating Mohonk Mountain House and Minnewaska State Park Preserve, the town of Woodstock is easy to get to from wherever you are. Hop on over and visit Woodstock today! Be sure to check out the Museum and Tinker Street in the picturesque town of Woodstock. 
Google Maps Location: https://goo.gl/maps/eU7E2Bhz4xWTUjYU8  
Beacon 
Beacon Hill is an older neighborhood built in the early 1900s that has townhome condos and single-family homes for sale and rent, with some being historical homes of Saratoga Springs. This neighborhood has a great view of Glenclyffe Lake, Beacon Fire Tower, and Dia:Beacon. Being across from the park gives Beacon Hill residents easy access to other recreational areas within limits. 

By ArtSkillCraft, CC BY-SA 3.0, Link
Google Maps Location: https://live.staticflickr.com/5140/5473361508_cb69cfbe9b_b.jpg  
Bethel 
The township of Bethel, New York is in the beautiful Adirondack Mountains of northern New York state. The area is located in the southwest corner of Herkimer County and is just across the county line into Hamilton County. Bethel can make it easy to find a home there. It has an array of different things to choose from, so it will fit any type of budget and home style. 

By ZachJBeavers, CC BY-SA 3.0, Link
Google Maps Location: https://goo.gl/maps/a1TMgUVquXKQZVuQ9  
Narrowsburg 
The Village of Narrowsburg is located in the north central part of the township of Bethel, at the upper end and center of a small valley near the headwaters of Mill Brook.  It is a beautiful, rural, and hilly area that has been settled for over two centuries. The Village was originally a settlement along the Narrowsburg Turnpike and named after Abraham Narrows, an industrious tradesman and tavern owner of English descent. 
Consider a trip to this idyllic little hamlet if you are looking for a quaint and quiet place to enjoy shopping and campground living with your family. Narrowsburg has all of the features you are looking for while on a vacation. 

By Evangeline.a, CC BY-SA 3.0, Link
Google Maps Location: https://goo.gl/maps/NqdRRNQiKhEE9J9B7  
Altamont (Albany County) 
The Village of Altamont is the seat of Albany County, in New York State. This is just one of the many small boroughs located in the hills and valleys of Upstate New York. The township is near the site of the famous windmill where American patriot Nathan Hale was executed by the British during the American Revolution. The village is east, southeast of Schenectady, and northeast of Albany. 
Google Maps Location: https://goo.gl/maps/WofkbRFrkC7a6dJ78  
Canandaigua 
Canandaigua is a small borough situated in the southeastern corner of New York State. It is home to numerous natural lakes and streams, views of the Adirondacks, historical architecture, small boutiques, and local restaurants – making it a top destination for both locals and tourists. Canandaigua might mean "beautiful strait" in the Iroquois language and was first presented by Cadwallader Colden in his 1724 publication. 
Just an hour out of the area, this place has a lot to offer its residents in terms of fun and convenience. There are ample parks, lakes, and recreation areas of beauty for those who enjoy Mother Nature, as well as a variety of retail outlets and restaurants throughout the township. 

By Daniel Case, CC BY-SA 3.0, Link
Google Maps Location: https://goo.gl/maps/MnZVSRpWsk2ntRx28  
Saugerties 
Although it is a village in many regards, Saugerties gets the honor of being named one of the best towns to visit in upstate NY. Whether you want to explore and hike with your family or take a romantic stroll with your significant other, this township has something for everyone. 
Saugerties, New York is a great place to travel for those who appreciate outdoor activities and the arts but have limited time. Don't let its small size fool you; Saugerties has plenty of things to see and do. From shopping at its many boutiques to hiking trails and plenty of music events and nightlife, you are sure to be entertained while in the area. From natural beauties to manmade, it's amazing how much Saugerties has to offer — especially iconic are the Orpheum Theatre and Opus 40. 

By Daniel Case, CC BY-SA 3.0, Link
Google Maps Location: https://goo.gl/maps/on2GZZPwas8eKA4Q7  
Pawling 
Pawling NY is located in Dutchess County and is a charming mid-sized township. Pawling is one of the most popular towns in the Hudson Valley for visitors to travel to. Located about 90 minutes from New York, Pawling offers a taste of natural urban life without all the big hustle-bustle. Whether you want to take a day trip to Pawling, have an event at one of their beautiful venues, or walk around and fill up on great food and atmosphere, this township is your place! 

By Daniel Case, CC BY-SA 3.0, Link
Google Maps Location: https://goo.gl/maps/atSfjq1xep4ZQ2ot8  
Andes (Delaware County) 
Andes, NY (population 1,064) is a natural hamlet in Delaware County. The township is in the northeast corner of the county and it borders Oneonta, Coös County to the north. The township is at the foot of the Andes Mountains. The Shawangunk Ridge Trail runs through the Andes. It was settled about 1790. 
Located in Delaware County, Andes is in a convenient location. It has an average commute time of 20 minutes. Rainfall is evenly distributed throughout the year, with snowfall beginning in late November and lasts until April or early May. 

By Vonsky87, CC BY-SA 3.0, Link
Google Maps Location: https://goo.gl/maps/bYMkJ2z1MhoFCCkM7 
Catskill 
Catskill, an amazing little historic place, is located about 4 miles south of Hudson city and has a lot to offer for fun weekend getaways. Catskill is very much associated with the arts because it has an art center that hosts many events throughout the year. There are also many parks that you will find fun to visit. 
Catskill is the kind of quaint little township that makes you feel at home the moment you embark on an adventure. Whether you live there or not, the community really takes care of each other. There are endless activities that promote community! 
Google Maps Location: https://goo.gl/maps/ssszJajFCW7MG7Bg6  
Hunter 
Hunter is a beautiful and historic town located in the heart of the picturesque Mohawk Valley. The vibrant and thriving little community of Hunter, NY is a treasure trove of rich history and contemporary flair with its iconic Resort and Ski School.  
Besides the popular year-round delights like shopping, dining, playing, or hiking, there are many reasons for Hunter always being on top of the list of enchanting small towns. 
Google Maps Location: https://goo.gl/maps/3zpa86XLTHBtqhra9  
Athens (Greene County) 
One of the great things about Green County is its historic places. You can find a child's world from the American Revolution era in this area. Located in the bustling Catskill Mountains region, the township of Athens has a lot to offer, whether you are visiting with your family or partner. Athens is located in Greene County and was named after the city of Athens in Greece, where democracy was born and the home of philosophers Aristotle and Plato.   

By Ynsalh, CC BY-SA 4.0, Link
Google Maps Location: https://goo.gl/maps/mGikiBdgF4FwGyUH6  
Ellicottville 
Located in the eastern part of Cattaraugus County, Ellicottville is a small township of just over 1,700 people. It is located in the Allegheny Mountains of Western New York and is surrounded by four state parks: Allegany State Park, Letchworth State Park, Allegany State Park, and Finger Lakes State Parks. Although Ellicottville is not considered the highlands, it still offers spectacular views (Houghton's Pond and Mount Portis were named after Horace Greeley; who believed that these mountains would one day host summer resort communities). The best day spent here includes some skiing, a visit to the Distillery, and a trip along Holiday Valley. 

By Adam Moss, CC BY-SA 2.0, Link
Google Maps Location: https://goo.gl/maps/NEXZ8fatkdRu886o9  
Rosendale 
One of the best things to do in a new township is visit all the local attractions, and Rosendale has plenty. Visit the Rosendale Theater, Geneva on the Lake, Deyo's Chocolate, and an event at Glenmere Lawn; the seasonal fun really never ends for visitors. There are also a number of different accommodations you might want to consider. Whether you are looking for the best hotels or other places to stay, like condos and bed & breakfasts, there is something for everyone in Rosendale. Overall costs in Rosendale are 28% lower than the average cost of comparable cities. 

By Daniel Case, CC BY-SA 3.0, Link
Google Maps Location: https://goo.gl/maps/RbGfrMPAxGMU4kXDA
New York is a great place to live in. Its own distinct region is a haven for those who enjoy living in peace and serenity. If you are still looking for a township to call home and settle down, here are some of the best towns in Upstate New York.