Texas in the United States of America is a place with unique attractions. Also known as the Lone Star State, it is popular globally for its awesome barbecue and other things like oil, cowboys, and guns. While planning a trip to the place, you will find all these things for sure. But there are some very interesting Texas facts, which will keep you wondering and thinking. If you want to know about some such intriguing facts on the place, read on. We have enlisted some really interesting facts about Texas for you.
World's First Frozen Margarita Machine was Invented in Texas 
It was the Slurpee machine at 7-11, which inspired restaurateur Mariano Martinez to do something innovative. He went on to adapt a soft-service ice cream machine for making frozen margaritas. He named it "The World's First Frozen Margarita Machine". This machine can now be seen on display at Smithsonian's National Museum of American History.  

By Dallasfoodie, CC BY-SA 4.0, Link
Dr. Pepper was invented here in Texas 
Charles Alderton created this carbonated soft drink in Waco, Texas, in the 1880s. However, its first national marketing was done in 1904, and now it has customers globally. The recipe of the drink is still undisclosed. It is preserved in safety boxes in two parts, and the boxes are kept in two different banks in Dallas! 
The Six Flags in Six Flags over Texas Represents the Countries that Ruled Over the State 
"Six Flags over Texas" is a very popular phrase. These refer to the six countries that ruled over the territory. The flags belong to Mexico, the Republic of Texas, France, Spain, the Confederate States of America and the United States. The particular term "Six Flags" has been included in shopping malls, theme parks, Texas State Capitol and other venues. These can also be seen on the reverse side of Seal of Texas.  
"What's up, doc?" Originated in Dallas 
"What's up, Doc" is one of the most prominent catchphrases of Bugs Bunny, which evolved in Dallas. Tex Avery, the Looney Toons animator introduced this phrase to the world. When asked later, he said that he did not pay much importance and attention to the phrase as it was commonly used in the place where he was brought up.  
In Texas it is illegal to put graffiti on your neighbor's cow 
There are some weird laws in Texas, and this is definitely one of them. It is a grave offense in the place if you steal someone's cattle or even put graffiti on someone else's cow. Not only this, it is extremely unlawful if you milk another person's cow in the area. Strict judicial action might be taken against the accused.  
Texas has its own Power Grid 
The United States has three power grids – one for areas located between Rocky Mountains and the Pacific, one for the regions, which lie to the eastern side of Rocky Mountains, and one dedicatedly for Texas. It was established during World War II to ensure that the factories in the area, which were producing war supplies, remained self-sustainable. This is one of the most interesting facts about Texas. 

By Jphill19, CC BY-SA 4.0, Link
Galveston Hurricane of 1900: Deadliest Natural Disaster 
The Galveston Hurricane of 1900 was probably the deadliest disaster in the US. This natural disaster created havoc, taking a toll of almost 8,000-12,000 lives. The highly devastating storm surge was reported to be of 8-15 feet (2.4-4.5 meters).  
Colors in the Flag of both USA and Texas are same 
It is interesting to note that the colors of Texas Flag and the United States of America Flag are the same. Blue, red, and white are the three colors used in the flags. Each color has its symbolism and significance – blue stands for loyalty, red stands for courage, and white represents liberty and purity. Both the flags can be seen unfurled on the State Capitol and other places of national importance. This is one of the most prominent Texas state facts.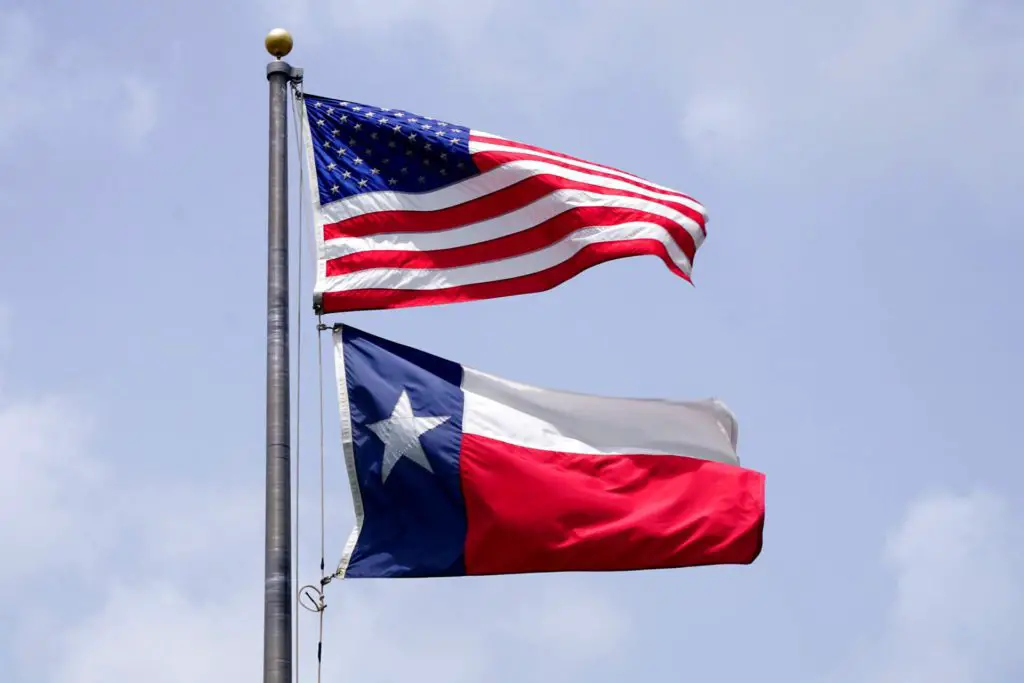 Texas has the Fastest Road in America 
There is a rural stretch located between San Antonio and Austin, where the speed limit is 85mph (137kmph). This limit is for a 40-mile stretch (64-meters) of a toll road. Along with this, Texas has the fastest average legal speed of 78.3mph (126kmph).  

By formulanone, CC BY-SA 2.0, Link
Congress Avenue Bridge in Austin has the Largest Bat Colony in North America 
Austin is home to the largest bat colony in the US. The Congress Avenue Bridge on the Lady Bird Lake has more than 1.5 million bats roosting underneath. These bats consume almost 10,000-30,000 pounds of insects per night. The main bat colony is located in Bracken Cave, where more than 20 million bats reside in the cave. This is one of the most interesting Texas facts.  

By Peter Potrowl, CC BY 3.0, Link
France is Smaller than Texas 
You will be surprised to know that the size of France is smaller than that of Texas. While France covers an area of 551,500 square kilometers approximately; Texas has an area of about 678,052 square kilometers. The area of Texas is almost 1.2 times more than that of France. Percentage-wise, France is 81.34% of Texan size.  
Oscar Award was named after the Texan Oscar Pierce  
The Academy Award Statuette, which is also known as Oscar, was named after Texan Oscar Pierce. His niece was actually an employee in Hollywood and she worked for the Academy of Motion Pictures Arts and Sciences. When she had her eyes on the gold statue for the first time, she exclaimed that it looked just like her uncle Oscar. And hence the name! Such fun facts about Texas are worth knowing! 
Republic of Texas 
The Republic of Texas existed from March 2nd, 1836 to February 19th, 1846 and was a sovereign state. However, Mexico labelled the Republic of Texas as a rebellious province throughout the 10-year span. Citizens staying in the Republic were referred to as Texians. On December 29th, 1845, the United States annexed Texas and included it in the Union, transferring power from Republic to the state of Texas.  
King Ranch in Kingsville is Bigger than Rhode Island  
Sprawled over an area of 825,000 acres, King Ranch has more than 35,000 cattle heads and above 200 quarter horses. The ranch spreads across six counties and has more area than Rhode Island. In 1961, the ranch was designated as a National Historic Landmark.  

By Darryn Rose, CC BY-SA 4.0, Link
Word Maverick comes from a Texan Rancher 
A maverick refers to a person who has independent thoughts and refuses to follow pre-imposed customs and regulations. The term originated from Samuel Augustus Maverick, who shifted to Texas in the early 1800s. He was gifted cattle, which were left loose on the large ranches in the area. In those times, people branded their cattle to keep track of which belonged to whom. However, Samuel Augustus Maverick refrained from doing this and was different from the rest; hence, the name's significance! 
Amarillo is known as the "Helium Capital of the World" 
Amarillo is regarded as the helium capital of the world. This is because the place is home to Federal Helium Reserve, which is a vast storehouse located underground. The helium reserve is operated by the Bureau of Land Management of Unites States of America. Almost 90% of the recoverable helium supply of the world is found here. Replicating helium gas is not simple.  

By Pi3.124, CC BY-SA 4.0, Link
Texas State Motto is "Friendship" 
The Spanish pronunciation of Texas was "Tejas". This Hasinai Indian word meant "friends" or "allies". Interestingly, the state motto of Texas is friendship.   

By Deanmchm, CC BY-SA 4.0, Link
You Can Legally Kill A Big Foot In Texas 
As per instructions from the Texas Parks and Wildlife Department, in case you find a Bigfoot (a Pacific North American cryptid) accidentally in any part of Texas, you can kill it. If the Bigfoot is hunted on any private property with due permission from the property holder, you have the permission to kill it.  
The name Lone Star State is a Reminder for the Independence Struggle 
The Lone Star State is the nickname of Texas. The name has its origin in the star, which appears on the Republic flag of 1836. The single star stands for an independent republic and as a reminder of Mexico's independence struggle. This Lone Star can be seen on Texas State Seal and Texas state flag.  

By Michael Barera, CC BY-SA 4.0, Link
State Capital Austin is also the Live Music Capital of the World 
Austin is not only the capital of Texas, but it is also known as the live music capital of the world. It hosts thousands of concerts every year, where both local artists and A-list celebrities participate. Along with concerts, various kinds of music festivals are also organized and hosted in Austin.  

By Michael Barera, CC BY-SA 4.0, Link
Texas Ranks Number One in Greenhouse Emissions 
Greenhouse gas emission is a major concern in Texas. If the place was declared as an independent country, it would be the seventh-largest producer of greenhouse gas in the world. Reports have shown that Texas ranks number one when it comes to greenhouse gas emissions within the US.  
Chili is the Official State Dish of Texas 
Have you ever thought that chili can be an official dish? Well, it is the official dish of Texas since May 11th, 1977, when House Concurrent Resolution No. 18 (HCR 18) was signed by Governor Dolph Briscoe. This dish is not about chili pepper; it has ingredients like meat, beans, or tomatoes. 
Texas Suffers from More Tornadoes as Compared to Any Other State 
Due to huge numbers of tornadoes hitting Texas, it is regarded as the tornado capital of the US. The density of the tornadoes here ranks 11th among the other 50 states. Reports have shown that there are average 5.7 tornadoes per 10,000 square miles every year.  
Stephen F Austin is known as the "Father of Texas"
Stephen F. Austin is known as the "Father of Texas". He was an American-born empresario and the founder of Anglo Texas. Innumerable places and institutions have been named in his honor. Some of the prominent ones include Austin Bayou, capital of Texas, Austin College, Stephen F. Austin State University, etc. Many public schools are also named after him.  

By Adavyd, CC BY-SA 4.0, Link
Texas is the Largest Petroleum-Producing State in the U.S 
Texas is considered as the largest petroleum-producing state in the United States. Researchers opine that it would be the fifth-highest petroleum-producing country in the world if it was an independent country. There are 254 counties in this US region and almost 220 of them have natural gas within their boundaries. Such Texas state facts are awe-inspiring.  
John Wayne and Chuck Norris are Honorary Texas Rangers 
Chuck Norris and John Wayne are honorary Texas Rangers. For those who don't know, Texas Rangers are regarded as the oldest law enforcement agency with statewide jurisdiction in North America. 

By Hugo van Gelderen / Anefo, CC0, Link
Sam Houston was from Virginia 
Sam Houston was the first governor and the first president of Texas. He lived in Tennessee with The Cherokee and was called "the Raven". Although he is highly popular as a Texan, he was born in Virginia and became the governor of Tennessee. "Tribute to Courage" is a statue of Sam Houston and it is the world's biggest freestanding statue of any American.  
Jane Long is known as the "Mother of Texas" 
Referred to as "Mother of Texas", Jane Long (1798-1880) is a very popular figure in the country and the area. She is known for her bravery and mother of the "first white child" in the region. However, she herself admitted that she was not the first English woman, who bore a child in Texas.   
Texas Rangers is the Oldest Law Enforcement Agency in North America 
Texas Rangers is the oldest law enforcement agency in North America. The agency has statewide jurisdiction. For a long time, the agency has investigated various kinds of crimes including political corruption, murders, riot controls, etc. It has also provided protection to eminent national and state personalities.  

By Pi3.124, CC BY-SA 3.0, Link
World's Largest Rattlesnake Roundup is Held in Texas 
Rattlesnake roundup is a popular event in Texas. It is the world's oldest and largest roundup. The event is held every year in the month of March in Sweetwater.  
All these facts are interesting, quirky, and even intriguing. Knowing these facts will help in making your trip to the state both enjoyable and informative.