This little island of Bali appeals through its sun-drenched golden beaches, wildlife, a maze of temples, ample lush fields, and delightful cuisine. There are scores of things to do in Bali. The way of life on this island simmers around in the air in a way that will draw you in for a holiday steeped in leisure, culture, and bliss.
Ulun Danu Beratan Temple
Ulun Danu Beratan Temple will make you marvel at its beauty. Bali is a predominantly Hindu island in an otherwise Islamic Indonesia. Ulun Danu Beratan is a floating temple, standing in the dedication of Goddess Danu. The traditional structure is a testimony of ornate Hindu-Buddhist architecture as well as faith in Hindu beliefs.
It is one of the unique Bali attractions. While its roof builds a mystical character, the temple itself is a shrine for peace and serenity. You can walk around in its gardens once you visit the four sacred temple buildings.

By Johannnindito Adisuryo (Yohanes Nindito Adisuryo), CC BY-SA 4.0, Link
Address: Danau Beratan, Candikuning, Baturiti, Tabanan Regency, Bali 82191, Indonesia | Timing: 07:00 am to 07:00 pm | Google Map Location: https://goo.gl/maps/NY3RVU9nrx1Lst2r8 | Phone Number: +623682033143
Surfing in Kuta
Bali is often known as the it-spot for surfers, and Kuta is right on the top. If it is your first-time surfing, you can even sign up for a lesson at the beach. The sand is soft, and the tides are just high enough for a novice to enjoy. It is 8 kilometers (4.97 miles) of surfing ground; the best season is from May to September, when it is relatively drier.
The place is immensely popular and is usually packed with tourists looking to while away and have a cold beer by the shore.
Address: Kuta, Badung Regency, Bali, Indonesia | Timing: 24/7 | Google Map Location: https://goo.gl/maps/7jdV63cHiZDsLDFz9
Taste Balinese Cuisine at Bebek Bengil
The specialty of this café lies within its name. A phrase for 'Dirty Duck' in Indonesian, Bebek Bengil serves up the yummiest duck dishes in Bali. The café is sought after by tourists from across the world who relish its Bebek Betutu, Nasi Goreng Bebek, and Grilled Duck. That's not it. Bebek Bengil also presents a wide variety of other Balinese food that includes chicken, prawns, and rice.
Bebek Bengil has won the hearts of people for being the culinary aspect of Bali attractions.
Address: Jl. Hanoman, Ubud, Kecamatan Ubud, Kabupaten Gianyar, Bali 80571, Indonesia | Timing: 11:00 am to 08:00 pm | Google Map Location: https://goo.gl/maps/jpknEhaYnohi2dff9 | Phone Number: +62361975489
Stay in a Treehouse Hotel
A treehouse hotel may sound like a childhood fantasy, but Bali can make it come true. A stay here is a remarkable way to spend time within nature. A lot of such hotels are coming up with sustainable practices and eco-structures that bring you one step closer to the bountiful greenery.
Take a break from the mundane and stay at LIFT Treetop Boutique Hotel in Penestan. And, if you are looking for an unforgettable view, book the Magical Tree House in Ubud that overlooks lush rice fields.
Staying at a treehouse hotel is just one of the top things to do in Bali that can be the cherry on the cake.
Detox at the Yoga Barn
This can be your 'Eat Pray Love' moment on the island while also feeling completely rejuvenated. Yoga Barn, located in Ubud, is Indonesia's most renowned yoga studio and healing retreat.
From practicing yoga, meditation, art, and dance, people can also choose to indulge in healing activities such as acupuncture, reiki, naturopathy, and watsu. Visitors can book a stay to avail the most holistic environment that Yoga Barn strives to create.
You can be assured that Yoga Barn will be a sensory touchpoint of your trip to Bali, Indonesia.
Address: Jl. Hanoman, Pengosekan, Kecamatan Ubud, Kabupaten Gianyar, Bali 80571, Indonesia | Timing: 07:00 am to 07:00 pm | Google Map Location: https://goo.gl/maps/AJepKRYPQuKmMRAh9 | Phone Number: +62361971236
Diving at Padang Bai
One of the best diving locations in all of Indonesia, Padang Bai has a beach and harbor from where you can take a plunge into the water. Whether you are a beginner or a pro, you can find a diving site to match your level. This is your chance to spot ghost pipefish, Wobbegong sharks, Pelagic fishes, Reef sharks, and many other wonders of underwater life.
Padang Bai will astound even the seasoned undertaker photographers with its aquatic fauna. It would not do to miss the opportunity to go night diving in the Blue Lagoon.
Address: Manggis, Karangasem Regency, Bali, Indonesia | Google Map Location: https://goo.gl/maps/8zhGz6vHdnwAdVbL8
The beautiful Penida Island
Penida Island, Bali, has breathtaking landscapes and jewel-like beaches. There are also the Banah Cliffs and Diamond Beach Viewpoint that are epic sunset and sunrise points. Don't miss The Tree House at Penida Island, Bali. Mounted up on Thousand viewpoint, the Tree House is a cute little place that you can rent to spend a night gazing at the azure water.
There is a lot that this island offers in terms of diving as well. How about diving at Manta Bay to swim around with the famed Manta Rays? Penida Island is a feast for the eyes; the carvings of rice fields, beautiful beaches like Atuh Beach, and adventurous getaways by the likes of Peguyangan Waterfall leave you mesmerized.

By I Ketut Arnaya, CC BY-SA 4.0, Link
Address: Nusapenida, Klungkung Regency, Bali, Indonesia | Google Map Location: https://goo.gl/maps/5SEjw1CQUxE1aH959
Get on a Jetpack
There are just so many water sports to enjoy the ocean around Bali. Getting on a jetpack is one of them. If you're hunting for an adrenaline rush, then this a sure-shot sport for you to try. Nusa Dua offers the finest experience for jetpacking.
Splashing around in the water on a sleek machine and creating your own miniature waterfall does sound like a great idea.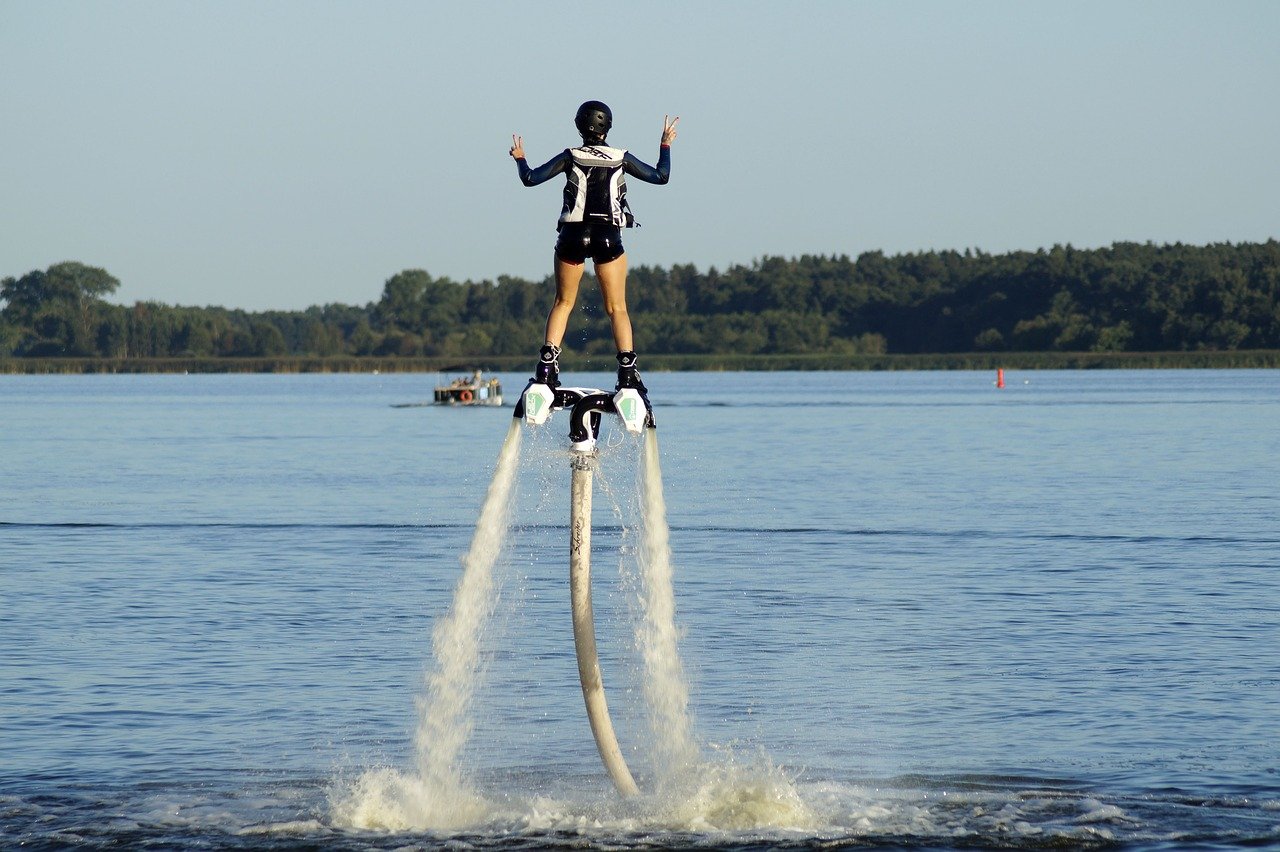 Tanah Lot
The silhouette of a Hindu temple atop a cragged hill and a magnificent sunset casting golden light onto the ocean – this is not a picture you shall ever forget. Close to Ubud, Tanah Lot is more than just a rock formation jutting out into the water. It is a Hindu pilgrimage spot and one of the stupefying Bali attractions.
Tanah Lot reaches the full heights of its splendor during the Odalan festival. If you visit on other days, you can simply walk around and drink in its sheer beauty.

By CEphoto, Uwe Aranas, CC BY-SA 3.0, Link
Address: Beraban, Kediri, Tabanan Regency, Bali 82121, Indonesia | Timing: 08:00 am to 06:00 pm | Google Map Location: https://goo.gl/maps/sr5W9aS9oH6bqDF66 | Phone Number: +62361880361
Celuk Village: Home to Gold & Silver Handicraft
It is at Celuk Village that one can find excellent craftsmanship oozing out of the famous gold and silver handicraft. Generations of its citizens have been involved in the process of jewelry-making and jewelry carvings; you can own a heritage piece without burning a hole in your pocket.
Celuk is one of the great places to visit in Bali to pick up some souvenirs or add to your own collection. The metalwork of Celuk Village is not only rare but has a distinct charm to it.
Address: Sukawati, Gianyar, Bali, Indonesia | Google Map Location: https://goo.gl/maps/6WsLX2LXoUamtttdA
Explore the endless number of beautiful Beaches
Do you know what Bali does best? Beaches! While Ubud is not a beach town, Bali does have ample sunny strips of crystal-blue water. For some delicious seafood, head over to Jimbaran. If barhopping is more your thing, Seminyak Beach is for you.
There are also the beaches where you soak up some sunshine in peace, like Thomas Beach, Sanur Beach, and Balangan Beach. Looking for surfing in Bali? Head to Medewi Beach, Sanur Beach, or Keramas Beach, and ride the waves till the sunset. Of course, there is always the favorite of the tourists, Kuta Beach. It rolls in nightlife, surfing, lounging, and enjoying all into one.
A museum of beaches, Bali will make your island dream come alive!

By Michelle Maria, CC BY 3.0, Link
The underrated Amed Beach
Amed Beach is the non-touristy of all places to visit in Bali but unbelievably beautiful. You may find yourself totally in love with the brown-roofed settlements, cliffs enveloped by clouds, lush green farms, and most importantly, the amazing blue water.
Head to Lipah or Jemeluk Bay for an insanely good diving experience; you might even spot a huge batch of purple starfishes. From Amed, the view of Mount Agung is priceless. It is even better when enjoyed with sips of Bintang.
Address: Bali, Indonesia | Google Map Location: https://goo.gl/maps/ur6Y7oAumcre5tKx5
Uluwatu Kecak & Fire Dance
The nighttime Kecak and fire dance at the Pura Luhur Uluwatu Temple marries culture with local religious beliefs in a beautiful way. Against the backdrop of a mesmerizing sunset, the dance unfolds an adaptation of the Hindu epic Ramayana. The Uluwatu temple itself is perched on a cliff overlooking the Indian Ocean.
This dance is something of a traditional art form of Bali. The male dancers perform it at the outdoor amphitheater of the Uluwatu Temple.

By Midori, CC BY-SA 2.0, Link
Address: Kawasan parkir Pura Uluwatu, Jl. Uluwatu, Pecatu, Kec. Kuta Sel., Kabupaten Badung, Bali 80361, Indonesia | Timing: 06:00 pm to 07:00 pm | Google Map Location: https://g.page/tari-kecak-uluwatu?share
Take a Cooking Class
Almost every corner you turn, you may find a café or restaurant serving local cuisine and lip-smacking seafood using fresh ingredients. Thus, it only fits that one of the things to do in Bali, Indonesia is to take a cooking class. Balinese food tells the story of Bali's way of life.
Cooking classes such as Casa Luna in Ubud, Balé in Nusa Dua, and Lobong Culinary Experience in Ubud start with a trip to the local market where you can choose your own traditional spices herbs, and even vessels that are customary in a Balinese kitchen.

By Everett Harper, CC BY-SA 2.0, Link
Ubud Monkey Forest
The Ubud Monkey Forest in Bali is a natural sanctuary as well as home to three medieval-era temples. Close to the Ayung River, it is a habitat for the Balinese Macaques, hailing from the monkey family.
You can walk around this green reserve and enjoy the play of a few hundred monkeys. Along with the monkeying around of the long-tailed monkeys, you can imbibe in the tranquility of the temples like Pura Dalem Agung Padangtegal temple, a temple for crematory ceremonies, and the 'Holy Spring' temple.
Address: Jl. Monkey Forest, Kecamatan Ubud, Kabupaten Gianyar, Bali 80571, Indonesia | Timing: 09:00 am to 04:00 pm | Google Map Location: https://g.page/monkeyforestubud?share | Phone Number: +62361971304
Scenic Tegallalang Rice Terrace
In classic Ubud fashion, the Tegallalang Rice Terrace is ripe with amazing greenery. The layers of emerald-green paddy fields are like carvings of earth. The cascading rice terrace in Bali is at its best in March to April or September to October, the harvest seasons.
Tegallalang Rice Terrace in Ubud is so gorgeous; it makes for a great photography backdrop. And, with a cute little café named Terrace Padi, you can easily spend a couple of hours at this must-stop of many Bali attractions.

By Thomas Fuhrmann, CC BY-SA 4.0, Link
Address: Jl. Raya Tegallalang, Tegallalang, Kec. Tegallalang, Kabupaten Gianyar, Bali 80561, Indonesia | Timing: 08:00 am to 06:00 pm | Google Map Location: https://g.page/tegallalang-rice-terrace?share
Bali Zoo
With clusters of open-air spaces, Bali zoo is a prime example of fun things to do in Bali. Along with animals like the Bengal tiger and Bawean deer, you can expect a rich aviary of some exotic birds. You can also book a night safari with the Night at The Zoo event. It is evident that the place is not just about looking at animals but rather an interactive experience for people of all ages.

By Ossi Petruska, CC BY-SA 2.0, Link
Address: Singapadu, Sukawati, Gianyar, Bali 80582, Indonesia | Timing:Zoo: 09:00 am to 5:00 pm, Night at The Zoo: 06:00 pm to 9:00 pm | Google Map Location: https://g.page/balizoo?share | Phone Number: +62361294357
Purify yourself at Tirta Empul
The holy spring water of Tirta Empul is believed to have purifying properties. In fact, the name Tirta Empul itself means 'holy water spring' in Balinese. The temple is more than 1,000 years old!
The rituals at this temple in Bali have been almost intact for almost a millennium. The ambiance of faith and hope, combined with the old Presidential building adjacent to the temple, makes the visit feel soulful. You can participate in the purification ritual by dipping your head under the water gushing from the 30 waterspouts.
Do not miss to walk to the 'Jeroan', which is the main worshipping site where prayers are offered.

By Jorge Láscar, CC BY 2.0, Link
Address: Jl. Tampaksiring, Manukaya, Tampaksiring, Kabupaten Gianyar, Bali 80552, Indonesia | Timing: 08:00 am to 06:00 pm | Google Map Location: https://goo.gl/maps/jNtFGP5nBUuu8emm7
Dolphin Statue
Located at Lovina Beach, Bali, this statue is located in the Kalibukbuk area. It exhibits single-jawed dolphins and is symbolic in many ways because tourists often come to Lovina beach for dolphin spotting. Lovina is a quieter beach in North Bali with a calm sea set as a backdrop to this famous dolphin statue.
In the area surrounding the beach, you will find quite a few shops selling wooden and stone replicas of the dolphin statue to keep as curios.
Address: Lovina, Kalibukbuk, Kecamatan banjar, Anturan, Kec. Buleleng, Kabupaten Buleleng, Bali 81151, Indonesia | Timing: 24/7 | Phone: +6281338570403 | Google Map Location: https://goo.gl/maps/MrvExqhp85gw8tjW7
Try the Seafood in Sanur
The seaside town of Bali, Sanur, has gained popularity through people's stomachs. Sanur cooks up some of the best seafood you'll eat on the Sanur island, giving a tough competition to Jimbaran. Sanur has a reputation for being laid-back but also for providing finger-licking seafood at reasonable prices.
Jack Fish and Warung Amphibia are two of the most straightforward joints in Sanur beach, where you can walk in as you please and eat to your heart's content. The freshest of the menu includes squid, mahi-mahi, marlin, snapper, and more. If you're feeling a tad fancier, you can check out Seagrass by Sanur Beach and La Playa Café.
The popular Mount Batur Sunrise Trekking
Look no further for things to see in Bali, Indonesia, for a day full of adventure. Hike up the Mount Batur trail and chase the sunrise, and you walk to the top.
To take the excitement a notch higher, let us mention that Mount Batur is an active volcano that is a part of UNESCO's Global Geoparks Network. You can choose to do this hike on your own or book through a tour operator. Either way, if you want to behold the mesmerizing sunrise over Batur Lake, you must start your hike at around 3:00 am.

By TMFalkner, CC BY-SA 4.0, Link
Address: South Batur, Kintamani, Bangli Regency, Bali, Indonesia | Google Map Location: https://goo.gl/maps/3qETkeKjsZzAyzTj6
Visit the Chocolate factories
Charlie and the Chocolate Factory may be the zenith of childhood television fantasy, but you can live a slice of it at the chocolate factories in Bali. The aroma of cacao and chocolate in the air is heavenly!
Indonesia is a leading producer of cacao, accounting for nearly 20% of global production. You can take a tour of one of the factories and taste some of the finest chocolates ever! The best part is that these factories support the local farmers and boost Bali's economy.
Some of the highly known factories are Pod Chocolate Factory and Café, Uforia Chocolate, and Big Tree Farms. It is time to live the chocolate dream.
Party in Kuta: Bali's Party Hub
We mentioned Canggu for its parties, but it all began from Kuta, the original party hub of Bali. It is the heart of tourism in Bali. The music is thumping, people are dancing, and the drinks keep getting crazier. In a nutshell, you are in here at the heyday of its nightlife.
Whether you are into EDM or rock or live music, Kuta has it. Vi Ai Pi, Empire Club, and Hard Rock Café are some all-time popular places that you can hit up. For dress-down and dance kind of a night, Alley Cats is the right spot.
Address: Kuta, Badung Regency, Bali, Indonesia | Google Map Location: https://goo.gl/maps/H9U7auDQPkaMdM2k9
White Water Rafting
While there is plenty of surfing, swimming, and diving, Bali's water sports are not just limited to the sea. Ayung River and Telaga Waja River in Karangasem offer amazing opportunities for you to go white-water rafting!
A couple of hours devoted only to splashing water, rowing the paddles, and laughing your hearts out – if you don't mind getting drenched, then this will be a mini-adventure. Ayung River is suitable even for first-timers and is located right in the main city of Ubud. Although, Telaga River is supposed to be more exciting if you have some more time to spend.
Go Island Hopping
Looking for an island-hopping experience? Welcome to Bali! There is an island in Bali, accessible from Ubud, to match every mood.
Nusa Lembongan is a romantic spot to explore as you walk hand-in-hand. Having spent quite some time admiring the blue water, you may want to snorkel at Menjangan Island. Menjangan Island is an aquatic wonderland and a holy site with an impressive Lord Ganesha temple. And there's Gili Trawangan island which has a reputation for its hipster vibe and cool nightlife and also has the picturesque Ombak Sunset Swing.
And lastly, the gem of an island, Lombok unparalleled in its beauty that it derives from the stunning Kuta Beach, lovely waterfalls, and coral islands.

By Jorge Láscar, CC BY 2.0, Link
Take a Hot Air Balloon Tour
As you feel yourself going higher up in the air, the view of Ubud goes from being beautiful to utterly heavenly. As far as your eyes go, you will see dramatic landscapes of green paddies fading into shimmering sand and colorful settlements with slopes of Mount Agung over the horizon.
There are only a few tour operators who offer a Hot Air Balloon tour, a gateway to enjoy a panoramic view of the Tanah Gajah area. You can choose your ride to be either at sunrise, sunset, or nightfall.
Waterbom Bali
Water sports don't just end at sea. The Waterbom Bali is the place to test your limits of having unadulterated fun. It is a happening water park suitable for all age groups. Apart from crazy rides, it also offers restaurants and a swim-up bar.
Whether you want to slow down and enjoy the lazy waters or experience a rush of adrenaline at Climax, Asia's steepest slide, some rides match different paces. Splashing around water and sipping some delicious cocktails can soon become a memorably ideal day at Waterbom Bali.
Address: Jl. Kartika Plaza, Tuban, Kuta, Kabupaten Badung, Bali 80361, Indonesia | Timing: Friday – Sunday: 10:00 am to 05:00 pm | Google Map Location: https://g.page/waterbom-bali-bali?share | Phone Number: +62361755676
Nusa Dua
Luxury has a favorite corner, and it is called Nusa Dua. It is the classiest of the Bali attractions. Apart from sunbathing on perfectly soft sands and splurging on the best spa treatments, Nusa Dua has lots more going on. Catch a performance of Devdan Show at Bali Nusa Dua Theatre that showcases excellent aerial acrobatics. Art lovers, you should not miss out on visiting Museum Pasifika. This museum allows you to take a step back in time and exhibits sculptures from various regions.
And if you have fun on your mind, there is Bali Golf & Country Club, Bali Collection for Shopping, and a delicious Sunday brunch at Soleil.

By CEphoto, Uwe Aranas, CC BY-SA 3.0, Link
Traditional Creambath
Bali spots the nickname 'Land of Gods,' but it should also be called the 'Land of Rejuvenation.' Indulge yourself in a traditional creambath, and you shall know why. If this is the secret to the Indonesian women's lustrous hair, we, too, would like to jump on the bandwagon!
They begin by applying a conditioning cream usually made with natural ingredients into your hair and spa. Be ready to be wowed when they begin massaging your head and shoulders. For the best result, your hair will be steamed to let the cream infuse into your scalp.
Taking a session of the traditional creambath is among the best things to do in Bali, Indonesia
Balinese Massage
When you have gotten a gist of Balinese expertise at massage, it won't be long before you book a massage for yourself too. While there are tons of places that offer different kinds of massages, a traditional Balinese massage sets itself apart.
It is a holistic treatment of a full-body, deep-tissue massage. With the aroma of essential oils wafting in the air, you can expect an overall combination of reflexology, acupressure, and pressure-point stimulation. Even after one session, you will be twitching to book yourself another massage.
Go Fishing
Sometimes it is about the simple pleasures of life, like sitting by a sea or at a bay with a fishing rod in hand. You can rent a fishing boat if you want to make a quiet adventure out of this activity. The water of Bali is brimming with hundreds of species of fishes for sedentary water sports.
Fishing also makes for a perfect family or group thing in Bali. From mangrove fishing at Nusa Lembongan and night fishing at Nusa Penida to offshore fishing, there is something to enjoy for an experienced fisherman as well as a novice one.
Sekumpul Waterfall
You will hear the thundering fall of the water even before you catch a glimpse of Bali's famously beautiful Sekumpul Waterfall. The water cuts through the lush wall of green-covered rocks, gloriously pouring down to form a pool below.
This secluded place can be reached after a short but moderately challenging hike. So, in case you were wondering, that hike to the top is worth the incredible view. A note for the photographers, Sekumpul Waterfall, is immensely awe-inspiring with a heady mix of power and beauty.

By Putu Andika Panendra, CC BY-SA 4.0, Link
Address: Jl. Air Terjun, Sekumpul, Sawan, Kabupaten Buleleng, Bali 81171, Indonesia | Timing: 08:00 am to 06:00 pm |Google Map Location: https://goo.gl/maps/mmrdFcw8wKPrLcnk8
West Bali National Park
West Bali National Park, sprawling over 73.3 square miles (190 square kilometers), encompasses swathes of tropical forests, mountain ranges, golden beaches, crystal-blue water, and coral islands. A safari in the West Bali National Park shall reveal 160 species of birds, including endangered Bali Starling, have been sighted at the park.
Amidst the unfiltered beauty of nature, you can book a tour to go dolphin watching at Lovina, followed by diving at Menjangan Island to view some finely preserved reefs as well as marine life. This national park should be on the top of your 'Bali things to do' itinerary.
Address: Bali, Indonesia |Timing: 07:30 am to 04:00 pm | Google Map Location: https://goo.gl/maps/GT7n9CDK7qcgYnWs6 |Phone Number: +6236561060
Bali Safari and Marine Park
Wondering about what to do in Bali? A great opportunity to spend some quality family time, Bali Safari and Marine Park have ubiquitous wildlife that will spark joy in the little ones.
You can watch the animals roam freely in the wild from the comfort of your safari ride. From African hippos, giraffes to bears and tigers, there is life blossoming in all forms at this park. You can head over to the Petting Zoo to feed and pet the furry little animals.
This place also offers the unique experience of a night safari which also includes a BBQ dinner and a fire show.
Address: Jl. Bypass Prof. Dr. Ida Bagus Mantra Km. 19,8, Bukian, Kec. Gianyar, Kabupaten Gianyar, Bali 80572, Indonesia | Google Map Location: https://goo.gl/maps/GbR2rZTfpue7UbzP8 | Phone Number: (+62) 361 950 000
Bambu Indah Resort
Welcome to a jungle retreat that combines sustainable living with luxury! A distinct boutique hotel located at Ubud surrounded by bespoke bamboo structures. It gives you a taste of being in a natural environment and at the same time being very close to the traditional Balinese way of living. Create a memorable and immersive experience!
Address: Jl. Baung, Sayan, Kecamatan Ubud, Kabupaten Gianyar, Bali 80571, Indonesia | Timing: 24/7 | Google Map Location: https://g.page/bambuindah?share | Phone Number: +62361977922
Visit the sacred Mount Agung
From the first glimpse, Mount Agung looks majestic as it looms over Bali. But for the locals, it holds significant spiritual importance. They believe Mount Agung to be the center of the world; with regards to this, every temple in Bali points towards this holy peak.
Being the tallest mountain in Bali, it is no surprise that hiking up its trails can be a bit of a challenge. If you have the spirit, you can book a sunrise hike, where you begin the climb at around midnight.

By Michael W. Ishak, CC BY-SA 4.0, Link
Address: Jungutan, Bebandem, Karangasem Regency, Bali, Indonesia | Google Map Location: https://goo.gl/maps/Dx8a6ib9hW1d94Ry5
The T-Rex Beach
Kelingking Beach's nickname, T-Rex Beach, can be attributed to its coastline, which resembles the head of the T-Rex dinosaur. One of the most visited locations on Nusa Penida, Bali, it can also be a bit of an adventure to hike down to the beach from the mountainous rise.
There are plenty of perfect Instagram-worthy spots at this beach that can encapsulate the bright blue water as well as an alluring sunset.

By Shrigusti, CC BY-SA 4.0, Link
Address: Bunga Mekar, Nusa Penida, Klungkung Regency, Bali 80771, Indonesia | Timing: Sunday to Monday: 08:00 am to 08:00 pm, Tuesday to Friday: 08:00 am to 07:00 pm, Saturday: 08:00 am to 10:00 pm | Google Map Location: https://g.page/kelingking-beach?share |Phone Number: +62818793913
Go shopping at Seminyak
Strolling down the hip and fashionable neighborhood of Bali, you will catch fancy to the displayed trinkets, international and local labels, and resort-style apparel. It is the answer to the question of what to do in Bali. Name your style – boho, ethnic, chic, luxe – and you shall find it here!
Jalan Raya Seminyak is an enclave of smaller boutiques and shops where you can shop for clothes, accessories, bags, bikinis, jewelry, and shoes. You can find the more upscale hideouts along Jalan Laksmana and Jalan Petitenget. Another shopper's hub is the Seminyak Square, the modern mall packs in an irresistible panache
Eat the traditional Chicken Satay
The authentic gastronomy of Indonesia always has a place reserved for the traditional chicken Satay. Satay is considered to be a staple in Bali. It is chunks of marinated meat that has been grilled or skewered and is served with a peanut sauce. When you bite into the chicken satay, be prepared to be hit by a combination of sweet, salty, and smoky flavors.
Some food joints have improvised with their chicken satay. The minced meat can be blended with coconut shreds, vegetables, or spices, but the final Satay on your plate will still always manage to impress.
Try the floating Brunch
What can top breakfast in bed? A floating brunch! Our inner brunching queen has her mouth-watering at the prospect of fresh fruits, coffee, pastries, eggs, and a lavish spread served with a view. A brunch tray floating towards you as you swim lazily under the sun may sound like a dream, but some resorts in Bali are here to make it come true.
In a luxurious tropical vacation style, a floating breakfast has romance and aesthetics written all over it. The best part is that you can float away for a while and have your brunch floating with you!
Do the adventurous Bali Swing
Getting on the famed Bali Swing may be one of the top things to do in Bali, Indonesia. It is a tourist-magnet for very good reasons.
Bali Swing has gotten so popular over the years that you can now find a variety of swings across the island. However, the original one in Ubud is still the most renowned one. With a lush green valley of jungles and paddy fields beneath, soaring on the Bali Swing is the epitome of a picture-perfect Bali experience. It shall feel exhilarating and even a tad scary, but it just adds to the joy of being there.
Do Parasailing
Sail above a beach and feel the rush of wind in your hair. Parasailing, another form of sports in Bali, is relatively much cheaper than other destinations around the world. There are multiple tour operators that provide the service to book a parasailing experience.
It is wonderfully stimulating to sail in the air overlooking one of the finest coastlines that there is.
Blanco Renaissance Museum
Located at Ubud, The Blanco Renaissance Museum is famous for an exclusive collection by Do Antonio Blanco, the late Philippino maestro. The artwork represented here is mostly lithographic works of Balinese women, poetry, paintings, etc. There are over 300 thought-provoking paintings. Look for a guided tour here, if possible.

By Taguelmoust, CC BY-SA 3.0, Link
Address: Jl. Raya Campuhan, Sayan, Kecamatan Ubud, Kabupaten Gianyar, Bali 80571, Indonesia | Timing: 09:00 am to 05:00 pm | Google Map Location: https://goo.gl/maps/gVyLusyt5mU6J71x8 | Phone Number: +62361975502
Garuda Wisnu Kencanu Cultural Park
Etching the tales of Hindu mythology, Garu Wisny Kencanu Cultural Park is an iconic landmark of Bali. The rugged finish of the massive statue of Garuda Wisnu Kencanu reflects Bali's heritage. It took astounding 28 years to fully complete the carvings on the sculpture.
Garuda Wisnu Kencanu Cultural park encompasses dramatic sculptures of mythological significance, an amphitheater, shops, and the largest sculpture of Indonesia. Visitors can enjoy various forms of dance – Barong Keris Dance, Nusantra Dance, and Balinese Dance. You can walk around its extensive parklands that also includes a lotus pond.
Address: Uluwatu St, Ungasan, South Kuta, Badung Regency, Bali 80364, Indonesia | Timing:Friday – Sunday: 10:00 am to 06:00 pm | Google Map Location: https://g.page/gwkbali?share | Phone Number: +62361700808
Chill into the unique Infinity Pools
An island holiday that houses some of the classiest resorts would be quite incomplete without a dip into their stunning infinity pools. Just a view of them is enough to make any tension evaporate.
Hanging Garden of Bali lives up to its name and features multistoried curved infinity pools that overlook the lush green forest. The split-level infinity pool at Padma Resort Ubud can also be recognized as indulgent as it offers a terrific view of bamboo forest fringed with coconut trees. The Mulia present a mix of an infinity pool and a cultural submersion at its Oasis pool which has the Indian Ocean at its horizon. For an uninterrupted view of the sea, check out Alila Seminyak, Karma Kandara, and Banyan Tree Ungasan.

By Ishan Mallaik, CC BY-SA 4.0, Link
Explore the local cuisine at Warung
No, Warung is not a café or a restaurant. It is the most authentic expression of the local food. Put simply; a warung is a small, traditional food kiosk or shack along the roadside. You have not thoroughly lived Bali if you have not taken a bit of the nasi goreng (fried rice) or mie goreng (fried noodles), or ikan (fish). You can find a plethora of warungs in Ubud or any town in Bali.
Warung cooks up some truly delectable dishes in the most no-fuss way. You can see international tourists as well as a few locals lining up at the warungs to enjoy a straightforward and value-for-money meal.

By Robert Nagel, CC BY-SA 4.0, Link
Boat Tours
Charter the water of the sea surrounding Bali by taking a boat tour. A traditional outrigger boat can take you to Lovina beach, which is a spectacular spot for dolphin watching. Nothing like some wind in your hair and a soothing boat ride to refresh you.
It can also be a cruise like the ones that take you to Nusa Lembongan on a catamaran. On the island itself, you can arrange for banana boating. If you're on your honeymoon, we can suggest a romantic sunset dinner boat tour for two.
One of its kind Kopi Luwak
Drinking Kopi Luwak is one of the rituals that you should fulfill when in Bali. For the uninitiated, Kopi Luwak is the coffee that has been digested by Luwak, an Asian palm civet. To give full disclosure, the coffee cherries are picked out from the poop of a Luwak and cleaned. It is this process of going through the digestive system of a Luwak which makes this coffee one of the rarest and most expensive coffees in the world!
Native to Indonesia, it can be bought for a considerably lower price than any other parts of the world. Kopi Luwak is extremely flavorful, almost fruity, with a minimal bitter taste.
Enjoy the Canggu Nightlife
Some sun in the morning and a whole lot of music in the evening sums up the perfect island vacay. Canggu can compete with Katu as the life of Bali's party and is one of the best nightlife experiences.
Mondays in Canggu begin with delicious pizzas at Luigi's Hot Pizza and some house music. You can ease into the week by drinking away the happy hours at Lacalita Bar y Cocina or enjoying a swim with EDM at Vue Beach Club. On Wednesdays, walk into Old Man's or Sandbar, and you will see the party hitting the roof. Come Friday, and you can head to The Vault if you want to dance at an underground club. You can have a balling time every day of the week at Canggu.
Gitgit Waterfall
Located in the Gitgit village amongst lush plantations, the Gitgit waterfalls are one of the most sought-after Bali attractions. With a height of around 300 meters above sea level, it is a combination of three waterfalls. The first is a twin waterfall trailing through a cliff, and the second one, called Waterfall Story, is about 60 meters high.

By Rainhard Findling, CC BY-SA 3.0, Link
Address: Jl. Raya Bedugul – Singaraja, Gitgit, Kec. Sukasada, Kabupaten Buleleng, Bali 81161, Indonesia | Timing: 24/7 | Google Map Location: https://goo.gl/maps/sQkroBoFUK6M8wYe8
Lake Batur
Formed in 1971, Lake Batur was created as a result of an eruption along the Ring of Fire. Highly recommended of the many Bali attractions, it is a volcanic crater inside a caldera of an active volcano. The striking beauty of the lake is an amalgamation of its clear blue water, surrounding ranges, and Pura Ulun Danu Batur temple.
A multitude of water activities like swimming, canoeing, boating, picnicking, and relaxing in a natural hot spring can be enjoyed here. It is located 18.6 miles (30 kilometers) from Ubud.

By CEphoto, CC BY-SA 3.0, Link
Address: Jl. Trunyan, Batudinding, Kec. Kintamani, Kabupaten Bangli, Bali 80652, Indonesia | Google Map Location: https://goo.gl/maps/sp69mFhRnoWGBm3C8
In all senses, Bali is a magical place to either spends a few days or even a few weeks. There is never a dearth of things to do or sights to see on the Island of Gods.