Nestled in the southern tip of the South American continent, are the sub arid grasslands of Patagonia Argentina.  With an area of 260,000 square miles, this region encompasses both Chile and Argentina. This very fact is enough to give you an idea of how mesmerising Patagonia will be with the wilderness of Argentina and spectacular national parks of Chile, with snow-capped Andes range in its background. 
Why visit Patagonia, Argentina
Out of all the popular and top-ranking tourist destinations in the world, chances are less that you will come across Patagonia, Argentina. Argentina's quality of being overlooked by the majority makes it even more desirable. If you are someone who yearns to soak into the marvels of nature rather than man-made citadels, this is the place for you.  Remote, uncluttered, and pristine are the apt words that describe the natural beauty of Patagonia. 
Since Patagonia is vast and shared between two countries, it would be smart to set aside time to explore Chilean Patagonia along with Argentine Patagonia. As this place is quite offbeat, the chances are dim that you might plan to visit here again. Considered as the world's most beautiful hiking space, you will discover stunning lakes, magnanimous glaciers, and lush forests straight out of the movie Frozen. Another marvel in the Chilean Patagonia is the Tierra del Feugo, a mystical archipelago lined with the famous lagoon, Laguna Verde, and abundant wildlife.  This archipelago was once home to the ancient Yamana tribes. You cannot also afford to miss out on exploring the Torres Del Paine national park. The Argentine Patagonia is replete with wonders of nature, everything right from grasslands to glaciers to oceans coming together. 
Patagonia is a remote location, and hence you need to plan the trip in the right season. One crucial detail that you cannot afford to overlook is that seasons in the southern hemisphere are in complete contrast to the northern hemisphere. Here in South America, the period from November to March are the summer months. You can use your winter vacation to explore a summer paradise full of adventures. 
Best months to visit Argentine Patagonia
The month of October and early November hails the spring in Argentine Patagonia, followed by summer till March. Nature is in its full glory around this time. Do pack in some jackets and raincoats for sudden showers and occasional gusts of wind. 
Getting around Argentine Patagonia
Patagonia, Argentina, is gradually gaining a lot of attention from the tourists across the globe. The greatest impediment towards planning the travel is its dual identity from its geographical disposition of belonging to both Chile and Argentina. To reach Patagonia, Argentina, you can reach Buenos Aires in Argentina from any part of the world. 
From Buenos Aires, you can fly into the Patagonia airports of Bariloche (northern Argentine Patagonia), El Calafate (southern Argentine Patagonia) and Ushuaia (the very tip of Argentine Patagonia). 
Bariloche, which is around 994 miles approximately from Buenos Aires, is often the first stop in Patagonia. You can use local bus services to reach the town center, or avail shuttle services from Bariloche. If you are in no hurry, you can hire a self-driven sedan or hatchback and enjoy the landscape of the beautiful cities of Bariloche, El Calafate, and Ushuaia. This is because, in the Patagonian part of Argentina, the roads are beautiful and seamless while the accompanying visuals are stunning. 
Patagonia is vast, so make sure you plan a few days for rest in between all the days of activity. Also, try to hire guided tours available in Patagonia. These guided tours are led by expert coaches who know the Patagonian landscape inside out and can help you optimize your stay in Patagonia, Argentina. Most importantly, these guided tours will take care of all your transport hassles with flights, buses, and ferries. 
Entry & Exit Requirements
The good news is that you do not need many documents to visit Patagonia in Argentina. If you wish to extend your tourist visa for another ninety days, you will have to visit the immigration office in Buenos Aires. The extension fee for nationals from other countries apart from Argentina, Brazil, Paraguay, and Uruguay is a staggering AR$600. Do carry a photo ID proof. Recently, Argentina waived off a significant entry fee of $160 for American citizens. If you are from Canada, you will have to pay $78 as a reciprocity fee to enter Argentina. 
Many travelers have vouched that an onward ticket makes the travel smooth. Many airlines in Argentina make it a point to check the return ticket. Do check with your preferred airlines for the same. Additionally, as far as the visa is concerned, you can easily get a visa on arrival the very moment you set foot in Argentina. Every country has its custom requirements. You must check with your travel partner to understand the custom specifications while entering Argentina.
Best things to do in Patagonia, Argentina
Patagonia in Argentina is a mystical land. Wherever you lay your eyes on, you will be greeted by nature in its unscathed self. With so much to encounter and experience that even Charles Darwin, the famous biologist, described Patagonia as "boundless". Let's look at some of the best places that you must travel to and see in Patagonia in Argentina. 
Argentine Lake District, Bariloche
The Lake District, known as Bariloche, is Argentina's premium offering to the world. Located in the northwestern edge of Argentine Patagonia, the Lake District hosts some of the spectacular azure Nahuel Huapi Lake borne out of glaciers. This lake covers an area of 204 square miles and has its seven branches flowing in different directions, creating beautiful islands here and there. Here you can fish, ski, or simply explore the idyllic villages of San Martín de los Andes and Villa La Angostura. These villages have an old-world charm, and you can indulge in some souvenir shopping along with savoring local cuisine. The Lake District has a great deal to offer as a tourist destination.  Once you are here, do not miss out climbing the snowcapped volcano, Volcán Lanín, situated right in the forest of Parque Nacional Lanín.
Perito Moreno Glacier, Los Glaciares National Park
Los Glaciares National Park, as the name suggests, hosts phenomenal 365 glaciers. Covering a staggering 600,000 hectares of surface area, this marvel on earth is a UNESCO World Heritage site. Most of these glaciers were formed during the Quaternary Period, which refers to the geologic period of 2.6 million years. Perito Moreno is the most popular glacier, and as you stand in front of the crystalline Perito Moreno and watch blocks of ice crumble over Lake Argentino, you will be mesmerized and deeply humbled. This is a spectacle of a lifetime. Do avail of an ice hiking tour with an experienced guide.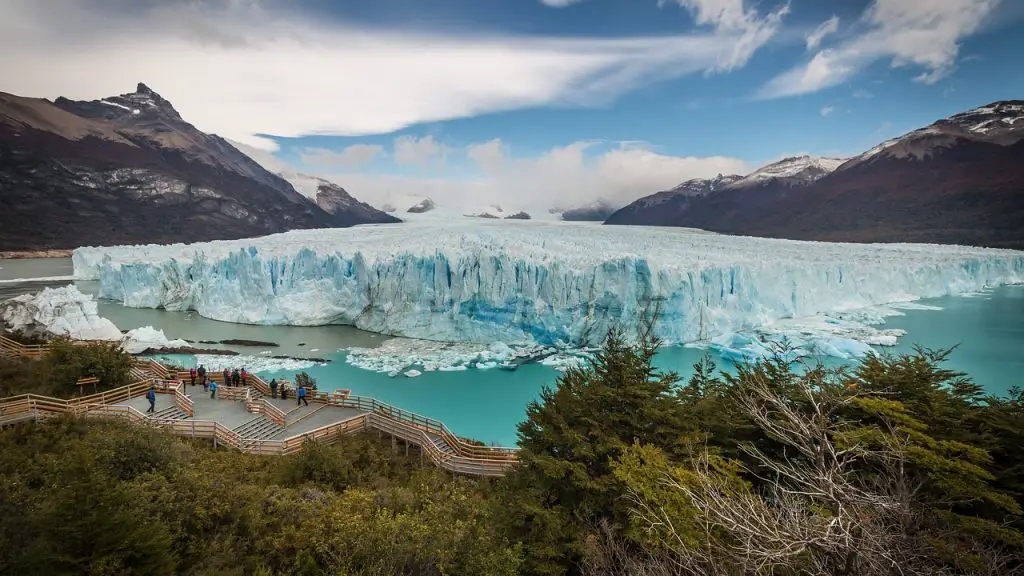 Treading through the crevasses and ice caves will be a promising experience bringing you closer to nature in its entirety. There are different levels of ice hiking, and depending on your experience, you can choose the hiking trip package. This is one of the best natural attractions that Patagonia in Argentina has to offer to the world.
Tierra del Fuego National Park and Ushuaia are two inseparable destinations when you are in Patagonia. Ushuaia is a busy port city in the southernmost tip of Argentina, and Tierra del Fuego is Ushuaia's province. Though it sounds strange, the name Ushuaia is derived from the native language of the Yamana tribe, and it means "bay looking into the west". This port city lies between Beagle Chanel, in the south, and the gigantic Martial Mountains in the north. Owing to its location, Ushuaia is a very colorful and picturesque city, and if you love hiking, then you can walk to the Martial Glacier. If you don't want to exert so much, then you can take a taxi leading straight to the glacier.
Most importantly, once you are in Ushuaia, you will naturally be inclined to visit the Tierra del Fuego National Park. This park is unique because it is by a beach and has snow-capped mountains accompanying the Pampa grasslands. There are ten popular trails for you to pick and choose from but rest assured, each trail will reward you with unparalleled scenic wonders. 
Whale watching in Puerto Madryn
Who doesn't like spotting whales in their natural habitat? If you keen to spot some of these gigantic mammals, head straight to Puerto Madryn. This is one of the significant whale watching destinations in Argentina. Please note that it is during winter, the period between May till December, that the coasts of Patagonia in Argentina come alive with marine animals. There are plenty of whale watching tours from Puerto Madryn that you can avail of. 
Nibepo Aike Estancia
To enjoy a place in its entirety, it is important to explore not only nature and wildlife but also the way people live there.  In the Patagonian part of Argentina, you do get a unique opportunity to experience this. Nibepo Aike Estancia is a model ranch nestled closer to the Los Glaciares National Park in Patagonia. Here you will get a chance to be a gaucho brandishing his horse's reign in the air. Horse riding, farm activities, and hiking are some of the key activities that this model ranch has to offer to its guests. You also get to enjoy the popular lamb roast and fresh produce from the farm.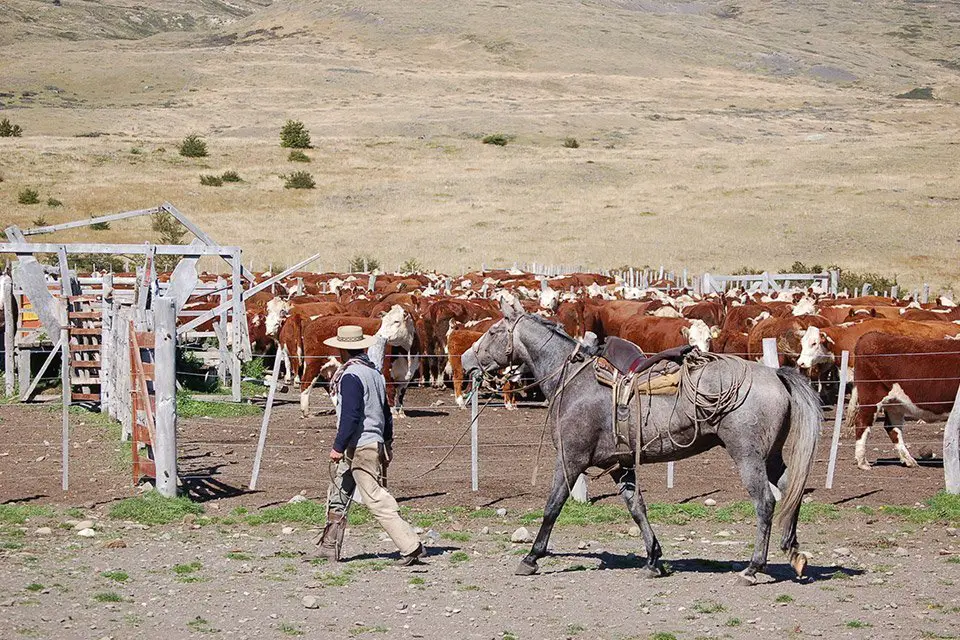 Trekking in Autumn
Cracking glaciers, windswept arid grasslands, and the snow-capped Andes define Patagonia in Argentina.  Patagonia, owing to its remote location, inspires a spirit of discovery. Can you imagine the excitement of discovering a beautiful trekking trail in its wilderness? You must go on a trekking trip to Patagonia to be able to experience this. If you have a zest for adventure, then you must come to Patagonia between October and March. There are nine popular trekking trails for you to explore, and the top five are the O Circuit, Perito Moreno, Cerro Castillo Circuit, Huemul Circuit, and Laguna Torre Trek. 
Penguins in Punta Tombo
This is one of the world's most fabulous natural reserves for Magellanic penguins in the world. This reserve was established in Patagonia in 1979 to preserve this beautiful bird in its natural habitat. If you happen to travel to Argentina somewhere around September, you will find the first penguins coming in. Gifted with natural tailcoats and a funny gait, you will enjoy walking alongside these adorable creatures.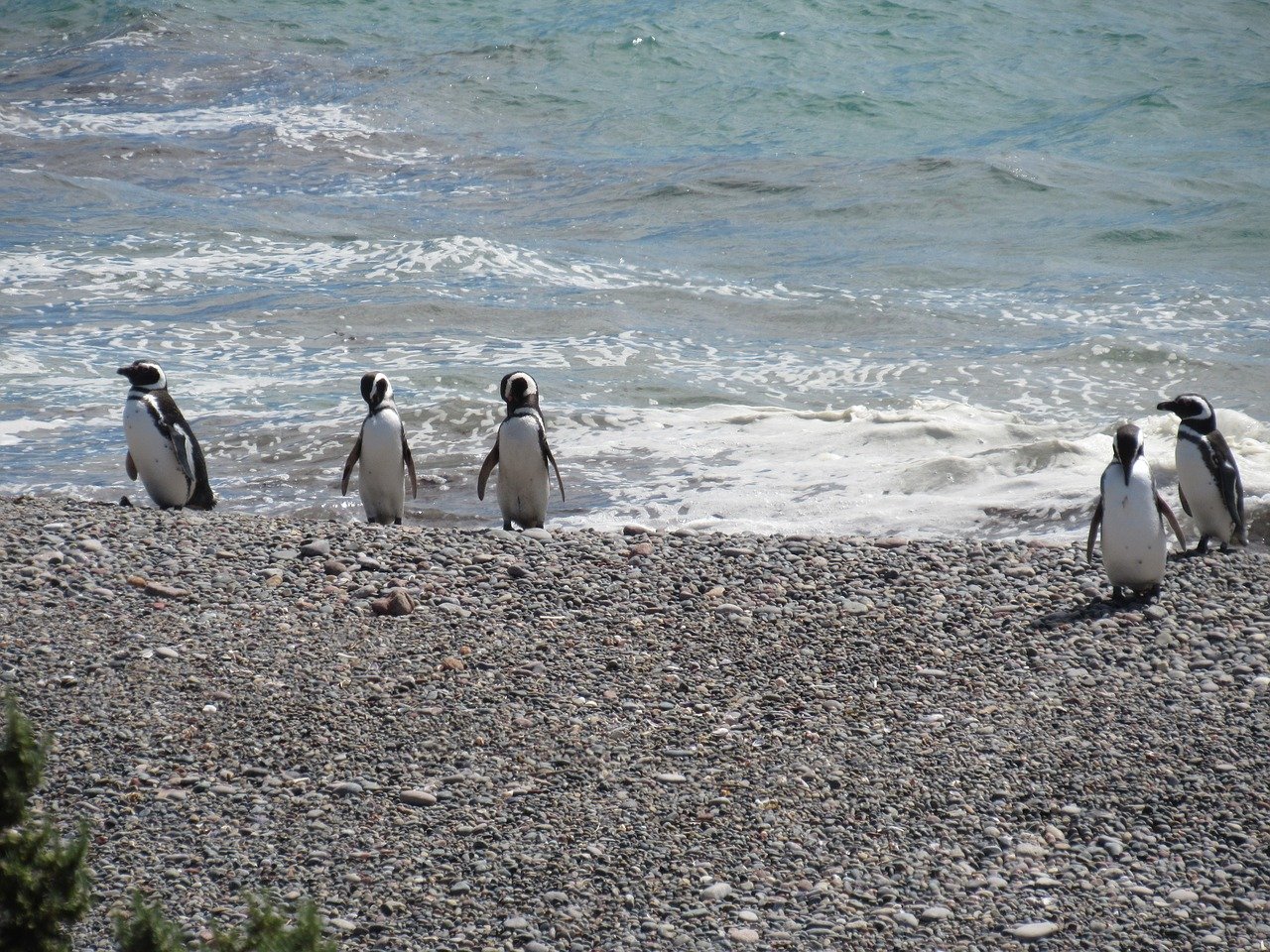 El Chalten & Mount Fitz Roy
Nestling in southern Patagonia near the El Chalten village is this spectacular hiking trail known as Mount Fitz Roy. With a height of 11017.06 feet and steep slopes, this is one of the most challenging trails to hike on.  It is interesting to note that El Chalten is known as the national capital of trekking in Argentina. So do not miss the trek, and along with that, relax in this picturesque village.
El Bolson
To all the ruggedness and wilderness of Patagonia, El Bolson is a colorful relief. This small bohemian town in Argentina is famous for its artisanal food and local music. So, try and find out about the Feria Artesanal or the artisanal market once you are in this town. Another significant landmark of this town is the Museo de Piedras Patagonicas. This is a geological museum that has conserved the mineral rocks and meteorites and has made efforts to explain the evolution of Patagonia. If you are an artist at heart, you will not fail to appreciate the sculptures from ruined and dead trees at El Bosque Tallado. This small little chalet is for you to soak into the rustic Patagonian art and culture.
Bahia Bustamante
This is a unique lodge created to give you a taste of Patagonia's natural richness. This lodge has an interesting history. Built as a seaweed settlement in the 1950s by a Spanish gentleman Lorenzo Soriano, this lodge is the ultimate space for marine biologists and seaweed harvesters.
Sandy beaches with crystal clear waters teeming with marine life are the landmark of this lodge and, therefore, staying in this lodge must feature in your bucket list. The lodge offers a plethora of various half-day and full-day activities that you can indulge in, where each activity revolves around discovering and exploring the pristine nature of Argentina. Right from food to the décor, you will enjoy the simplicity that is in sync with the sounds and sights of the Patagonian landscape.  This is a marvelous place to stay in entire Argentina. 
Cave of the Hands (Cueva de las Manos)
Argentina hides within itself a mystical cave that is an exceptional work of art. Located in the Santa Cruz Province of Patagonia, this cave derives its name from outlines of human hands on the walls.  According to historians, this art is as old as 13,000 years, and it depicts the life of native hunters of that time. This cave was discovered by the European settlement somewhere around the 19th century. 
When you visit the cave, you will be surprised by the phenomenal landscape surrounding it.  With a river running through a deep canyon, there will be no better setting other than this.  If you carefully explore the cave, you will find three distinct types of paintings and each different from the other, implying that different sets of people have made them at different times. It is quite astonishing to know that the hand paintings on the cave walls have been created using bone stencils with varying minerals for the color. The desire for expression has always existed, and man, irrespective of the time he or she lived, expressed it using the best resources available. The cave validates this point aptly. In Argentine Patagonia, this is one of the most notable creations by man, otherwise it is nature all the way grabbing your attention. 
Peninsula Valdés
Peninsula Valdes, located in the Argentine Patagonia province of Chubut, is one of the UNESCO recognized sites for the conservation of marine mammals. Some of the most endangered species of sea lions, South Right whales and elephant seals, can be sighted during the whale watching tours. This peninsula opens almost 62 miles eastwards towards the Atlantic Ocean. The 250 miles of vast coastline displays diverse natural forms such as rocky cliffs, dunes, pebble beaches, and dynamic lagoons. A narrow strip of land connects this peninsula to the ocean, and this area is the breeding ground of Magellanic Penguins, sea lions, Orcas, and many different sea birds.  Apart from the marine life, the landscape of this peninsula is dominated by the arid steppe grasslands housing the famous and rare Guanacos. Your trip to Patagonia in Argentina is incomplete without exploring this exquisite wildlife. 
Egidio Feruglio Paleontology Museum
Established in June 1999, this museum is the epicenter for all the scientific research in entire South America.  This museum in Patagonia is named after the renowned paleontologist Dr. Egidio Feruglio. Driven by the initiative to showcase the paleontological riches of Argentina through world-class displays of fossils and interpretative tours, this place has a rich biological history to share.
Moreover, if kids are traveling with you to Patagonia, this is an activity that will really incite the feeling of discovery in them. Please note that May 18th is always commemorated as Museum day, and there are plenty of programs and workshops for children. Out of the never-ending bucket list of activities in Argentina, this is the one that you cannot afford just to leave out. 
Cerro Catedral Ski Resort 
Deserts, national parks, glaciers, beaches, and grasslands -the list of what Patagonia in Argentina has to offer, does not end here. There is one more to complete your bucket list. The Nahuel Huapí National Park offers the most spectacular snow-capped Cerro Catedral Mountains. This phenomenal beauty is currently the greatest ski center in the entire southern hemisphere. This skiing destination is world-class as it has all the infrastructural capabilities to host a massive number of guests at any given point in time. The slopes are mostly meant for skiers belonging to intermediate and advanced levels. Apart from skiing, you can also rent snow bikes for a bumpy ride or slide on a tube. The best time to visit this snowy paradise is mid-August. Even for the summer months, there are plenty of activities to keep you busy. 
While skiing here is an out of the world experience, do not forget to book your stay in the Cerro Catedral Ski Resort. Resembling the popular Swiss Chalets, this resort is a township. With a facility to host almost 5000 guests and a shopping mall, this ski resort is one of the high tourist points in Patagonia. Additionally, there are transport services for airport and Bariloche to enable tourists to commute easily. 
So, if you are planning your next vacation in an unconventional destination, may Patagonia seize your heart as the first preference!